NFL Week 11 Predictions: Latest Odds and Picks Against the Spread
Jared Wickerham/Getty Images
The betting lines for Week 11 of the NFL season offer up a number of tasty opportunities to predict upset picks against the spread.
Odds in Dallas, Houston and New England might just be high enough for bettors to pick the underdog to cover the spread, especially considering some of the trend information we'll provide you.
As is the case every week, we use a combination of betting trends, series histories and recent performances to help handicap each matchup in Week 11 of the NFL season. Betting on NFL games is far from a science, but using numbers and history, we can paint a more clear picture for you.
In the following slides, we present what we've found and give you a pick against the spread for each Week 11 game.
Note: Each line is taken from ESPN.com's aggregation of sites, current through Wednesday.
Miami Dolphins at Buffalo Bills (-1.0)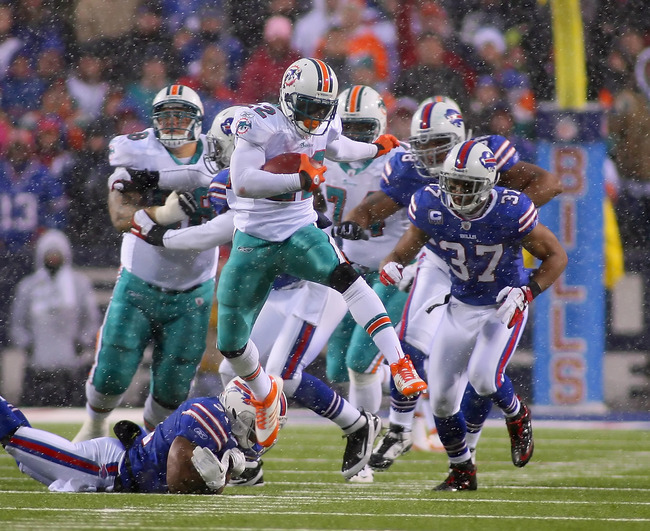 Rick Stewart/Getty Images
After getting walloped as a big favorite against the Tennessee Titans Sunday, the Dolphins return to a more familiar and better suited role in Buffalo as the underdog.
Miami is 4-4 against the spread this season, and all four "wins" have come as the underdog. The Dolphins, who swept Buffalo last season, are also 3-1 against the spread as a road underdog.
The Thursday night road factor does come into play, and Ryan Tannehill has a big rebound to make, but the betting trends say Miami here.
Pick ATS: Miami
Arizona Cardinals at Atlanta Falcons (-9.5)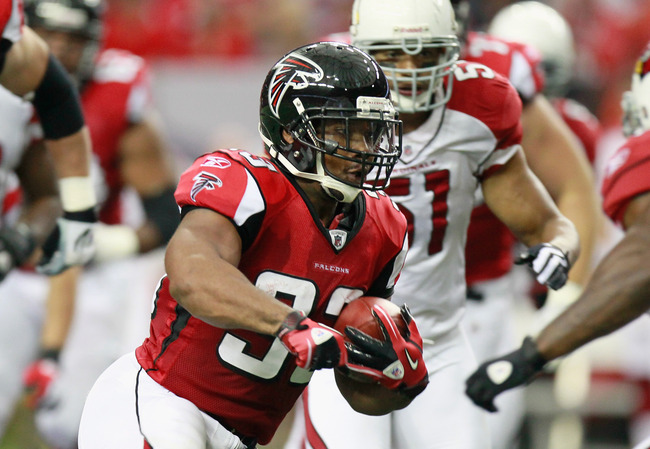 Kevin C. Cox/Getty Images
The betting trends here are spotty at best, even if the Falcons are 6-3 against the spread overall. Atlanta is just 2-2 at home and 4-3 as the favorite, while the Cardinals are 3-5 against the spread overall and just 1-2 away.
Without much help from the trends, go with recent performances. Arizona has lost three of its last five games by more than 10 points, including two of three away from home.
Pick ATS: Atlanta
Cleveland Browns at Dallas Cowboys (-7.5)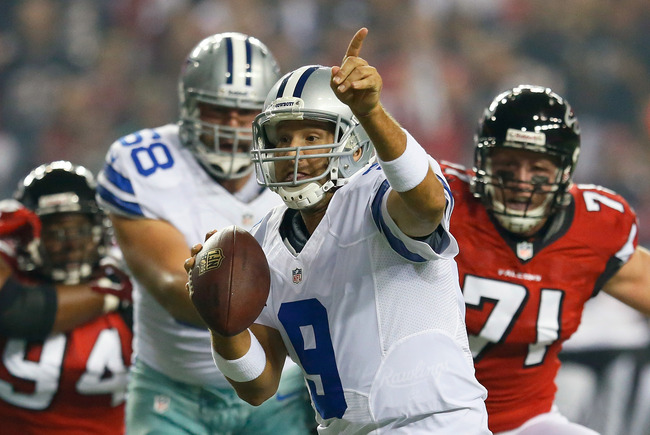 Kevin C. Cox/Getty Images
This is a scary line for the Cowboys, who are 0-3 against the spread at home and 0-2 as the home favorite.
The Browns (4-4 against the spread) may not win this game—Dallas can't afford to lose it at home—but covering a 7.5-point line isn't crazy.
A struggling Buccaneers team held serve in Dallas earlier this season. Cleveland can do the same.
Pick ATS: Cleveland
Green Bay Packers at Detroit Lions (+3.5)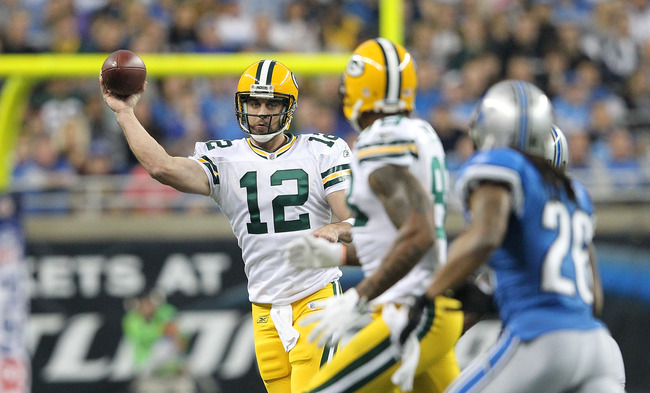 Leon Halip/Getty Images
Green Bay has been a dangerous betting team this season, especially as the favorite (3-5 against the spread) or on the road (2-2). The two combine in Detroit to create another sticky situation for the Packers betting-wise (1-2 as the road favorite).
That said, a 3.5-point line doesn't give the Lions (1-2 against the spread at home) much wiggle room. And remember, the Packers have won 19 of 22 games in this series since 2001.
Pick ATS: Green Bay
Cincinnati Bengals at Kansas City Chiefs (+3.5)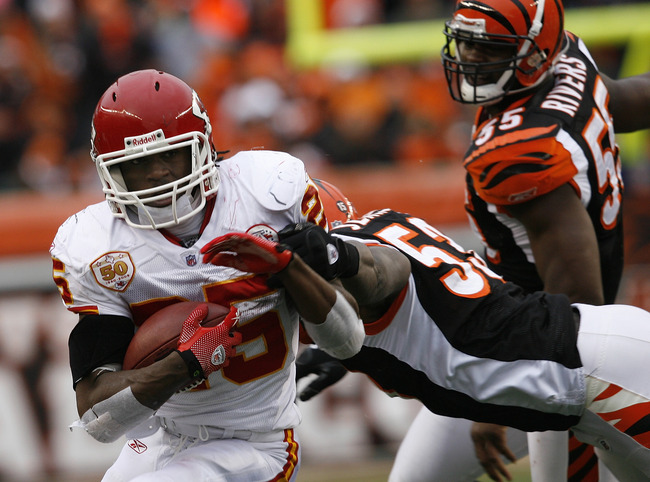 John Sommers II/Getty Images
Both these teams offer little confidence in betting trends this season, with Cincinnati 3-5 against the spread and Kansas City 3-6. Both struggle in the role they've been handed this week, too.
The Bengals are 0-2 as the favorite and the Chiefs are 1-2 as the road underdog. Given it's such a weak line, however, take the better team—especially when that team is coming off its best win of the season.
Pick ATS: Cincinnati
Philadelphia Eagles at Washington Redskins (-3.5)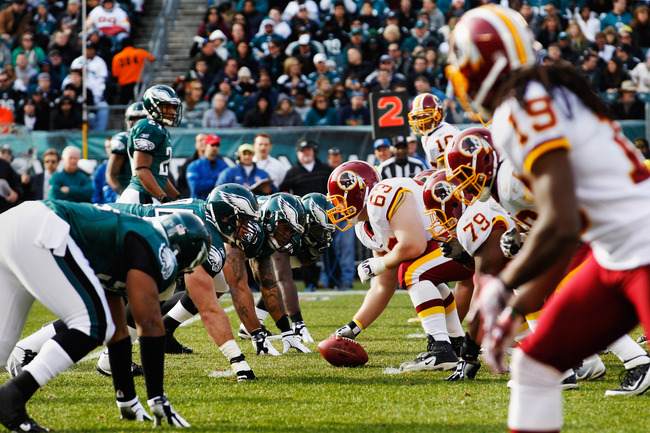 Rob Carr/Getty Images
These two teams have been betting black holes in 2012.
The Eagles are just 2-7 against the spread overall, while the Redskins are 0-3 as the home favorite. The dynamic of a rookie quarterback in Philadelphia really eliminates any look at recent performances, especially between these two teams.
With little to go on numbers-wise, take your gut call. Personally, I think the Eagles play it safe with Nick Foles and grind out a win on the road.
Pick ATS: Philadelphia
Tampa Bay Buccaneers at Carolina Panthers (+1.0)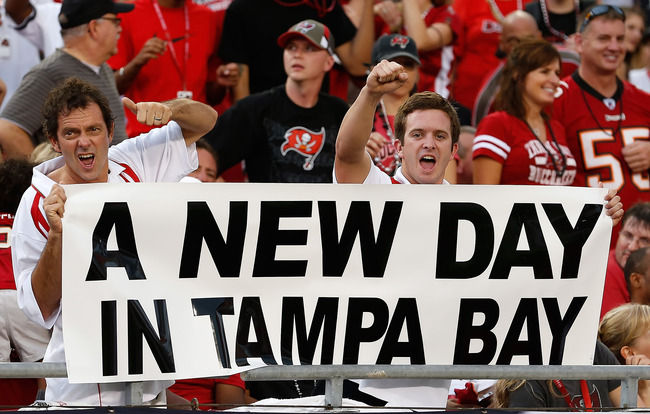 J. Meric/Getty Images
The Buccaneers must get a kick out of this line. Tampa Bay, winner of four of its last five games, is 7-2 against the spread this season and 4-0 away from home. Carolina is just 1-4 at home.
Unless both the betting trends and recent performances (Panthers are 1-7 over their last eight) reverse, the Buccaneers should be a safe pick.
Pick ATS: Tampa Bay
Jacksonville Jaguars at Houston Texans (-15.5)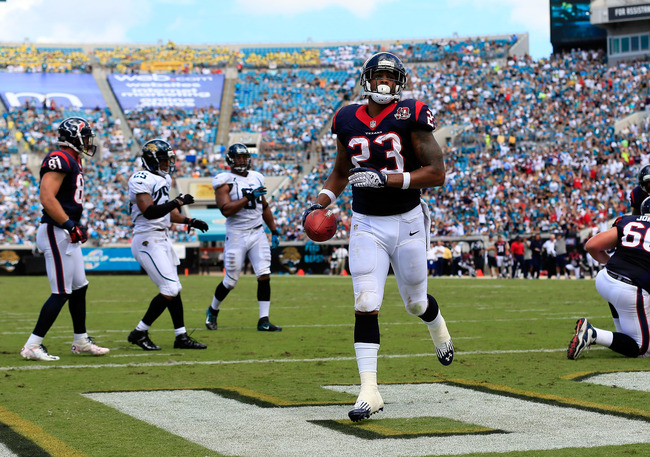 Sam Greenwood/Getty Images
A 15.5-point line is scary no matter which NFL teams are playing. The straight-up records (Houston 8-1, Jacksonville 1-8) say it's more than possible, but let's do a little trend digging first.
The Jaguars are actually 4-0 against the spread as the road underdog, and only three times in the history of the series have the Texans actually beaten Jacksonville by more than 15.5 points. Big lines have been busted at a high rate in 2012, especially in division games (see: St. Louis at San Francisco in Week 10).
Pick ATS: Jacksonville
New York Jets at St. Louis Rams (-3.5)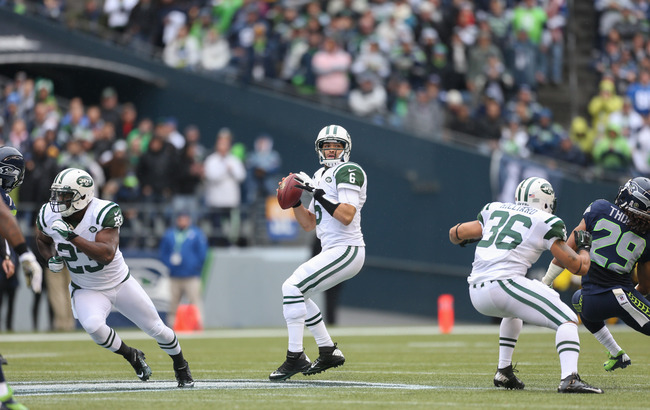 Otto Greule Jr/Getty Images
Sunday marks the first time St. Louis has been the favorite this season, so there's obviously no data on how they've performed in this betting situation.
The Jets are 1-2 as the road underdog, which might push this the Rams' way. However, keeping this a field-goal game or winning outright doesn't seem too far-fetched, even for the much-maligned Jets.
Pick ATS: New York
New Orleans Saints at Oakland Raiders (+4.5)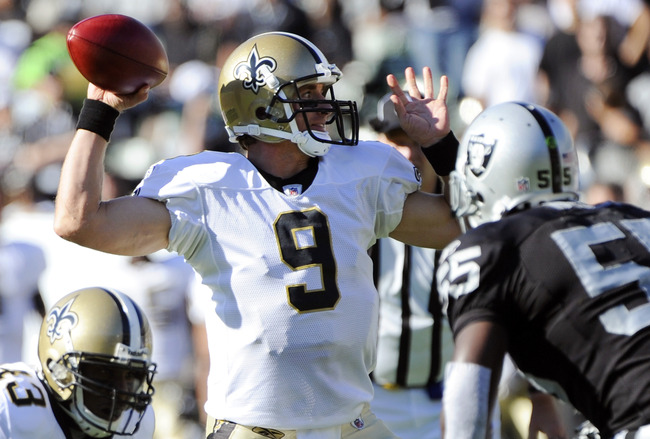 Thearon W. Henderson/Getty Images
After starting this season 1-3 against the spread, New Orleans has rattled off betting covers in four of the last five games. The only stumble came on the road in Denver, but the Broncos are head-and-shoulders better than the Raiders.
Oakland is just 1-3 against the spread at home and 3-6 overall. The Saints should be at least a touchdown better, even in the Black Hole. Remember, the Raiders just allowed 55 points to an offense that isn't as good as the one in New Orleans.
Pick ATS: New Orleans
San Diego Chargers at Denver Broncos (-7.5)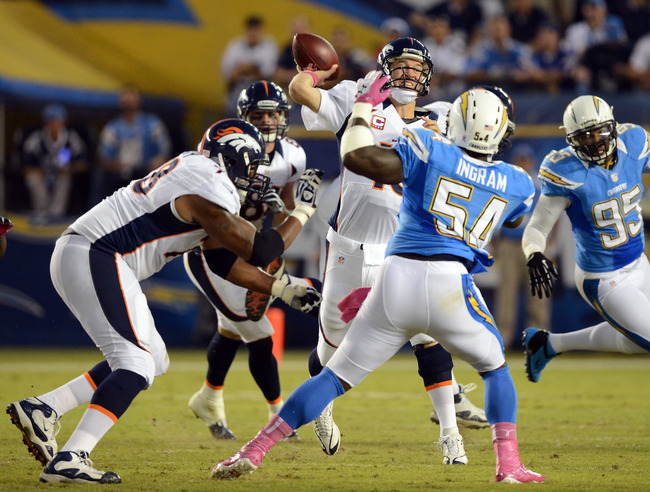 Harry How/Getty Images
Three things in this life are certain: Death, taxes and the Broncos covering as the favorite under Peyton Manning's control.
So far in 2012, Denver is a perfect 5-0 in that situation, including 3-0 as a home favorite. The Chargers need a win to keep their head above water, but I'm not betting against Manning at home.
Pick ATS: Denver
Indianapolis Colts at New England Patriots (-9.5)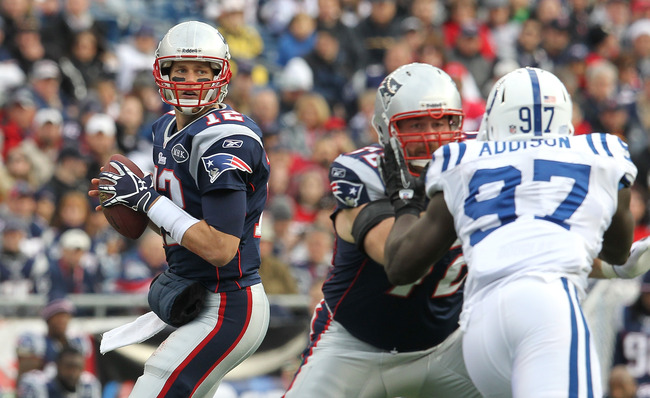 Jim Rogash/Getty Images
The Colts are a surprising 6-3, and a rookie quarterback vs. Tom Brady on the road does favor New England. But a 9.5-point line seems tall, and it certainly seems extreme when you consider the Patriots are 1-3 against the spread as the home favorite.
And here's another little fact for you: The Patriots are 0-3 covering spreads of more than a touchdown this season (Buffalo, New York, Arizona).
Pick ATS: Indianapolis
Baltimore Ravens at Pittsburgh Steelers (+3.0)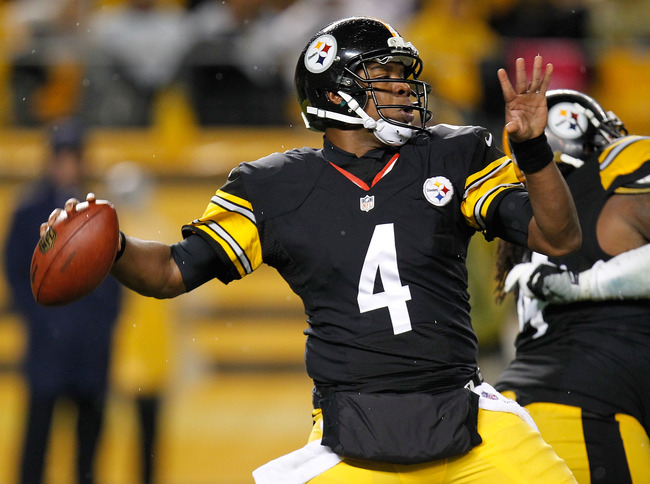 Gregory Shamus/Getty Images
Both the Ravens and Steelers are 4-5 against the spread this season, with Baltimore 2-2 away and Pittsburgh 2-2 at home. Long story short, you can essentially throw the betting trends out.
Five of the last seven games in this series has been decided by a field goal, so the possibility for a push is very real. If you really want to pick one way or another, go Baltimore, who is facing a backup quarterback.
Pick ATS: Baltimore
Chicago Bears at San Francisco 49ers (-5.0)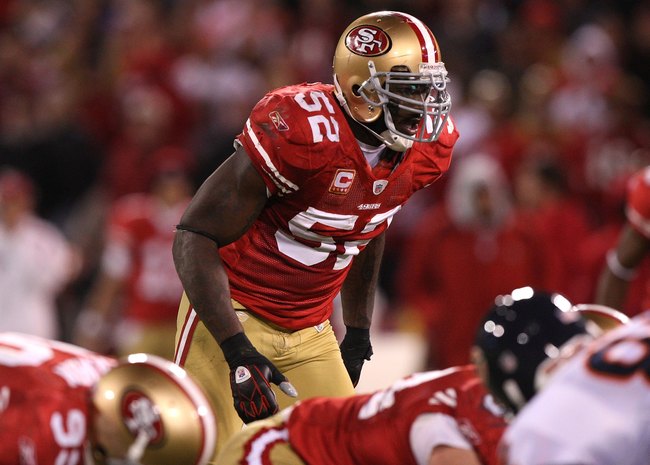 Jed Jacobsohn/Getty Images
Both teams are 5-4 against the spread this season and both may be without their starting quarterbacks because of concussions. Recent performances (both are 1-2 against the spread in their last three) don't offer much reprieve either.
It's a take-your-pick kind of game given the line, but it's easy to think the 49ers could make life much more difficult for Jason Campbell than the Bears could for Colin Kaepernick, especially in San Francisco.
Pick ATS: San Francisco
Keep Reading