Chris Weidman Thinks Anderson Silva Is Ducking Him: Brazilian Fans on His Side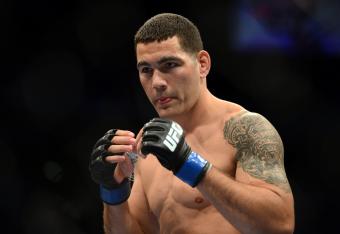 Kyle Terada-US PRESSWIRE
Chris Weidman came as close to boiling over as the affable UFC middleweight could ever come to boiling over, after Kimura.se asked him about his potential championship fight against Anderson Silva—a fight that looks increasingly unlikely for the foreseeable future.
Weidman believes that Brazilian fans are largely on his side and share his frustration that Silva is doing everything he can to avoid the 185-pound threat: especially after the champion recently said that he's not going to fight again until the end of 2013.
"Not [just] a couple of them but a lot [of Brazilians want to see me beat Silva]," Weidman said. "A good majority of them, which is freaking weird, cos I'm figuring I'm coming here confident that I can beat Anderson, came out in the public thinking I can beat him, pretty much the ducking me thing, so I'm thinking like they're going to be hating me, when actually it's the opposite."
Weidman has been a revelation as a middleweight, mounting an undefeated nine-fight winning streak culminating in back to back victories over Demian Maia and Mark Munoz—two men once considered No. 1 contenders in their own right.
His emphatic victory over Munoz in July, in particular, caught everyone's attention, including promotion president Dana White, and the New York native was quickly being talked about regarding a title shot.
However, over the last six months, the 185 pounds division has become increasingly crowded, and Weidman has found himself contending with several men also making compelling cases to be given a chance at Silva's crown.
But what Weidman has over the likes of Alan Belcher, Michael Bisping or Tim Boetsch, is the kind of wrestling that even schooled NCAA Division 1 champion Munoz. And wrestling, as we've seen in Silva's fight against Chael Sonnen, is the Brazilian champ's Achilles heel.
Weidman has all Sonnen's technique and athleticism but with added power in his hands. It's not surprising then that Silva isn't in any hurry to fight him, particularly since he has so little to gain but so much to lose.
"I'm an Anderson Silva fan and I always love to watch the guy fight, but it was disappointing when i heard the news at first because I'm the number one contender in the weight class and he said he didn't want to fight in 2013 when it was blatantly obvious that we should be fighting... and now he's talking about going against GSP," said a frustrated Weidman.
The fighter, who trains with Matt Serra out in Long Island believes that he took a lot of risks to get to where he is in the UFC, taking a series of short-notice fights in his career. But, he conceded, if anyone has earned the right to dictate what fights he takes, it's Silva.
"The guy's accomplished so much. So, I understand, it's just tough for me to deal with because I want to be the guy to beat him and now he's fighting one of these other guys, so we'll see."
Weidman is due to fight Tim Boetsch at UFC 155 at the end of the year on a main card headlined by a title fight between heavyweights Junior Dos Santos and Cain Velasquez.
There he will join several other middleweights fighting for contention, including Belcher, Yushin Okami and Chris Leben. The aftermath of that night will be very intriguing for the state of the division, but with Silva not wanting to fight again until the end of 2013, what any of these men will be fighting for is anybody's guess.
"After that fight, if I'm able to beat Tim Boetsch, which is not going to be easy, it'll be three top five guys in a row I've beaten. I think that sets a record for not getting the championship," said Weidman. "By beating two top five, now beating three top five, and then if I was to beat Bisping, that's four top fives, I might as well just forget about the belt at this point."
A despondent Weidman concedes that his goal of being the first man to beat Silva, which seemed so real only four months ago, is now more distant than ever.
Weidman's fight against Boetsch goes down on December 29 at the MGM Grand in Las Vegas.
Follow me on Twitter: Follow @khurramaziz1981
This article is
What is the duplicate article?
Why is this article offensive?
Where is this article plagiarized from?
Why is this article poorly edited?