7 Takeaways from NBA Prospect-Heavy Kentucky-Duke Matchup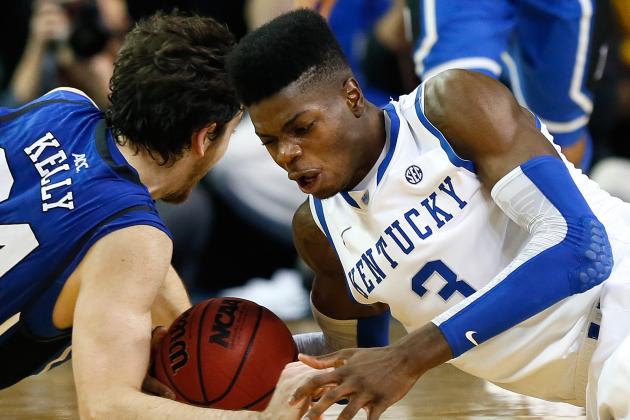 Kevin C. Cox/Getty Images

The skies were clear last night, giving us a great look at some of the top NBA prospects in the country.
We learned some of their strengths, their weakness and what each team needs to do in order to build on their performances.
While Duke came out on top, and rightfully so considering its experience, it might be Kentucky who has the higher upside down the road. Let's take a look at how some of the top prospects fared and whose outlook feels more promising as we move deeper into November.
Begin Slideshow

»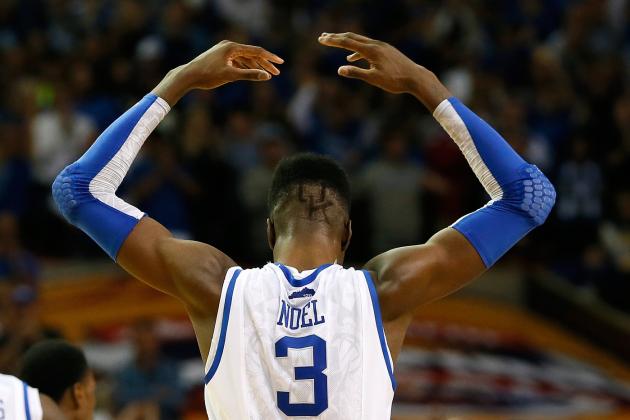 Kevin C. Cox/Getty Images

If you were confused by Nerlens Noel's hype after an underwhelming debut against Maryland, last night should have helped clear the air.
The big man had a little extra wiggle Tuesday night, showing off his elusiveness operating down low and effectiveness as a defender.
He seemed quick and decisive with his post moves, looking slippery with his back to the basket and shifty facing up. Noel's footwork looked much cleaner, using hop steps and his body to create easier scoring angles inside.
Because of his world-class combination of size, length and athleticism, the release point on his shot is always within the vicinity of the rim. It almost appears as if the paint is Noel's personal trampoline, with his head and arms reaching the top of the box on the glass. This makes his pick-and-roll appeal that more appetizing.
Noel made his defensive presence felt on numerous occasions, blocking three shots, one of which that was literally at it's apex.
NBA teams looking for a long-term defensive anchor have already circled Noel on their draft boards, but it was his offensive promise Tuesday night that solidified his position as one of the elite prospects in the country.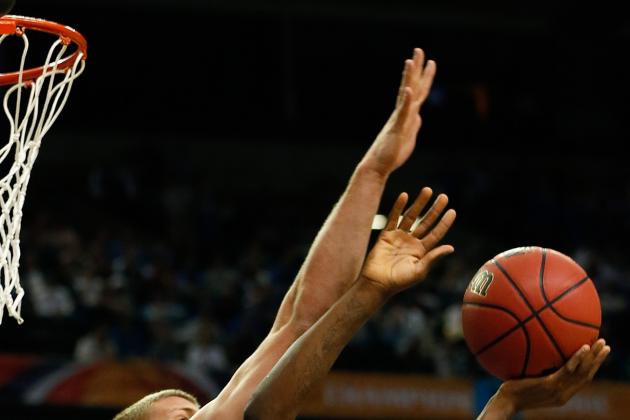 Kevin C. Cox/Getty Images

Archie Goodwin had been thought of as a potential combo-guard at the next level; however, Kentucky point guard Ryan Harrow's absence helped proved that theory to be implausible.
Forced into the role of primary ball-handler, Goodwin was erratic with both his decision-making and control, over-dribbling on numerous occasions and forcing the issue instead of making the simple pass.
The good news from Goodwin is that he's established the reputation as a pure scorer, which he illustrated on his five made field goals and eight trips to the line.
Goodwin showed explosiveness attacking from the wing, where he's better off only needing a few dribbles getting to the rim. Over screens, he knocked down two pull-up jumpers in the mid-range, which will be the weapon that raises his ceiling to lottery-status.
He finished with 16 points playing out of position, scoring on drives, jumpers and one glaring display of athleticism, catching an alley-oop high above the rim.
Once he figures out the spots on the floor where he's most comfortable operating, Goodwin will become one of the more potent scorers in the country.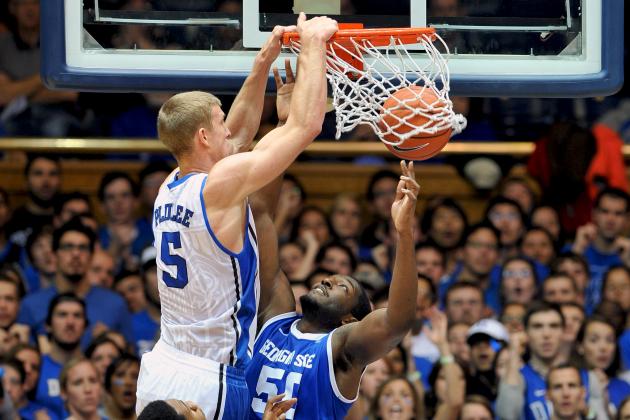 Lance King/Getty Images

Plumlee has taken his game to a new level, expanding his offensive repertoire to the point where he's Duke's best scoring option.
His hands and body control at the rim are as good as anyone's in the country. And at seven feet tall with top-notch athleticism and mobility, it's not difficult for him to get there.
He scored a number of baskets above the cylinder, some over the shoulder, a few straight on, one reversed over his head. There's just never a tough angle for him.
While some big men lack that finesse inside, seemingly throwing it at the basket, Plumlee's soft hands allow him to delicately drop it through. He'd be my pick to win an egg-tossing competition.
However, the most impressive move of the day was facing up against Nerlens Noel, where he beat him baseline, backed in with his body and finished strong while absorbing contact.
After last night's game and his 19-point, 14-rebound, four-block senior debut, you have to expect Duke to start getting Plumlee the ball on the block more consistently.
He'll score, rebound and defend night to night and should start generating Player of the Year buzz before you know it.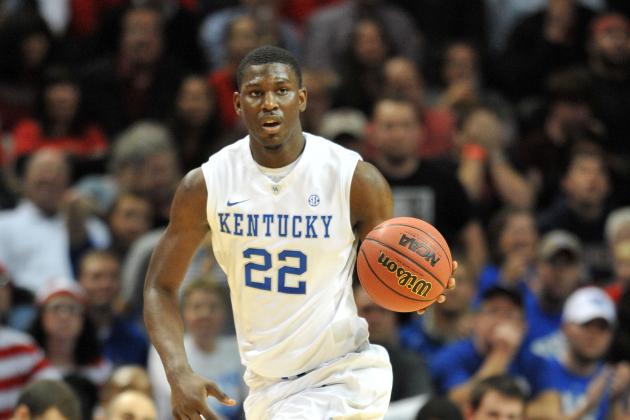 Jason Szenes/Getty Images

I say Poythress is the new Michael Kidd-Gilchrist because of his ability to make physical plays that result in points without dominating the ball.
He was the most explosive player on the court, getting high above the rim for multiple put-backs and finishes, some without even using a running start.
His energy is contagious. His shot-selection is efficient. He went for 20 points and eight rebounds, only missing three times the whole night.
Poythress showed strength finishing inside, plowing through flailing arms like they were wet noodles.
Like Kidd-Gilchrist, he's not an adept shot-creator, playing mostly line-drive basketball attacking north and south. But he showed touch spotting, knocking down a three off the catch, which, if not an illusion, could allow him to log minutes as a stretch-4 at the next level.
Poythress' activity level and intensity will make him a nightly contributor regardless of how raw he is creating shots on the perimeter.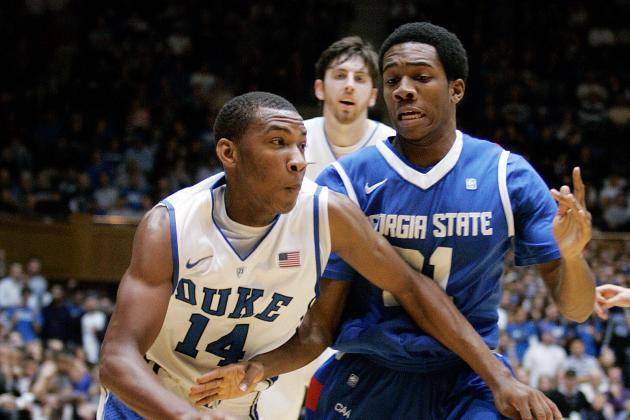 Mark Dolejs-US PRESSWIRE

Sulaimon finished with 10 points, six rebounds and five assists, doing everything well but nothing spectacular. That's pretty much the formula for a key four-year guard at Duke.
The comparisons to Nolan Smith are spot on. At 6'4'', we saw Sulaimon beat his man off the dribble, though only north and south, but use his basketball IQ to set up teammates after breaking down the defense.
He also nailed three three-pointers, posing as a kick-out target behind the arc when the ball goes down low or is swung around the perimeter. Though he doesn't have the ideal athleticism or true position for the NBA at this point, his ability to make shots, defend and play high-IQ basketball is perfect for Mike Krzyzewski's rotation.
He'll be a favorite in Duke because of his efficiency across the board and intensity on defense. Expect him to be a contributor in blue til 2015.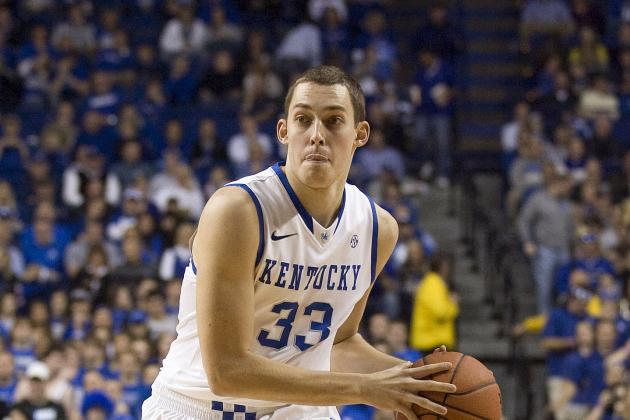 Mark Zerof-US PRESSWIRE

You have to make threes in college basketball. If you don't, the other team will.
Wiltjer has serious range and represents Kentucky's top long-distance threat. But creating his own shot is not part of his forte, which makes it up to his counterparts to try getting him the ball.
He only attempted two three-point attempts last night, and his perimeter production was sorely missed. Wiltjer finished with five points despite being arguably the team's best shot-maker.
It's probable that point guard Ryan Harrow's absence had to do with Wiltjer's minimal offensive role, but in order for Kentucky to remain relevant as contenders, it'll need its 6'10'' shooter to produce in higher volumes.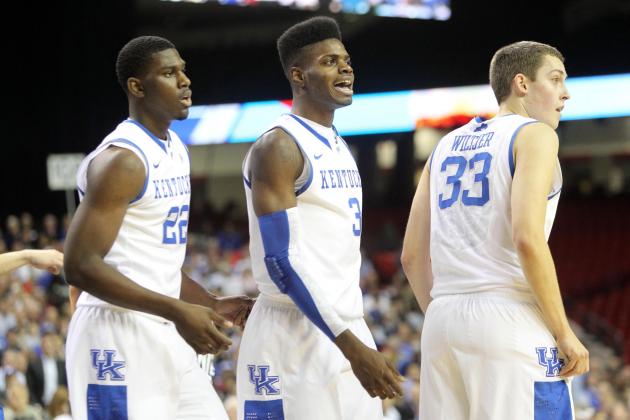 Daniel Shirey-US PRESSWIRE

It's just so young and inexperienced, I'm surprised it kept it this close against a talented group of veterans.
Kentucky will lose some games this year, and a top five ranking throughout the year is unlikely. But with the core of its rotation in their first year in college (Harrow, Poythress, Noel, Cauley-Stein, Goodwin), it takes time to build confidence and comfort.
We pretty much know what Duke is at this point. Plumlee's offensive emergence should make it a tougher team than it was last year, but it seems to lack the firepower of a championship-contending program.
While the Kentucky team this year is far different from last, John Calipari is a master at building on mistakes. Expect it to knock off top teams and lose some to inferior ones, but there's no doubt the Wildcats will be a player come February.