USC Trojans vs. UCLA Bruins: Complete Game Preview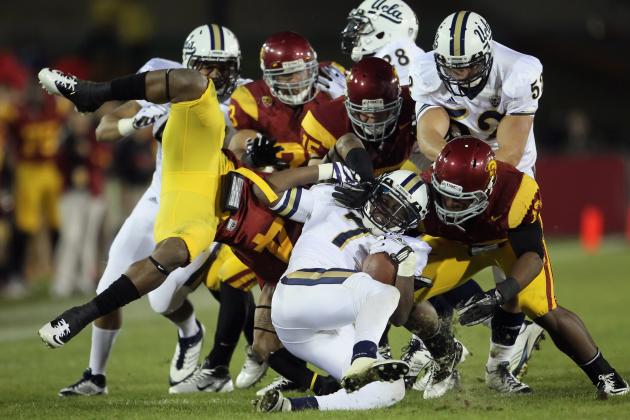 Jeff Gross/Getty Images

In one of the most highly-anticipated games of the college football season, the No. 18 USC Trojans will travel to play the No. 17 UCLA Bruins. The Trojans enter the game at 5-3 in Pac-12 pay, while UCLA is 5-2 in the conference.
In case you haven't crunched the numbers, the winner of this game will win the Pac-12 South.
Considering this is already one of the fiercest rivalries in college sports, one can only assume that tensions will be high. As for what you can expect beyond the hatred, however, the following slides will answer just that.
They will also tell you how this game will be won.
Begin Slideshow

»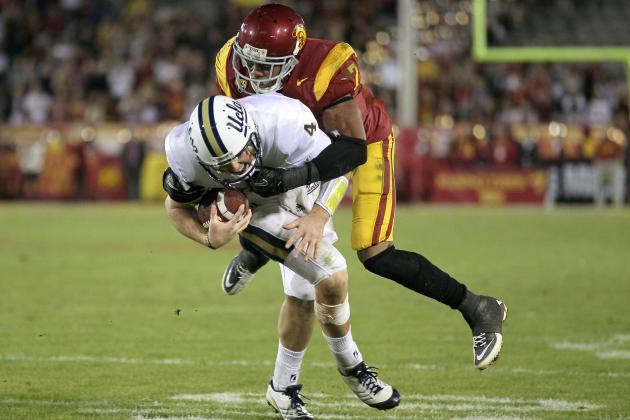 Stephen Dunn/Getty Images

Game: USC Trojans at UCLA Bruins
When: Saturday, November 17, 2012
Time: 3:05 (EST)
Where: Pasadena, CA
Stadium: Rose Bowl
Television: FOX
Radio: 710 ESPN Los Angeles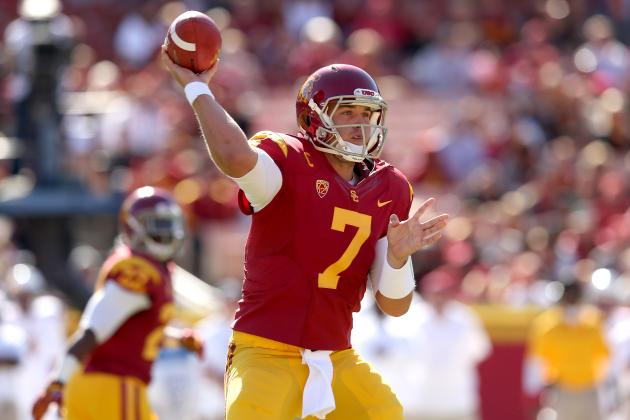 Stephen Dunn/Getty Images

USC Offense
QB: Matt Barkley
RB: Silas Redd
FB: Soma Vainuku
SE: Marqise Lee
FL: Robert Woods
TE: Randall Telfer
LT: Max Tuerk
LG: Marcus Martin
C: Khaled Holmes
RG: John Martinez
RT: Kevin Graf
USC Defense
DE: Morgan Breslin
NT: George Uko
DT: Leonard Williams
DE: Wes Horton
SLB: Dion Bailey
MLB: Lamar Dawson
WLB: Hayes Pullard
CB: Nickell Robey
FS: T.J. McDonald
SS: Jawanza Starling
CB: Josh Shaw
USC Special Teams
K: Andre Heidari
LS: Bryson Lloyd
HLD: Cody Kessler
P: Kyle Negrete
LS: Peter McBride
KR: Marqise Lee
PR: Nickell Roby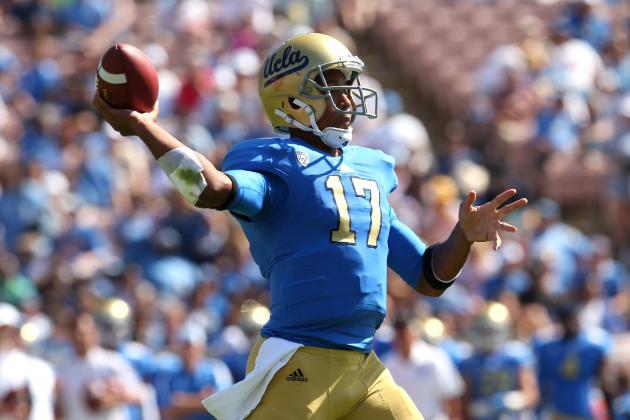 Stephen Dunn/Getty Images

UCLA Offense
QB: Brett Hundley
RB: Johnathan Franklin
WR: Jerry Johnson (X)
WR: Joseph Fauria (Y)
WR: Steven Manfro (F)
WR: Shaq Evans (Z)
LT: Torian White
LG: Xavier Su'a Filo
C: Jake Brendel
RG: Jeff Baca
RT: Simon Goines



UCLA Defense
DE: Datone Jones
NT: Seali'i Epenesa
DE: Cassius Marsh
ROLB: Anthony Barr
RILB: Eric Kendricks
LILB: Jordan Zumwalt
LOLB: Damien Holmes
CB: Sheldon Price
FS: Tevin McDonald
SS: Andrew Abbott
CB: Aaron Hester
UCLA Special Teams
K: Ka'imi Fairbairn
P: Jeff Locke
LS: Kevin McDermott
HLD: Jeff Locke
KR: Steven Manfro
PR: Steven Manfro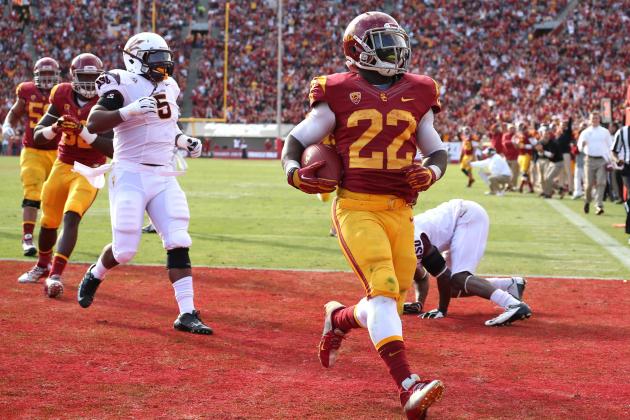 Stephen Dunn/Getty Images

Coming off of two consecutive losses, the USC Trojans marched into the Los Angeles Coliseum and defended their turf against the Arizona State Sun Devils. Behind Curtis McNeal and Marqise Lee, they put this one away in the final minute of the third quarter.
McNeal finished the game with 31 carries for 163 yards and two scores. McNeal also hauled in a 22-yard receiving touchdown, which made it 28-17.
Mere minutes after, he put USC ahead 21-17 on the ground.
With 38 seconds remaining in the fourth, McNeal put the finishing touches on his masterpiece by running it in from 27 yards out. The Trojans would end up winning, 38-17.
As for Lee, he continues to be one of the most dynamic playmakers in the country. Lee's Heisman Trophy campaign continued as he put up 10 receptions for 161 yards and a touchdown, as well as 66 yards on six carries.
This balance provided the Trojans with a much-needed bounce-back victory after falling to Arizona and Oregon in previous weeks.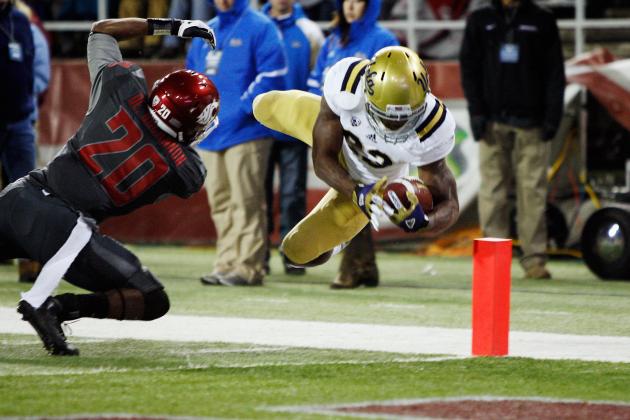 William Mancebo/Getty Images

To say the UCLA Bruins escaped with a victory over the Washington State Cougars would be a severe understatement.
The Bruins defense and special teams accounted for 16 points. Sheldon Price returned a blocked field goal for 68 yards, Eric Kendricks recovered a fumble and took it to the house from 40 and Anthony Barr sacked quarterback Connor Halliday for a safety.
As marvelous a first half as you'll ever see.
Unfortunately, the sport of football requires you to play two halves. During the second of two, the Bruins blew a 37-7 lead and ended up holding on by a score of 44-36.
So how did it all go down?
For the Bruins, Johnathan Franklin achieved 111 all-purpose yards and hauled in a 16-yard touchdown pass. For Washington State, Dominique Williams caught seven passes for 108 yards and two touchdowns.
Considering Marqise Lee and Robert Woods are next on the schedule, UCLA cannot feel good about the second-half performance of its pass defense. Or any performance by its defensive backfield, for that matter.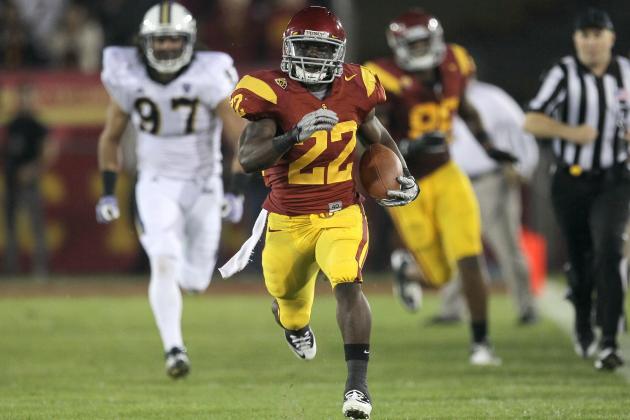 Stephen Dunn/Getty Images

This week's battle between UCLA and USC is about much more than a local rivalry. In fact, there is more on the line in this game than any other game this weekend.
The winner of the Bruins-Trojans showdown will be the Pac-12 South champion. In turn, they will earn a berth in the Pac-12 championship game and compete for a spot in the Rose Bowl.
Need more than that? How about the fact that, the last time these two teams met, USC blew UCLA out by a score of 50-0.
Is that enough to fight for?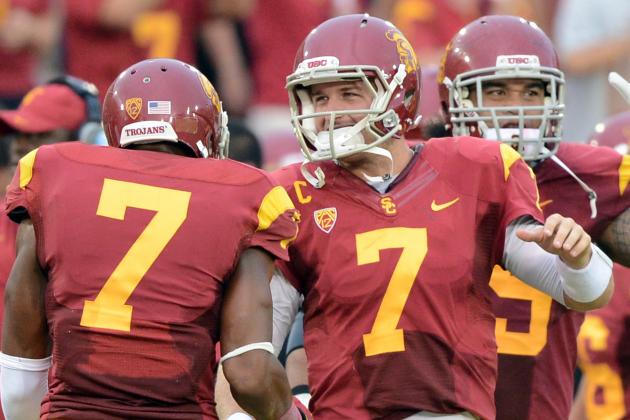 Harry How/Getty Images
Which No. 7 will be the key to victory?
The last time the USC Trojans played the UCLA Bruins, Marqise Lee caught 13 passes for 224 yards and two touchdowns. Robert Woods, meanwhile, hauled in 12 receptions for 113 yards and two scores of his own.
Which is exactly why the Trojans' key player is safety T.J. McDonald. Wait, what?
The Trojans are well-aware of the fact that they can air it out against the nation's 106th-ranked pass defense. With that being known, the points are likely to come early and often as quarterback Matt Barkley looks to replicate his 423 yards and six touchdown performance a year ago.
In turn, look for UCLA to throw the football quite often as it attempts to keep the pace. When it isn't, expect running back Johnathan Franklin to break into the open field and overpower the Trojans' defensive backfield.
That is, if McDonald doesn't come up and stop him.
The senior safety will play a key role in defending the pass and an equally as important part in stuffing the run. Keep in mind, it was McDonald who had the goal-line interception which sealed the deal in 2011.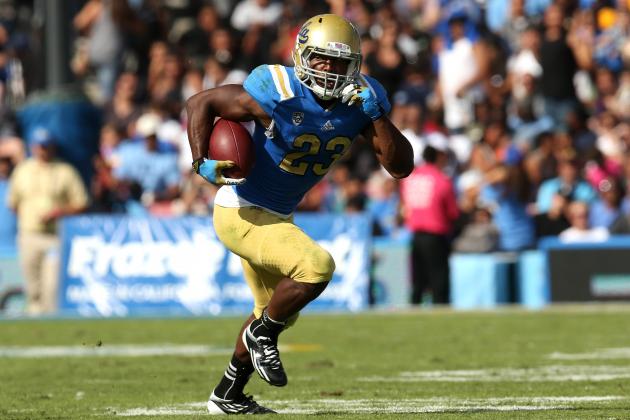 Stephen Dunn/Getty Images

In order for the UCLA Bruins to achieve victory against the high-powered Trojans, they will need to control the pace of the game. Although many believe the Bruins should air it out to do so, they will discover their best results by moving the chains on the ground.
Specifically with running back Johnathan Franklin.
If Franklin is able to bounce back from his 66-yard performance against Washington State, the Bruins can keep the Trojans' high-octane offense off of the field. In turn, Matt Barkley will not be able to hit Marqise Lee and Robert Woods on as many occasions.
Instead, Franklin will be running between the tackles and picking up both first downs and points. By doing so, the USC defense will grow weary of the run and allow quarterback Brett Hundley to go over the top.
If all goes as planned, that will enable UCLA's underrated offense to keep pace with Lee and the Trojans.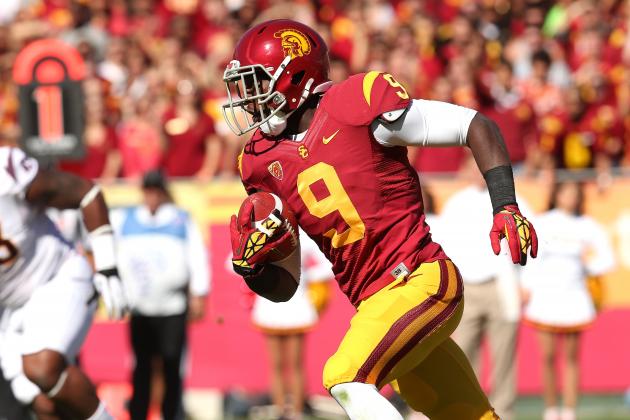 Stephen Dunn/Getty Images

If USC is able to pass the ball as it's expected to, there is no way around one simple fact. The UCLA Bruins will not be able to keep up.
Marqise Lee has gone off for at least 100 yards in seven of the Trojans' 10 games. He's topped 150 yards in five of those contests, with an additional three over 190.
Considering the Bruins are one of the worst pass defenses in the nation, it's safe to say that he is in store for a dominant performance. 106th in that category, to be exact.
On the opposite side of the field, Robert Woods remains one of the top 10 receivers in the nation. Woods has 61 receptions for 653 yards and 10 touchdowns, which suggests he'll be able to work his way into gaps and move the chains for Matt Barkley.
If this comes to fruition, UCLA's freshman-led offense won't be able to keep the pace with USC.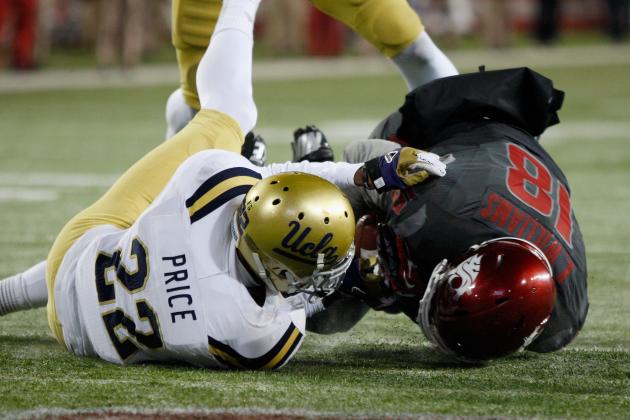 William Mancebo/Getty Images

The UCLA Bruins will win this game if they find a way to slow down Marqise Lee and Robert Woods. Considering they have the 106th-ranked pass defense, that is rather unlikely to transpire.
Just don't call it impossible.
Head coach Jim Mora, Jr. is one of the brightest minds in college football. He has turned this UCLA team around by creating a powerful offense which can overcome the team's defensive shortcomings.
Just don't sell the UCLA D too short. The Bruins rank 12th in turnovers forced per game. This is exactly why they can take Lee out of it early.
Barkley will target his top two receivers. Should Sheldon Price come up with an interception in the first quarter, however, Barkley could become hesitant to look the Heisman hopeful's way.
If that's the case, running back Johnathan Franklin could pace UCLA to victory by keeping USC's offense on the sidelines. Franklin excels at running between the tackles and could move the chains enough to keep the Trojans defense on the field for extended periods of time.
If the Bruins can manage to make this happen, quarterback Brett Hundley could step up and lead the team to a huge upset in Pasadena.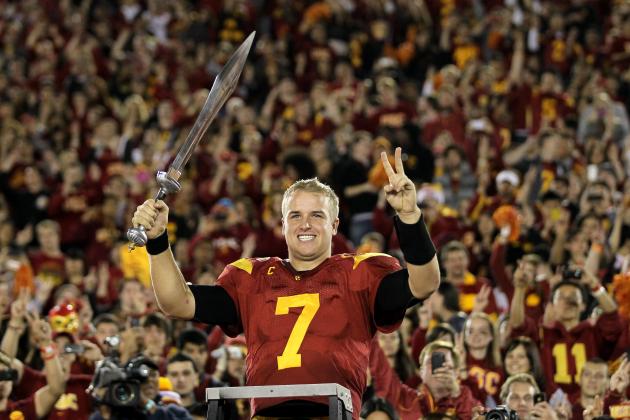 Stephen Dunn/Getty Images

Deciding Factors
This game comes down to a battle of strengths and weaknesses. Unfortunately for UCLA, its greatest weakness just so happens to be USC's most significant strength.
Which is exactly why the nation's No. 17 passing attack will tear apart the No. 106 pass defense.
The Bruins will keep pace by virtue of running back Johnathan Franklin's ability to keep the Trojans offense off of the field. His ability to move the chains will be greatly welcomed, while his two scores on the ground should make this one interesting.
Entering the fourth quarter, we'll have ourselves a one-possession game. After UCLA surprises the nation and clamps down on Marqise Lee for three quarters, look for the Heisman hopeful to break loose and haul in a touchdown pass to make it a two-possession encounter.
UCLA will strike back on a Brett Hundley touchdown scamper, but it'll fail to stop USC on its following drive. A heartbreaking end to a wonderful regular season from UCLA.
Player Predictions
For USC, quarterback Matt Barkley will finish with 272 yards, three touchdowns and one interception.
Robert Woods will lead all receivers with six receptions, 115 yards and a touchdown.
T.J. McDonald will end up with 12 tackles, one interception and a defensive touchdown.
As for UCLA, quarterback Brett Hundley will complete 18-of-25 passes for 189 yards, one touchdown and two interceptions. He will run for another score.
Johnathan Franklin will finish with 21 carries, 123 yards and two touchdowns.
Defensive standout Anthony Barr will tally seven tackles, 2.0 sacks and a forced fumble. Eric Kendricks will pick up 15 tackles and a sack of his own.
Final Score
USC 34, UCLA 28