Assessing Every NBA Team's Odds of Making the 2013 Playoffs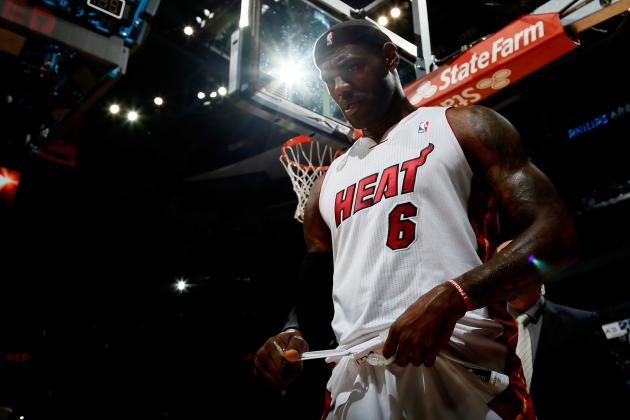 Kevin C. Cox/Getty Images

Every team starts the season with playoff aspirations, no matter how unrealistic they might be in some cases. But now that we're a couple of weeks into the 2012-13 campaign, many of the long-shot hopefuls have already become hopeless.
At the same time, a lot of the top-tier teams have shown early on that their playoff expectations were justified. Still, there are even some high-profile squads who have had their playoff 8-balls go from "it is decidedly so" to "ask again later."
And of course, the bulk of the league sits somewhere in the middle with both playoff glory and lottery gloom still equally possible.
There have been early chemistry issues, surprising breakouts and even key injuries—all of which have their way of shifting the NBA landscape—in these first two weeks. Without question, those factors (and countless others) will continue to create and dash hopes the rest of the way.
There's no way to be certain about the playoff fate of every team at this stage, but a number of the locks and "locked-outs" have already distinguished themselves.
To keep it simple, we've created five options under the "odds" umbrella: lock, very likely, probable, possible, long shot and no chance. In hopes of sorting out this hazy picture, let's check up on every NBA team's playoff odds.
Note: Stats from Nov. 14
Begin Slideshow

»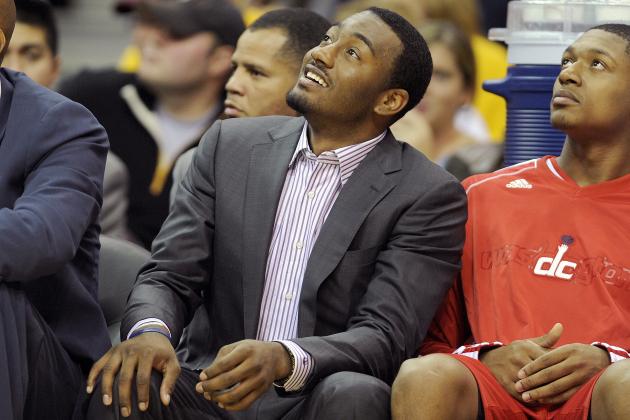 Jason Miller/Getty Images

If the Washington Wizards thought the worst was over after last year, they were wrong.
Before the 2012-13 campaign even started, the franchise's only star-quality player—John Wall—went down with a knee injury. To no one's surprise, Emeka Okafor and rookie Bradley Beal haven't kept the ship afloat. Right now, they're finding out what it feels like to really hit bottom.
Planted firmly in the basement of the Southeast Division, there's not much reason for hope in Washington.
Maybe Wall gets healthy and Beal turns into a player worthy of the No. 3 overall pick. But even if both of those things happen, they won't make enough of a difference this year to create any realistic playoff hopes.
Buckle up, Wizards fans. Downward spirals can be bumpy rides.
Playoff Odds: No Chance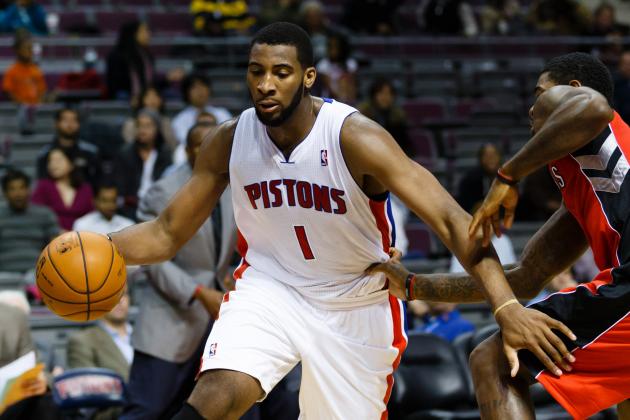 Rick Osentoski-US PRESSWIRE

On paper, you can sort of imagine how a potential lineup of Brandon Knight, Rodney Stuckey, Tayshaun Prince, Greg Monroe and Andre Drummond could be dangerous. Of course, according to the standings in the newspaper, the Detroit Pistons are currently 0-8.
So much for paper.
Terrible contracts (Charlie Villanueva and the departed Ben Gordon) started a financial disaster that the Pistons are still recovering from. They're certainly younger and cheaper, but the players on Detroit's current roster haven't been able to parlay that youth and affordability into a win yet.
There won't be any postseason action in Detroit for a while, but hey, it could be worse. Just ask the Wizards.
Playoff Odds: No Chance
Kelley L Cox-US PRESSWIRE

Wow, where to begin? The disinterested owners? The sloppily constructed roster? The terrible attitude of DeMarcus Cousins?
With the Sacramento Kings, almost no angle of analysis yields a positive picture. By way of brief synopsis, the Kings haven't been relevant in the NBA for nearly a decade, and it doesn't look like they will be any time soon.
Virtually every player on the roster is a shoot-first chucker who makes nobody else better. And on top of that, new recruits like Thomas Robinson seem to suffer from the toxic locker room almost immediately. Robinson has already been suspended for a wicked elbow to Jonas Jerebko—something that seemed totally out of character for the Kansas product.
But that's what happens on a team like this. Even the good ones go bad.
Forget the playoffs. How about the Kings focus on putting together a roster that doesn't fight each other for shots?
Playoff Odds: No Chance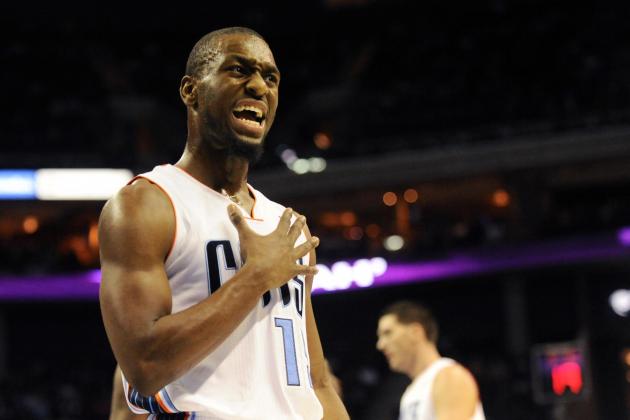 Sam Sharpe-US PRESSWIRE

Let's see, the Bobcats have Michael Kidd-Gilchrist, whose ceiling seems to be that of a solid rotation player. They've got Kemba Walker, a shooting guard masquerading as the team's primary distributor. And they've also got…well, nothing else.
The Bobcats probably won't finish with the league's worst record again this year, but they're still going to be lucky to win 20 games.
Under new coach Mike Dunlap, the Cats were supposed to take on a frisky defensive identity. The theory was that they didn't have the talent to play conventionally, so they'd make things weird, scattered and unpredictable.
While it's true that Charlotte has actually run a full-court press this year—something you never see in the NBA—the whole "defensive identity" thing hasn't really worked out.
Charlotte is currently one of the very worst defensive clubs in the league.
Someday, maybe Michael Jordan's little project will finally look like a real NBA franchise. That day is not today, friends.
Playoff Odds: No Chance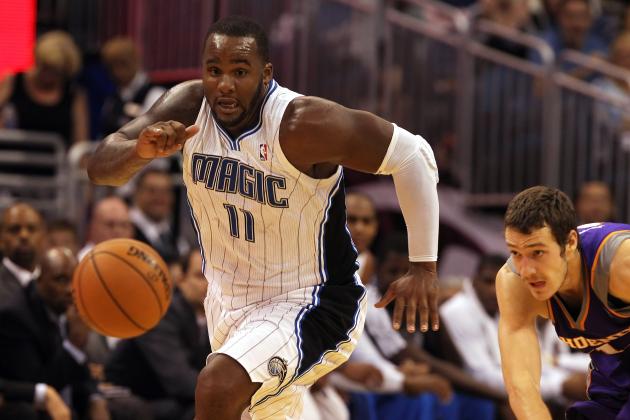 Kim Klement-US PRESSWIRE

The Orlando Magic have a strategy. Basically, they wait for a franchise center to arrive via a No. 1 overall pick, make a few deep playoff runs and then lose said center. After that, it's a plunge into NBA irrelevancy until the cycle starts all over again.
It worked with Shaquille O'Neal. It worked with Dwight Howard and it'll work when they get their next superstar centerpiece sometime after 2016. Until then, we can all just pretend there's not an NBA team in Orlando. How's that sound?
Sorry if that's not the most encouraging prognosis, but it's just about all the Magic have going for them at this point. With a roster full of NBA journeymen and bench players in starting roles, the Magic don't even have the look of a rebuilding team.
They'll have to make a major splash in free agency or hit on a number of future draft picks before this thing turns around. Let's just move on.
Playoff Odds: No Chance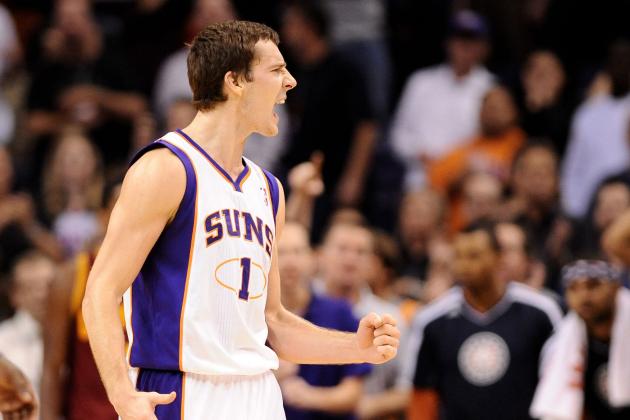 Jennifer Stewart-US PRESSWIRE

The first iteration of the post-Steve Nash Phoenix Suns has been a little better than some might have thought. It turns out Goran Dragic is pretty good, Marcin Gortat can block some shots and Luis Scola is still as crafty as ever.
But the Michael Beasley experiment is going as expected—assuming you expected it to go poorly—and there's just not much else worth getting excited about on this roster.
The Suns are a surprising 4-4, but they've got wins over Detroit, Charlotte and Cleveland, so they haven't exactly had the toughest early schedule. This is a team in a full-scale reconstruction, so the playoffs were never a realistic possibility. Still, though, the Suns play with a scrappy flare that makes for entertaining basketball.
Too bad entertainment value doesn't count toward a playoff berth.
Playoff Odds: Long Shot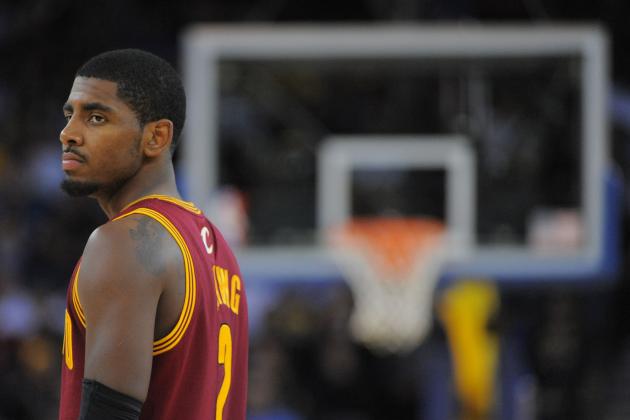 Kyle Terada-US PRESSWIRE

The Cleveland Cavaliers have Kyrie Irving, a point guard on a rapid ascent into the league's top 10 players. He was tough to guard before he hurt his right hand this offsesason, but a summer of practice with his left has resulted in a suddenly ambidextrous finisher who can get to any spot on the floor at any time.
In short, Irving is great and still getting better.
Unfortunately, even a young stud like Irving isn't good enough to drag the likes of Alonzo Gee and Tristan Thompson, two players who actually start for this team, to the playoffs.
Make sure to check in on any Cavs game that's close in the fourth quarter because you're sure to see Irving working in full takeover mode. Other than that, there's nothing to see here.
Playoff Odds: Long Shot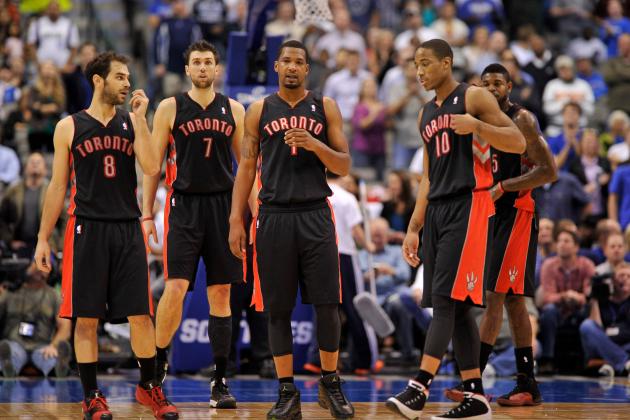 Jerome Miron-US PRESSWIRE

The only show in a hockey-deprived Canadian sports scene, the Toronto Raptors have stumbled out of the gate to a 2-6 start. That doesn't doom their playoff chances, which were never that great to begin with, but it certainly doesn't help matters.
DeMar DeRozan is doing his best to justify his new contract, and Andrea Bargnani just needs to stay healthy in order to score. However, Kyle Lowry is now sidelined with an ankle injury, which robs the Raps of their most dogged defender and floor leader.
Toronto is getting crushed on the boards and has made a habit of giving up big point totals to the opposition, thanks in large part to the frontcourt combo of Bargnani (never a defensive stalwart) and a very raw Jonas Valanciunas.
Even in a fairly open Eastern Conference, the Raptors don't have much of a chance at the postseason.
Playoff Odds: Long Shot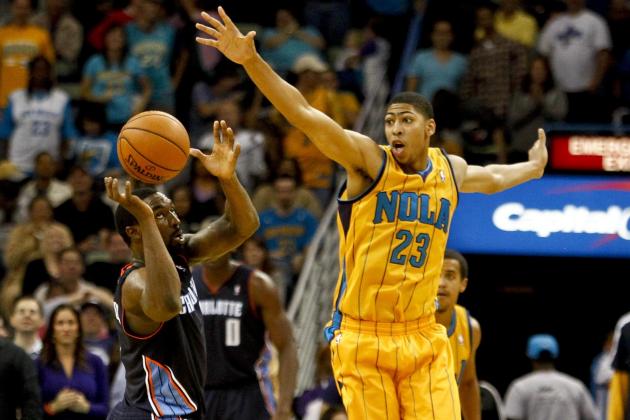 Derick E. Hingle-US PRESSWIRE

Good news: Anthony Davis looks like a surefire 10-time all-star.
Bad News: Everything else.
The New Orleans Hornets have a bright future solely because of Davis' potential brilliance, but the present is pretty cloudy.
Eric Gordon can't seem to find his way onto the floor, Austin Rivers doesn't look like he was worth a lottery pick and the rotation is full of forgettable young players and retreads. Fortunately, nobody really thought the Hornets would even sniff the postseason this year, so there's not really much to be disappointed about.
With cap room aplenty for the future and Davis looking like a franchise player already, the Hornets will be just fine down the road. Defensively, he's even been good enough to keep his Hornets out of the group of teams with no chance whatsoever to make the playoffs.
Keep your heads up, Hornets fans. Better times are coming.
Playoff Odds: Long Shot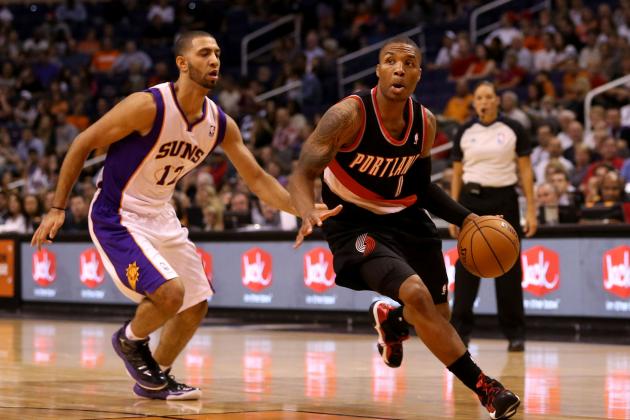 Christian Petersen/Getty Images

It sure seems like the Blazers should be better than they are. But, a tough early schedule has them in a bit of a hole to start the season.
Damian Lillard looks terrific, and Nicolas Batum has been successful in the early stages of his mission to justify his big offseason contract. But beyond those two players, the Blazers haven't had much to brag about.
Now that LaMarcus Aldridge has turned himself into a one-dimensional jump-shooter, the Blazers are having trouble creating easy baskets. But offense hasn't even been the biggest issue in Portland.
To put it bluntly, the Blazers just aren't stopping anyone. Some of the Blazers' defensive generosity is attributable to the heavy minutes being played by Lillard and Meyers Leonard, a pair of rookies. But with Batum, Aldridge, Wes Matthews and J.J. Hickson, there's no excuse for the Blazers' porous defense.
Because Portland figures to give such heavy playing time to its young core, they didn't project to be a playoff contender this season. And the poor team-wide defensive effort (and nonexistent bench) isn't doing anything to change the perception that Portland's not quite ready yet.
Maybe next year, guys.
Playoff Odds: Long Shot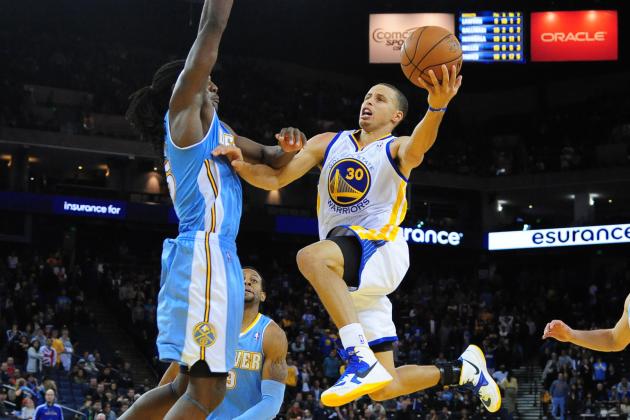 Kyle Terada-US PRESSWIRE

The Warriors' guarded preseason optimism has suffered quite a few early blows this season. Klay Thompson and Stephen Curry aren't shooting like they're supposed to, Andrew Bogut's been shut down and Brandon Rush, the Dubs' excellent sixth man, tore his ACL in the home opener.
But the Warriors are still 3-4 despite games against playoff locks Denver, Memphis and both teams from L.A.
So, even though the team hasn't performed as expected, there's actually cause for hope. Eventually, the Warriors' perimeter looks are going to start falling. When they do, they'll join the best defensive and rebounding numbers the Warriors have put up in years.
If Andrew Bogut's time off results in a full-strength return, the Warriors could vault into serious playoff contention.
There are a lot of "ifs" here, but of the handful of teams fighting for the last two playoff spots in the West, Golden State probably has the highest ceiling.
Playoff Odds: Possible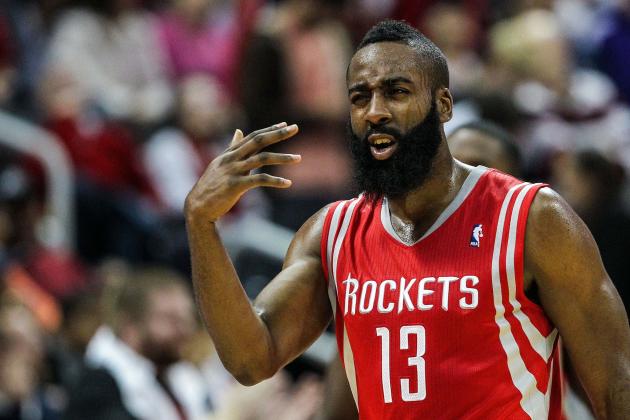 Daniel Shirey-US PRESSWIRE

The second the Houston Rockets snagged James Harden from the Oklahoma City Thunder, they immediately went from "lottery lock" to "hang on a minute, this team's dangerous."
Rockets GM Daryl Morey has officially entered the rarified air of the Oakland Athletics' Billy Beane, meaning he permanently gets the benefit of the doubt on every move he makes. From now on, he's assumed to be a genius until somebody proves otherwise.
Harden was a coup, the Jeremy Lin and Omer Asik signings are working out nicely and a number of the Rockets' mid-first-round rookies look promising. Oh, and Houston has a mountain of cap room to go big on the free-agent market this summer.
The Rockets may not have enough to sneak into the playoffs this year, but they've got one of the brightest futures in the league.
Their playoff chances are shaky unless Daryl Morey says otherwise. In that case, we'd all just better assume he's right.
Playoff Odds: Possible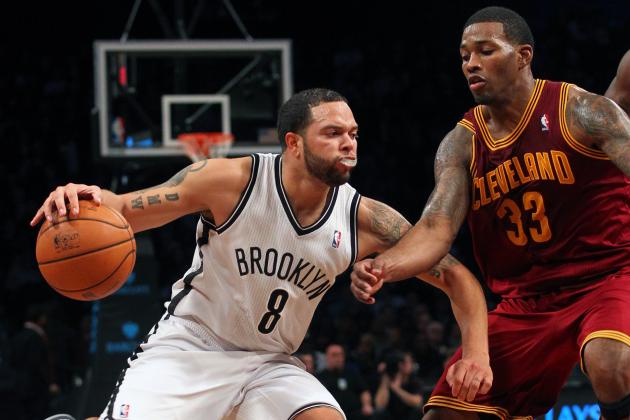 Brad Penner-US PRESSWIRE

The Brooklyn Nets have a shiny new building and some hip uniforms. All that glitter on the surface is an appropriate metaphor for the roster, which boasts a pretty darn impressive starting five with very little behind it.
At full health, the combination of Deron Williams, Joe Johnson, Gerald Wallace, Kris Humphries and Brook Lopez looks as good as any starting unit in the East. But below the shiny surface, things get ugly in a hurry.
There's absolutely no depth here.
The ugliness-beneath-the surface metaphor works for the Nets' record, too. A 4-2 mark looks great, but when you consider that it includes two wins against Orlando, one against Cleveland and one against the Raptors at home, it looks a lot worse. And let's not even discuss their two losses which came by a combined 41 points.
Depth issues and susceptibility to injury make the Nets an unlikely playoff participant…if they weren't in the East. Since they are, they've got a shot at the No. 8 seed.
Playoff Odds: Possible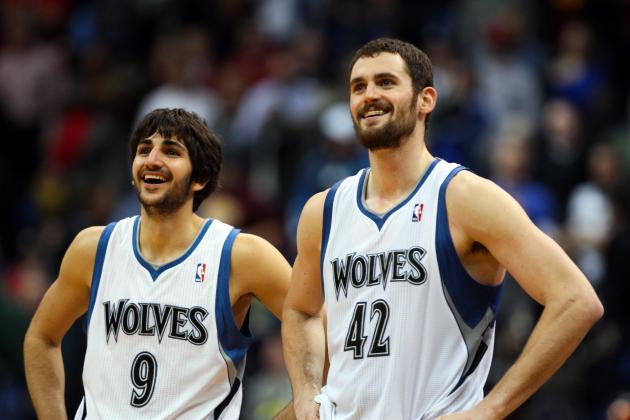 Brace Hemmelgarn-US PRESSWIRE

This would be a vastly different narrative if Kevin Love and Ricky Rubio weren't hurt. But, here we are.
Without their two most important pieces, the Timberwolves have relied on Rick Adelman's offensive genius and some of the West's best offseason acquisitions to remain competitive. A soft early schedule hasn't hurt, either.
The issue here is that the injury bug seems to have spread. In addition to Love and Rubio's health issues, Brandon Roy is missing games with knee soreness, and Chase Budinger is expected to be out for 3-4 months after tearing his meniscus.
At this rate, Love and Rubio will be playing two on five when they get back.
Health is the sole determining factor here. If Love and Rubio come back strong, the Wolves should be right in the mix for the seventh or eighth seed.
Playoff Odds: Possible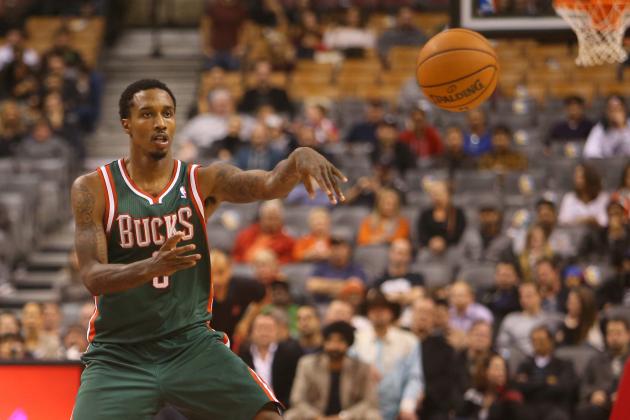 Tom Szczerbowski-US PRESSWIRE

If Scott Skiles ever gets his starting lineup figured out, the Milwaukee Bucks could be more than a team scrambling for a low playoff seed. But until Larry Sanders and Mike Dunleavy are playing ahead of Samuel Dalembert and Tobias Harris, the Bucks won't take any major steps forward.
Monta Ellis and Brandon Jennings seem to be working together fairly well (for now), but we've seen too much evidence of the failure of undersized, shoot-first backcourts to believe things are guaranteed to remain so copasetic forever.
There's a very interesting combination of frontcourt depth, athleticism and scoring punch here. It just seems like the calibration's a little off.
Playoff Odds: Possible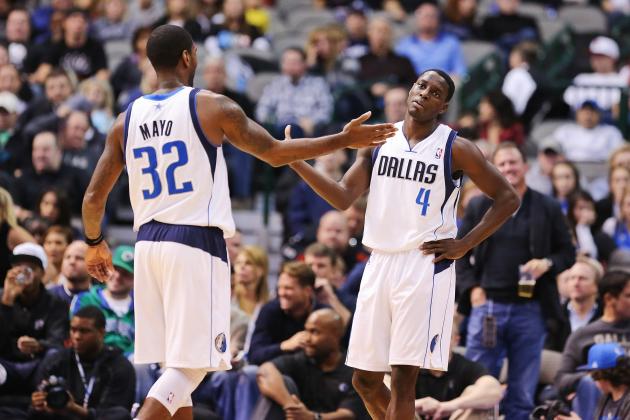 Kevin Jairaj-US PRESSWIRE

Even without Dirk Nowitzki, the Mavericks look like a dangerous team. The acquisitions of Darren Collison and O.J. Mayo have worked out brilliantly, and Shawn Marion is still one of the NBA's most underappreciated stars.
With Brandan Wright reprising his role as a terrific bench player and Elton Brand continuing to play sound defense, the Mavs look like a potential playoff team even without their German superstar.
If Dirk is anywhere near full health when he returns, the Mavs could sneak up toward the fifth or sixth seed. As it is, they're probably going to have to duke it out with a half-dozen hopefuls for the final two spots in the West.
Playoff Odds: Probable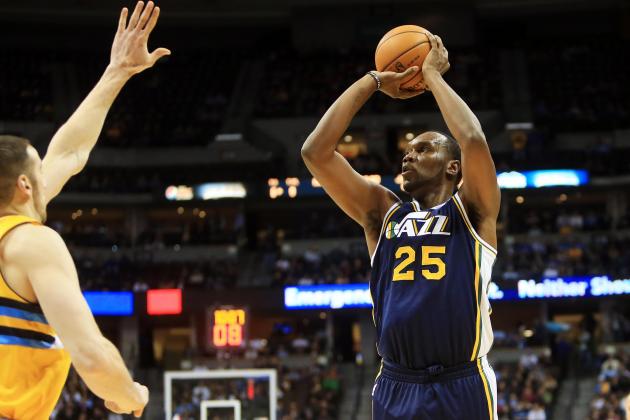 Chris Humphreys-US PRESSWIRE

It's taken a little while, but it looks like head coach Tyrone Corbin has finally figured out that he needs to get his team's three best players on the court together as much as possible.
The ultra-big front line of Paul Millsap, Derrick Favors and Al Jefferson is easily Utah's most effective player combination. That was the case in limited minutes last season, and with Paul Millsap showing that he's added a new dimension to his game—he's hit six of nine three-point shots already—the Jazz are suddenly a terrifying matchup.
It's hard to project where Utah will be at season's end because both Millsap and Jefferson are free agents. Both could very easily be traded at any time. But if the Jazz keep the team together and continue to use their big lineup, they could be primed to upset a high seed in the West's first round.
Playoff Odds: Probable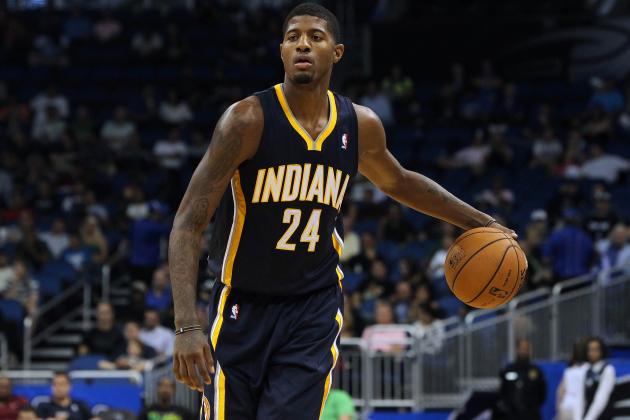 Kim Klement-US PRESSWIRE

The loss of Danny Granger for three months turned the Pacers from a preseason darling in the East to a team just hoping to make it into the postseason.
With Roy Hibbert and Paul George, the Pacers do have a bright future. But right now, the team doesn't move the ball or score efficiently enough to make any trouble for the contenders in the East.
The Pacers are a terrific rebounding team, and they defend very well, but without Granger, guys like George and Hibbert are being forced into bigger roles than they're currently ready for.
David West and George Hill are solid veterans with playoff experience, so Indy has a good shot to battle its way to a low seed.
Indiana is more likely in than out—the seventh seed feels about right—but George is going to have to take a big step in his development before the Pacers are a safe bet.
Playoff Odds: Probable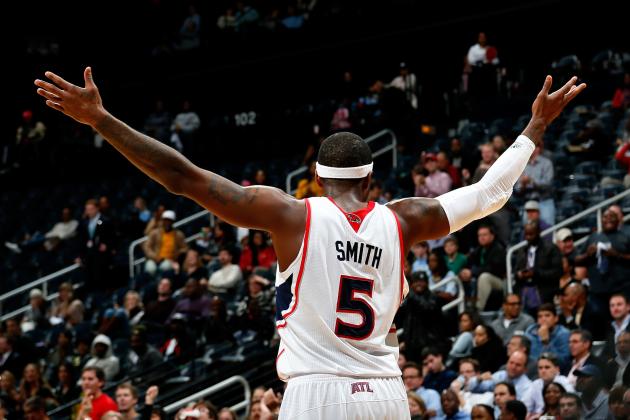 Kevin C. Cox/Getty Images

The Atlanta Hawks don't seem to miss Joe Johnson. That's not to say Johnson isn't a pretty good NBA player; it just shows that Atlanta is right where it always is despite the loss of its All-Star guard.
That's right, the Hawks are (once again) a team that will manage to end up somewhere in the middle of the playoff seeding. Josh Smith and Al Horford seem pretty comfortable there.
That may not be exciting analysis, but the Hawks' playoff fate has been boringly consistent since 2008. In the last four years, Atlanta has never finished higher than third or lower than fifth in the East.
With Lou Williams and Jeff Teague capable of replacing Johnson's production, the Hawks look to be headed in the same predictable direction this year. Mark them down for somewhere between 43 and 47 wins, which should be good enough for the No. 5 seed.
Of course the Hawks are in. It just wouldn't be an NBA season without the Hawks earning a middle-of-the-pack seed…and then promptly losing a first-round series.
Playoff Odds: Probable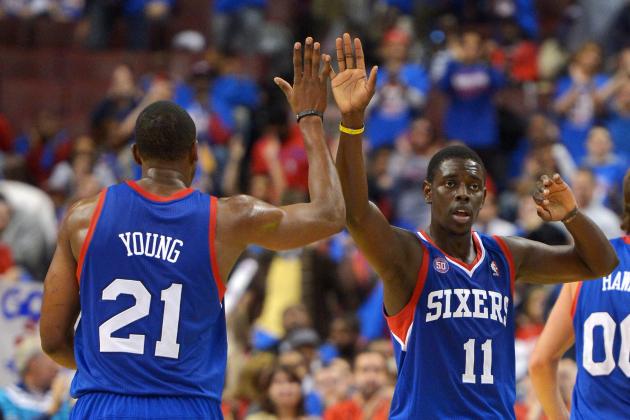 Drew Hallowell/Getty Images

Doug Collins' Sixers are in real need of a way to generate easy baskets. Wouldn't it be great if they had, like, a giant franchise cornerstone they could dump the ball into on the block? That'd sure make things easier for the NBA's fifth-worst offense.
Without said franchise cornerstone, also known as the perma-injured Andrew Bynum, the Sixers are depending on the very capable Jrue Holiday and their not-so-capable cast of seemingly interchangeable wings to put up enough points to win.
Fortunately, the Sixers defense has been so good that they haven't needed big offensive totals to be successful. But they're not on the defensive level of the Chicago Bulls, so they can't depend on one-way basketball to assure a playoff berth.
If Bynum is healthy enough to ease the offensive burden on Holiday when he returns, the Sixers become a legitimate threat in the East. Otherwise, this team may not be able to climb higher than a mid-tier seed.
Playoff Odds: Probable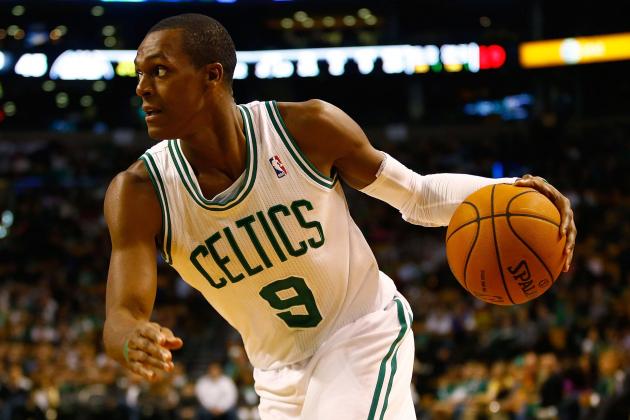 Jared Wickerham/Getty Images

The rebuilt Boston Celtics are struggling to integrate some key additions, which has led to a somewhat forgivable 3-3 start.
Although Jason Terry, Leandro Barbosa, Courtney Lee, Jeff Green and Jared Sullinger are all trying to figure out where they fit in, Boston's offense has actually played just fine—it's No. 11 in the league in terms of efficiency.
Much of the credit for the smooth integration of the new pieces goes to Rajon Rondo, who's presently averaging 12.9 assists as Boston's offensive lynchpin.
There are real problems on defense and on the boards, though. Boston's newcomers outside of Lee aren't known as defenders, and Kevin Garnett can only do so much. As a result, the Celtics are ranked 22nd in defensive efficiency and second to last in rebound rate.
They're a veteran team that will work things out eventually, though. Paul Pierce, Rondo and KG haven't missed the playoffs since they've been together, and they're not about to start now.
Playoff Odds: Very Likely
Mike DiNovo-US PRESSWIRE

Apparently, the Chicago Bulls don't need Derrick Rose to play lockdown defense.
Predictably, the Bulls have had trouble scoring. But by consistently keeping opponents' totals in the 80s, their sluggish offense hasn't prevented them from winning games.
Even if Rose doesn't come back at all, Chicago does enough of the little things (like rebounding, hustling and sharing the ball) to make the postseason anyway. If he does return and is anywhere near his old self the Bulls could even win a series or two.
As it is, the Bulls will continue to play ugly, gritty basketball while struggling to score. And that should be enough to get them comfortably into the playoffs.
Playoff Odds: Very Likely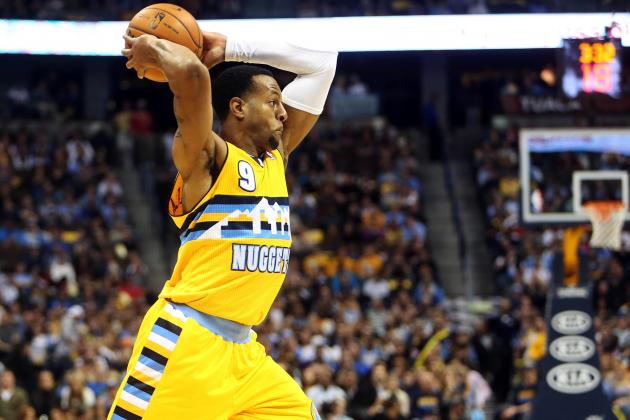 Chris Humphreys-US PRESSWIRE

The Nuggets entered the 2012-13 season as a sleeper, a stathead's dream or a potential No. 1 seed, depending on who you asked.
After a rocky start, Denver has rounded into form and now looks like a team somewhere between a sleeper and a contender in the West. Andre Iguodala has given the Nuggets a top-flight defender to toss at opponents' best wings, and Kenneth Faried is a good bet to lead the league in rebounding.
The only issue with Denver is its lack of floor-spacing shooters; Danilo Gallinari's outside shooting has regressed in every year of his career, and Iguodala isn't as accomplished as Arron Afflalo was from the perimeter. That puts more pressure on Ty Lawson to create looks in the paint, but he appears capable of picking up that slack.
Denver is a dangerous team that has played well while still trying to figure out its offensive identity. When that happens, watch out.
Playoff Odds: Very Likely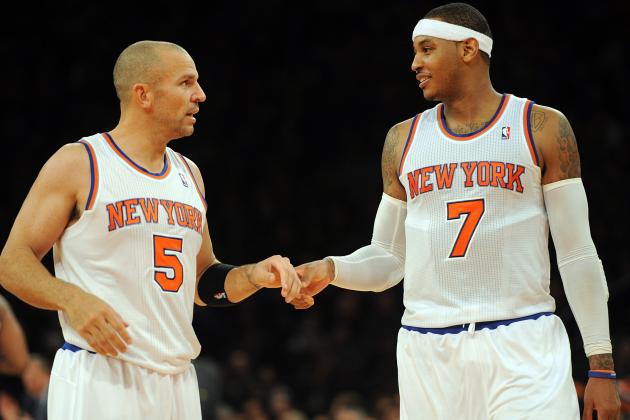 Joe Camporeale-US PRESSWIRE

So it turns out Carmelo Anthony is definitely better as a power forward. There was some evidence to suggest that would be the case, but Mike Woodson's move to run the offense through Anthony in the mid-post has paid monstrous dividends.
The Knicks currently sit near the top of the NBA's efficiency rankings in both the offensive and defensive categories, thanks in large part to the reinvention of Melo.
Everybody on the roster seems to be hitting threes, and the defensive effort has been spectacular.
The most interesting storyline on the horizon will be the Knicks' treatment of Amar'e Stoudemire. Not only have the Knicks proved they can survive in his absence, they've shown they're just plain better without him. As presently constructed, this roster doesn't need Stoudemire. He'd just get in Carmelo's way.
Other than the potentially thorny issue of either integrating or trading Stoudemire, everything's looking rosy for the Knicks.
Playoff Odds: Very Likely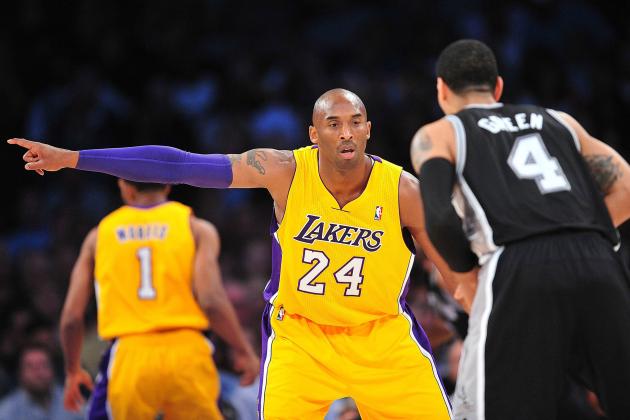 Gary A. Vasquez-US PRESSWIRE

So far, everything that could have gone wrong for the Lakers has, in fact, gone wrong. Steve Nash is down with a fractured fibula, Dwight Howard hasn't looked like himself, the bench has been terrible and Mike Brown proved he wasn't capable of guiding such a complicated, high-profile group.
But Mike D'Antoni is now in charge, which suddenly seems to put everything in order. Once Nash is back, the Lakers will utilize him as the pick-and-roll maestro he truly is, while giving him a new weapon in Dwight Howard, the best roller in the league.
Kobe Bryant will thrive as an off-ball cutter and post-up specialist against smaller guards, and Pau Gasol's passing fits in anywhere.
The only reason the Lakers aren't a total playoff lock is the overhanging specter of their superstars' age and health concerns. Barring further bad news from the training staff, L.A. has as good a chance as anybody to give the Heat a run.
They'll make the dance. Hopefully, they won't be hobbling when they get there.
Playoff Odds: Very Likely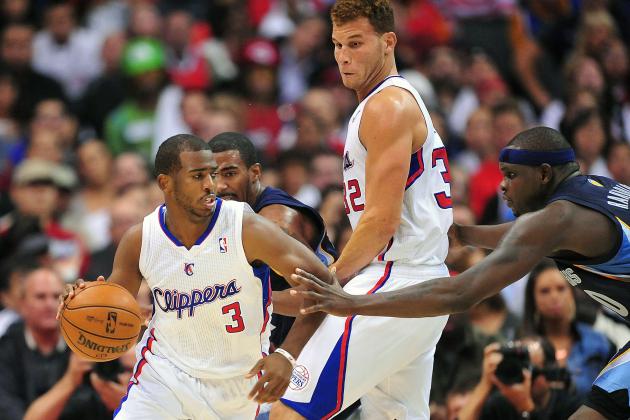 Gary A. Vasquez-US PRESSWIRE

Aside from a pair of surprising home defeats by the Golden State Warriors and Cleveland Cavaliers, the L.A. Clippers look like they've taken the next step in their development into a top-flight contender.
The Clippers scored 100 points in their first six games this season, thanks in part to a top-five pace and then gutted out a low-scoring win over the Atlanta Hawks on Nov. 11. So they've also turned up the intensity on defense, ranking eighth overall in defensive efficiency.
Chris Paul is still Chris Paul, and it looks like DeAndre Jordan may have found something resembling a post game over the summer. Plus, Jamal Crawford has been putting up 20.3 points off the bench. Apparently, Lob City is more than just a dunk factory these days.
With the Lakers stumbling out of the gate, the Clips have surged to the top of the Pacific Division. They've got a good chance to stay there, too.
Playoff Odds: Lock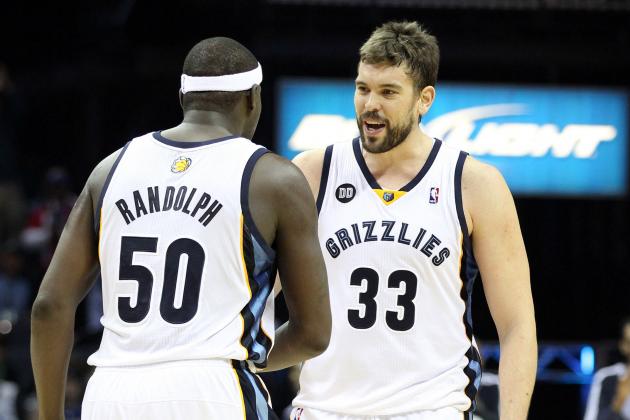 Nelson Chenault-US PRESSWIRE

With early wins over the Utah Jazz, Houston Rockets and Miami Heat, the Memphis Grizzlies have solidified their standing as an elite team in the West. Marc Gasol, Zach Randolph and Rudy Gay make up the league's best front-court trio, while Mike Conley and Tony Allen are grossly underrated at the guard spots.
If Wayne Ellington can be the floor-stretcher the Grizz have been looking for, watch out: This team is poised for a deep playoff run.
As for merely making the playoffs, there's no doubt that Memphis is assured a high seed.
Financial constraints won't allow this core to remain together much longer, but for now, Memphis is playing as well as any team in the league.
Playoff Odds: Lock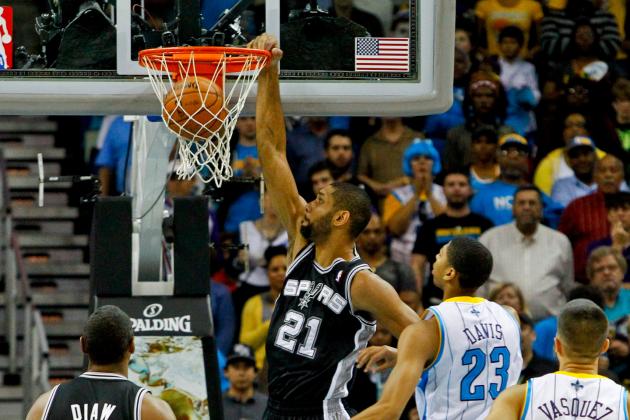 Derick E. Hingle-US PRESSWIRE

As long as Tim Duncan and Gregg Popovich are together, can't we just assume the San Antonio Spurs are guaranteed a top-four seed?
Look, the Spurs play the smartest, most efficient brand of basketball on the planet, and they've done it for over a decade. If anything, the Spurs' phenomenal 7-1 start indicates that they're still finding ways to improve the NBA's most effective system.
Danny Green and Kawhi Leonard are only getting better, and Tim Duncan somehow looks younger than he has in five years. With Tony Parker and Manu Ginobili still hanging onto the tail end of their primes and with the best international scouting operation in the league, San Antonio is talented at the top of the rotation and chock full of bench help.
As has been the case since the Clinton administration, the Spurs are a shoo-in.
Playoff Odds: Lock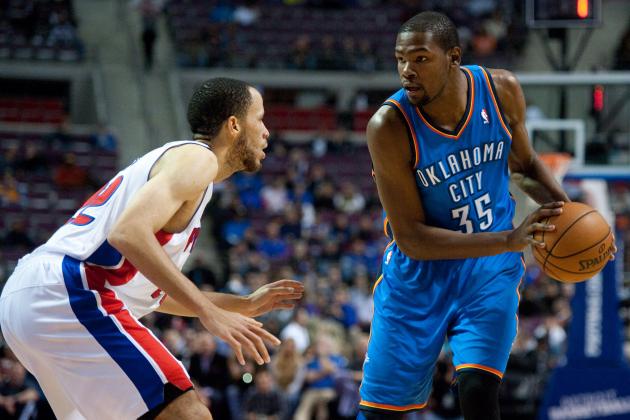 Tim Fuller-US PRESSWIRE

There have been a couple of bumps on the road since the Oklahoma City Thunder surprisingly dealt James Harden. But despite an opening-night loss at San Antonio and a cold shooting performance against the Atlanta Hawks, OKC still looks like an elite team.
Kevin Durant is rebounding at a career-high level, and Serge Ibaka is asserting himself more than ever on offense (10.5 shots per game is a career high). The loss of Harden hurts, but certainly not enough to knock the Thunder out of the playoffs.
Look at it this way: The Thunder have a better winning percentage in the young 2012-13 season than they did a year ago when they made the NBA Finals. They're going to be just fine without Harden.
Playoff Odds: Lock
Brett Davis-US PRESSWIRE

LeBron James is doing it again. By "it" we mean raising the bar. Already the league's undisputed best player, James is leading his Miami Heat in points, rebounds and assists while shooting 55 percent from the field and 52 percent from three-point land.
It's almost like he's toying with the league.
The only difference between this year's Heat team and the one that won the title a season ago is that LeBron has more help (Ray Allen and Rashard Lewis) and a taste of what it's like to hold the Larry O'Brien trophy.
Unless a meteor hits the planet and wipes all of us out, the Heat are making the playoffs.
Playoff Odds: Lock