Kentucky vs Duke: Report Card Grades for the Wildcats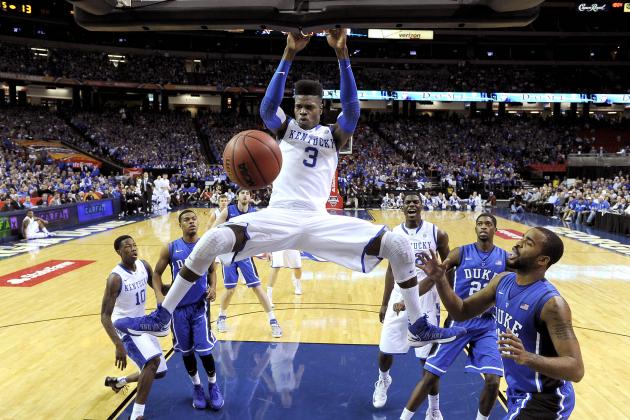 Paul Abell-US PRESSWIRE
Kentucky and Duke produced another instant classic
Kentucky and Duke squared off in the final matchup of the 2012 Champions Classic in their first meeting since 2001. The Blue Devils prevailed in the end as their senior starters outshined Kentucky's inexperienced freshmen, winning 75-68.
There were plenty of positives and negatives to take away from this game for the Wildcats, so the following slides are going to present report card grades for all five starters, important bench players and the head coach himself.
Sound off in the comments section with your opinions on the game or send me a personal message by sending a Tweet to @PaulAbles
Begin Slideshow

»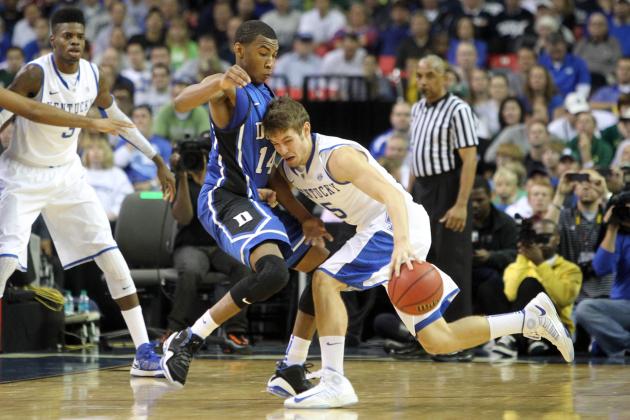 Daniel Shirey-US PRESSWIRE
Jarrod Polson was not ready for this game
As much of a hero as Jarrod Polson was for Kentucky last game against Maryland, he was that much of a non-factor versus Duke. Granted, Jarrod had a lot going against him and nobody expected him to truly hold his own in tonight's contest.
He lacks the game-time experience, let alone the talent and skill level, that his opponent Seth Curry displayed. To put it bluntly, Curry dominated Polson all night long. As Seth torched the nets on his way to a game-high 23 points, Polson failed to register a single basket or assist, something that he did plenty of both last game.
Polson was fresh off of his greatest game ever as a Kentucky Wildcat, scoring 10 points and converting multiple clutch plays to seal the victory for the Cats against Maryland. However, this game against Duke thrust him completely into the starter's role as Ryan Harrow failed to make the trip to Atlanta due to medical issues.
The only reason that I do not give Polson a F grade is that he only committed one turnover and did not hurt his team on offense. He was simply outmatched on defense and nobody could have honestly expected more out of him.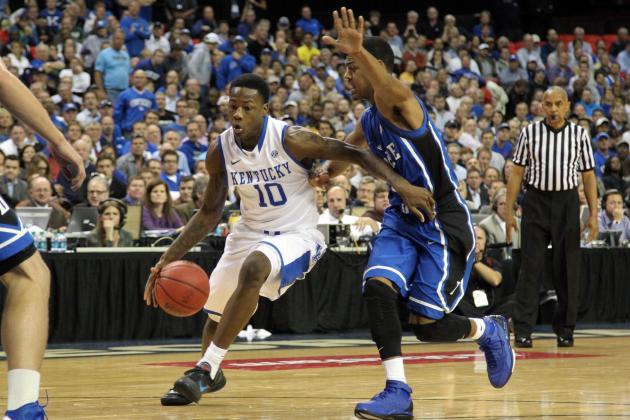 Daniel Shirey-US PRESSWIRE
Goodwin was relentless in attacking the rim vs. Duke
Kentucky's emerging go-to scorer is guard Archie Goodwin, who played an excellent all-around game and kept the Wildcats within striking distance throughout the entire night.
Goodwin finished the game scoring 16 points, collecting six rebounds, dishing four assists and even blocking a shot. He certainly made a few head-scratching plays here and there, but overall he was a steady force on both ends of the court and played extremely hard all game long.
Archie was forced to play more minutes at point guard due to the absence of Ryan Harrow. Unfortunately for Archie he is not a natural point guard and committed four costly turnovers in the game. He did occasionally play out of control but that is expected from a freshman.
All in all Goodwin played fantastic and had a great all-around game while impacting numerous areas on the court. His scoring kept the Cats alive and he showed up big against a veteran Duke back court.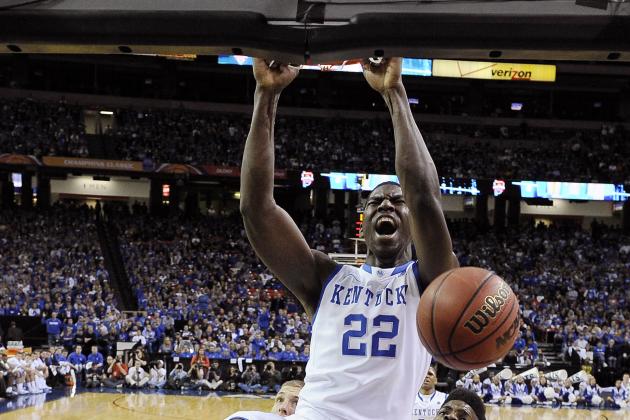 Paul Abell-US PRESSWIRE
Poythress was an absolute beast and broke out for UK
The star of the game for Kentucky was none other than Alex Poythress. After playing subpar in his first few games on campus, Alex finally had a breakout game on the national stage and really showed the country what he was capable of doing.
Poythress lit up the Blue Devils and no one stopped him on the way to 20 points and eight rebounds, while shooting an efficient 9-13 from the field. It was without a doubt the best game he has played during his early career and is hopefully a precursor of things to come down the road.
What was perhaps most impressive with his performance was how physically imposing he was. He converted a trio of dunks that left you breathless and truly appeared to be a man slamming it home against a little boy.
He was also very aggressive on the boards and it shows in his results. Now that the Wildcats have had Goodwin and Poythress break out in consecutive games, hopefully he can have them both peak on the same night here soon. If so then this team will be hard to beat.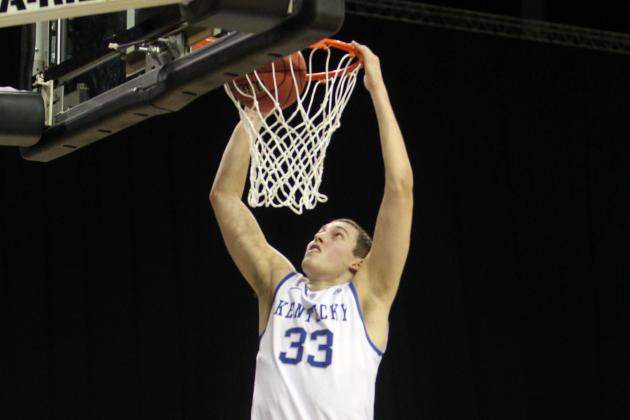 Daniel Shirey-US PRESSWIRE
Wiltjer was a no-show against the Blue Devils
Fresh off of a 19-point, six-rebound outburst against the Maryland Terrapins, Kyle Wiltjer was expected to have another big game versus a veteran Duke basketball team.
Instead, the complete opposite happened as Wiltjer was nowhere to be found all night long. Part of this goes to Duke's defense, which constantly keyed on Kyle and made it tough for him to get easy looks on offense.
However, one of your team's best scorers is supposed to fight through that and Wiltjer simply did not do that. He finished the game against Duke scoring just five points and pulling down only three rebounds. For the team's starting power forward, that is unacceptable output and needs to be corrected immediately for the team's next game.
With that being said, there was a bright spot in his game as he dished out four assists, which really opened up the interior paint. He had a good chemistry with Nerlens Noel, who hopefully continues to learn under Kyle's wing.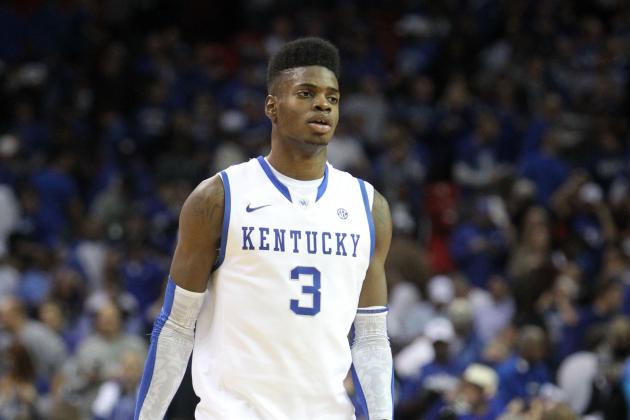 Daniel Shirey-US PRESSWIRE
Noel played valiantly but couldn't outplay Mason Plumlee
Tonight was a showcase game for Nerlens Noel and served notice to the rest of the country about how good he can become. Going up against ACC Player of the Year candidate Mason Plumlee, Noel produced a great all-around game that had to impress even the most vocal haters.
He is not expected to be a major contributor on offense, but tonight he poured in 16 points. Included in that total was his excellent work on the charity stripe, converting six of his eight attempts at the free throw line.
Noel ended up completely filling out his box score as he added eight rebounds, four steals, three blocked shots and two assists to round out a near complete game. This is the sort of output that could make him a star and he was a key component in Kentucky's second-half surge that cut the deficit from 14 points down to as low as three.
The only reason that I give Nerlens an A- score is because how easily Mason Plumlee scored on his inside. Mason scored 18 points and only missed one shot. Noel has a reputation as a defensive stopper but two games into the year and he has already given up big games to Plumlee and Maryland center Alex Len. Once he shores up his interior defense then the sky will be the limit for him.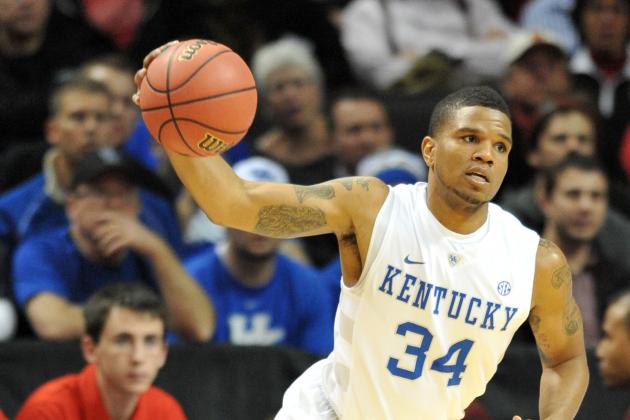 Jason Szenes/Getty Images
Mays played a solid game against Duke
Julius Mays was thrust into a new role against the Duke Blue Devils. With Ryan Harrow out of the game, Mays spent a lot of time playing point guard for the team and he did so with varying degrees of success.
First of all, he did provide valuable leadership and is one of the vocal leaders on the roster. He also added seven points and three assists to contribute in a multitude of ways on offense.
At the same time, Mays only converted one shot from deep and only two of his eight field goal attempts overall. He rushed a few perimeter shots that wasted a couple of valuable offensive possessions. He also produced four turnovers, proving that he is more of a scorer than a natural ball distributor.
Mays was also scored on constantly by Duke's veteran guards, exposing him as perhaps a bit of a defensive liability. Hopefully he can turn this sort of game around and use it as valuable experience moving forward.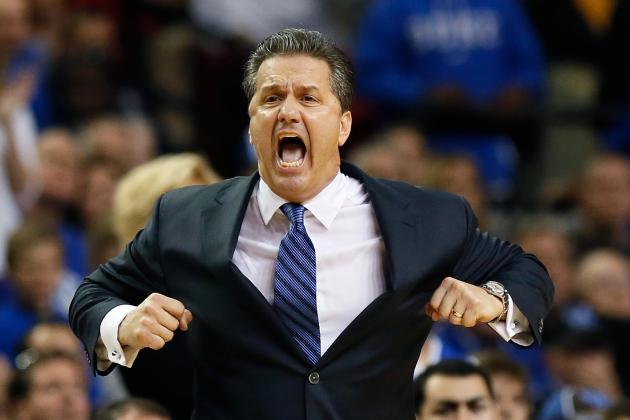 Kevin C. Cox/Getty Images
John Calipari was slightly animated on the sidelines against Duke
Judging the head coach's letter grade is never an easy task but I feel confident giving John a solid A-minus overall. He did a wonderful job throughout the entire game of keeping his players in the game mentally but also did not get the job done in the end.
First of all, he kept a short leash on his rotation and limited it to seven players versus Duke. Being that he was down a man in point guard Ryan Harrow, Calipari had no choice but to play his best players for the majority of the game. He did so and avoided foul trouble, while also keeping his team in the contest right up until the end.
Kudos also go to Calipari for putting Alex Poythress and Nerlens Noel in position to succeed tonight, as they both produced their best games of the season. He made adjustments after the Maryland game and each player responded strongly with great effort and tenacity.
However, he also deserves some blame for the lack of effectiveness of any player at the point guard spot. Jarrod Polson failed to recapture the magic of his previous game, while Archie Goodwin turned the ball over often while playing point guard. The same result happened when Julius Mays ran the point guard spot, which again resulted in turnovers.
Moving forward, it is imperative that John Calipari develops one of these players into a capable backup point guard who can spell or replace Harrow when needed. If he does so than the rest of the coaching will fall into place.
All in all, he kept his team positive and upbeat after Duke ballooned to a 15-point lead in the second half. They showed heart and nearly fought all the way back. This is all a part of coaching and John Calipari did a fine job of just that. He did a great job all game long but failed to win in the end. Either way, he turned in a fine performance.