College Football Locks for Week 12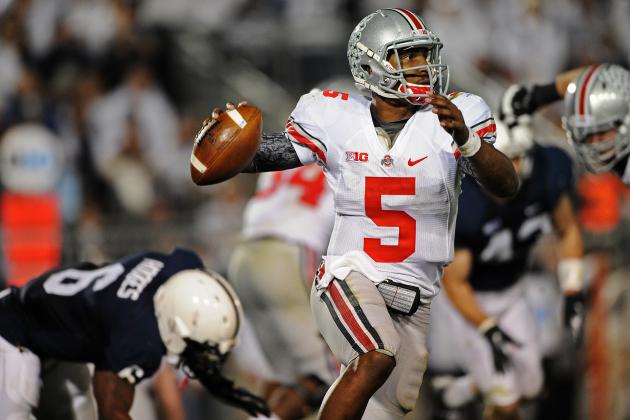 Patrick Smith/Getty Images

We are staring Week 12 of the college football season square in the face, a fact that is utterly depressing if one chooses to dwell upon it for too long.
There is a pretty solid slate of games coming up, including Ohio State vs. Wisconsin, Stanford vs. Oregon, USC vs. UCLA and Texas Tech vs. Oklahoma State.
You will notice no SEC teams are mentioned in that list, because just about all of them face cupcakes this week.
That's worth a faceplant or a facepalm, whichever floats your boat.
But enough math bashing.
This list is about ranking the games that are guaranteed locks going into this weekend.
But rather than bore you by picking every SEC game and being done with it, we have compiled a list that includes some of the best games of the weekend, and our reasoning behind each pick.
Read on for our Week 12 locks.
Begin Slideshow

»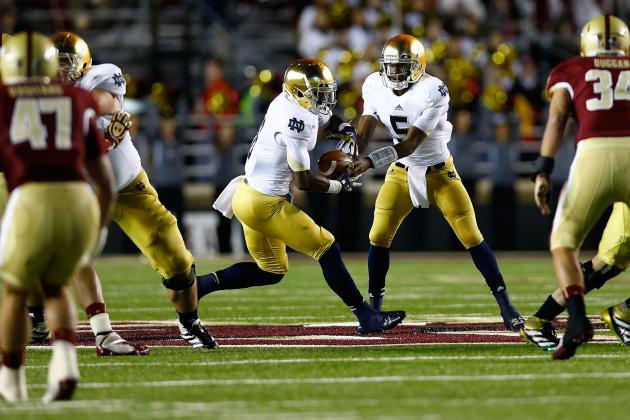 Jared Wickerham/Getty Images

Let's start off with an easy one.
Some are pulling for the Irish to lose, if only so they get to stop hearing about Notre Dame and the BCS title game in the same sentence.
But it's not going to happen this week.
Sure, Brian Kelly's team has struggled against teams such as Pitt and Stanford, but guess what?
They are 10-0, and face a Wake Forest team that ranks 113th in total offense.
With a defense led by Heisman candidate Manti Te'o, the Irish will have little difficulty limiting the effectiveness of the Demon Deacon attack and turning this one into a rout.
Prediction: Irish 35, Demon Deacons 10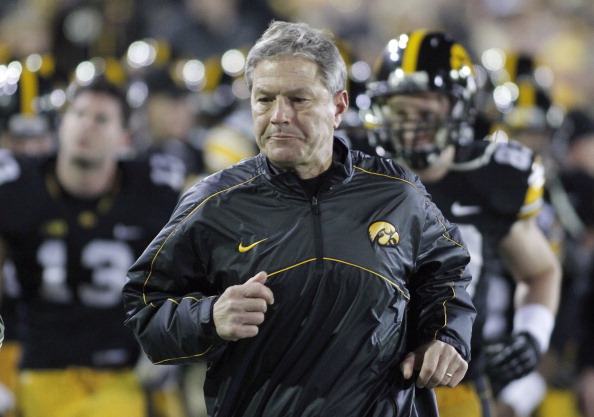 Matthew Holst/Getty Images

These two teams have played each other each of the past three seasons with the same result every time: Michigan comes out on the short end of the stick.
The seniors playing for Michigan have never won against Iowa.
While Denard Robinson will not be starting for the Wolverines, he won't have to leave the program winless against the Hawkeyes.
Michigan is just a far superior team to the Hawkeyes.
The Wolverines' three losses this season have been to Alabama, Notre Dame and Nebraska, and two of those teams still have not lost a game.
Meanwhile, Iowa has lost to everybody and their mother, including Central Michigan, Iowa State, and the other two BCS conference schools in the state of Indiana.
Even with the Hawkeyes needing this win to have a shot at bowl eligibility, it is difficult to see them keeping up against Michigan.
Oh, and on a side note, how long can Kirk Ferentz continue to be paid millions without accomplishing anything of note?
Prediction: Wolverines 28, Hawkeyes 13
Eric Francis/Getty Images

Don't look now, but Nebraska is sitting atop the Big Ten's Legends Division, needing to win out to play for the conference title.
Minnesota, although they have shown some improvement as a team, is still struggling to show any sort of reliability or consistency—especially on offense, where the Golden Gophers rank 94th in scoring, at 23.2 points per game.
Against a Husker offense that features an improved Taylor Martinez and solid running game, Minnesota is going to be hard-pressed to keep up.
Two years into the Jerry Kill Project, the Gophers need some proof that he was the right choice.
This game will definitely not be it.
Prediction: Huskers - 38 Golden Gophers - 17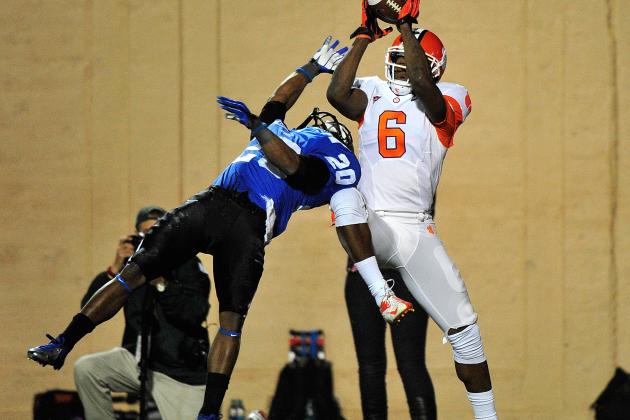 Grant Halverson/Getty Images

Yes, Clemson lost to Florida State earlier in the year, while N.C. State pulled off the improbable upset.
But that was at home, where the Wolfpack are 4-2 on the season.
This game is at Clemson, the Tigers are rolling, and N.C. State has lost two out of three.
But let's talk about points for a moment, shall we?
Clemson is sixth in the nation in scoring, averaging 42.9 per contest.
The Wolfpack, on the other hand, can only muster an average of just under 27 per game.
We can argue all day that they play the games for a reason, and anything could happen, but any thinking person would pick Clemson to dominate this game, if purely off of point differential and ignoring the fact that the Tigers have more playmakers this season the N.C. State has had in the past decade.
Prediction: Tigers 45, Wolfpack 24
Kirk Irwin/Getty Images

Wisconsin is going to the Big Ten title game, whether they win another game this season or not.
Thanks to postseason bans on Ohio State and Penn State, the Badgers' road to the Rose Bowl is much easier than it has been for each of the past two seasons.
Bucky could not win another game, finish behind both OSU and PSU, and still go.
But you better believe this team wants to beat both Ohio State in Penn State in the final two weeks of the season.
Ohio State's rushing defense has been stout, allowing only 107 yards rushing per game.
The Badgers come into this game with their third starting quarterback of the season, looking to pound the ball on the ground.
There is a reason the Buckeyes are undefeated thus far: they stop the run, and have Braxton Miller.
Both of those keys will be much in evidence against Wisconsin as Urban Meyer's team rolls.
And if that isn't enough to convince you, maybe that fact that some Buckeyes take this rivalry as seriously as the one with Michigan will.
Prediction: Buckeyes 31, Badgers 17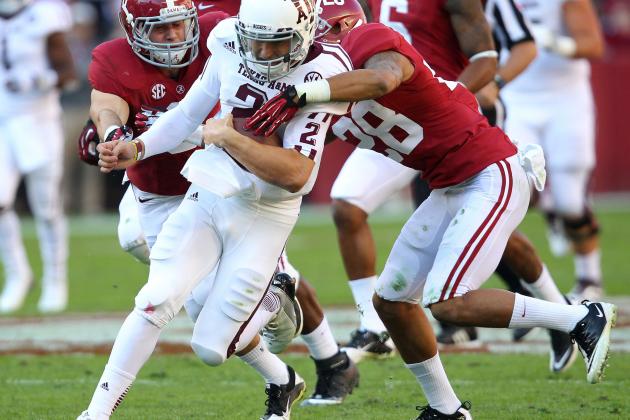 Mike Zarrilli/Getty Images

Arkansas faces Mississippi State and Tennessee takes on Vanderbilt this weekend. Other than that, the cupcakes are out in full force.
Here is the rundown of the schedule for the conference:
Western Carolina at Alabama
Jacksonville State at Florida
Wofford at South Carolina
Georgia Southern at Georgia
Alabama A&M at Auburn
Ole Miss at LSU
Sam Houston State at Texas A&M
Samford at Kentucky
Hopefully Ole Miss fans will not be too offended by being included on this list as a lock to lose, but at Death Valley, they are not winning.
This looks like a good week to skip SEC football.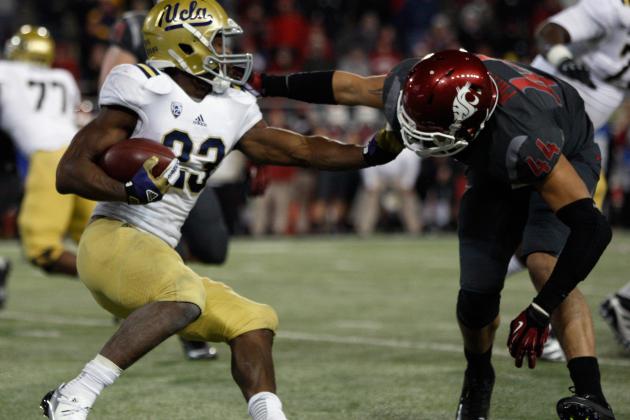 William Mancebo/Getty Images

Does anyone remember what happened the last time USC met a Pac-12 opponent that featured a solid rushing attack?
That's right. It wasn't pretty.
And did we mention that in each of the three losses USC suffered this season, they allowed running backs to run all over them and gave up over 200 rushing yards?
This doesn't bode well for Lane Kiffin's team when they take on UCLA this weekend in a battle for the Pac-12 South.
UCLA and running back Johnathan Franklin have quietly run out an 8-2 record, and have done so by virtue of a great ground game, averaging almost 211 yards per game.
The Bruins are going to finally take out USC and earn a trip to the Pac-12 title game.
Prediction: UCLA 34, USC 27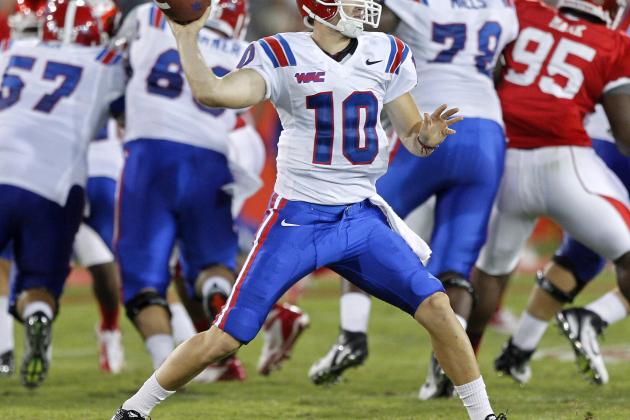 Bob Levey/Getty Images

This is for all the bananas in the WAC.
The teams are tied atop the conference, sitting at 4-0.
Conventional wisdom would tell you that Louisiana Tech will win this game, and most people would pick them.
But check things out before you do that.
Utah State actually plays defense, allowing only 13.5 points per game, and their two losses came by a combined five points against quality opponents.
La. Tech has only one loss, to Texas A&M by a small margin, which is equally impressive.
However, the Bulldogs struggle to maintain any semblance of defense, and are 111th in the nation in points allowed, giving up a ridiculous 36.2 a game.
This should be a close one, but even on the road, Utah State looks like the team that will come out on top from here.
Prediction: Aggies 35, Bulldogs 34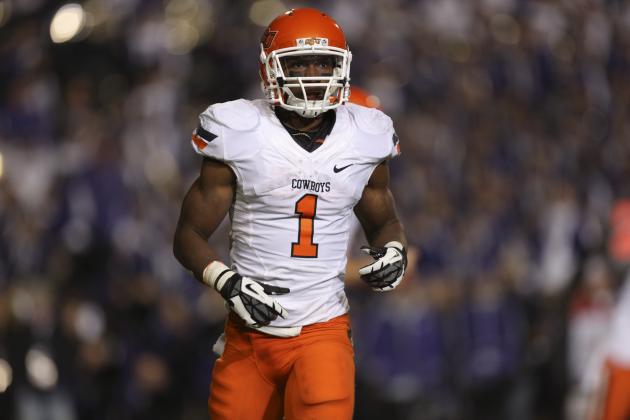 Ed Zurga/Getty Images

At first glance, these two teams appear nearly even.
Both are near the middle of the Big 12, and both have three losses.
Other than home-field advantage, there is one more difference that will work in OSU's favor against the Red Raiders.
The rushing attack.
The Cowboys are 24th in the nation in this category, averaging 212 yards per contest and led by Joseph Randle, who has already crossed the 1,00 yard threshold on the season.
Meanwhile, TTU leading rusher has gained 612 yards due to the nature of their past first offense.
Even using the style as an excuse, there is no denying the Oklahoma State's rushing game is better, and in college football, whomever can establish the rushing game effectively usually wins.
Prediction: Cowboys 45, Red Raiders 35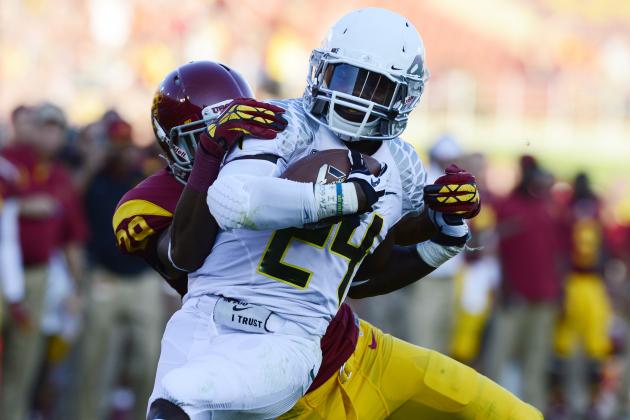 Robert Laberge/Getty Images

Oregon has yet to be slowed, much less stopped, by anyone this season.
With this game taking place at Eugene, Stanford is not going to be able to do so, either.
Cardinal fans are probably shouting at the screen right now, but the facts remain: When the Cardinals allow more than 150 yards on the ground, they lose.
Washington and Notre Dame are the only losses Stanford has suffered this season, and those are the only two games in which they allowed at least 150 yards rushing.
Oregon has not had fewer than 180 in any of their contests to date.
While this could turn into the closest game Oregon plays all season, it's very difficult to imagine them losing at home to David Shaw's team, even if Kevin Hogan starts for the Cardinal.
Prediction: Ducks 38, Cardinal 24