The Cincinnati Bengals (4-5) are traveling to Missouri on Sunday to take on the AFC rival Kansas City Chiefs (1-8)
The Bengals are sitting in third place among the brutal and always difficult AFC North division, stuck behind the Pittsburgh Steelers (6-3) and the Baltimore Ravens (7-2).
Cincinnati has been somewhat of a disappointment this season. After finishing 9-7 and making the playoffs after a tight wild card race in 2011, the Bengals were expected to be a serious contender for the division title.
They finished with the No. 7-ranked defense last season (316.2 yards per game), but the unit has clearly regressed, as they are currently allowing 353.0 yards per game (19th in the NFL).
Second-year passer Andy Dalton has 18 touchdowns in just nine games this season—already nearing his 20-touchdown total of 2011—so his development remains promising, but it's irrelevant if the team cannot finish games and secure wins.
With seven games still remaining, the Bengals will have every opportunity to finish strong and make a run for the AFC Wild Card, or possibly even the division.
As for Sunday's home team—the one-win Kansas City Chiefs—the season outlook is extremely grim.
The Chiefs secured a Week 3 victory over New Orleans after taking the lead in overtime, but according to ESPN (via Twitter), the Chiefs did not obtain a lead over an opponent during regulation for the first eight games of the season, not even once.
It's Week 10, and the Kansas City Chiefs just took their first lead ... OF THE SEASON! #MNF

— ESPN (@espn) November 13, 2012
It's bad enough when a team struggles to put away games and secure wins, but when a team cannot secure a lead at any point throughout a game, it's a sign of major discourse.
There's likely nothing the Chiefs can do at this point to save the jobs of the coaching staff, but they can still fight for moral victories.
Sunday's game certainly appears one-sided, but it's a chance for each team to begin something positive, which could carry on throughout the remainder of the season.
Where: Arrowhead Stadium, Kansas City, Missouri
When: Sunday, November 18, 1:00 p.m. ET
Watch: CBS, DirecTV 710, NFL Sunday Ticket (Live Stream)
Listen: Sirius 112 (Kansas City), Sirius 136 (Cincinnati)
Justin K. Aller/Getty Images
Spread: Cincinnati -3 (Odds Shark)
Since the home team is typically awarded three points in the spread automatically, the current odds are somewhat laughable.
The Chiefs have lost six consecutive games and have been defeated by 10 or more points four times in the last six games, including a 28-point loss to Tampa Bay and an 18-point loss to San Diego.
In the Bengals' five losses, they have only been defeated by more than 10 points once, which came against a dominate Baltimore Ravens team in the season-opener (44-13).
Cincinnati is coming off an impressive 31-13 victory over the NFC East-leading New York Giants, which displayed the team's potential against top-notch opponents.
The Bengals are 2-2 on the road this season, with wins over Jacksonville and Washington, so there's no reason to believe they can't handle the Chiefs in Arrowhead Stadium.
Over/Under: 44 (Odds Shark)
Cincinnati is averaging 24.4 points per game this season (13th in the NFL) and will have no problem contributing points in this matchup.
The Chiefs, on the other hand, miserably rank 30th in the NFL in scoring with just 16.2 points per game, while they've exceeded 20 points just twice in nine games.
Kansas City has been in a particularly bad offensive rut lately, as its highest point total in the last five games came during a 16-point performance against Oakland.
Both teams would have to exceed their points-per-game average to reach the over, so it's best to expect a modest offensive performance in this game.
Cincinnati Begnals Injury Report (ESPN)
Questionable
S Reggie Nelson (Hamstring)
Kansas City Chiefs Injury Report (ESPN)
Questionable
QB Brady Quinn (Concussion)
Note: Injuries last updated on Tuesday, November 13. The first official injury report of the week will be released on Wednesday, November 14 and can be viewed at NFL.com.
Fantasy Outlook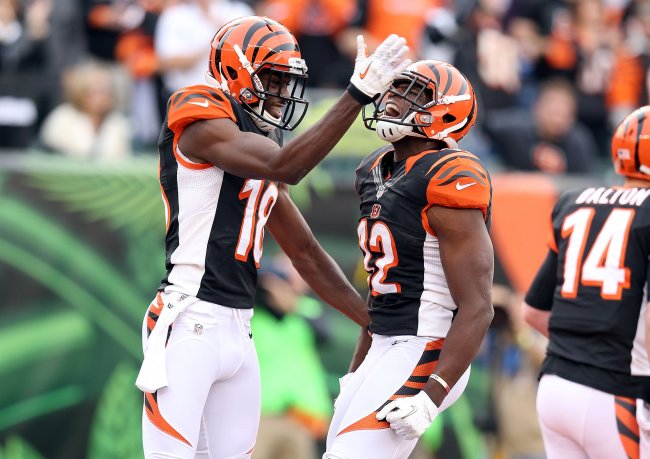 Andy Lyons/Getty Images
QB Andy Dalton (Cincinnati Bengals)
Andy Dalton was remarkable as a rookie and has completely avoided the typical sophomore slump with 2,329 yards and 18 touchdowns on the season.
Dalton had just 221 yards and zero touchdowns in the season-opener against Baltimore, but since then he has produced a touchdown in every game and has exceeded the 300-yard mark on three occasions.
Don't be shy about Kansas City's eighth-ranked pass defense (214.0 yards per game), as it's partially due to teams taking an early lead and running out the clock with the run game.
Dalton should remain productive as usual this Sunday.
WR Dwayne Bowe (Kansas City Chiefs)
Dwayne Bowe is one of the few productive weapons for the Kansas City offense this season, but the team-wide struggles have turned him into a questionable fantasy option.
Bowe—with only three touchdowns on the season—hasn't found the end zone since Week 4 and has only exceeded 80 yards in two games this season.
Kansas City is a mess at quarterback, which makes it hard for Bowe to produce with any consistency. If you have another option, use it.
WR A.J. Green (Cincinnati Bengals)
A.J. Green—Cincinnati's No. 4 overall pick in the 2011 NFL draft—had a dominant rookie year after producing 1,057 yards and seven touchdowns.
Green has rapidly developed into an elite NFL receiver and has been very productive in 2012 with 820 yards and nine touchdowns.
The Bengals' offense is not known for its production on the ground, so expect Green to be a key part of the game plan against Kansas City.
What They're Saying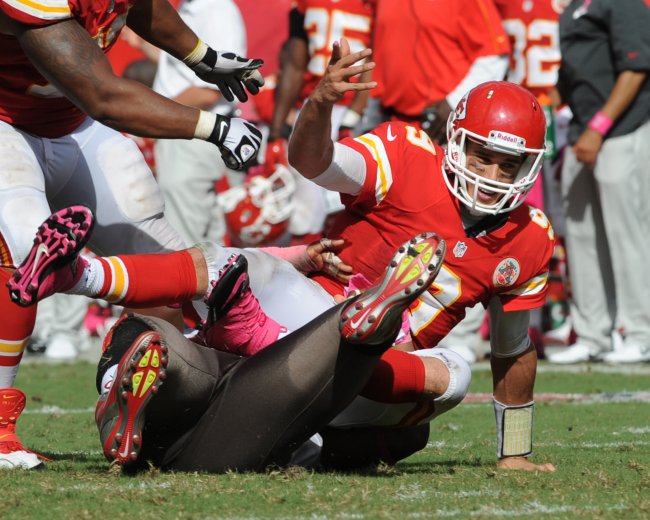 Al Messerschmidt/Getty Images
The Chiefs have been highly unproductive and anemic on offense this season, but the quarterback shuffling has not helped the situation.
Matt Cassel struggled early on with 13 interceptions in the first five weeks of the season, but Brady Quinn took over the starting job when Cassel was knocked out of the game against Baltimore with a concussion.
Quinn continued to start the next two games against Tampa Bay and Oakland, but he was knocked out of the Raiders game with a concussion, forcing the Chiefs to return to Cassel.
But now that Quinn has apparently been cleared to play, the coaches have a decision to make.
Brady Quinn injury: Chiefs QB has been cleared for Week 11: Maybe the Matt Cassel will end (again) with ... sbn.to/VZCsep #chiefs

—

ChiefsInfo

(@

ChiefsInfo

) November 13, 2012
According to Adam Teicher of the Kansas City Star (via Twitter), head coach Romeo Crennel has not made a decision on who will start against Cincinnati.
Crennel wouldn't say who QB will be for Sunday's game vs. Bengals

— Adam

Teicher

(@adamteicher) November 13, 2012
With inconsistency and uncertainty at the most important position, the Chiefs are at a disadvantage.
As for the Bengals, WR A.J. Green is ready for the game and claims the team is not overlooking the Chiefs, despite their one-win record (according to Adam Schein via Twitter).
Green on not looking past the Chiefs: "We lost to freakin' Cleveland." I love AJ Green. #BENGALS #BROWNS #SXMBLITZ

— Adam

Schein

(@AdamSchein) November 12, 2012
Losing to Cleveland in Week 6 must have been painful for the Bengals, especially since they're clearly a more talented team.
Unfortunately for Kansas City, they're not looking to make that error again.
Prediction
In 2010, the Kansas City Chiefs rode the coattails of Jamaal Charles and Thomas Jones to a 10-6 record and the No. 1 rushing offense in the NFL (164.2 yards per game), which was good for a division title and playoff appearance.
With the return of Charles from his 2011 knee injury and the addition of Peyton Hillis, the Chiefs were expecting to revive their dominant run game and compete for the division, but the season has been nothing short of a disaster.
There's no doubt that the Chiefs have plenty of young and talented players on their roster, but this season will be the end of the current regime. The only positive is a potential No. 1 overall draft pick this spring, which will undoubtedly be used on a new franchise quarterback.
As for the Bengals, they haven't met expectations either, but their situation is salvageable and they'll attempt to turn things around starting this Sunday.
Expect a determined and energized Cincinnati team to abuse the deflated Chiefs in front of the Arrowhead crowd.
It won't be pretty, but Chiefs fans can close their eyes and visualize Geno Smith or Matt Barkley wearing red this time next year, which should numb the pain.