ESPN Tip-Off Marathon: 10 Things We Learned from a Wild 24 Hours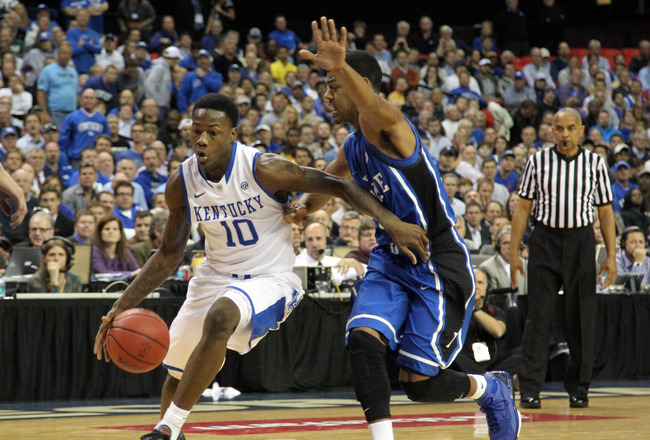 Daniel Shirey-US PRESSWIRE
The 2012-13 college basketball season is officially underway, and nothing made fans happier than being able to see 16 different games on television for 24 straight hours during ESPN's Tip-Off Marathon.
Several Top 25 teams were in action, including the young No. 3 Kentucky Wildcats, No. 9 Duke Blue Devils, No. 5 Michigan Wolverines and several others.
So what did we learn from a wild and unpredictable 24 hours of college basketball? Click ahead to find out!
1. The Atlantic 10 Conference Is Loaded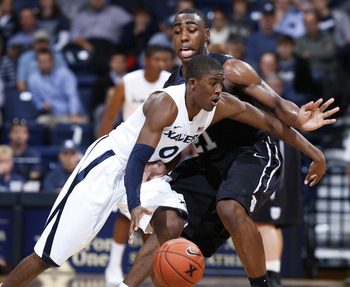 Joe Robbins/Getty Images
It is hard to think of a conference that made a louder statement over the last 24 hours than the Atlantic 10, which had three teams win games in the ESPN Tip-Off Marathon, and the league looks deeper than it ever has.
The Temple Owls got a 31-point effort from Scootie Randall, and power forward Anthony Lee added another 16 points and eight rebounds in their 80-66 blowout victory over the Kent State Golden Flashes on the road.
The UMass Minutemen only shot 38.5 percent from the field but managed to score eight unanswered points in the final minute and 14 seconds of their 67-64 upset victory over the Harvard Crimson, who are the defending Ivy League champions, including a clutch three-pointer from Sampson Carter as time expired.
Additionally, the Xavier Musketeers dominated the Butler Bulldogs at the Cintas Center, the Charlotte 49ers improved to 2-0 and the Richmond Spiders nearly doubled up the UNC-Wilmington Seahawks in a 101-58 rout.
Not to mention the Saint Joseph's Hawks, who were the preseason pick to win the Atlantic 10.
Butler and the Virginia Commonwealth Rams picked the wrong year to join the Atlantic 10 if the previously mentioned teams continue to perform like they did on Tuesday.
2. Keith Appling Can Take over a Game, but Michigan State Is a Work in Progress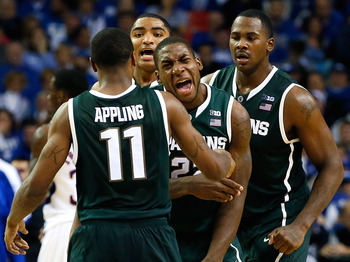 Kevin C. Cox/Getty Images
Junior combo guard Keith Appling scored 12 points in the final 10 minutes and 42 seconds of regulation, including the last five points of the game for the No. 21 Michigan State Spartans, in their 67-64 comeback victory over the No. 7 Kansas Jayhawks in the Champions Classic at the Georgia Dome.
Appling is the clear leader of this Michigan State team and will be the Spartans' go-to player late in games given his ability as a shooter and a slasher.
As for the rest of the Spartans, they are still very much a work in progress. The talent is all there with Branden Dawson back in the lineup at full strength, true freshman shooting guard Garry Harris, Appling and two very different big men in Adreian Payne and Derrick Nix, but the chemistry is lagging.
Not that this is a bad thing for Michigan State, who have consistently played their best basketball around NCAA tournament time under head coach Tom Izzo, but it is clear this team will not look great offensively until we get closer Big Ten conference play.
The Spartans had 15 turnovers in the win against Kansas, and many of them were unforced errors.
Once Michigan State gets everyone on the same page, the Spartans are going to be a force to be reckoned with in the Big Ten.
3. The Kentucky Wildcats Were Overrated to Start the 2012-13 Season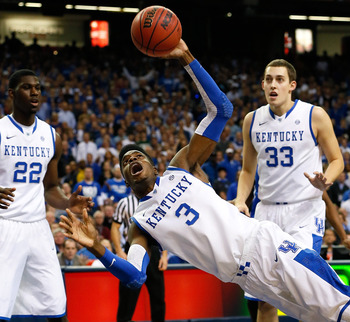 Kevin C. Cox/Getty Images
Kentucky Wildcats head coach John Calipari has been warning all of us for some time now that his team is going to struggle early on, and the Duke Blue Devils let the world know that the defending national champions were not as good as their preseason No. 3 ranking led everyone to believe.
This is not a cause for concern, though, because much like the Michigan State Spartans, Kentucky has all of the pieces to make a run at a national title. But until Calipari figures out which rotations work best and the talented freshmen learn how to play like savvy veterans, this team will continue to struggle.
Nerlens Noel is going to be a monster inside for the Wildcats, Alex Poythress has shown the ability to take over a game on his own with his jump shot and athleticism at the rim and Archie Goodwin is developing into a talented point guard for Kentucky.
The Wildcats will struggle against some of the nation's best teams early in the year, but once Kentucky puts it all together in the coming months, they are going to be extremely tough to beat.
4. Gonzaga Is Still Dominant at Home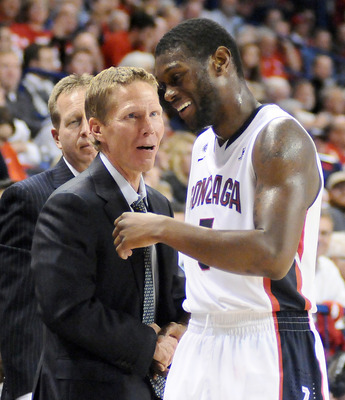 James Snook-US PRESSWIRE
The No. 19 Gonzaga Bulldogs dominated the West Virginia Mountaineers from start to finish in their 84-50 rout at the McCarthey Athletic Center in Spokane, Washington, which has been an absolute death trap for just about anyone that has had the courage to make the trek there to play the 'Zags.
The Bulldogs have only lost seven games since the "Kennel" opened in 2004, and their ESPN Tip-Off game was not even close to becoming loss No. 8.
Gonzaga looked feisty on defense, Kevin Pangos looks like a dangerous shooter and the Bullogs' entire starting five would have been in double figures had center Sam Dower poured in one more bucket against the Mountaineers.
Whether or not the 'Zags can defend their Top 25 ranking outside of Spokane is still unknown, but no one in the country wants to play Gonzaga in their house right now.
5. New Mexico Will Never Be out of a Game This Season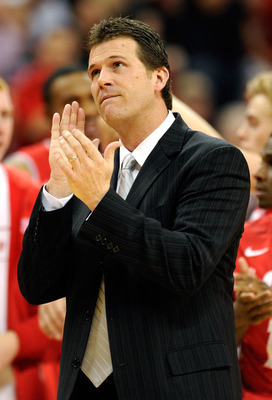 Ethan Miller/Getty Images
In a game that everyone likely missed, given the 2 a.m. start on the East Coast, the New Mexico Lobos rallied from a 16-point deficit and withstood a barrage of three-pointers to come away with a victory over the feisty Davidson Wildcats.
Junior guard Tony Snell played all 40 minutes, scored 25 points, dished out three assists, grabbed five rebounds, blocked two shots and had two steals. Basically, Snell did all he could to make sure the Lobos did not get off to an 0-1 start to their 2012-13 campaign.
The Lobos also got double-digit efforts from Alex Kirk, Kendall Williams and Demetrius Walker, who combined for 41 points and 13 rebounds in the 86-81 win.
Even if New Mexico gets off to slow starts for the rest of the season, the Lobos will have the confidence and maturity to remain poised and chip away at a deficit, which will have them battling with the UNLV Rebels and San Diego State Aztecs for the Mountain West Conference title.
6. Michigan Looks as Good as Advertised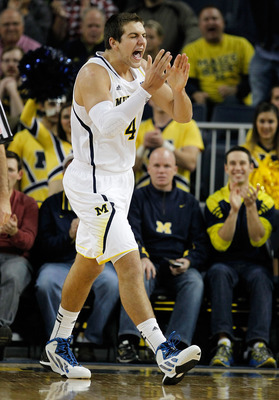 Gregory Shamus/Getty Images
The No. 5 Michigan Wolverines are off to a 3-0 start and finally got to show the nation on Tuesday evening in a 77-47 demolition of the Cleveland State Vikings that they're ready to live up to the preseason expectations placed upon their program.
The Wolverines held Cleveland State to 30.4 percent shooting from the field and only gave up 14 points in the first half.
Sophomore point guard Trey Burke continues to show off his nasty crossover and has been able to get to the basket with ease through Michigan's first three games, while Tim Hardaway Jr. is hitting his jump shots at an alarming rate now that he has shifted to shooting guard for the Wolverines.
Glenn Robinson III had his first poor shooting performance of the season, going just 2-of-7 from the field against the Vikings, but the true freshman small forward still scored nine points and pulled down seven rebounds for the Wolverines.
Michigan has done a much better job on the glass this season and outrebounded the Vikings 45-27, which is a far cry from where the Wolverines' were in team rebounding during the 2011-12 season.
The Wolverines are back and ready to flex their muscle on the national college basketball stage once again.
7. Duke's Experience Will Win Them Several Close Games This Season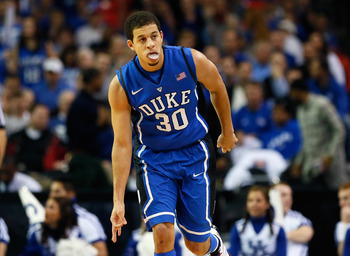 Kevin C. Cox/Getty Images
The No. 9 Duke Blue Devils have a strong group of seniors that are looking to make amends for the early NCAA tournament exit head coach Mike Krzyzewski had to endure last season, and the revenge tour started on Tuesday night with a 75-68 win over the No. 3 Kentucky Wildcats.
Anyone watching this game could clearly see that the Blue Devils were the more experienced team. Duke lost senior forward Mason Plumlee, who finished with 18 points, to foul trouble early in the second half but were able to extend their lead over the Wildcats to 14 points, despite playing with a much smaller lineup.
Seth Curry came up bigger than anyone late in the game for the Blue Devils and finished with 23 points on 7-of-14 shooting.
The Blue Devils will be in several tough games against nationally ranked opponents this year, but Duke has more than enough experience and moxie to overtake anyone.
It is way too early in the year to make this bold of a prediction, but the Blue Devils feel like a good pick to be a Final Four team come March.
8. Butler Is Still Rebuilding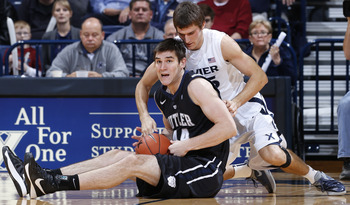 Joe Robbins/Getty Images
The Butler Bulldogs were blown out by an Xavier Musketeers squad that is undergoing a complete rebuilding process after several players either left the team, are ineligible or ran out of eligibility at the end of last season, which is not a great sign for the one-time Cinderella story program.
Head coach Brad Stevens does not have a go-to player right now, and there are not any natural scorers like there were on Butler's two Final Four teams.
The Bulldogs were an anemic 19-of-52 from the field against Xavier and only had one player reach double figures.
Stevens could have taken a lot of big-time jobs after taking the Bulldogs to two Final Fours, but the young coach wanted to stay at Butler and continue to build the program. It is too early to say whether or not he made a mistake, but Stevens has his work cut out for him this season.
9. St. John's Is One of the Nation's Most Athletic Teams and Play Gritty Defense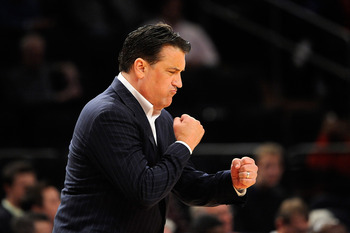 Patrick McDermott/Getty Images
The St. John's Red Storm have taken on the identity of their head coach Steve Lavin and look to be one of the feistiest and most tenacious teams in all of college basketball.
This does not mean the Red Storm will be contenders for the national title this year, but St. John's has a lot of tremendous athletes, and all of them know how to play hard-nosed, in-your-face defense for 40 minutes.
The Red Storm often applied a full-court press that gave the Detroit Titans fits, and true freshman Chris Obekpa finished the game with a school-record eight blocked shots. The Red Storm recorded 12 blocks and seven steals in their dramatic 77-74 victory over the Titans.
Sophomore guards Phil Greene IV and D'Angelo Harrison combined for 42 points, 11 rebounds and eight assists in the win.
St. John's may have a young core, but do not count the Red Storm out of the Big East conference race this year.
10. Kansas Needs to Find a Consistent Inside Scoring Threat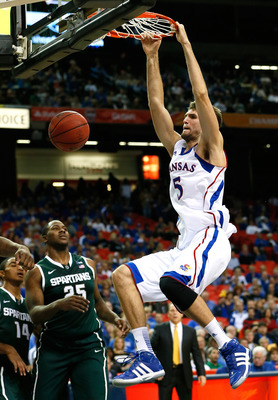 Kevin C. Cox/Getty Images
Senior guard Elijah Johnson and freshman guard Ben McLemore combined to score 30 points for the No. 7 Kansas Jayhawks in a losing effort against the No. 21 Michigan State Spartans, which means that Bill Self's squad needs to find an inside scoring presence to help out his outside shooters.
True freshman Perry Ellis looks like a freshman inside, and while Jeff Withey is one of the best defensive players in the nation, his scoring is not consistent enough for the Jayhawks to beat teams like Michigan State without a guy like Thomas Robinson, who is now playing in the NBA.
Withey had eight points on 4-of-6 shooting, so the Jayhawks either have to get him the ball more often or find a way to get more production out of Ellis, Kevin Young, Justin Wesley or Jamari Traylor.
The Jayhawks belong in the top 15 for the moment, but if they don't find more inside scoring in the coming weeks, that may not be the case for long.
Keep Reading