Minnesota vs. Nebraska: Complete Game Preview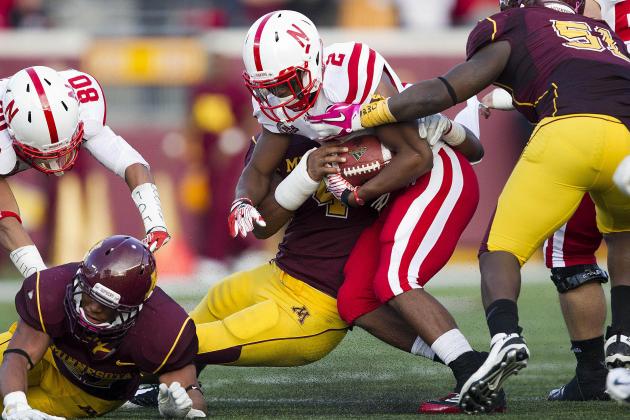 Jesse Johnson-US PRESSWIRE

The Nebraska Cornhuskers will host the Minnesota Golden Gophers in a Legends Division clash this Saturday in Lincoln. The game will kick off at 3:30 p.m. ET and will be carried on the Big Ten Network.
The 8-2 Huskers are riding a four-game conference win streak into the game after defeating Penn State at home a week ago. Meanwhile, Minnesota is 6-4 overall and 2-4 in the Big Ten after winning on the road at Illinois last week.
Let's take a look at how Minnesota matches up with the heavy favorite, Nebraska.
Begin Slideshow

»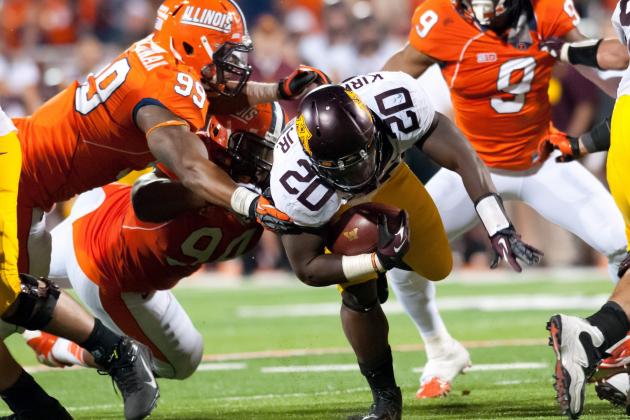 Bradley Leeb-US PRESSWIRE

Nebraska controls its own destiny in its quest for its first Big Ten title. The Huskers are tied with Michigan at 5-1 in the conference, but hold the crucial head-to-head tiebreaker over the Wolverines.
If Nebraska beats Minnesota and Michigan falls to Iowa this Saturday, the Cornhuskers will have clinched the division prior to the final weekend of games.
Minnesota, on the other hand, notched its sixth win of the season last week at Illinois and is now bowl eligible for the first time since 2009. Fortunately for Nebraska, that means Minnesota does not have anything tangible to play for.
Having already been eliminated from the division race, the Gophers are now playing for bowl selection as they try to climb the depleted ranks of bowl-eligible Big Ten teams. Any dreams of landing in the much-coveted Buffalo Wild Wings Bowl could use a big-time upset this Saturday.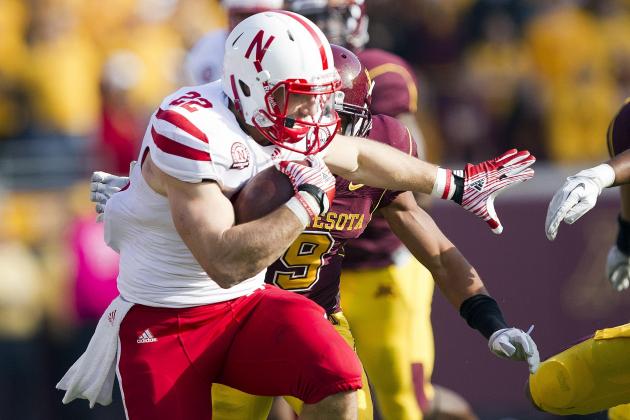 Jesse Johnson-US PRESSWIRE

Nebraska rolled into Minneapolis last year with a 5-1 record overall and a 1-1 mark in the Big Ten. After back-to-back dates with Wisconsin and Ohio State, the Big Red were hungry for an easy victory. And the 1-5 Gophers provided just that.
Nebraska rang up 346 rushing yards en route to a 41-14 victory over Minnesota. The Huskers' 34-0 lead allowed them to reach down the depth chart, giving quality touches to five different rushers. The defense was equally dominant, holding Minnesota to 254 total yards and forcing a turnover.
The Huskers more than doubled Minnesota's first downs and went back to Lincoln with its first-ever road victory in the Big Ten.
Bradley Leeb-US PRESSWIRE

While Nebraska returns much of its potent offense and many key defensive contributors from last year's team, the primary difference in this year's matchup will come from Minnesota.
On the offensive side of the ball, the Gophers have a completely new look. Their offense in 2011 was completely based on the athleticism of former quarterback Marqueis Gray. Since converting him to a wide receiver, Minnesota has used Max Shortell and most recently Philip Nelson at quarterback.
Although Nelson will not show Nebraska the same big-play capability that Gray offered at the quarterback position, Nelson has proven that he also has some dual-threat capabilities.
Defensively, Minnesota is a much improved unit from 2011. After ranking 77th in total defense a year ago, the Gophers now own the 26th-ranked defense in the nation. But unfortunately for Minnesota, this is largely due to their pass defense. The Gophers' 74th-ranked rush defense will more prominently be under fire against the run-happy Huskers.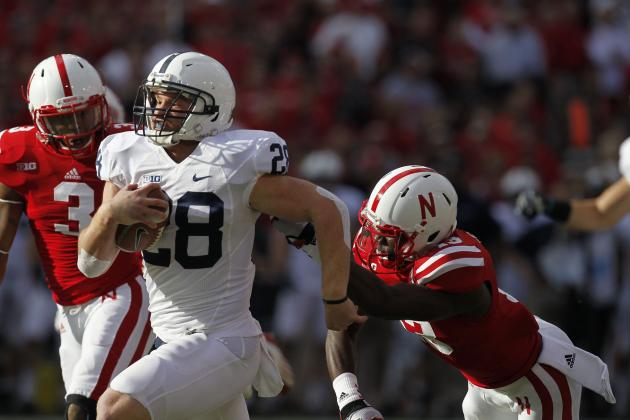 Bruce Thorson-US PRESSWIRE

To pull off the upset, Minnesota will need big plays. The Gopher offense will need to be fearless in taking risks down the field. Nebraska has shown vulnerability to the big play in home games against Wisconsin (Jared Abbrederis) and Penn State (Zach Zwinak).
Although safe plays may keep Minnesota in the game longer, they will eventually need to let freshman quarterback Philip Nelson air it out and take some chances.
On defense, the Gophers will need to force a turnover-prone Nebraska team to make mistakes and hold their own at the point of attack. The Nebraska offense begins and ends with the running game.
Although Taylor Martinez has improved dramatically from last year, putting him in certain passing downs will do wonders for Minnesota's chances. The Gophers do not necessarily need to win the battle up front. But they need to put up quite a bit more resistance than they did a year ago.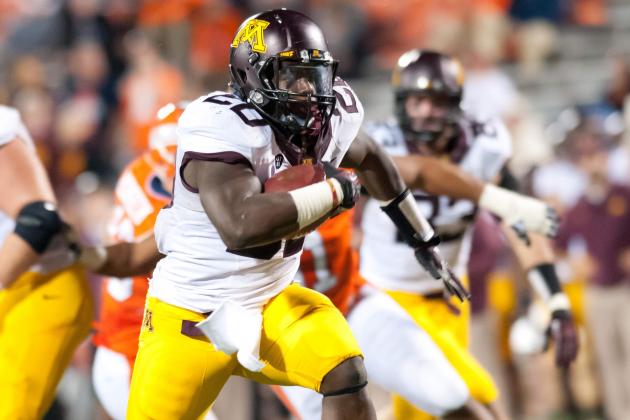 Bradley Leeb-US PRESSWIRE

The Husker offense simply needs to eliminate the big mistakes. Although it is a tirelessly mentioned topic in Nebraska football, it will again be crucial this Saturday.
The only way Minnesota will overcome a much more talented Nebraska team is through capitalizing on the kinds of muffed punts, fumbled exchanges and interceptions that have plagued Nebraska throughout the year.
And defensively, the Blackshirts must key on Minnesota running back Donnell Kirkwood, who scampered for 152 yards and two touchdowns last week. Minnesota's entire offense runs through Kirkwood, who is likely on his way to a 1,000-yard season.
If the Nebraska defensive front can shut down the run game, it can make life very unpleasant for a freshman quarterback making his first start in such a hostile road venue.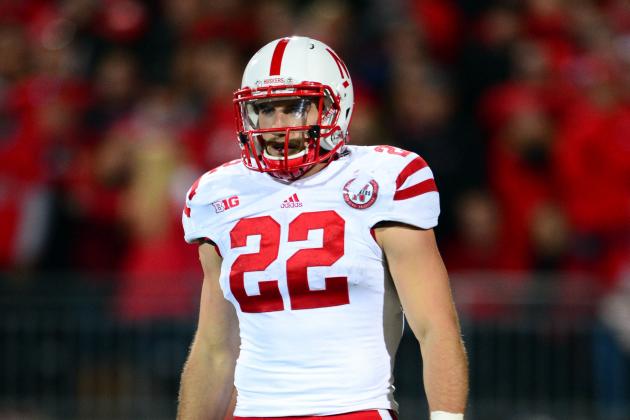 Andrew Weber-US PRESSWIRE

Bold Prediction: Nebraska will not trail by double digits against Minnesota.
Less Bold Prediction: The Big Red will make quick work of the Golden Gophers on senior day. Similar to last year's game, expect the Big Red offense to run the ball straight at the Minnesota defensive front for four quarters. The game will begin with Husker possessions resulting in field goals. But by late in the first half, 3-yard gains will turn to 6- and 7-yard gains.
Minnesota will have limited success running the ball and in the play-action pass game, but not nearly enough to keep up with the Huskers. Nebraska will lead at halftime 20-3 and coast to a 37-13 victory as Braylon Heard and Imani Cross see plenty of carries in the second half.
Nebraska will move to 9-2 on the season, see Rex Burkhead grace Memorial Stadium one last time and head to Iowa City the coming week with a Rose Bowl berth on the line.