MLB Power Rankings: Where Teams Stand After Reyes, Buehrle, Johnson Blockbuster
Jose Bautista and the Blue Jays just got a lot of help.
Jason Miller/Getty Images
What a wild baseball offseason this is turning into. Even the Dodgers' front-office heads are spinning after this one.
The Miami Marlins continued their tradition of scorched-earth roster transformations by sending Josh Johnson, Jose Reyes, Mark Buehrle, Emilio Bonifacio and John Buck to the Blue Jays for seven players, including three of Toronto's top 10 prospects.
They only way Jeffrey Loria can top this shocker is if he re-hired Ozzie Guillen to manage the "Quad-A" team the Marlins will field in 2013 while also forcing him to provide color commentary from the dugout for their broadcasts.
Memo to Giancarlo Stanton—remember to turn the lights off, pal.
The trade completely and utterly returns the Marlins to basement-dwelling laughingstock while setting up the Blue Jays to be a real player in the ultra-competitive American League East.
As far as the free-agent market in general goes, a lot of veteran players will be waiting by the phone much of the winter as teams they try to fill needs internally first before ponying up to sign pricey veteran talent.
In the wake of this Miami masterpiece—no, not the Marlin's home-run sculpture thingy—let's see where each team ranks currently.
30. Houston Astros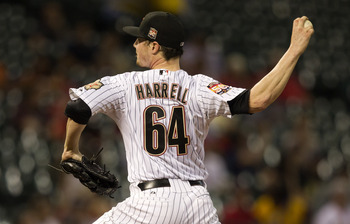 Bob Levey/Getty Images
Outlook for 2013
Speaking of "Quad-A" major league teams, the Astros will continue to be the living and breathing embodiment of that description in 2013.
They do have some intriguing players worth watching.
Lucas Harrell will be their lone All-Star representative. Justin Maxwell showed prodigious power, but fans hope he isn't the second coming of Eric Anthony. And it's always fun to watch Jose Altuve duck below the strike zone at the dish.
But Jed Lowrie may be the only legitimate major league bat in the heart of the Houston lineup, and unfortunately for the Astros, they won't have the bottom of the NL Central to keep them company.
Reason To Watch Them
The snazzy new-but-old uniforms.
Goal for 2013
Manage to not lose 100 games again, despite facing the Rangers, Angels and A's on a regular basis.
29. Cleveland Indians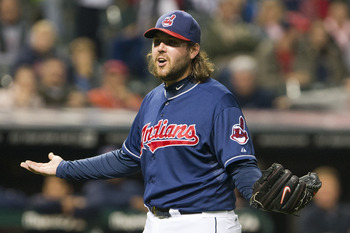 Jason Miller/Getty Images
Outlook for 2013
Only two teams in baseball had an expected loss total of 100 or more based on their run differential—the hapless Astros and the Cleveland Indians.
On the bright side, the Tribe have made a habit of playing competitive ball in the first half of the season and making the AL Central interesting.
They do have some All-Star quality players in place such as closer Chris Perez, shortstop Asdrubal Cabrera and catcher Carlos Santana.
But none of those guys are starting pitchers, and the Indians' rotation is in shambles. Unless an offseason trade brings pitching reinforcements, it's going to be a long summer in Cleveland.


Reason To Watch Them
Catcher Carlos Santana (.252-18-76 in 2012)
Goal for 2013
Get productive seasons from Shin-Soo Choo and Asdrubal Cabrera. Then get them shipped off for prospects and pitching.
28. Chicago Cubs
Jonathan Daniel/Getty Images
Outlook for 2013
For Cubs fans, "next year" is just around the corner, as usual.
General manager Theo Epstein is starting to put younger and more talented pieces into place such as first baseman Anthony Rizzo (.285-15-48) and catcher Welington Castillo (.265-5-22).
They join some useful veterans and young established talent.
Alfonso Soriano had a very good season when he, by all rights, appeared done and may still be part of the Cubs' long-term plans. Darwin Barney and Starlin Castro will shore up the middle infield for the long term, and Carlos Marmol is a filthy closer—when he's anywhere near the plate.
The Cubs have more talent in place than, say, Minnesota or Miami, but they are still the Cubs and that is why they occupy the 28th spot in our power rankings.
Reason To Watch Them
Matt Garza's performance after an injury nixed a trade for him in 2012.


Goal for 2013
Move the rebuilding effort forward in Year 2.
27. Miami Marlins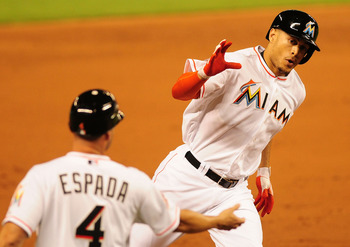 Jason Arnold/Getty Images
Outlook for 2013
And to think Albert Pujols was this close to being in the middle of this circus in 2012. Cardinal fans might have been really giddy, so we should be thankful for small favors.
As it is, owner Jeffrey Loria and the Marlins front office just punched every baseball fan in the stomach as they gutted their roster Wednesday, leaving Miami taxpayers as well as Giancarlo Stanton holding the bag:
Alright, I'm pissed off!!! Plain & Simple

— Giancarlo Stanton (@Giancarlo818) November 13, 2012
From a baseball standpoint, the team did well raiding Toronto's farm system while picking up some useful MLB-ready players.
In addition to the prospects, Yunel Escobar has All-Star talent but the maturity of an eight-year-old. Hopefully, Escobar will excel in Miami, where there are no performance expectations of any kind.

Reason To Watch Them
500-foot bombs off the bat of Stanton.
Goal for 2013
Prevent the masses from storming the gates to the Marlins' front office.
26. Minnesota Twins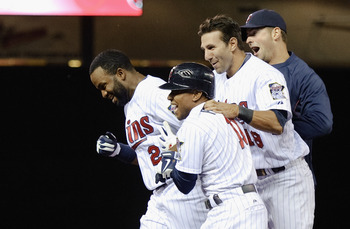 Hannah Foslien/Getty Images
Outlook for 2013
Unlike the Indians, the Twins never gave their fans much reason to hope in 2012, even though there were a number of bright spots.
Former All-Star Joe Mauer had a nice bounce-back campaign (if you ignore his salary, of course). Justin Morneau played in 134 games and provided reasonable output at first base. Both players should be able to provide similar or better production next summer.
Josh Willingham was a very nice surprise, popping 35 home runs, while Denard Span and Trevor Plouffe represent younger talent on the team who are still improving.
But beyond young ace Scott Diamond, the starting rotation has some huge holes. And the Twins, as they always do, will look for internal solutions for the rotation—not necessarily the best solutions.
Reason To Watch Them
Joe Mauer's great hair—and swing.
Goal for 2013
Develop a solid Nos. 2 and 3 starter in the rotation for next year.
25. Colorado Rockies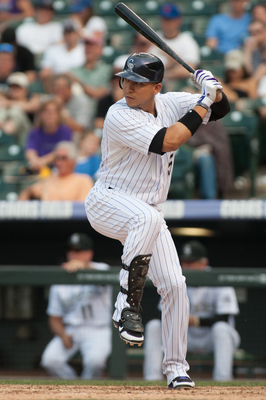 Dustin Bradford/Getty Images
Outlook for 2013
A lot went wrong for the Rox in 2012 so there is plenty of reason for optimism in Denver heading into next year.
The club has four All-Star quality starters in Carlos Gonzalez, Troy Tulowitzki, Dexter Fowler and Wilin Rosario, who clubbed 28 home runs from the catcher position.

Rookie Josh Rutledge was a very impressive shortstop but he will need to cut down on his strikeouts (54 in 277 at-bats) if he wants to go to the next level.
Talented Drew Pomeranz projects to be the fourth starter, which tells you the Rockies rotation is fairly sturdy. The main worries are the health of the starters as well as Tulowitzki.
The Rockies front office is among the most savvy in baseball. If new manager Walt Weiss can hold this team together, they'll contend for an NL wild-card berth.
Reason To Watch Them
Another zero-previous-experience manager thrown into the MLB fray.
Goal for 2013
Keep Gonzalez and Tulowitzki healthy. The rest will take care of itself.
24. San Diego Padres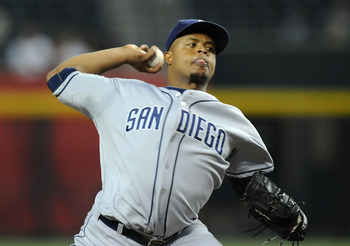 Norm Hall/Getty Images
Outlook for 2013
The Padres' already thin offense took quite a hit when the MLB announced that catcher Yasmani Grandal would have to serve a 50-game suspension at the start of next year for failing a standard drug test.
The pushes Nick Hundley into the starting catcher role, but he was possibly the worst batter in the majors last season (.157/.219/.245/.464).
On the positive side, 28-year-old Chase Headley looks like he has become a perennial All-Star candidate at third base as he led the National League with 115 RBI.
If outfielder Carlos Quentin can turn back the clock and if Yonder Alonso can fulfill his promise as a former elite first-base prospect, the offense will make enough noise to stay competitive.
As with most teams at the bottom end of our rankings, the biggest questions surround the starting rotation. Edinson Volquez has fallen off from his former All-Star form and Clayton Richard—basically a replacement-level starter—is the team's No. 2 hurler.
Not good.
Reason To Watch Them
Will Edinson Volquez finally be able to make fans forget Mat Latos?
Goal for 2013
Bring a free agent or two on board to take a run at a playoff berth in the NL West.
23. Kansas City Royals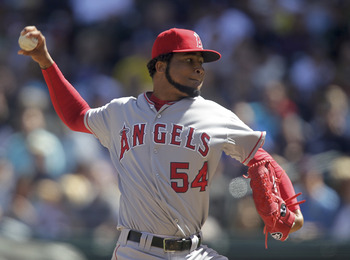 Stephen Brashear/Getty Images
Outlook for 2013
The Royals lost 90 games this year which, for better or worse, actually marks a third straight year of improvement since Kansas City was 65-97 in 2009.
I'm sure the team had hoped for more progress this year, especially in a weak AL Central, but Bruce Chen returned to his normal (mediocre) self after a pleasant 2011 campaign and young sluggers Mike Moustakas and Eric Hosmer both regressed.
K.C. made their annual one big move by acquiring starter Ervin Santana from the Angels; he immediately becomes the team's rotation ace.
Santana had one of the strangest seasons from a starting pitcher ever. He allowed a very low .239 batting average against (on 165 hits allowed in 178 innings), but when he did allow contact, the baseballs flew a long, long way as he led the AL in home runs allowed with 39.
But Santana is still only 29 and has very good numbers over the past three years, so his prospects for improvement are good.
If the young position players can find traction, the Royals should see a five- to seven-win improvement this year.
Reason To Watch Them
Best DH in baseball, Billy Butler (.313-29-107).
Goal for 2013
Get Moustakas and Hosmer back on track ASAP.
22. Seattle Mariners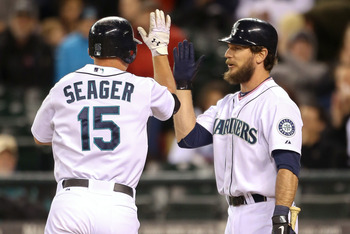 Otto Greule Jr/Getty Images
Outlook for 2013
We know that offense around baseball has returned to late-1980s levels, but the Mariners, over the past few seasons, have actually managed to make a mockery of even those modest totals.
The club was dead last in the majors in every batting statistic—batting average (.234), on-base percentage (.296) and slugging percentage (.369).
Granted that's also an indictment of the Astros, who were second worst, yet play in a far more offensive ballpark.
Third baseman Kyle Seager appears to be the only sure thing at the plate. The M's definitely need to see more from Dustin Ackley and first baseman Justin Smoak at the plate.

With former Cy Young winner Felix Hernandez still leading the staff and with the team's ability to limit runs against defensively, Seattle may hang around in the AL West.
But it is probably still destined for a fourth-place finish.
Reason To Watch Them
The inevitable 33-inning, 1-0 marathon the Mariners and Astros will stage in August.
Goal for 2013
Beat up on the Astros as they wait for the club's top pitching prospects at Triple-A to debut.
21. New York Mets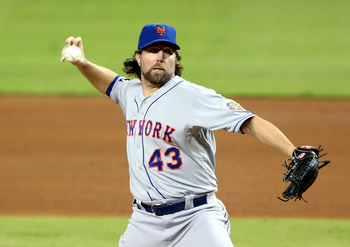 Marc Serota/Getty Images
Outlook for 2013
Someday they may make a movie entitled The Curious Case of R.A. Dickey because his story is certainly worthy of it. He became the first Cy Young-winning knuckleballer this week at age 38. You can't make this stuff up.
And the most amazing thing may be that there really isn't any indication that Dickey can't do this next year or even over the next few years.
His 20-win season in 2012 is actually the third quality season in a row he's had for the Mets. His hits per inning has improved each of those years as has his strikeout-to-walk ratio.
That's the good news.
The bad news is the everyday roster is thin beyond All Star David Wright. Ike Davis (.227) and Lucas Duda (.239) are serviceable players with power, but are not game-changers at this point.
Reason To Watch Them
David Wright continues his quest to become the first Mets position player in the Hall of Fame.
Goal for 2013
Lock up Wright to a long-term deal and trade Dickey for multiple building blocks.
20. Boston Red Sox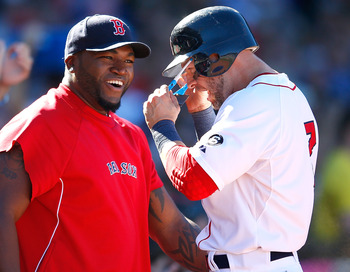 Jim Rogash/Getty Images
Outlook for 2013
After the Red Sox's late-season choke job in 2011, perhaps it was a foregone conclusion that they would struggle this year—but 93 losses?
With "Grinning" Bobby Valentine at the helm, Red Sox Nation had a front-row seat for a meltdown this year of epic proportions.
The franchise hit the reset button, jettisoning massive amounts of salary by sending Adrian Gonzalez, Josh Beckett and Carl Crawford to the Dodgers.
They have already brought back team leader David Ortiz to anchor the heart of the lineup and if the Sox merely have better luck this year health-wise they will be good for 10-plus more wins easily.
Reason To Watch Them
Cool-headed John Farrell returns to Boston to take the reins and attempts to pick up the pieces.
Goal for 2013
Forget about 2012.
19. Pittsburgh Pirates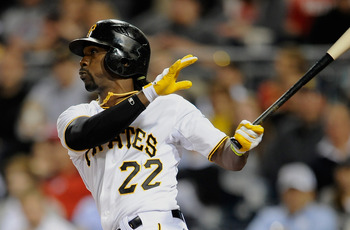 Joe Sargent/Getty Images
Outlook for 2013
Considering the supporting cast around him, it is amazing Andrew McCutchen was allowed to have the kind of season he did in 2012.
He had, by all measures, a tremendous season with a 7.0 WAR rating and at age 25.
McCutchen seemed to sacrifice average for power last year and his strikeout total jump.
But he put it all together in 2012, staying among the league leaders in batting average all year and breaking the 30-home run plateau for the first time.
It may be reasonable to expect some regression in 2013, not because McCutchen will decline, but that opposing teams will be far more careful with him.
On the whole, the roster is young and improving, both on the field and in the rotation. If Pedro Alvarez's 30-homer season was no fluke (even though he seemed to produced half his numbers against the Cardinals alone), the Pirates have a real chance at a long-awaited winning season.
Reason To Watch Them
Andrew McCutchen could be a perennial NL MVP candidate.
Goal for 2013
Just win baby.
18. Chicago White Sox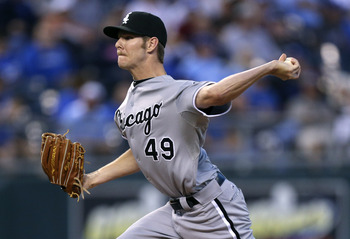 Ed Zurga/Getty Images
Outlook for 2013
Despite fading at the end of the season, the White Sox were a pleasant surprise overall. They were not picked to win the division, yet spent over 100 days in first place.
Adam Dunn recovered his 40-bomb mojo to join four other batters with 25+ homers including A.J. Pierzynksi and Dayan Viciedo.
Jake Peavy nearly reached 200 innings—a minor miracle for him—and Chris Sale was simply incredible in his first full season. It will be asking a lot for Sale to repeat his performance and he will likely regress a bit.
The club still features an aging offense anchored by Dunn and Paul Konerko, and no one really knows from year to year what to expect from right fielder Alex Rios.
Fans will hold their collective breath regarding Peavy's health as he takes the mound next year, and John Danks and Gavin Floyd need to have bounce-back seasons if the ChiSox are going to contend for the AL Central title.
Reason To Watch Them
White Sox tickets on sale to watch Sale? Yes, please.
Goal for 2013
A run at the division title, which could be last for this veteran core.
17. Arizona Diamondbacks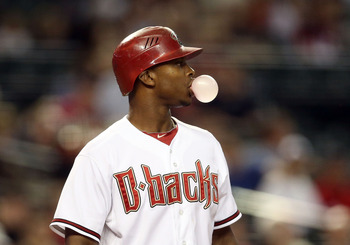 Christian Petersen/Getty Images
Outlook for 2013
The Diamondbacks' outlook for 2013 may come down to what they get in return for Justin Upton, who is firmly on the trading block.
Upton has had one of those statistically odd careers we baseball-card collectors find interesting when perusing a player's stats on the back of a trading card.
The 24-year-old All Star has been a virtual metronome, alternating mediocre .800 OPS seasons with high-quality .900 OPS seasons in between.
| | | | |
| --- | --- | --- | --- |
| Year | HR | RBI | OPS |
| 2008 | 15 | 42 | .816 |
| 2009 | 26 | 86 | .899 |
| 2010 | 17 | 69 | .799 |
| 2011 | 31 | 88 | .898 |
| 2012 | 17 | 67 | .785 |
We'd wager he's due for a big 2013.
Whether Upton remains in Arizona or not, the club is in good shape to contend in the NL West with a fine balance of offense and pitching.
Ian Kennedy, Trevor Cahill, and Wade Miley make a solid front end of the rotation, and Aaron Hill, Miguel Montero, Paul Goldschmidt and Jason Kubel create a plus batting order.
Reason To Watch Them
Their hitting at home.
Goal for 2013
When on the road, pretend their home.
16. Philadelphia Phillies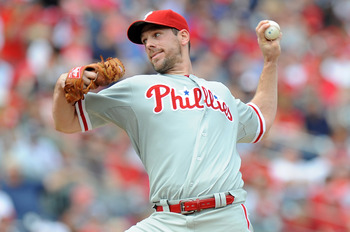 Greg Fiume/Getty Images
Outlook for 2013
The Phillies remind me of a great competitor at the end of his career—think of Babe Ruth or Muhammad Ali—in the last contest of their great career. They can easily go boom or bust.
The Phillies definitely went bust in 2012, but if they find better fortune medically, in 2013 they could make a run at an NL wild-card berth.
The rotation, though aging, still is capable of carrying their mediocre offense. A year further removed from a major leg injury should put Ryan Howard back in All-Star contention at first base.
But on the flip side, who bets Jimmy Rollins can replicate his 20-homer season? And Chase Utlley's annual injury woes always seem to be a factor to be reckoned with.
If Utley somehow plays the entire year and the rotation can stay on the mound, the Phillies will remind the Braves and Nationals they are not quite finished yet.
Reason To Watch Them
The Flyers aren't playing anytime soon.
Goal for 2013
Ride their three aces to one more playoff run.
15. Milwaukee Brewers
Mike McGinnis/Getty Images
Outlook for 2013
There is a lot for Brewers fans to be excited about going into 2013.
Ryan Braun looks like a good bet to be a top-five MVP finisher year after year. Jonathan Lucroy will push for an All-Star berth, himself, in 2013. Norichika Aoki did a more-than-passable Ichiro impersonation with a fine .288-10-50 season while adding 30 stolen bases.
And no matter how bored Aramis Ramirez looks, the guy is a professional hitter. He probably turned more than a few heads with his good production in Milwaukee.
The team hopes Mike Fiers is the real deal because ace Yovani Gallardo needs help in the rotation.
But the biggest question mark is the bullpen. The club may take a page from the Cardinals playbook and bolster the 'pen with a midseason trade or two.
Or end all doubt and fix it before the season even starts.
Reason To Watch Them
Milwaukeeans dig the long ball.
Goal for 2013
Return to their 2010 NL Central title glory.
14. Tampa Bay Rays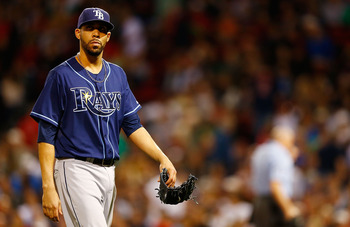 Jared Wickerham/Getty Images
Outlook for 2013
The Rays won 90 games in 2012 even though they scored just 697 runs (15th in the majors). They'll need to repeat the formula in 2013 and it may not be easy to do.
They will hopefully get a full season of Evan Longoria's production as he is their team MVP, but the Rays still surround him in the batting order with Ben Zobrist and Matt Joyce.
Joyce had a down year (.241-17-59) and even the underdog Zobrist may be slipping at age 31 (.270-20-74). Longoria is entering his prime at age 27, however, and we can't underestimate how much better the Rays could have been had Longoria not gotten injured.
Even if the Rays trade James Shields for prospects, they will still have one of the deepest rotations in the AL East.
Big questions remain, though.
Can Fernando Rodney repeat his amazing 2012 season (0.60 ERA, 48 saves)?
Reason To Watch Them
Another season of confounding the Yankees and Red Sox.
Goal for 2013
Find enough offense to push them into 95-win territory and a chance at the division.
13. Oakland Athletics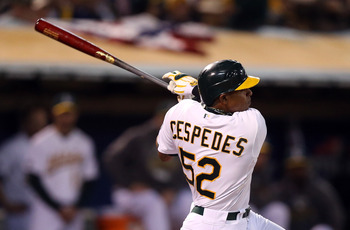 Ezra Shaw/Getty Images
Outlook for 2013
Let's be honest. We all love the A's (well, most of us). We love the insane fanbase, the shoestring budget and the never-say-die comebacks.
But would anyone be shocked if they finished the 2013 season with closer to 83 wins as opposed to the 93 wins they achieved this past summer?
Me either. So, flame away, my intrepid readers.
It's possible that Josh Reddick is just scratching the surface at age 25 (.242-35-85), which is encouraging.
Yoenis Cespedes is still learning the North American game so he hasn't reached his ceiling yet, and that was what most scouts feared about him initially.

But while Bob Melvin was very deserving of being named the AL Manager of the Year, it was because he played Dance Dance Revolution perfectly for six-plus months, making every spin with the bullpen and every tap of the bench work, on the way to 93 wins.
Plus, the all-rookie rotation was unsustainably successful across the board. It may be too much to ask for a repeat performance.
Reason To Watch Them
Coco Crisp's hair may actually get bigger.
Goal for 2013
Make sure the kids keep having fun—the wins will take care of themselves.
12. San Francisco Giants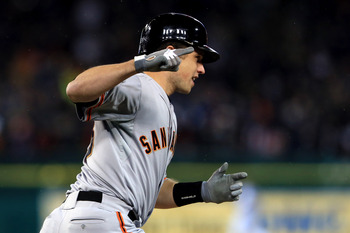 Doug Pensinger/Getty Images
Outlook for 2013
If I didn't tick off the Bay Area with the A's, I sure did it now.
The reason the Giants are ranked this low is that they are clearly a team whose whole is better than the sum of their parts or players.
They are a frightening playoff team, but usually have to fight to survive the regular season first.
The Giants are built similarly to the Rays, having merely above-average third- and fifth batters (Pablo Sandoval and Hunter Pence) flanking the best hitter on the team (Buster Posey).
Apart from Posey, no other batter really strikes fear into an opposing pitcher. Both Sandoval and Pence will carry the club for short periods of time. But those hot streaks will be tempered with long lulls at the plate.
The Giants also had five starters start 31 games or more each, which is a bit fortuitous, health-wise.
Madison Bumgarner showed signs of fatigue during the playoffs this fall and NLCS hero Ryan Vogelsong will turn 36 in July of next year.
However, Matt Cain's steady production in the rotation will keep the Giants in playoff contention all year.
Reason To Watch Them
Will Tim Lincecum return to his Cy Young-winning form?
Goal for 2013
Keep up with the Joneses, er, Dodgers, then pass them late in the season.
11. New York Yankees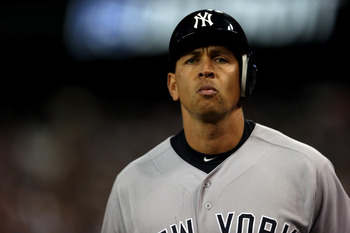 Jonathan Daniel/Getty Images
Outlook for 2013
It's somewhat telling that the Yankees led the AL in home runs with 245, yet had only a single batter reach the 100-RBI plateau.

That was Curtis Granderson and it took him 43 home runs to get there.
The Yankees really bludgeoned teams all year with the long ball but, as a team, was in the middle of the pack when hitting with runners in scoring position.

They were 17th in the majors in that category with a .256 batting mark that was noticeably lower than their overall team batting average which was eighth in baseball (.265).
Perhaps more telling, though, was how the team quit against the Tigers in the ALCS.
The Yankees feature a team that is virtually devoid of young, impact position players. Their "kids" are Brett Gardner and Robinson Cano, who will be 29 and 30, respectively, on Opening Day 2013.
CC Sabathia is still an elite starter and that will buy GM Brian Cashman some time, and if Phil Hughes and Ivan Nova can return to form, then Yankees will approach their 95-win total of 2012.
Reason To Watch Them
Was the 2012 ALCS an aberration or the beginning of the end?
Goal for 2013
World Series title. Is there anything else?
10. Baltimore Orioles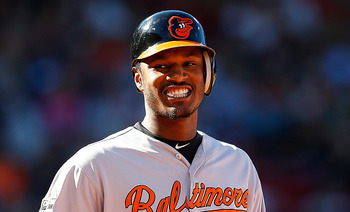 Jim Rogash/Getty Images
Outlook for 2013
The upstart Orioles were possibly the best story of the 2012 season.
Much was made of how the Orioles' winning ways defied their negative run differential all year, but over the last couple months when they were hottest, they were well in the black and finished at plus-seven overall.
In reality, the D.C. area has two baseball teams to root for that are both young, talented and on the rise.
Buck Showalter knows the O's need to improve in a few areas if they want to have lasting success.
They had seven batters reach the 100 K-mark this year. Mark Reynolds struck out 159 times but that at least was a far cry from his three consecutive 200-plus strikeout campaigns he had between 2008 and 2010.
Baltimore will also need to continue to develop the young starting rotation which had only one starter provide more than 150 innings—that being their ace Wei-Yin Chen with 192.2.
The bullpen was incredible all year, so some regression to the mean should be planned for.
With young veterans J.J. Hardy and Adam Jones leading the way, though, the Orioles have the swagger of a team that doesn't want to return to its mediocre ways anytime soon.
Reason To Watch Them
Outfielder Adam Jones (.287-32-82).

Goal for 2013
Keep their heads down and then try not to be surprised when they find they are in the thick of the AL East race near season's end.
9. Toronto Blue Jays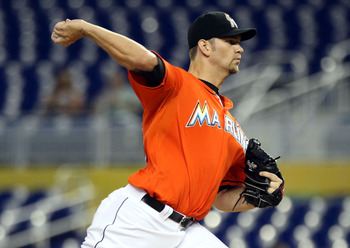 Marc Serota/Getty Images
Outlook for 2013
Championships are not won in the offseason. The Marlins are only the most recent and rawest example of that.
But Jose Bautista has every reason to be excited about the blockbuster trade the Blue Jays pulled off to bring Jose Reyes, Emilio Bonifacio, John Buck, Mark Buehrle and most importantly Josh Johnson to Toronto.
The Jays remade two-fifths of their starting rotation as well as the top of their batting order, giving them the deepest lineup in the AL. And as such, Toronto is now the highest-ranked AL East team in these rankings.
Offense was never the issue in Toronto, but with Reyes and Bonafacio setting the table for Bautista and Edwin Encarnacion, the team hopes that Brett Lawrie and Colby Rasmus will both be able to relax a little more at the plate as they get pushed further down in the lineup.
The Blue Jays' rotation was truly a mess in 2012 where only Brandon Morrow was able to reach double digits in wins and barely achieved even that with exactly 10.
After the trade, though, they now have a legitimate ace in Johnson and a rock-solid No. 2 in Buehrle who is a cinch for 200 quality innings and anywhere from 14-18 wins.
Reason To Watch Them
Will Toronto sprint into the lead in the AL East and hold it?
Goal for 2013
An AL East title at the very least.
8. Los Angeles Dodgers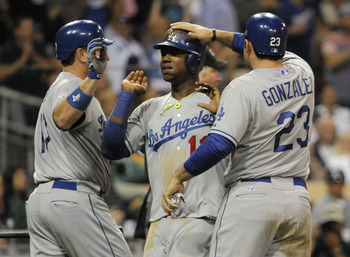 Denis Poroy/Getty Images
Outlook for 2013
When you compare the starting lineups of NL West rival Giants and Dodgers, it becomes as clear as day why the Dodgers have to be the favorite to win the division next year.
The Blue Crew freight train is charging full steam ahead as it continues to add major pieces to an already impressive unit.
Last week the Dodgers won the bidding rights to South Korean lefty All-Star Ryu Hyun-Jin, who is just 25, well-built at 6-foot-2 and 215 pounds, and able to step right into the starting rotation.
His build and throwing style are strikingly reminiscent of David Wells, and the Dodgers would love to get similar production from Ryu.
Carl Crawford will be ready to (finally) assume leadoff duties with a ton to prove to his new and former teammates. Adrian Gonzalez and Hanley Ramirez will begin the year with the team and with a greater comfort level.
Like the Blue Jays, the Dodgers seem to be the best-equipped team in their respective divisions to finish in first place in 2013.
Reason To Watch Them
How well will Don Mattingly make use of his new toys that will be available to him from Day 1?
Goal for 2013
To get ahead of the Giants and stay there.
7. Atlanta Braves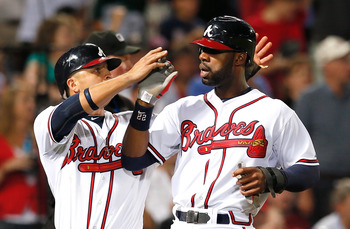 Kevin C. Cox/Getty Images
Outlook for 2013
Just as the Braves sat in playoff position the entire year in 2012, they appear to be a lock to do the same next summer.
Sure, their young stars will struggle from time to time, but with first baseman Freddie Freeman and outfielder Jason Heyward (who are both just 22 years old) thoroughly entrenched as All-Star caliber batters, the Braves are poised to contend for the foreseeable future.
Former All-Star second baseman Dan Uggla is now the most senior starting position player in the everyday lineup and he will have just turned 33 when Opening Day 2013 rolls around.
Not only do Brave fans get to watch their team contend for a playoff spot, they'll also get a full-season helping of electric rookie shortstop Andrelton Simmons, who already has an NL Rookie of the Month award under his belt (June 2012).
Atlanta will contend for the AL East title.
Reason To Watch Them
Simmons.
Goal for 2013
Avoid the one-game wild-card playoff.
6. Los Angeles Angels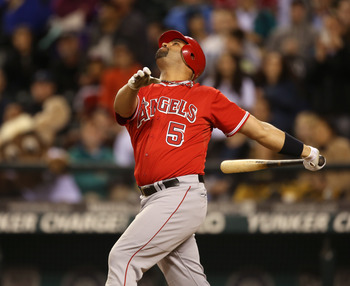 Otto Greule Jr/Getty Images
Outlook for 2013
The Angels missed the playoffs this year despite winning more games than the Detroit Tigers, who advanced all the way to the World Series.
Two circumstances put Los Angeles behind the eight-ball early in 2012, and neither is likely to occur next year.
For one, the club will have the services of the incomparable Mike Trout from Day 1 next year and with him causing havoc at the top of the order, it's doubtful the club will suffer the same offensive struggles early on as they did this year.
Which leads us to the second reason: Albert Pujols amazingly needed roughly 150 at-bats to hit his second home run of the season this past year.
Even with his bat on a slow decline, Pujols will probably be far more comfortable on his new team in Year 2 and be much productive early on.
Anything is possible, but all signs point to the Angels re-signing former Cy Young winner Zack Greinke and that will set the Angels starting rotation up to match up with any team in the AL.
Reason To Watch Them
The yearlong battle with Texas for the division title.
Goal for 2013
A playoff berth, any way, any how.
5. Cincinnati Reds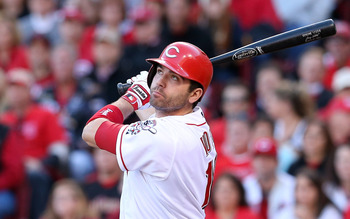 Andy Lyons/Getty Images
Outlook for 2013
The Reds were a very tough club in 2012—so tough, in fact, that they won six more games than their run differential would lead us to expect (91-71).
Most of this success was primarily due to pitching, both in the rotation and out of the bullpen, which was arguably the best in all of baseball.
Like the Giants, the Reds enjoyed near-perfect health from the starting rotation. Only one start on the season did not come from one of the their top five starters of Johnny Cueto, Mat Latos, Homer Bailey, Bronson Arroyo and Mike Leake.
And considering their home park's propensity for inflating offense, their starters' fifth-ranked ERA of 3.64 is doubly impressive. The Giants' rotation, by comparison, was sixth at 3.73 despite the advantage of playing in a very pitching-friendly division.
Out of the bullpen, closer Aroldis Chapman was nearly unhittable.
A full year of production from first base All-Star Joey Votto as well as the offensive upgrade Todd Frazier represents over Scott Rolen should give Reds' fans every expectation that their club will repeat as NL Central champs.
Reason To Watch Them
Two of the best lefties in the game (Votto and Chapman).
Goal for 2013
Big Red Machine Part II
4. St. Louis Cardinals
Dilip Vishwanat/Getty Images
Outlook for 2013
By the end of the year, the Cardinals had become a far better and more dangerous team than their humble 88-win total indicated. Team leader Lance Berkman even said as much during the Cards' playoff run.
That team that will be starting the 2013 season out of the gate.
St. Louis has only one real question mark and that is at shortstop.
Yes, it's a big hole to fill, and if Rafael Furcal is able to return from an elbow injury, he is a plus player. But it's possible his body won't cooperate, and the team is already looking at other options, if needed.
Apart from that, St. Louis brings back one of the deepest lineups in baseball.
Allen Craig and David Freese did well in their first full seasons of starting duty. Another year removed from their injury woes should only aid them.
Carlos Beltran's health is always a wild card. He had quite a year clubbing 32 home runs, but if for some reason he was lost to injury, the team has hitting star Oscar Taveras waiting for his first taste of the bigs.
On the mound, Adam Wainwright should return to being one of the very best starters in the NL. Despite uneven results in 2012, his peripheral pitching stats were in fact very good.
Most importantly, veteran ace Chris Carpenter could be taking the ball for St. Louis on Opening Day, and that always bodes well for a successful campaign.
Reason To Watch Them
A battle royale with the Reds for the NL Central title.
Goal for 2013
A healthy Chris Carpenter and continued development of the club's young fire-balling hurlers.
3. Texas Rangers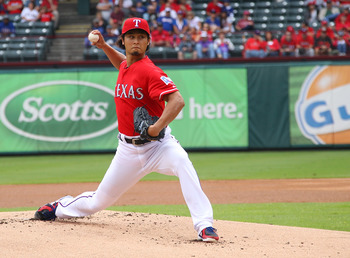 Rick Yeatts/Getty Images
Outlook for 2013
The Rangers continue to be one of the smartest and best-run franchises in baseball. On top of that, they are winners. So we expect Texas to address the expected departure of former AL MVP Josh Hamilton without missing a beat.
Like the Cards, the Rangers led or were among the teams with the highest run differential in baseball a large portion of the year.
Yu Darvish (16-9, 3.90), Matt Harrison (18-11, 3.29) and Derek Holland (12-7, 4.67) make a formidable trio when paired with one of best offenses in all of baseball.
Adrian Beltre, in many ways, has been the glue that has held the Rangers together, both on the field defensively and in the lineup with his big right-handed bat.
The Rangers seem to have the Angels' number, so it should be another great race in the AL West.
Reason To Watch Them
Will this talented core finally win it all in 2013?
Goal for 2013
Get back to the World Series and finish the deal.
2. Detroit Tigers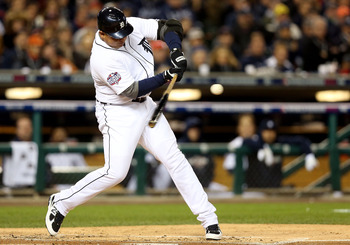 Ezra Shaw/Getty Images
Outlook for 2013
Many experts picked the Tigers to win it all after they signed Prince Fielder prior to the 2012 season.
Detroit proceeded to underachieve much of the year, but in the end, the Tigers ended up where many thought they would—playing for a World Series title.
The Tigers should be the odds-on favorite to represent the AL again in the Fall Classic as Victor Martinez will return to DH and anchor a very deep Tigers offense that features probable AL MVP Miguel Cabrera, who earned the first batting Triple Crown since 1967.
They've also just added veteran Torii Hunter on a two-year deal to help bolster the outfield.
The one-two pitching punch of AL MVP Justin Verlander and Max Scherzer reminds some of the dominant duo of Randy Johnson and Curt Schilling, who were so dangerous for the Diamondbacks.
The club will need to address the bullpen situation, specifically what to do with Jose Valverde, who may still be useful in the right situations.
Reason To Watch Them
Triple Crown encore from Cabrera.
Goal for 2013
Better consistency during the regular season on the way to the AL Central title.
1. Washington Nationals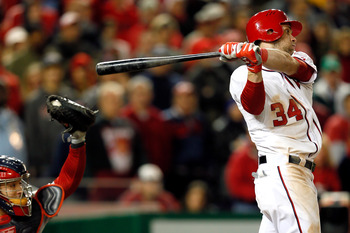 Rob Carr/Getty Images
Outlook for 2013
The Nationals arrived a full year ahead of schedule, winning the NL East this year, and developing several young stars in the process, not least of which was 2012 NL Rookie of the Year Bryce Harper.
Washington has a good blend of young stars (Danny Espinosa, Ian Desmond, Stephen Strasburg) as well as some top-shelf veterans to help share the load (Jayson Werth, Michael Morse, Gio Gonzalez).
The sky is the limit for Bryce Harper, who quite possibly has a 40-40 season in his near future.
And there may not be a team in baseball that can match Washington's top three starters—the aforementioned Strasburg (15-6, 3.16), Gonzalez (21-8, 2.89) and Jordan Zimmermann (12-8, 2.94).
Depending on whom they acquire in free agency, the NL East may be the Nationals' to lose. And if they do return to the playoffs, they'll be a year older, more seasoned and as an even more dangerous a foe.
Reason To Watch Them
We hear that Bryce Harper kid is pretty good.
Goal for 2013
An NL pennant.
Keep Reading