Is the Dodgers' or Blue Jays' Blockbuster Deal the Biggest Risk/Reward Payoff?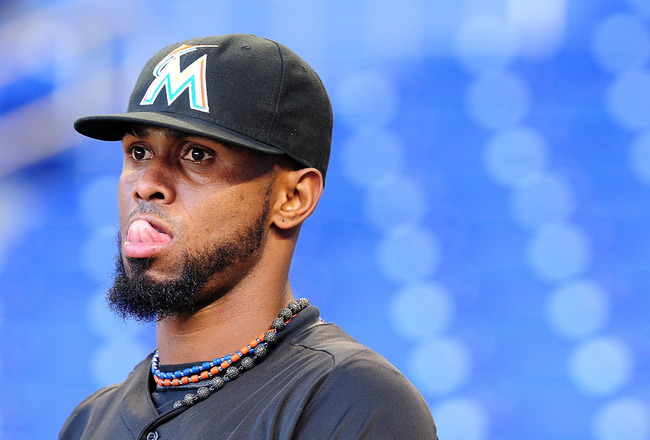 Jason Arnold/Getty Images
If fans of baseball weren't into what has become known as the Hot Stove League, they are certainly interested now.
The first blockbuster deal of the winter occurred early Tuesday evening with the trade between the Toronto Blue Jays and Miami Marlins.
Starting pitchers Josh Johnson and Mark Buehrle, shortstop Jose Reyes, infielder/outfielder Emilio Bonifacio and catcher John Buck are headed to Toronto.
In return, the Marlins receive shortstops Yunel Escobar and Adeiny Hechavarria, major league starter Henderson Alvarez, minor league starter Justin Nicolino, center fielder Jacob Marisnick, catcher Jeff Mathis and minor league pitcher Anthony DeScaflani.
With the trade, the Marlins now only have $16 million in salary committed for the 2013, not including arbitration-eligible players.
For the Blue Jays, general manager Alex Anthopoulos took care of several team needs in one fell swoop. With Johnson and Buehrle, Anthopoulos more than met the need to acquire impact starters. The acquisition of Bonifacio gives the Jays some options. With his ability to play center field and second base, Bonifacio could very easily serve as the replacement for Kelly Johnson at second.
This particular blockbuster deal comes just 11 weeks after the biggest trade of the regular season, when the Boston Red Sox sent left fielder Carl Crawford, pitcher Josh Beckett, first baseman Adrian Gonzalez and utility infielder Nick Punto to the Los Angeles Dodgers for first baseman James Loney, infielder/outfielder Jerry Sands, starting pitcher Rubby De La Rosa, minor league pitcher Allen Webster and utility infielder Ivan De Jesus.
So, just which of the two deals presents a larger risk/reward payoff?
Let's take a look.
Adrian Gonzalez, Los Angeles Dodgers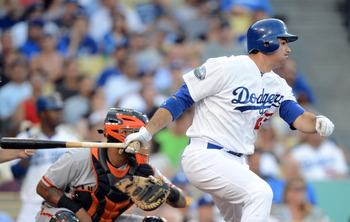 Harry How/Getty Images
There was no question that the centerpiece of the deal between the Boston Red Sox and Los Angeles Dodgers last August was first baseman Adrian Gonzalez.
The cost to the Dodgers was immense, as Gonzalez is owed $127 million through the next six seasons. But no question, A-Gon fulfilled a major need. He adds a potent left-handed bat to counter the power supplied by center fielder Matt Kemp from the right side.
Gonzalez grew up in nearby San Diego, so playing near home will be a major plus. His Mexican heritage doesn't hurt a fanbase that went crazy with Fernandomania in 1981, making southpaw Fernando Valenzuela one of the most beloved Dodgers ever.
For the Dodgers, they risk taking on over $250 million in salaries in the deal, but they got the man they clearly wanted.
Was the Risk Worth the Reward?
For the Dodgers, yes. There's always risk in taking on anyone with a $20 million contract. The Dodgers did it with two players, but Gonzalez was the payoff they were looking for.
Carl Crawford, Los Angeles Dodgers
Jason Miller/Getty Images
In acquiring left fielder Carl Crawford, the Dodgers certainly took on risk.
Crawford had just undergone Tommy John surgery on his left elbow just days before his trade to the Dodgers. He had basically bombed in his first season with the Boston Red Sox and played in just 31 games before shutting down to have the surgery in August.
And he's owed $101.5 million over the next five seasons.
Was the Risk Worth the Reward?
That remains to be seen. Crawford is reportedly ahead of schedule in his rehab and has a chance to be ready for Opening Day.
Much will depend on Crawford's ability to successfully bounce back from his surgery, shake off the dismal two seasons in Boston and get back to being Crawford. And by that I mean using his tremendous speed and his ability to spray the ball to all fields with great success.
If that's the Crawford that returns in 2013, then yes, the risk was well worth the reward.
Josh Beckett, Los Angeles Dodgers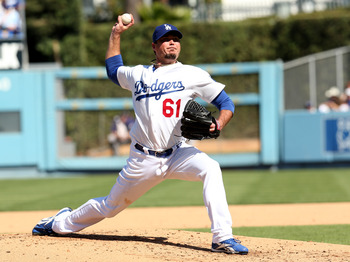 Stephen Dunn/Getty Images
The Josh Beckett that pitched in Los Angeles as opposed to the earlier version of Beckett with the Boston Red Sox was a tale of two pitchers.
Beckett posted a 5-11 record and 5.23 ERA in 21 starts for the Red Sox in 2012, oftentimes looking completely out of sorts on the mound.
With the Dodgers, Beckett was clearly more relaxed and pitching like a big load had been lifted. In seven starts, Beckett was 2-3 with a 2.93 ERA with 38 strikeouts in 43 innings.
Beckett is only under contract for two more seasons at $15.75 million per year.
Was the Risk Worth the Reward?
If Beckett can continue to be the pitcher he was in late August and September, then yes.
He's only 32 years of age, so there is certainly no reason to think Beckett has reached a point of downward progression. Pitching half his games at spacious Dodger Stadium won't hurt, either.
Still, there are risks. Beckett's back and shoulder issues over the past three seasons have certainly been a cause for concern. Beckett has only made 30 starts a season four times in his career and has surpassed 200 IP only three times. If the shoulder and back hold up over the next two years, the Dodgers will have dodged a bullet (no pun intended).
Josh Johnson, Toronto Blue Jays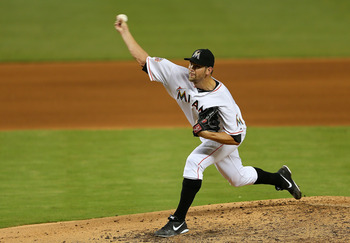 Mike Ehrmann/Getty Images
The Toronto Blue Jays wanted impact starters and frontline pitchers this offseason. In Josh Johnson, they got one that can qualify on both accounts.
Johnson's 2012 peripheral stats may not look all that rosy with an 8-14 record and 3.83 ERA. The fact that Johnson stayed healthy throughout the season and made 31 starts was a huge plus.
Johnson's shoulder has always been a source of concern. It limited him to just nine starts in 2011. However, there's no question that when healthy, Johnson's stuff is electric. He has been considered one of the elite young pitchers in the majors for quite some time, despite the injury history.
Was the Risk Worth the Reward?
Johnson is only under contract for one more season, owed $13.75 million in 2013. If Johnson's shoulder continues to hold up and he successfully navigates through the American League, then yes.
The health factor will no doubt linger until Johnson proves otherwise.
Mark Buehrle, Toronto Blue Jays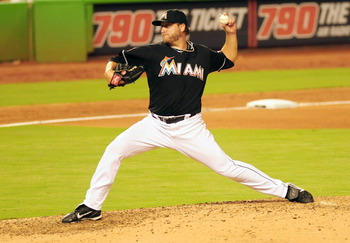 Jason Arnold/Getty Images
If there is any one pitcher in baseball who could be looked at as a model of consistency, there's no question that man would be left-hander Mark Buehrle.
In 2012, Buehrle posted his 12th consecutive season with at least 200 innings pitched. That in itself is a remarkable achievement.
With his 174-132 record and 3.82 lifetime ERA, Buehrle gives the Toronto Blue Jays a reliable arm every fifth day. Considering what happened with the Blue Jays rotation in 2012, that's a bonus in itself.
Was the Risk Worth the Reward?
In Buehrle's case, no question. Yes, he's owed $52 million over the next three years, but he's never made a trip to the disabled list and has been the most durable pitcher of the 21st century. A resounding yes to this question.
Jose Reyes, Toronto Blue Jays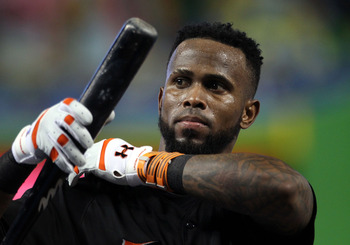 Marc Serota/Getty Images
While the Toronto Blue Jays may not necessarily have been looking for a shortstop, they got one—and they took care of a need at the top of the batting order as well.
Jose Reyes gives the Blue Jays another added dimension of speed and significantly strengthens the top of their batting order.
Blue Jays leadoff hitters batted just .237 in 2012, ranked third-worst in the American League. Reyes hit 50 points higher than that on his own.
Was the Risk Worth the Reward?
Hard to say no to this one. Reyes is just 29 years of age, and while he's owed $96 million for the next five seasons, he's arguably just reached the prime years of his career.
Reyes absolutely has a chance to instantly change the makeup of the offense for the Jays, both with his ability to get on base and his speed at the top of the lineup.
Emilio Bonifacio, Toronto Blue Jays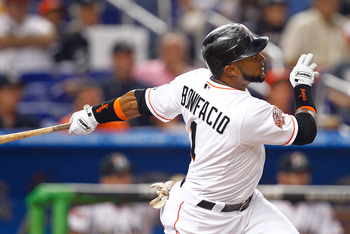 Sarah Glenn/Getty Images
Thumb and knee injuries limited Emilio Bonifacio to just 64 games in 2012. However, when healthy, Bonifacio has the speed to impact games.
Bonifacio is under team control for the next two seasons, so the risk for the Blue Jays certainly wasn't high. He could well act as the replacement for Kelly Johnson at second base, and he can also serve as a pesky presence at the top of the batting order for the Jays.
Was the Risk Worth the Reward?
Yes.
I can envision both Jose Reyes and Bonifacio at the top of the Blue Jays batting order, acting as consistent table-setters for Jose Bautista and Edwin Encarnacion.
Team Risk/Reward Payoff: Who Wins, Los Angeles Dodgers or Toronto Blue Jays?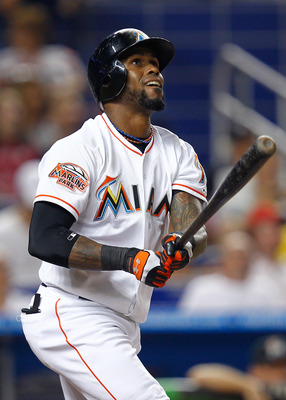 Sarah Glenn/Getty Images
We've broken down the top individual players involved in the blockbuster deals for the Los Angeles Dodgers and Toronto Blue Jays, but in terms of risk/reward factor on a team level, who came out on top?
The Toronto Blue Jays.
The Jays took on $167.75 million contracts for Josh Johnson, Mark Buehrle, Jose Reyes, Emilio Bonfacio and John Buck. That number could jump just a bit with Bonfiacio's likely raise in 2013.
The Dodgers took on $251.5 million with the contracts of Josh Beckett, Adrian Gonzalez and Carl Crawford.
The overall age of the players the Toronto Blue Jays received is 29.8. For the Dodgers, the average age was 31.
Reyes represents the largest contract taken on by the Jays. When his deal ends in 2017, he'll be just 34 years of age.
Gonzalez represents the largest deal for the Dodgers, and he'll be 36 when his contract expires in 2018.
Johnson is three years younger than Beckett, and while both have injury concerns, Johnson remained healthy throughout the 2012 season.
For me, the Blue Jays certainly took on some risks and a considerable amount of cash. But the upside of the players involved is higher.
Only time will tell, of course, but considering the massive impact to both clubs in terms of money and impact players, my vote is for the Toronto Blue Jays.
Doug Mead is a Featured Columnist with Bleacher Report. His work has been featured on the Seattle Post-Intelligencer, SF Gate, CBS Sports, the Los Angeles Times and the Houston Chronicle.
Keep Reading

Toronto Blue Jays: Like this team?