Miami Dolphins: 5 Reasons Reggie Bush, Running Game Will Expose Bills Defense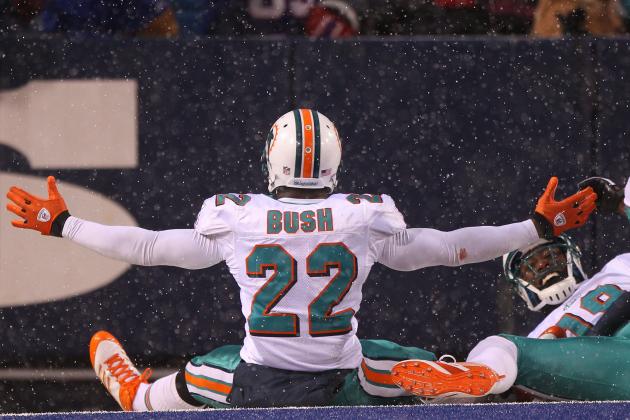 Tom Szczerbowski/Getty Images
Bush is slowly starting to live up to his expectations coming out of college.
The Miami Dolphins travel north to take on the Buffalo Bills on Thursday night. Miami is 4-5 on the season with an outside shot at a playoff berth while the Bills need to put together a miraculous finish to be in contention.
With two games remaining against the New England Patriots, the Dolphins could make some noise in the AFC East, but a win against Buffalo is absolutely necessary.
Reggie Bush and Daniel Thomas will be key factors in the division matchup against a relatively weak Bills defense.
Here are five reasons why the Dolphins will have a big day on Thursday.
Begin Slideshow

»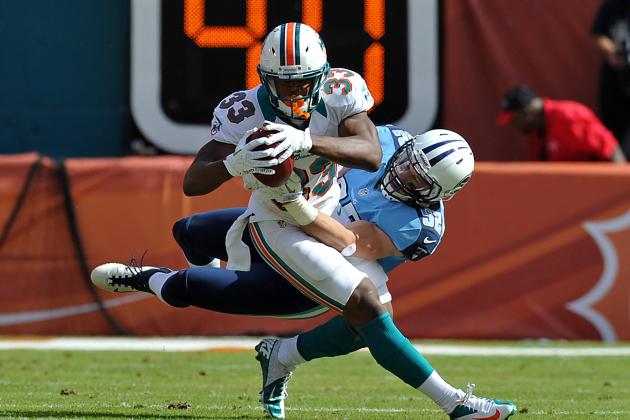 Steve Mitchell-US PRESSWIRE
The Titans were all over the Dolphins' running game last week.
At 4-4, the Dolphins trailed the Patriots by just one game in the AFC East heading into last week's game against the Tennessee Titans.
Four embarrassing quarters later, Miami fell 37-3 to the Titans in Jake Locker's return.
Tennessee was ranked near the bottom of the NFL in run defense, yet held the Dolphins to a measly 3.6 yards per carry.
Bush and Thomas combined for just nine carries and 42 yards, but will be looking to change that number on Thursday.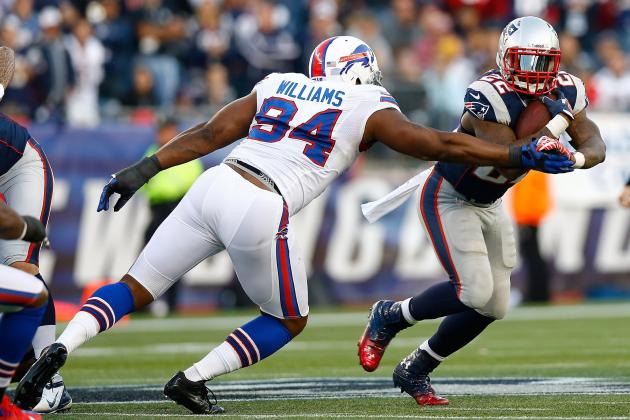 Jared Wickerham/Getty Images
Ridley broke away from multiple Buffalo tackles last week en route to 98 yards.
Bad is an understatement.
Heck, so might horrific.
The Bills rank last in the NFL in nearly all run-defense categories. Buffalo has allowed 1,473 yards, 16 touchdowns and a 5.5 per carry average to opponents this season.
New England put up 117 yards last week even with Tom Brady passing the ball 38 times.
Teams gain nearly 165 yards on the ground per game against the Bills, and Miami has the weapons in the backfield to put big numbers up.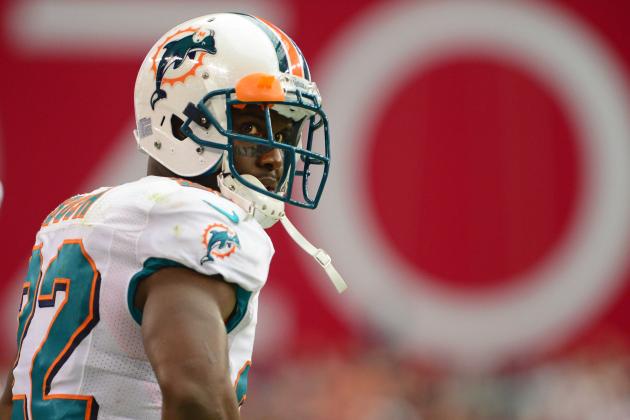 Jennifer Stewart-US PRESSWIRE
Bush has been left dazed and confused by the lack of space recently.
While he is slowly improving as an every-down back, Bush still has work to do.
After a fast start to the 2012 season, the seventh-year player out of USC has 138 yards and a single touchdown in his last four games.
Between Bush's drought and the Bills' terrible run defense, this game is an amazing chance for the running back to break out.
Remember, Reggie torched Buffalo for 203 yards and a touchdown in Week 16 last season.
Look for the Dolphins to utilize Bush early and often.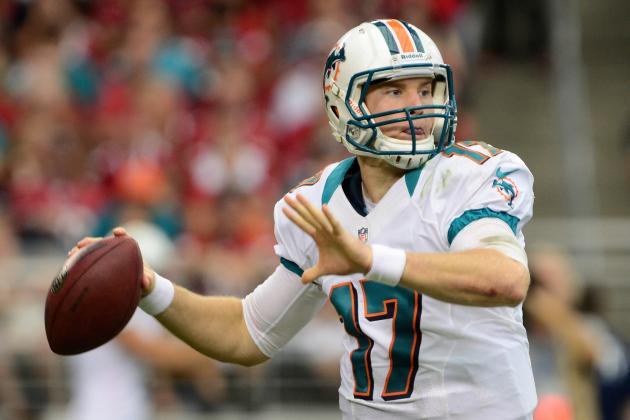 Jennifer Stewart-US PRESSWIRE
Tannehill is looking to bounce back from a three interception game.
Miami has been missing the big play for the majority of the season.
If Bush and Thomas can find their stride early in Thursday's game, Ryan Tannehill could make it an even longer night for Buffalo.
Brian Hartline and Davone Bess both have game-changing ability and can get behind the Bills' secondary.
Buffalo has allowed a 24-plus-yard reception in every contest this season, while the Dolphins have struggled to consistently find the big catch in 2012.
All set up by play-action, Tannehill might repeatedly find his receivers with room to run and speed to burn.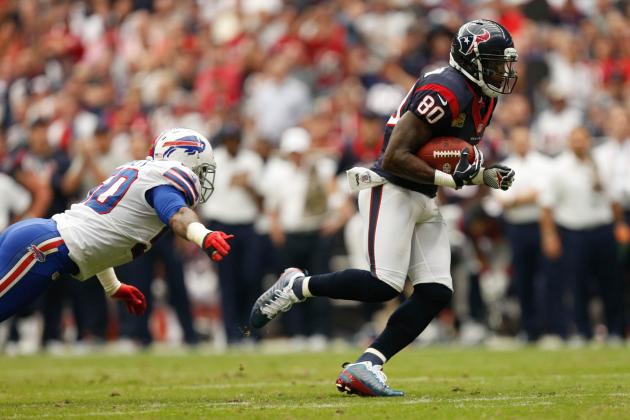 Thomas Campbell-US PRESSWIRE
The Texans gained nearly 400 yards against Buffalo in Week 9.
Yes, we already know that the Buffalo run defense is the worst in the league.
But the Bills' total defense isn't much better, either.
Buffalo gives up the second-most yards per game at 410.0, trailing only the New Orleans Saints' offense-resters—who are on pace to being one of the worst in NFL history.
Chan Gailey's crew also gives up 31.7 points per game.
Enough said.
Miami must win games to get back into the playoff picture, and a matchup with the struggling Buffalo defense couldn't come at a more perfect time.