5 Reasons Iman Shumpert's Return Will Drastically Alter Next Season for New York
Marc Serota/Getty Images
The New York Knicks are doing pretty well despite the absence of two of the team's most important players, Iman Shumpert and Amar'e Stoudemire.
There's been a lot of debate surrounding Stoudemire and whether or not he's actually of much value to this team anymore, at least as far as him in the starting lineup goes, but there's no denying Iman Shumpert's impact on the Knicks.
With him out, New York is playing an ultra-small lineup that features Jason Kidd and Raymond Felton starting in the backcourt. It's worked for them so far, but when they meet a team with a good shooting guard they have to rely too heavily on Tyson Chandler.
Shumpert makes this team so much more than what they are right now, and currently they're a pretty darn good team.
The Knicks will most likely be without him for a while, as their hot start and the severity of his injury means it would make more sense to let him take his time returning to action. Better safe than sorry.
It's going to be at least until January before Shumpert can come back from the torn ACL that took him out in May of last year, but his return will send shock waves through the Knicks organization, especially if he can come back and play at his former level.
Perimeter Defense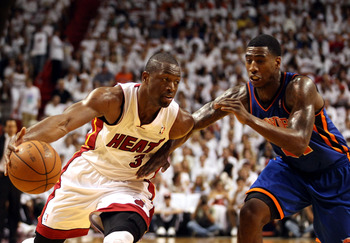 Marc Serota/Getty Images
With the exception of J.R. Smith when his mind is completely in it (which isn't very often), the Knicks are without a spectacular perimeter defender, something that seems necessary fora team looking to win a title these days.
The Heat had LeBron James, Dallas had DeShawn Stevenson, the Lakers had Metta World Peace, Boston had Tony Allen, the Spurs had Bruce Bowen. The list goes on and on.
If New York seriously believes that they have a team capable of winning a title, a lot of it's going to rely on Iman Shumpert's ability to stop the long, athletic players that look to score from the wing. Without him they only have their last line of defense in Tyson Chandler to rely on.
Shumpert's defense is what really enticed the Knicks to draft him, but even after just one season he's given so much more to them than his defensive effort.
Another Weapon
Stephen Lovekin/Getty Images
There was a pretty dynamic change that Iman Shumpert went through over the course of the season in 2012.
Initially he was a defensive weapon who could hit a shot every once in a while, and by that I mean incredibly sparingly. Shumpert spent the first month of the season showing off some terrible shooting nights. It was so bad that he finished the month of January with a 38 percent field-goal clip. His three-point percentage was even uglier.
But, as he got comfortable and started to get into the flow of the offense, which was pretty difficult with all of New York's injuries, he started knocking down shots. Shump shot above 40 percent in February, March and April, topping out at 44 percent throughout March.
He's not turning into a sharpshooter anytime soon, but you can see his progression just in how much more confident he looked on the floor at the end of the season compared to the beginning.
Money Situation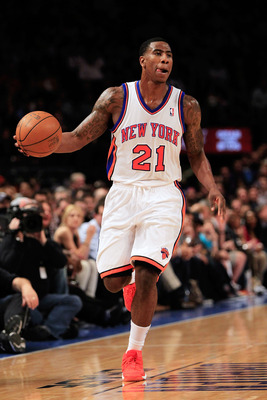 Chris Trotman/Getty Images
The good news for the Knicks is that they've got Shumpert locked in for the next three seasons, and they're all going to come on the cheap.
New York is in a tight spot money-wise with over $55 million going to Carmelo Anthony, Amar'e Stoudemire and Tyson Chandler, and that number is only going to increase until they are able to get rid of one of those guys or wait out a contract.
Shumpert is a rarity in orange and blue; he's an effective young player who gets paid pennies compared to the rest of their guys.
The Knicks get to hang onto Shump through 2015 before he becomes a restricted free agent, and they have to figure out what he's worth. Basically, they don't have to worry about him for a while.
Calming Presence
Jonathan Daniel/Getty Images
Maybe it's the flat-top, maybe it's just that he's a naturally chilled-out dude, but it seems like Iman Shumpert has been the alka-seltzer for the Knicks so far in his career.
Although he doesn't get too riled up during games, he's still able to keep up his defensive intensity. He's a guy that really knows when to turn it up and when to turn it off.
The only time he does go a little bit off the deep end is when he goes up and throws down a nasty dunk; otherwise, he's a pretty calm dude on the court.
Everybody knows about the circus that surrounds the Knicks seemingly every time they step on the floor, so to have a guy with a level head is very much a blessing in the media-centric universe that is New York.
Leading by Example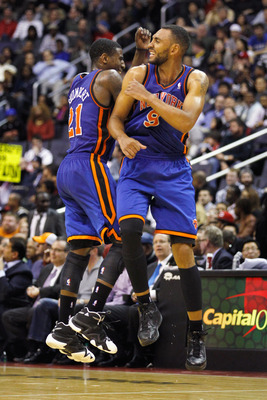 Rob Carr/Getty Images
When Tyson Chandler signed on with New York, he automatically became one of the veteran leaders on the team. It's not just that he's older than most of his teammates, something that's easy for any old guy, but the way he plays all four quarters sets an example that younger players tend to follow.
Shumpert came in last season and latched on to the break-neck playing style that Chandler is known for, eventually taking on the personality himself and improving his game as a result.
Near the end of the season, Shump had so taken it to heart that he, alongside Chandler, became one of this team's defensive leaders.
With him back in the lineup and on the floor with Chandler, this team won't be able to help themselves from taking on the same mentality, diving for loose balls and just playing hard defense on their men. It's infectious.
Keep Reading

New York Knicks: Like this team?