The Debate Continues: The Top 10 Fighters Since the 1976 Olympic Class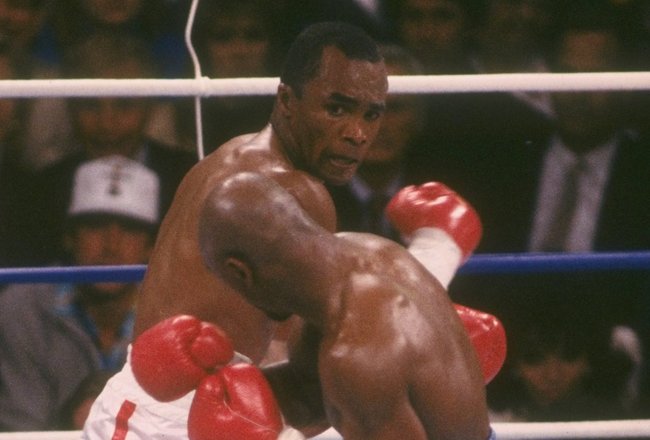 Getty Images/Getty Images
This is the list of all lists!
There was so much debate about the "Top 10 Fighters of the Past 20 Years," there had to be another list. One that will draw up at least (if not more) of the same argument of the previous list. The legends of all legends will be on this list.
There will be much controversy about the selections on this list. However, many can argue that the past 36 years in the sport have been the glory years.
Without any further ado...here are the top 10 fighters since one of the greatest Olympic classes of all time, 1976.
Honorable Mention: Manny "Pacman" Pacquiao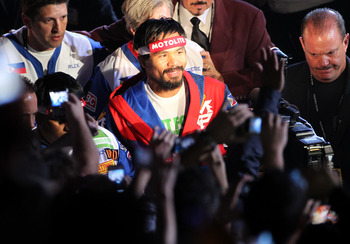 Jeff Bottari/Getty Images
This is how deep this list is going to be...whenever you start the list with arguably one of the current top three fighters in the world, there is no room for error.
Manny has done it all—an eight-division winner, four Lineal World Championships, a consistent big-time player.
Now, understand, the honorable mentions have no order whatsoever. This is not saying Pacquiao is No. 15 or No. 11; this is just saying he is one of the top 15 fighters in the past 36 years. Pacquiao could ultimately move up this list in a big way with a win over one Floyd Joy Mayweather.
We all can hope at this point that the fight will happen.
Honorable Mention: Thomas "Hitman" Hearns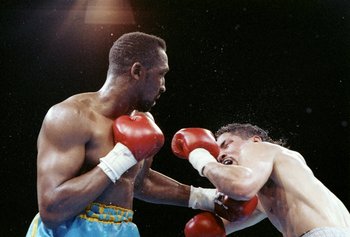 Holly Stein/Getty Images
The crown jewel of the Kronk gym.
The Hitman has always been one of boxing's finest. He was part of the Round Robin that included Leonard, Duran and Hagler to see who was boxing's best. Although the only one he defeated in the Round Robin was Duran, no one can ever take away the accomplishments of the Hitman.
Honorable Mention: Roberto Duran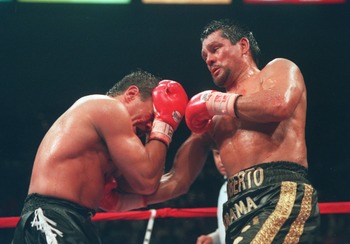 Holly Stein/Getty Images
Without question...the greatest lightweight to ever live.
For the 1970s and most of the 1980s, no one hit harder or fought with a bigger heart. Known for his bouts in the Round Robin, in particular with Ray Leonard, Duran was pound-for-pound one of the best in the world for close to two decades. No one could ever take away what Duran brought to the sport.
He was all guts and all glory.
Honorable Mention: Aaron "the Hawk" Pryor
The Hawk was one of the cream of the crop and did not get the recognition he deserved.
His first bout with Alexis Arguello is considered one of the all-time greats. The fight was even focused on in HBO's Legendary Nights, although for the wrong reasons. While his trainer Panama Lewis overshadowed Pryor's great performance that night, no one can take away how great he really was.
Honorable Mention: Michael "Little Hands of Stone" Carbajal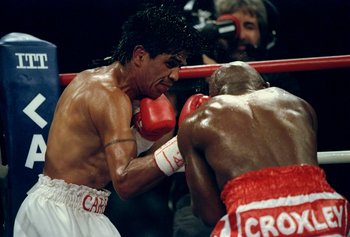 Todd Warshaw/Getty Images
The Little Hands of Stone was without question the greatest American flyweight ever. Part of the famous 1988 Olympic team that included Roy Jones, Carbajal had a successful career, including a trilogy with Humberto "Chiquita" Gonzalez that would go down in boxing lore as one of the greatest.
No. 10: Wilfredo Gomez
One of Puerto Rico's finest begins the top 10.
A gritty fighter, Gomez had 18 consecutive defenses of his 122-pound title, with a lost to the great Salvador Sanchez sandwiched in between. He also won belts at 126 pounds and 130 pounds.
He was one of the finest and purest to come from the great island of Puerto Rico.
No. 9: Julio Cesar Chavez Sr.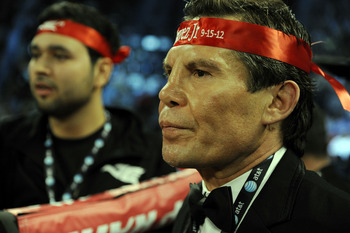 Jeff Bottari/Getty Images
A lot of people are going to moan and groan on this one, but here's the reasoning behind Julio being No. 9. While his accomplishments are remarkable (the bout with Taylor is one of the best ever), the stars ahead of him have even greater accomplishments. This is no slight to Chavez, who will go down as arguably the greatest Mexican fighter, but as No. 8 through No. 1 are revealed, the reasoning will be understandable.
Believe me, this was the hardest list I've ever put together.
No. 8: Marvelous Marvin Hagler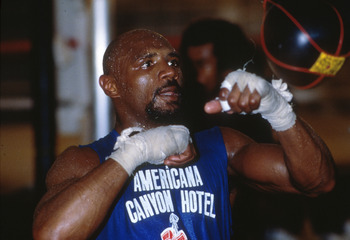 David Cannon/Getty Images
Let's be honest, if it weren't for a man that is ranked higher on this list, we are looking at possibly the greatest middleweight of all time.
He was the middleweight champion for over seven years before the loss to Ray Leonard. Awesome professional, awesome fighter. It is just horrible that he has to be ranked this low.
No. 7: Bernard Hopkins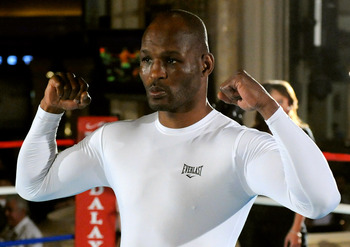 Ethan Miller/Getty Images
I've heard everyone on the top 10 list before, and I must abide. No doubt, without question, even with the great Sugar Ray Robinson in this division, the greatest middleweight champion of all time!
There's no questioning the things that the old man has done, even up to now. And to think, his career didn't even start until he was the age of 23, at light heavyweight nonetheless. No amateur background, just fresh out of prison, who would have thought that back in October of 1988, we'd be saying the great things about Bernard.
Oh, did I mention that he broke the great Carlos Monzon's record of consecutive title defenses? Pure genius, class act all-around, thank you Bernard for just being you.
No. 6: Mike Tyson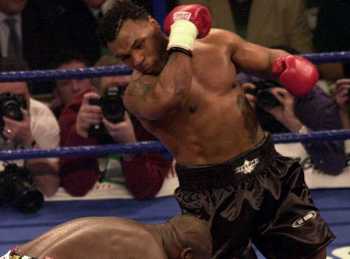 Ross Kinnaird/Getty Images
The most feared man on the planet for over five years.
He was the youngest heavyweight champion in history and became undisputed heavyweight champion of the world in 1988. He defeated an undefeated Michael Spinks by first-round knockout to solidify his position as the best heavyweight in the world.
There are so many accomplishments that we can reel off about Iron Mike, he may need a top 10 of his own. Nonetheless, while a shocking defeat to Buster Douglas in Tokyo and a conviction in 1992 may have derailed his career, we will never forget those five years during which Mike Tyson was boxing.
No. 5: Floyd Mayweather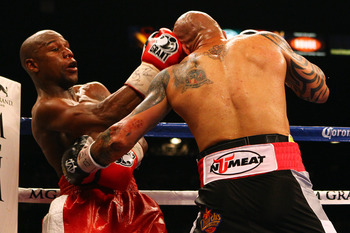 Al Bello/Getty Images
And now, here's where the fun begins.
Many will indeed question Money May's position on this top 10. There's no doubt that he is the best fighter on Earth today.
While his legacy still needs some closure, his rank amongst the sport's greatest is starting to rise. There's still one more chapter that needs to be written in Mayweather's book, and while most diehards are declaring the fight dead, there still could be some rise to this ranking if the fight goes off.
But I'm sure Floyd is content about his career, with or without the Pacquiao fight.
No. 4: Sugar Ray Leonard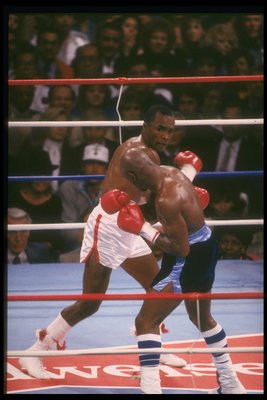 Getty Images/Getty Images
In 1976, Ray Leonard captured Olympic Gold. In 1981, he fought Thomas Hearns for the undisputed welterweight title.
And the rest is history.
Ray Leonard captivated not only boxing fans, but he brought in the casual fan as well. His wars with Duran were memorable, including the infamous "No Mas" fight in the second bout.
Leonard took some time off before fighting and defeating Marvelous Marvin Hagler, who was considered at that time to be the best in the world.
He would later go on to fight Donny Lalonde to become a four-division champion and be one of the few in history to simultaneously hold the light heavyweight and super middleweight titles (the other being Joe Calzaghe).
Brilliant in and out of the ring, Ray Leonard has solidified his place in boxing lore.
No. 3: Salvador Sanchez
Arguably the greatest fighter under 130 pounds, Salvador did it all.
He had speed, power and the skills to make him an all-time great. And while his life came to an early end, everyone respected what he meant to the sport.
While many do consider Chavez as one of—if not the greatest Mexican fighter of all time due to his longevity—no one could ever deny the skills of Sanchez. Had his life not come to an end, we would be talking about Sanchez being in the top 10 of all time.
And while many have never seen him fight, those who did have many stories to tell to their grandchildren about the great Salvador Sanchez.
No. 2: Pernell Whitaker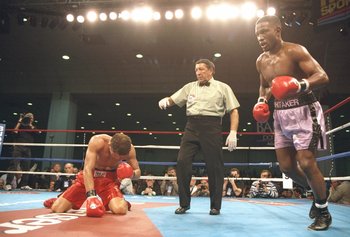 Al Bello/Getty Images
Now, this may look real familiar as Whitaker was also No. 2 in the ranks of the "Greatest Fighters of the Past 20 Years," but for good reason.
1984 Olympic Gold Medalist.
First undisputed lightweight champion since Roberto Duran.
Ranked in the top 10 of Ring Magazine's greatest fighters of the past 80 years in 2002.
The list of accomplishments, the accolades and whatever else you may want to throw in there, just know, by many standards, he was also the greatest southpaw to grace the squared circle.
No. 1: Roy Jones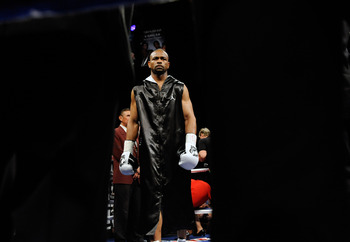 Ethan Miller/Getty Images
What can I say about Roy that I haven't said already?
Is he the greatest talent in the ring since Ray Robinson?
Yes.
Has he cultivated many to the sport for over two decades?
Yes.
There is nothing more to say about the talent of one of the all-time greats. When he came out of the Olympics, we knew we had something special. And even with his downfalls over the past eight years, we can never forget what he did from 1988 to 2003.
Dominate.
Keep Reading