5 Predictions as the Dallas Mavericks Await Dirk Nowitzki's Return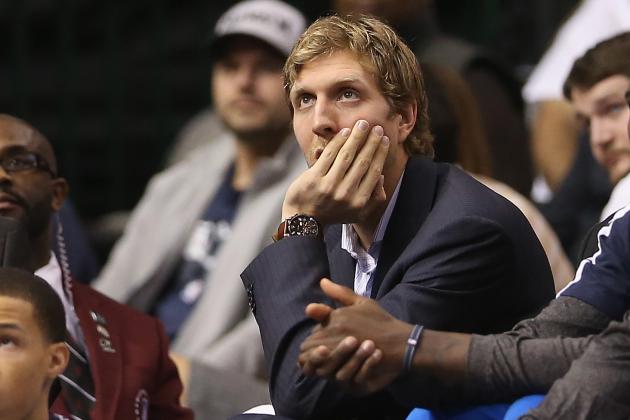 Ronald Martinez/Getty Images

After getting off to a blazing-hot start without their superstar, Dirk Nowitzki, in the lineup, the Dallas Mavericks have now come back down to earth, losing three straight to fall to 4-4 on the season.
As of Monday, Nowitzki told CBSSports.com that his rehab from right knee surgery was taking "longer than he hoped it would," so things don't exactly look promising to get Dirk back any time soon.
Since there is no real set timetable for Dirk's return, the team must now rally around each other if it wishes to get back over .500 by the time Nowitzki is healthy.
Here are five predictions about how the team will fare in the next few weeks as it continues to await the return of Dirk Nowitzki.
Begin Slideshow

»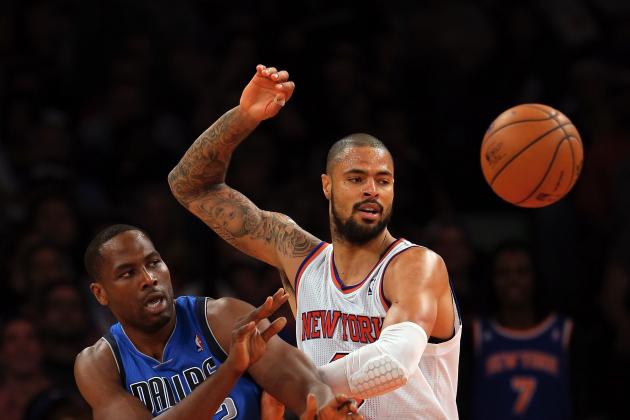 Elsa/Getty Images

Of all of the Mavericks' big-name offseason pickups, the one who has produced the least so far this year has been Elton Brand.
Brand has started all seven games he has played in, but his numbers are down across the board. He is averaging just 6.4 PPG and 5.4 RPG on 36.2 percent shooting so far this season.
Brand has looked lost at times in the Mavs' new offense, which is surprising for a veteran player of his stature. He has been losing playing time late in games to Brandan Wright, Chris Kaman and Troy Murphy, who are all stepping in Nowitzki's absence.
Brand simply needs to play a bigger role without Dirk in the game. Although he is up there in years, he is still capable of being a dynamic post player. Rick Carlisle needs to do his part to get Brand more touches, but Brand must also be smarter about his shot selection and play within the flow of the offense.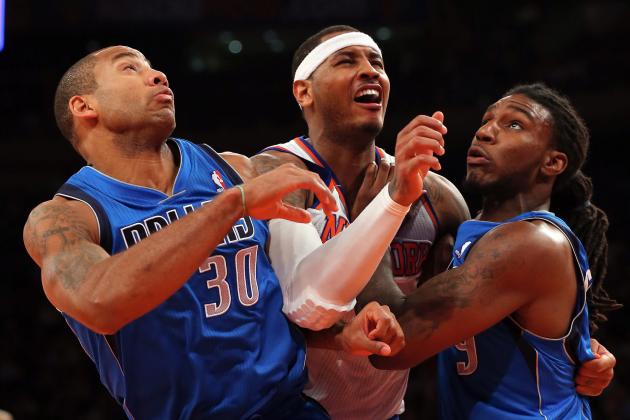 Elsa/Getty Images

Easily, Dallas' biggest weakness so far this year has been a total lack of intensity in rebounding the basketball.
In its second game against Charlotte this season, the Bobcats basically came back into the game and won it because of lack of effort in defensive rebounding by the Mavericks late in the fourth quarter and overtime.
As a whole, the team is 19th in the NBA in total rebounding, but it is an abysmal 28th in rebounding differential at minus-5.1 per contest. Only the lowly Kings and Pistons have a worse rebounding difference in the NBA so far.
Unfortunately for the Mavericks, it doesn't seem as though this problem is going to change anytime soon.
The team's leading rebounder is Shawn Marion. While admittedly, Marion is a great rebounder for his position, when your team is being led in rebounds by a small forward, it probably doesn't say good things about the big men down low.
As good as Chris Kaman and Brandan Wright are offensively, they are just as bad in the rebounding department. Despite playing a combined 39 minutes a game, the two only average a total of 10.6 boards.
Unless the team has a sudden change in philosophy and starts emphasizing rebounding, it will continue to struggle in this area as it awaits the return of Dirk Nowitzki.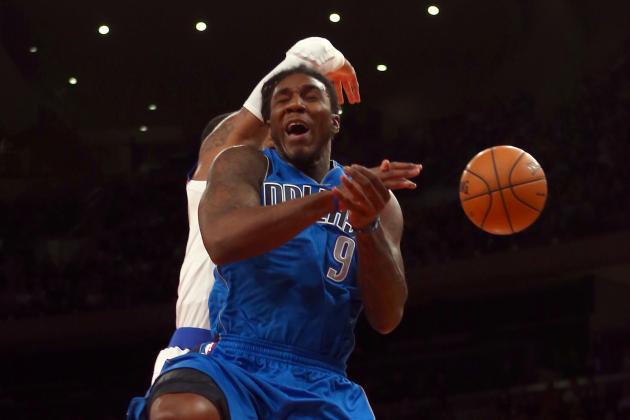 Elsa/Getty Images

Dallas has been really utilizing its deep bench so far this season, as it has played 15 different players in its first eight games.
Vince Carter really seems to be excelling in his new-found role as a sixth man, and Chris Kaman is also doing solid work off of the bench while Brandan Wright starts.
Still, the Mavericks have two young players who have been impressive in limited minutes in 2012-2013 thus far.
Firstly, rookie Jae Crowder has had an up-and-down start to his career thus far, but he has shown the ability to be a contributing NBA player either as a starter or a bench player.
Crowder is able to create his own shot and plays with exceptionally high energy off the bench. He is averaging just over 20 minutes per game and is scoring at over seven points per contest.
Roddy Beaubois finally seems ready to break out this season now that he is the legitimate backup point guard in Dallas.
Beaubois may only be averaging five points a game, but he also has only played less than 16 minutes per game so far. The stats may not be there yet for Beaubois this year, but the playing time will be, and if he can shoot better from the floor and not turn it over, he should have a career year.
Both Crowder and Beaubois have been forced to share time with less significant players for the Mavs so far, but as Rick Carlisle solidifies his rotation moving forward, they should see more time, and play better because of it.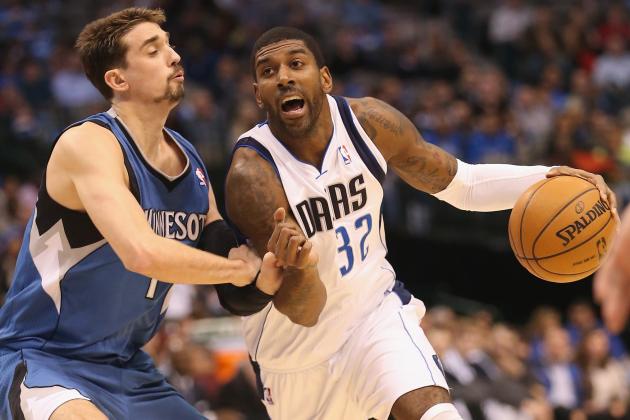 Ronald Martinez/Getty Images

A quick glance at the NBA's top 10 scorers thus far this season may show you some familiar names near the top such as Carmelo Anthony, Kobe Bryant, LeBron James and Kevin Durant.
However, there are also some surprises in that top 10 through the NBA's first two weeks of the regular season.
Players like Chris Bosh, Kyrie Irving and James Harden are having magnificent starts to their years that many may not have predicted.
Another name that may catch your eye on that list is the Mavericks' own O.J. Mayo, who ranks seventh in the NBA in scoring as of November 13, at 21.4 PPG.
Dallas knew when it signed Mayo that he would be the team's top offensive threat when Dirk was not on the floor, but many questioned just how good Mayo could be after four inconsistent seasons in Memphis.
However, thus far this season, Mayo has proved all the doubters of his scoring ability wrong.
In eight games this season, Mayo is shooting 47.5 percent from the floor and 60 percent from three-point range. He has scored 30 points twice and has scored under 20 only once in his last five games, and that was an 18-point performance against Minnesota.
Mayo's shots will go down when Dirk comes back to become the No. 1 option, but until then, Mayo is showing no signs of slowing down.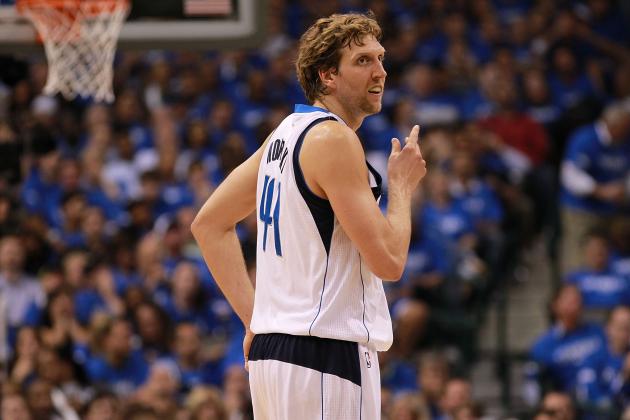 Ronald Martinez/Getty Images

Dirk Nowitzki had knee surgery on October 19 and was expected to miss at least six weeks from that point.
A complete six weeks would put the return at at November 30 (Dallas' closest game after that date is December 1 vs. Detroit), but considering the lack of progress Nowitzki's knee seems to be making, it makes sense for that date to be pushed back.
The Mavs will not want to rush Dirk back when they will absolutely need him at 100 percent all season long if they are going to make the playoffs in the Western Conference.
From December 5-8, the Mavericks will play a three-game road trip against the Clippers, Suns and Rockets, and it seems unlikely DIrk would make his return when the team is away from home.
That sets Dirk's approximate return date at December 10 at home against Sacramento.
The Mavericks will have played a fourth of their season (20 games) by that point in time. They have split their first eight games, and it seems likely they will remain around .500 by the time he gets back.
In that 12-game stretch between now and December 10, the Mavs have home games versus Washington, Golden State, New York, the Lakers and Detroit. They have road games against Indiana, Cleveland, Philadelphia, Chicago, the Clippers, Phoenix and Houston.
Sparing you my pick of each specific game, Dallas should go around 6-6 in that stretch if it continues to be as inconsistent as it has been thus far.
Some nights, this Mavs team looks like they could beat any NBA team, while on others, they seem like a bottom-of-the-barrel Western Conference squad.
If they manage 10-10 without Dirk, it has to be considered a small success. Still, when he does come back, the team will have to kick it into gear to ensure it doesn't fall too far behind the pack out West before it gets too late.