Texas Tech Red Raiders vs. Oklahoma State Cowboys: Complete Game Preview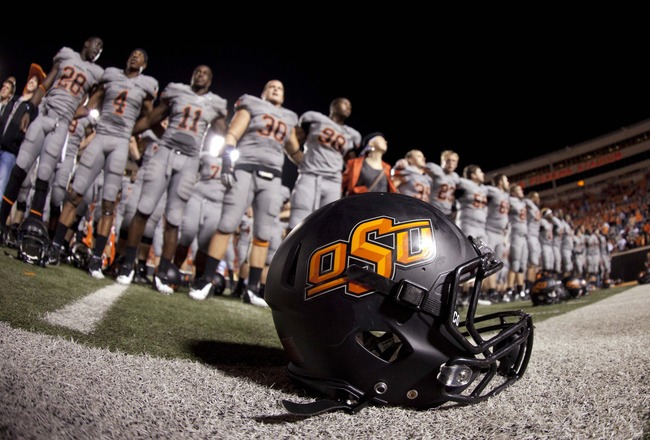 Richard Rowe-US PRESSWIRE
The Oklahoma State Cowboys and the Texas Tech Red Raiders have typically features high-scoring, exciting offenses that run up and down the field.
This year should be no different, as both teams are averaging over 38 points per contest and are in the top 10 nationally in yards per game, via ESPN.
Each team also finds itself in the middle of the Big 12 pack, with a chance to improve positioning with a win here.
Look for a great game between two evenly-matched teams with a history of close games.
Game-Day Information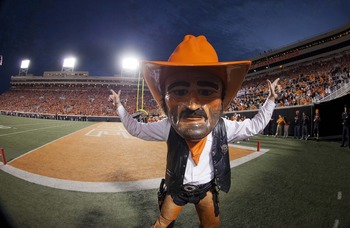 Richard Rowe-US PRESSWIRE
Who: Texas Tech at Oklahoma State
When: Saturday, November 17 at 2:30 p.m., CST
Where: Stillwater, OK
Stadium: Boone Pickens Stadium (cap. 60,218)
Series History: Texas Tech 21-15-3
TV: FSN
Radio: Cowboy Radio Network (Dave Hunziker, John Holcomb and Robert Allen)
Internet: okstate.com
What Happened to Oklahoma State Last Week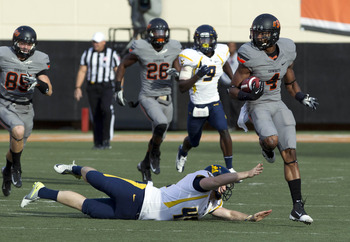 Richard Rowe-US PRESSWIRE
Oklahoma State was able to pick up a big-time win against the West Virginia Mountaineers last Saturday.
The Cowboys were led to victory by quarterback Clint Chelf, who was starting for the first time in his career.
Of course, you wouldn't of known it from his performance.
Chelf threw for 292 yards and four TDs, looking poised all day long.
The defense also performed well, holding the Mountaineers to 34 points and, more importantly, forcing two turnovers that completely changed the game.
The Pokes will have to continue to play at this high level if they plan to beat the Red Raiders.
What Happened to Texas Tech Last Week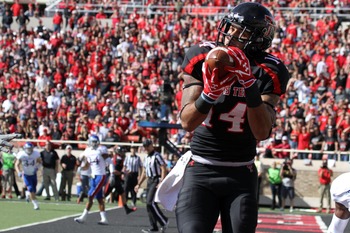 Michael C. Johnson-US PRESSWIRE
Texas Tech had a surprisingly tough time putting away the Kansas Jayhawks last week.
Kansas hasn't won a game in the Big 12 this year, but it was able to take the Red Raiders to a double overtime game in Lubbock.
That has to be disconcerting to TTU fans.
Texas Tech has a chance to make people forget about last week's near disaster with a win this week, but there has to be concern for the Raiders defense.
Since holding West Virginia to 14 points, the Tech defense hasn't been able to stop anybody.
Hopefully, it can get back on its game quickly. If it doesn't, Mike Gundy's Cowboys will tear them apart.
What the Game Means for Both Teams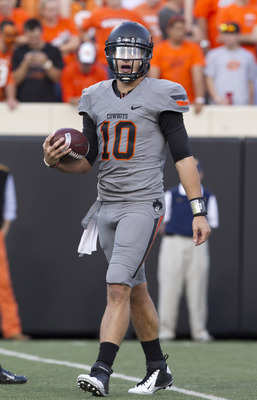 Richard Rowe-US PRESSWIRE
This series has become one of the conference's most exciting games in recent years.
The Cowboys and the Red Raiders are always threats to put up a lot of points, and this season's contest should be no different.
Not only that, but this game could help clear up the the Big 12 picture.
These two squads currently sit at the fourth and fifth spot in the conference standings.
Whoever wins this game is probably staring at the Alamo Bowl with an outside shot at the Cotton Bowl. A loss is going to get you into the Buffalo Wild Wings bowl.
I'll let you decide which one you'd rather be playing in.
Key Player for Texas Tech
Michael C. Johnson-US PRESSWIRE
Seth Doege
As I've said, this game is likely to turn into a shootout.
That means Doege is going to get every opportunity in the world to air the ball out and rack up yardage. More importantly is that he stay turnover free.
Oklahoma State hasn't been forcing turnovers like it did in 2011, but those fortunes have begun to turn a little bit in its last few games.
Against TCU, the Cowboys forced three takeaways, while getting two against West Virginia.
The outlier here is Kansas State, who didn't cough up the ball once.
That lack of turnovers made a big difference in the game, and Doege would be well served to take notice.
If he can keep the Red Raiders clean in the giveaway column, he could lead them to a huge road win.
Key Player for Oklahoma State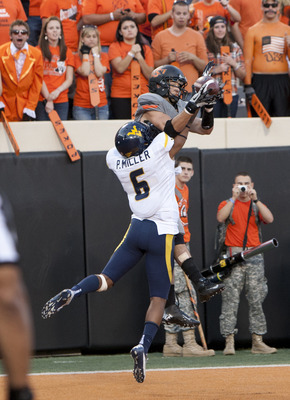 Richard Rowe-US PRESSWIRE
Charlie Moore
Josh Stewart has become the Cowboys' most consistent receiver, but it's Charlie Moore that has provided the team with big plays for touchdowns in each of the last five games.
Those big plays will be of utmost importance against Texas Tech, especially early.
If Moore can hook up with Clint Chelf (or Wes Lunt) on an early TD, the crowd will get into a frenzy.
Any time a player can generate crowd noise, it makes life tough on opposing offenses.
Moore is the guy most likely to do that for the Cowboys, and I would look for him to score his sixth touchdown of the season sooner, rather than later.
Game Prediction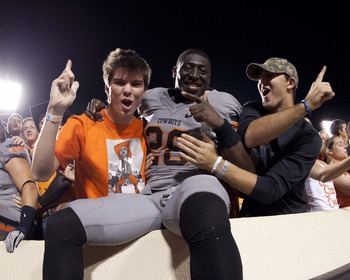 Richard Rowe-US PRESSWIRE
I went with the team that had more certainty at quarterback last week, and Clint Chelf showed me the error of my ways.
Given the recent history between these two teams, it's tough to not go with the Red Raiders; as they'll be chomping at the bit to avenge last year's 66-6 drubbing.
That said, I have to go with the Cowboys at home this week.
It really could go either way, given both team's ability to put points on the board, but I'm not going to make the mistake of going against the home team twice in a row.
Oklahoma State 42, Texas Tech 34
Keep Reading