While the Kansas State Wildcats, Oregon Ducks and Notre Dame Fighting Irish grab all the headlines in their battle for BCS supremacy, there is a swelling undercurrent of teams that could crash the non-championship party.
These are squads that already have victories against top-ranked teams already under their belt and have season-defining games upcoming. Wins in those contests and you could see teams like the LSU Tigers, Florida Gators and Oklahoma Sooners playing in far lesser bowls than they ever imagined.
With that in mind, here is a look at a few teams that will crash the BCS party.
No. 8 Texas A&M Aggies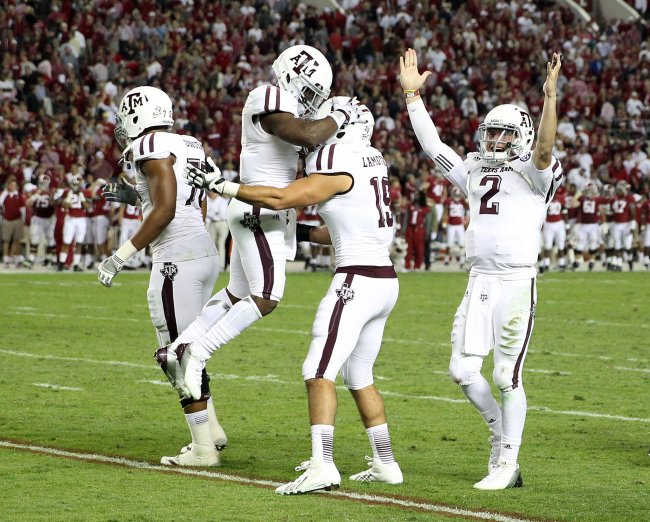 Mike Zarrilli/Getty Images
While most projections have the LSU Tigers taking the almost-guaranteed second BCS bowl berth from the SEC, it would be awfully hard for the Fiesta Bowl or some other bowl to pass on phenom Johnny Manziel and Texas A&M.
The superstar freshman not only has a near-Heisman pedigree, but now has his banner win after last week's season-defining performance against Alabama. Providing perhaps the best run-pass combination since Tim Tebow in the SEC, Manziel has combined for 3,794 total yards and 33 touchdowns, all while throwing just six interceptions.
What's more, Manziel isn't the only talented player on the offense. Running back Ben Malena has been Manziel's perfect muse in the backfield and the Aggies' defense gives up just 21.3 points per game.
When it comes down to brass tax, Texas A&M is a far more intriguing team with a better story than LSU. If it comes down to a choice between those two schools, a bowl would be remiss if it chose the Tigers over the best story of 2012.
No. 19 Louisville Cardinals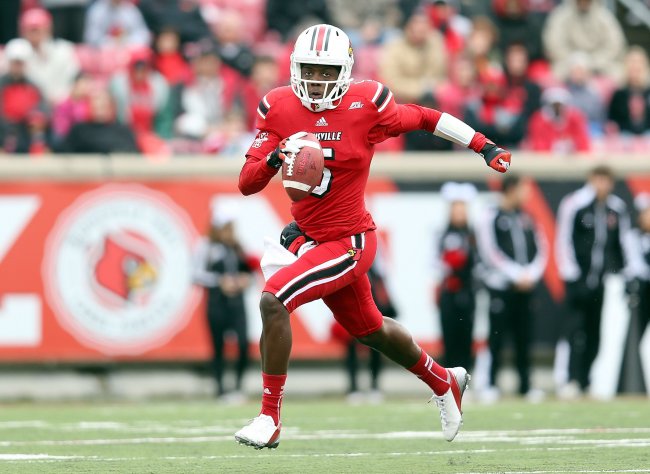 Andy Lyons/Getty Images
Though not exactly a sleeper team anymore, it's almost certain that Louisville will be crashing the BCS party as the Big East representative.
With the Orange Bowl having the last pick among at-large teams, it's destiny that the Cardinals will head to Miami to take on the ACC champion. Whether that's Florida State, the likeliest choice, or a team from the Coastal Division turns the BCS party on its head, the biggest question that remains is whether the Cardinals can actually win at the Orange Bowl.
And no matter who their opponent is, the answer is a resounding yes. It may not seem that way after last week's devastating loss to Syracuse, but Louisville actually has one of the more underrated rosters in the nation.
Quarterback Teddy Bridgewater is nothing short of a superstar this season, completing 70.9 percent of his passes while eliminating the turnover issues he had in 2011. Also scintillating has been the running back duo of Senorise Perry and Jeremy Wright, who have combined for nearly 1,400 yards and 20 touchdowns thus far.
Considering the defensive deficiencies of the possible ACC opponents, Louisville might wind up being the best bet among underdogs in January.
No. 15 Texas Longhorns
Cooper Neill/Getty Images
If you take a little look at the schedule, you may be wondering how the Longhorns will make a BCS bowl game considering they have No. 1 Kansas State Wildcats still left on the schedule.
Well, that's where the whole sleeper and crashing thing comes in—I'm picking Texas to beat the Wildcats two Saturdays from now. Yes, the same Texas team that got wiped off the field by the Oklahoma Sooners and nearly lost against the Kansas Jayhawks on Oct. 27.
Since nearly losing to Kansas, quarterback David Ash has seemingly recaptured his early-season brilliance. The sophomore signal-caller has thrown for 628 yards and five touchdowns over the past two weeks, proving Mack Brown right for sticking with the youngster when it looked like Case McCoy was the best fit.
Look for Texas to be rewarded with a season-defining victory over Kansas State. Granted, it will be a shootout and I'm admittedly going out on a limb here. But Ash has unlimited potential and seems back in the process of realizing it.