Kansas vs. Michigan State: Live Score, Analysis for Champions Classic 2012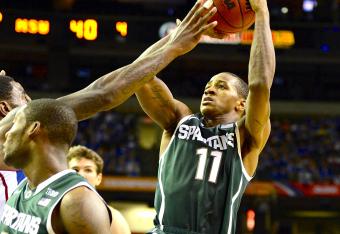 Game One of the 2012 Champions Classic provided historic programs with veteran playmakers, exciting premier freshmen, and a tremendous finish as the Michigan State Spartans rallied from a first half deficit to defeat the No. 7 Kansas Jayhawks 67-64.
Leading up to the Top 25 matchup the nation heard all about Jeff Withey and Derrick Nix down low but were treated to a guard frenzy as freshman Gary Harris led the Spartans with 18 points on 7 of 12 shooting, most of which came in the first half. Keith Appling, however, provided the second half burst that Kalin Lucas did three years earlier in the 2009 Sweet Sixteen matchup with Kansas.
The veteran Appling finished with 19 points, including 3-3 from beyond the arc and 4-4 from the free throw line. Bill Self's Kansas team did not have an answer for either Appling or Harris as they struggled to get in any sort of offensive flow, largely due to 16 turnovers.
Kansas will most likely fall out of the Top 10 with the loss, while Michigan State should slide back into the Top 15.
An early-season Top 25 matchup will never dramatically hurt or increase tournament resumes but a quality win for the Spartans will help significantly more than the loss for the Jayhawks.
Michigan State welcomes Texas Southern to East Lansing on November 18th while Kansas face Chattanooga at home on Thursday, November 15th.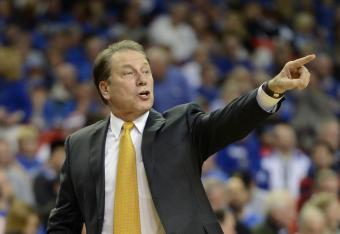 Michigan State - 67
Kansas - 64
This could not have felt more like an early-season game between two teams without a true identity. Defensive breakdowns were mostly limited in the second half and the Spartans did a significantly better job of protecting the ball after 11 turnovers in the first half.
Michigan State must get more production down low from Payne and Nix if they expect to compete in the Big 12 in 2012-13 but their guard play alone might get them a Top 4-5 seed come March.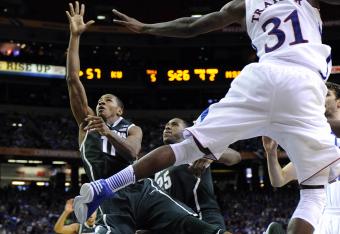 Gary Harris and Keith Appling are co-MVPs. Appling hit two massive shots and Harris used timely shooting to propel the Spartans as they get back to .500 at 1-1 while Kansas drops to 1-1
Michigan State - 67
Kansas - 64
FINAL
Take an open 3 if you get it but got to believe Self has Elijah drive for 2 then foul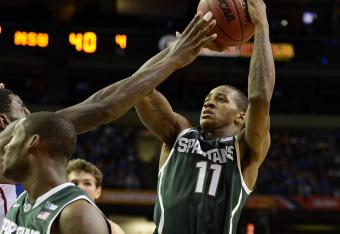 Keith Appling makes the play of the game. Drives past Withey, slides away from Kevin Young for a slick lay in. MSU up 3 as officials adjust the clock, about :14 left and KU ball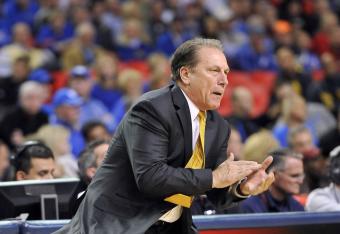 Tom Izzo furious over a no-call on Keith Appling on the previous possession. Michigan State up 1 with 35.2 on the clock, :22 on the shot clock and with the ball (1 timeout left for each team)
Ben McLemore with a potential 3-point play. Went up strong. 65-63 MSU with McLemore on the line
Getting sick of the 9,500 miles comments. No one forced Michigan State overseas. It was their decision
Keith Appling another wide open three. Horrible defensive rotation from the Jayhawks. Spartans up 4 with 1:30 to play after a perfect ball screen by MSU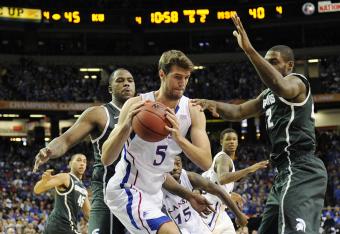 Kansas cannot get any touches down low. Withey cannot get off Nix
Does this remind anyone of the 2009 Sweet 16 game that MSU came back and won?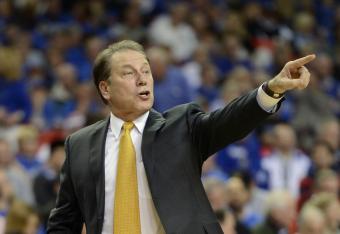 Timeout Spartans as they have a 1 point lead on 1/2 at the line by Derrick Nix. 2:18 left in Game 1 of the Champions Classic in Atlanta
Kansas 59 - Michigan State 59 - 2:50
KU with 2 timeouts, MSU with 3
Jamari Traylor with another highlight reel play! Incredible recovery block to stuff the freshman Gary Harris.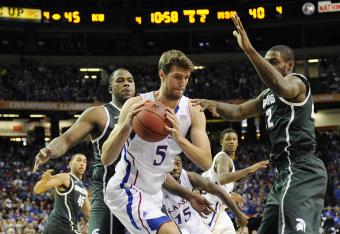 Things to keep your eye on over the last 3+ minutes:
Jeff Withey - He finally looks comfortable on the low post. He must touch the ball on 3 out of every 4 possessions
Gary Harris and Keith Appling - If MSU wins, Harris and Appling are going to get it done. Great penetration and timely perimeter shooting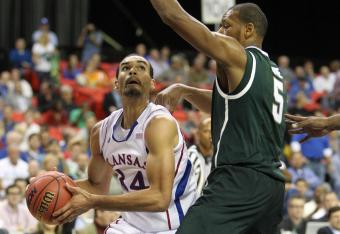 Another freshman, Perry Ellis for KU, looks uncomfortable. Missed an easy penetration shot then turns it over due to indecisiveness on his next touch.
Meanwhile Gary Harris leads Michigan State with 18 points as the trail by 1 with just under 4:00 to play
Freshman Gary Harris with 2 more! Spartans down by 1!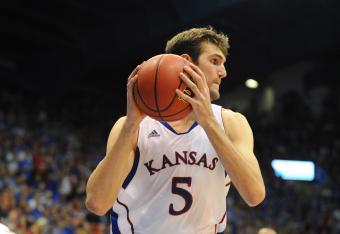 Kansas 59 - Michigan 54 - 4:47 to play in the game
Jeff Withey put the Jayhawks ahead by 5 on a perfect turn around deep in the lane. His best possession of the game thus far.
Empty possession for MSU. Decent drive by Appling but out of control but Jamari Traylor provided nice help on the backside
Travis Releford hits both FTs as he bumps the team to 9-15 at the line but a silly foul against Traylor battling the ball screen against Keith Appling.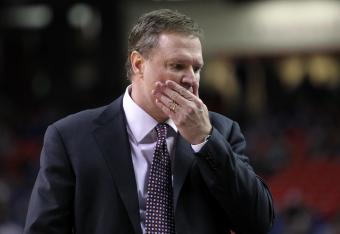 Does Kansas have the best dressed coaching staff in the Big 12? Look at that glorious tie for Bill Self and Dooley, Townsend, and Roberts' flashy suites.
Sorry Doc Sadler, got to bring your A game next time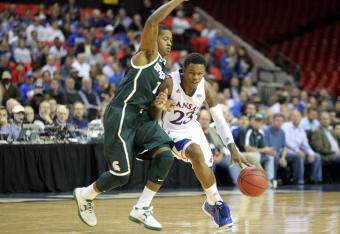 Michigan State grabs the 1 point lead on a wide open three by Keith Appling. He follows it with a silly ticky tack foul on the defensive end.
Izzo does not appear to agree, to put it politely.
Jay Bilas makes another excellent point about poor defensive communication for both teams.
Jeff Withey with a nifty running hook, heading to the line to make it an old fashioned 3 pt play
Poor hustle by Young on the backside
This article is
What is the duplicate article?
Why is this article offensive?
Where is this article plagiarized from?
Why is this article poorly edited?

Kansas Jayhawks Basketball: Like this team?