Minnesota Vikings: Dissecting Minnesota's Weakest Links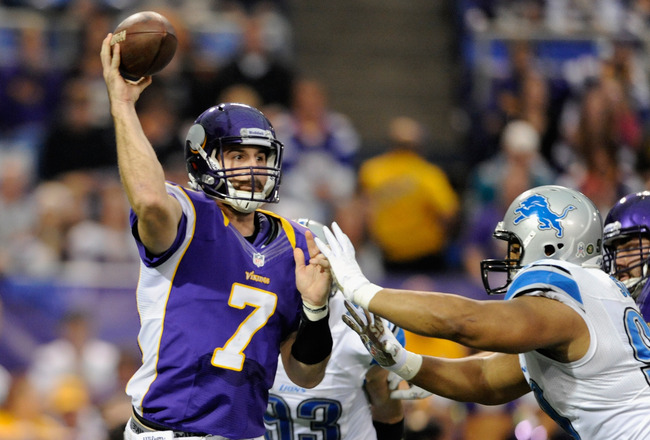 Hannah Foslien/Getty Images
The Minnesota Vikings enter their bye week on a high note after beating the Detroit Lions 34-24 Sunday to hit the 10-game mark at 6-4.
They've already doubled their win total from a year ago and currently stand in the thick of the NFC playoff race.
The good news for the Vikings is that as far as the division goes, they control their own destiny, with four of their final six games coming against the two teams ahead of them in the NFC North, the Bears and the Packers.
The bad news for their playoff hopes is probably the same news as above: They play the Bears and the Packers twice.
Nobody really knew what to make of the Vikings back in August just before the season was starting. The hope was that they'd be much better than last year, and they are. Though the Vikings brass is reluctant to use the word "rebuild," anyone who watches closely knows that one was needed.
Minnesota has gotten big contributions from several rookies and a couple of new starters. The offense boasts two of the best players in all of football in Adrian Peterson and Percy Harvin. The defense is much improved over last season, especially in the secondary.
All things considered, 6-4 heading into the bye week is a pretty solid turnaround from 2011. The most important part of the script for the 2012 season is still to be written, and Vikings fans would be wise to temper their expectations.
This is a very young football team, and it is led by a second-year quarterback who's certainly having his ups and downs. As good as Peterson and Harvin are, the fortunes of the team, or any NFL team, lie at the feet of the quarterback.
As we look forward to the final six games of the season, we dissect what at this point are the Vikings weakest links moving forward.
Inexperience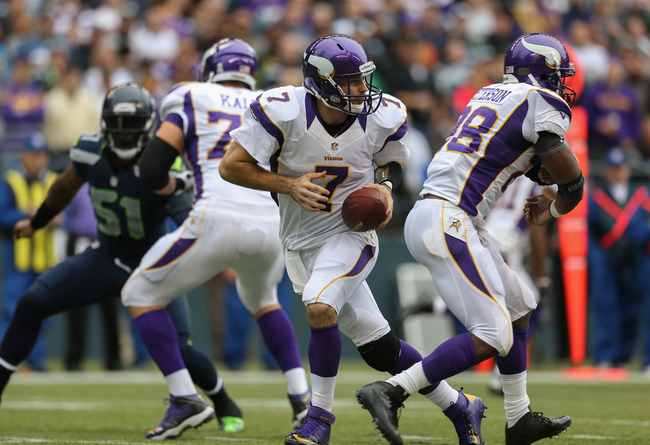 Otto Greule Jr/Getty Images
Christian Ponder is a second-year quarterback who played on a god-awful football team in his rookie season.
Matt Kalil is a rookie who started from day one at left tackle, the most important position on the offensive line.
Charlie Johnson and Brandon Fusco are both starting at guard. Johnson had been playing out of position for the last several years at left tackle, and the last time Fusco was playing meaningful snaps, it was at Slippery Rock University.
Tight end Kyle Rudolph is also in just his second season and is still just 23 years old.
Currently, three of the top five defensive backs are under 25 years old.
You've probably gotten the picture by now. And let's be clear, youth doesn't absolve them from doing their job; they're professional athletes. But if we know anything about the NFL, it's that most players hit their strides in their third or fourth years.
Ultimately, the best part about the Vikings' surprising 6-4 start is that all of these guys will be playing in games that matter over the next eight weeks. Experience is huge in the NFL, but getting experience during a 3-13 season can turn out to be worthless.
Whatever happens over the next six games, Christian Ponder, Matt Kalil, Harrison Smith and all of the other youngsters on the Vikings roster will come out the other side better for it. They're about to find out what back-to-back games in Chicago and Green Bay are all about. They're going to see first hand how hard it is to win on the road in this division and how crucial it is to beat those teams at home.
The Vikings are in a rebuild. They'll do plenty of building over the next six weeks.
Pass Protection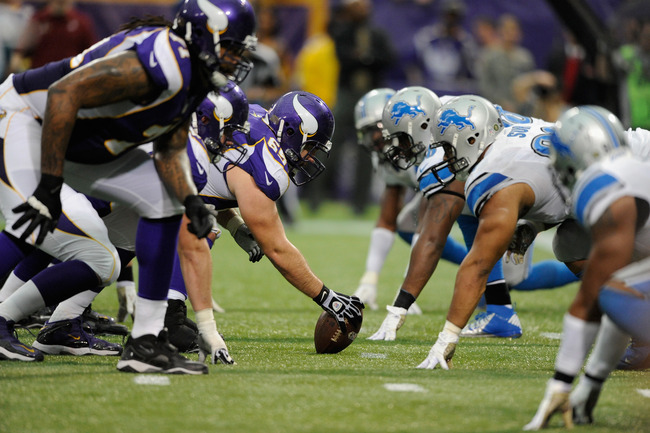 Hannah Foslien/Getty Images
Brett Favre isn't walking through that door. Neither is Peyton Manning or Andrew Luck.
The reality is that the Vikings are one of about 28 or 29 teams in the NFL that aren't going to win games simply because their quarterback is a superstar.
Another truth with the Vikings is that they still don't know what they have with their second-year quarterback: He's been good, he's been fair and he's been poor.
What we do know is that he certainly needs to be protected better. Christian Ponder is trying to learn the toughest position in sports, and it's hard to learn a whole lot when you're forced to push the panic button before any of your receivers have a chance to get out of their breaks.
Matt Kalil is having a superb rookie season and is the best player on the Vikings offensive line. He's very athletic, which helps him in the passing game. He's had some rookie mistakes, but he's easily the least of Minnesota's worries when it comes to protecting Ponder.
The middle of the line has been spotty at best.
Charlie Johnson and Brandon Fusco have been pretty weak in pass protection, and while John Sullivan is having another solid year at center, he's always been a better run blocker than a pass protector. Ditto for Phil Loadholt at right tackle.
The right side of the Vikings line is something a lot less than quick, and they've been beaten too many times by the rush.
In order for the Vikings to find out what Ponder can be, they have to give him more time to execute.
Quarterback Christian Ponder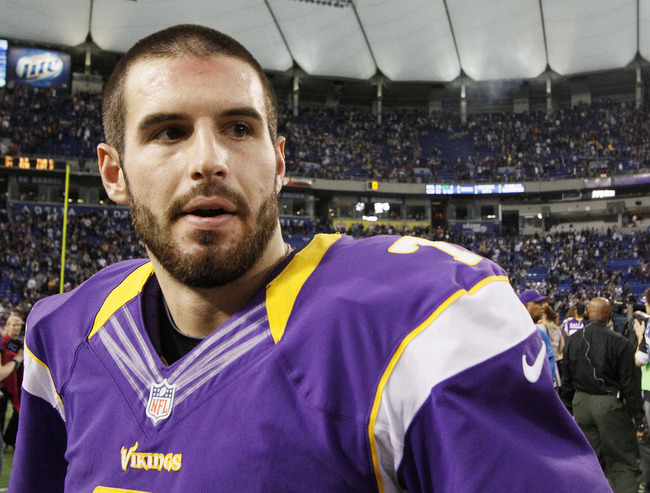 Andy King/Getty Images
OK, that's about as long as I can go without giving a slide to the quarterback.
Yes, football is the ultimate team sport, and yes, the Vikings need to give Ponder more time and better options to throw to.
Having said that, Ponder remains the biggest question mark in the Vikings rebuilding efforts.
After the Detroit game on Sunday, it's impossible to question Ponder's guts or gumption. The kid stepped up when the entire football world was ready to step on his throat if he had another poor performance. He helped win a game that the Vikings had to have to keep their season from spinning out of control.
The bad news for Ponder is that now comes the hard part.
Back-to-back games in Chicago and Green Bay would be hard for Tom Brady or Drew Brees, much less a second-year guy whose performance has been all over the map. There will be plenty of tough times over the next six ballgames, and the Vikings would do well to simplify things for Ponder.
Keep the interceptions to a minimum and protect the ball when under pressure. Use your legs as a weapon, but don't default to running when there is still a play to be made downfield. Work on the play-action more; the Vikings have the best running back in the world, but the fakes between he and Ponder are at a high school level, perfunctory and ultimately, just a waste of time.
Don't give up so much ground on simple roll-outs. We understand why you're a bit shell-shocked, but you've turned three-yard outs into 11-yard throws by retreating so far from the line of scrimmage.
We said to keep the interceptions to a minimum, but don't muzzle yourself. When field position dictates it, takes some shots. The completions to Jarius Wright and Devin Aromashodu against the Lions on Sunday were certainly eye-openers to Vikings fans. Let them be eye-openers to you as well; good things can happen when the defense has to respect your downfield game.
Grading Ponder's season so far, you'd have to say it's still a very cloudy C. There have still been way too many poor throws and dumb decisions. There are six games left for him to improve on that grade.
Receivers Not Named Harvin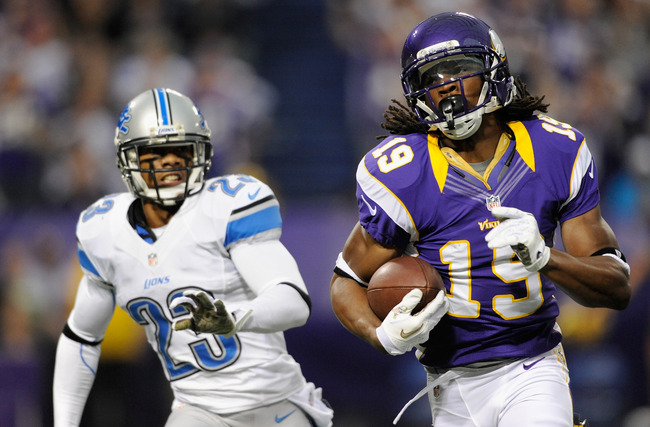 Hannah Foslien/Getty Images
There was plenty of talk in Vikings territory over the last couple of days that Percy Harvin missing a game due to injury was a sort of blessing in disguise.
It was.
Harvin is by far the Vikings' best receiver and one of the top playmakers in the NFL. But he's a slot receiver who does his damage on short receptions and routes run underneath the pass defense.
When none of the other receivers for the Vikings have shown defenses that they can do damage, the field shrinks for both Ponder and Harvin. Imagine trying to run a power play in hockey, but you only get from the top of the circles and in to work with. You're going to be rushed and panicky.
Jaws dropped all over Minnesota when Ponder let the ball fly for a 54-yard completion to Jarius Wright on the Vikings' first possession. It would be silly to think that that one play opened up the field for Ponder for the rest of the game. Or would it?
Jerome Simpson has six weeks to earn a better contract from the Vikings. Devin Aromashodu and Michael Jenkins have six weeks to keep their jobs. Kyle Rudolph and John Carlson have to get open and provide Ponder with the security blanket that they were supposed to be giving him. Jarius Wright earned some opportunity.
Percy Harvin will be back when the Vikings return to game action, and that's obviously a very good thing. What's also a good thing is that Christian Ponder's eyes may be open just a bit wider now. The field might look a little bit bigger.
Defense Across the Board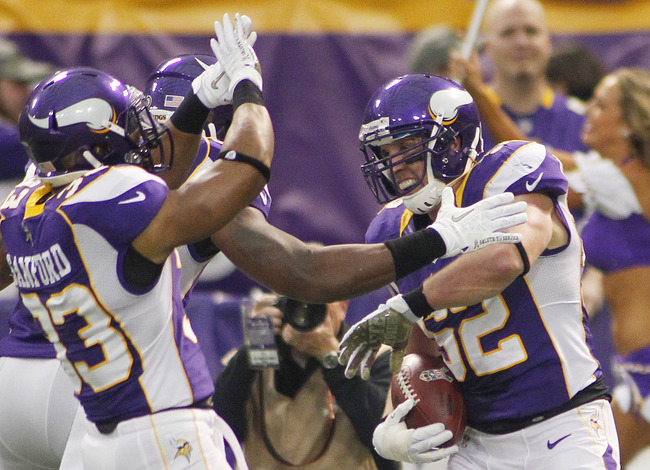 Andy King/Getty Images
We'd excuse Chad Greenway and Antoine Winfield, but they'd never let us. They know that they're part of a unit and that the unit has to get better.
Tim Jennings has eight interceptions; the Vikings have five. Charles Tillman has seven forced fumbles; the Vikings have 12.
It's been a strange year for the Vikings defense; they've been alternately great, mediocre and below-average. Granted, they've been on the field too much, as the offense has struggled, but they certainly haven't made the most of their extra time.
The Vikings defensive ranks are about what you'd guess: 22nd overall, 22nd against the run and 23rd against the pass. Those middling numbers are forgivable considering they're based on yards given up, and obviously, the Vikings defense has been on the field more than most.
What has to be fixed is the big plays; the Vikings defense needs more of them. Chad Greenway came up with an interception Sunday; Antoine Winfield came up with a fumble recovery. Those were two of the six biggest plays of the ballgame. Turnovers always are.
The Vikings are the only team in the NFC with a negative turnover margin (minus-four) with a winning record. Generally speaking, if you turn the ball over, you're going to lose. If you force turnovers, you're going to win.
The Vikings have upgraded their defensive personnel greatly from last year. Harrison Smith has added brute, smarts and attitude, Josh Robinson has added speed and athleticism and Chris Cook was playing very well before he broke his arm.
Christian Ballard, Fred Evans and Everson Griffen have all had good moments, and the rotation up front seems to be working.
The Vikings need to lock it down over the last six games. Move those team stats up to around 15. Make some aggressive attempts at creating turnovers; Sunday's game showed how important they can be to winning football games.
Keep Reading

Minnesota Vikings: Like this team?