How the Eagles Can Attack the Redskins While Protecting Nick Foles
Howard Smith-US PRESSWIRE
The Philadelphia Eagles will almost certainly have to start rookie quarterback Nick Foles in Week 11 against the Washington Redskins, meaning a safe, protective game plan should be the avenue of attack for the Eagles offense Sunday.
Head coach Andy Reid has yet to make an official decision on starting Foles for this week, but a source for the Washington Post all but ensured that would be the case Sunday in Washington.
Via Mark Maske of the Post:
The person, speaking on the condition of anonymity because the Eagles have not officially announced Foles as their starter, said it appears that veteran quarterback Michael Vick will be sidelined by a concussion and Foles will take over as the starter, confirming reports by several media outlets earlier Monday.
Michael Vick left in the first half of the Eagles' 38-23 loss to the Dallas Cowboys in Week 10. Foles took over from there, completing 22-of-32 passes for 219 yards and a touchdown in his first live action as an NFL quarterback.
Foles did have both an interception and fumble returned for a touchdown, but the rookie did not appear overwhelmed or under-prepared for the moment.
Still, the Eagles will want to craft a game plan that both minimizes risk and gets the ball out of Foles' hand quickly in the passing game against the Redskins.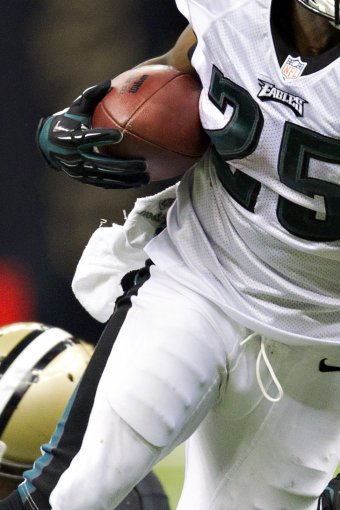 Wesley Hitt/Getty Images
The first part of that plan—minimizing risk—starts with getting the football to running back LeSean McCoy, who hasn't received 20 or more carries since the Eagles began their current five-game losing streak.
The stat is retold over and over again, but it's worth repeating now that Foles is the likely starter.
The Eagles are a perfect 3-0 this season when McCoy hits 20 or more carries and 0-6 when he doesn't. Now that Vick is on the sidelines and the Eagles get a whole week of game-planning with Foles as the starter, there's simply no excuse for the entire offense to not flow through McCoy in Week 11.
In fact, Reid and offensive coordinator Marty Mornhinweg might want to put on the tape of last season's trip to Washington. In that game, a 20-13 win over the Redskins, McCoy rushed 28 times for 126 yards and a touchdown as the Eagles chewed up almost 39 minutes of the clock.
Philadelphia also ran the football 38 total times against just 32 passes. A similar play-calling distribution makes sense against the Redskins Sunday, too.
The Eagles will eventually need to throw the football to win the game, but there are ways of getting the ball out of Foles' hand quickly and avoiding the catastrophic mistakes that have killed Philadelphia this season.
The Eagles' opponent Sunday provided one blueprint.
Early on this season, the Redskins used a number of different bubble and swing screens to receivers, running backs and tight ends to help establish a rhythm for rookie quarterback Robert Griffin III. When combined with a commitment to the running game, the Redskins were then able to take calculated and relatively safe chances down field.
The Eagles can and should do the same.
Both Jeremy Maclin and DeSean Jackson are explosive, big-play threats, even on underneath routes where Foles doesn't have to make a perfect throw 20 yards down the field. Working in screens and drag combinations to both players can help get Foles comfortable in his first-ever start and minimize the pass rush against a porous offensive line.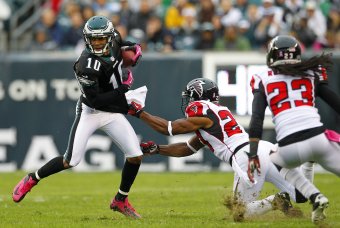 Rich Schultz/Getty Images
McCoy, the elusive playmaker he is, should also get a number of touches in the passing game—whether it's on slip or swing screens, dump-offs or shovel passes inside.
There are so many ways to get him involved without putting the offense at a high degree of risk.
Any combination of screen plays should also help slow down a blitz package that is likely coming for Foles Sunday.
Overall, safe and protective is the way to go for Philadelphia Sunday.
Far too often this season, the Eagles put themselves in harm's way by trying to make too much happen on offense. Starting Foles is an excuse to backtrack from that former, more dangerous way of calling a football game.
Even with a safer game plan, and a rookie quarterback executing it, the Eagles can do better than what Vick provided over the first nine starts of this season.
Sometimes, play-calling doesn't have to be flashy or explosive to be the right plan of attack.
Sunday against the Washington Redskins should be a perfect situation for Reid, Foles and the Eagles to prove that.
This article is
What is the duplicate article?
Why is this article offensive?
Where is this article plagiarized from?
Why is this article poorly edited?

Philadelphia Eagles: Like this team?