Stanford Cardinal vs Oregon Ducks: Complete Game Preview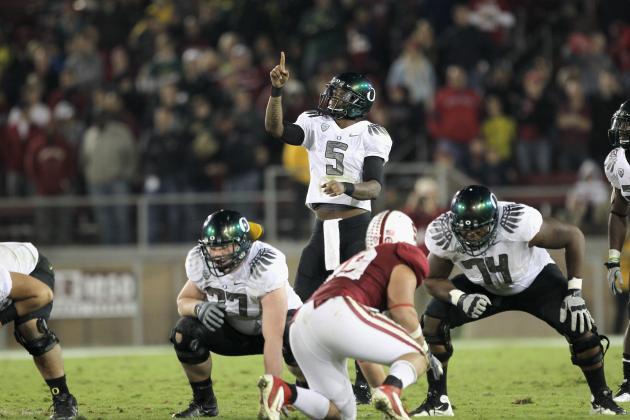 Ezra Shaw/Getty Images

The battle for the Pac-12 North is making it's biggest stop in Eugene, OR this week with No. 2 Oregon facing No. 13 Stanford.
If the Ducks win, they clinch the Pac-12 North and will host the Pac-12 Championship Game against either USC or UCLA, pending the outcome of Saturday's game at the Rose Bowl.
If Stanford wins, it has the opportunity to play for the first Rose Bowl in school history since 1999 if the Ducks also lose the following week to rival Oregon State.
The Cardinal enter the game with the No. 1 rushing defense in the nation, while Oregon is on the flip side of the coin, with the third-best rushing offense in the nation, making way for one of the grittiest battles of trench warfare the world has seen since World War I.
Begin Slideshow

»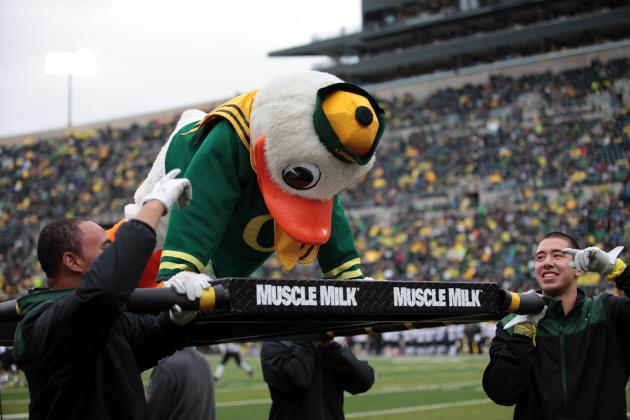 Scott Olmos-US PRESSWIRE

Where: Autzen Stadiun
When: Saturday November 17, 2012 at 8 p.m. ET
Broadcasting: ABC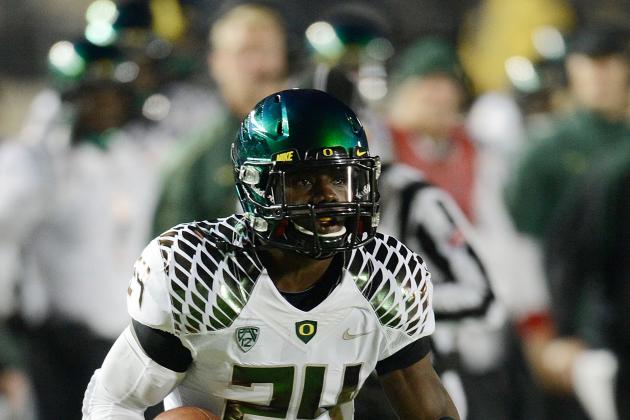 Thearon W. Henderson/Getty Images

WR: Daryle Hawkins (Bralon Addison)
LT: Tyler Johnstone (Kyle Long)
LG: Kyle Long (Hamani Stevens)
C: Hroniss Grasu (Karrington Armstrong)
RG: Ryan Clanton (Nick Cody)
RT: Jake Fisher (Everett Beynard III)
TE: Colt Lyerla (Koa Ka'ai)
WR: Josh Huff (Eric Dungy)
WR: Keanon Lowe (Will Murphy)
QB: Marcus Mariota (Bryan Bennett)
RB: Kenjon Barner (De'Anthony Thomas)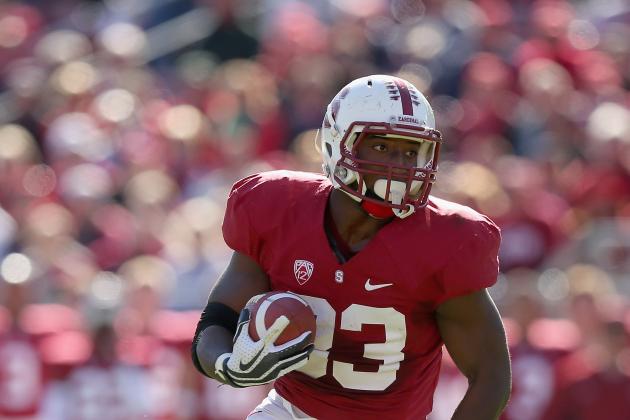 Ezra Shaw/Getty Images

WR: Drew Terrell (Kelsey Young)
LT: David Yankey (Andrus Peat)
LG: Khalil Wilkes (David Yankey)
C: Dam Schwartzstein (Connor McFadden)
RG: Kevin Danser (Joshua Garnett)
RT: Cameron Fleming (Kyle Murphy)
TE: Zach Ertz (Levine Toliolo)
QB: Kevin Hogan (Josh Nunes)
RB: Stepfan Taylor (Anthony Wilkerson)
FB: Ryan Hewitt (Lee Ward)
WR: Jamal-Rashad Patterson (Ty Montgomery)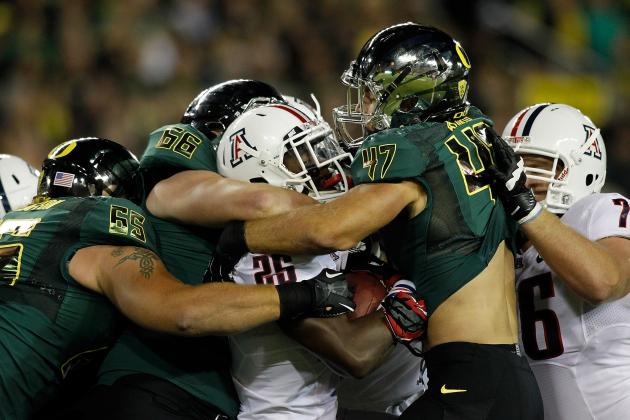 Jonathan Ferrey/Getty Images

DE: Taylor Hart (DeForest Buckner)
NT: Isaac Remington (Arik Armstead)
DE/DT: Ricky Heimulli (Arik Armstead)
OLB/DE: Dion Jordan (Tony Washington)
MLB: Kiko Alonso (Rahim Cassell)
MLB/OLB: Michael Clay (Derrick Malone)
OLB: Boseko Lokombo (Tyson Coleman)
CB: Ifo Ekpre-Olomu (Troy Hill)
S: Brian Jackson (Dior Mathis)
S: Erick Dargan (Reggie Daniels)
CB: Terrence Mitchell (Dior Mathis)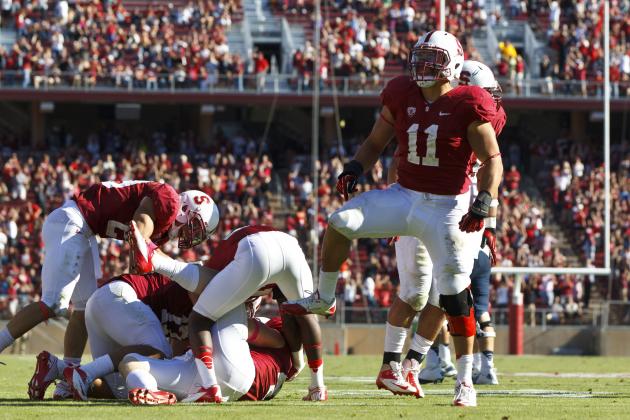 Jason O. Watson/Getty Images

DE: Henry Anderson (Josh Mauro)
NT: Terrence Stephens (David Parry)
DE: Ben Gardner (Aziz Shittu)
OLB: Trent Murphy (Kevin Anderson)
ILB: AJ Tarpley (James Vaughters)
ILB: Shayne Skov (Jarek Lancaster)
OLB: Chase Thomas (Alex Debniak)
CB: Terrence Brown (Wayne Lyons)
S: Ed Reynolds (Devon Carrington)
S: Jordan Richards (Harold Bernard)
CB: Alex Carter (Barry Browning)
NB: Usua Amanam (Ronnie Harris)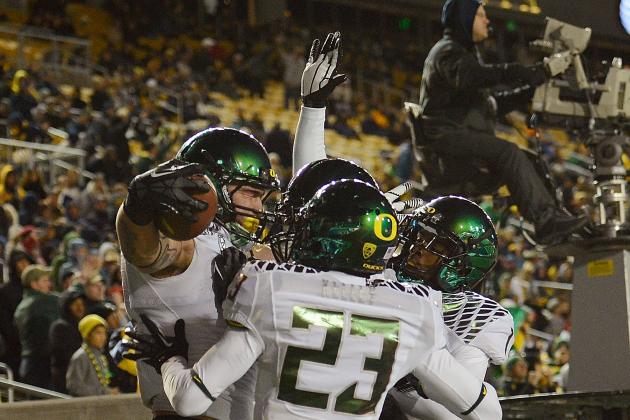 Thearon W. Henderson/Getty Images

It was good, it was great and at times it was just plain ugly.
Marcus Mariota tied Joey Harrington's school record of six touchdown passes in one game in a 59-17 victory at Cal last week, but it wasn't all flowery.
Avery Patterson tore his ACL and is out for the season after a gruesome injury in Berkeley, and Kenjon Barner and Mariota both had to leave the game for an extended period of time with injuries.
While Mariota had no trouble against a weak Cal secondary, Barner and the UO rushing attack were stifled, being held to a season low 180 yards on a 3,8 yard per carry average.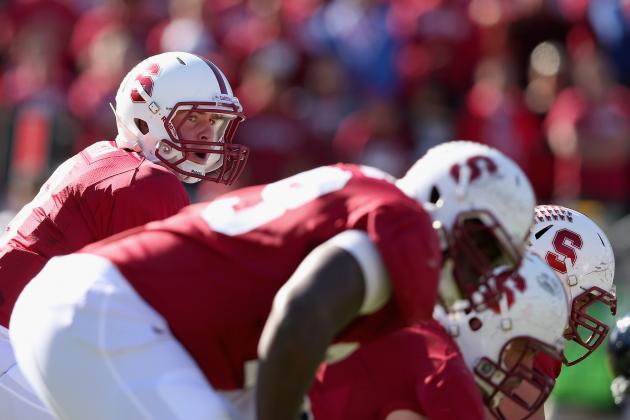 Ezra Shaw/Getty Images

In the first start of his collegiate career, Kevin Hogan led the Cardinal to an enormous win over Oregon State to put themselves in contention for the Pac-12 North title.
Hogan totaled 303 yards of total offense and threw for three touchdowns in the 27-23 victory at Stanford Stadium.
The win was Stanford's second over a ranked team.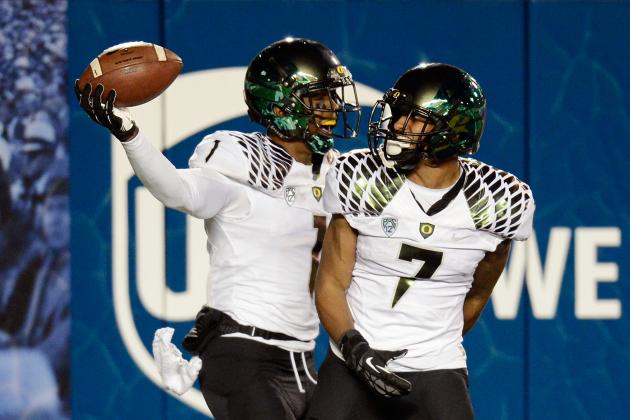 Thearon W. Henderson/Getty Images

A win for both teams would be worth Jesse Williams bench max (600 lbs.) in gold at this point in the season.
If the Ducks win, they can continue to put themselves ahead of No. 3 Notre Dame and would almost guarantee a berth in the BCS Championship Game if they win out the season.
A victory over the Cardinal would also clinch the Pac-12 North title and would make Oregon the host for the Pac-12 Championship Game for the second year in a row.
For Stanford, a win over the Ducks at Autzen Stadium would no doubt give them a huge shot at a berth in a BCS bowl, and it would spoil Oregon's perfect season thus far.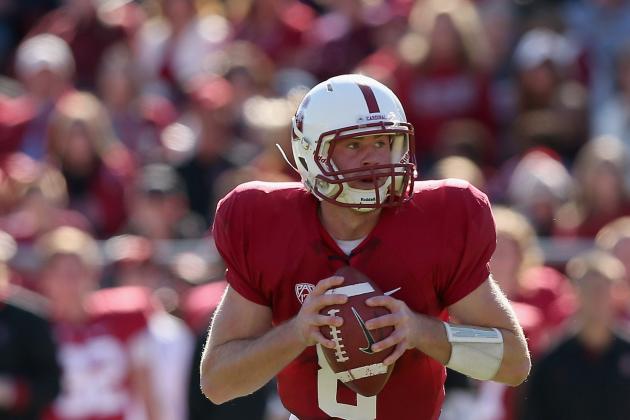 Ezra Shaw/Getty Images

Kevin Hogan's Second Start
Hogan, the obvious and clear replacement for Andrew Luck, will be making his second career start and his first on the road. It's just pure bad luck that it'll have to be at Autzen Stadium and not a more friendlier venue like a Walmart on Black Friday.
Oregon Injuries
Oregon has been dealt huge injuries the past couple weeks. The entire starting defensive line is dealing with some sort of an ailment, and it is still unknown who will be good to go on Saturday.
Safety Avery Patterson is out for the season with an ACL injury, and backup defensive backs Dior Mathis and Troy Hill weren't even on the travel team last week.
And finally quarterback Marcus Mariota injured his shoulder for the second straight week. Mariota returned to the field in both games, but we will have to wait and see if he re-aggravates anything against Stanford.
Trench Warfare
This game is likely going to come down to whoever can win the trenches. Stanford enters with the No. 1 run defense while the Ducks feature the No. 3 offense. Whoever can control the line of scrimmage will win.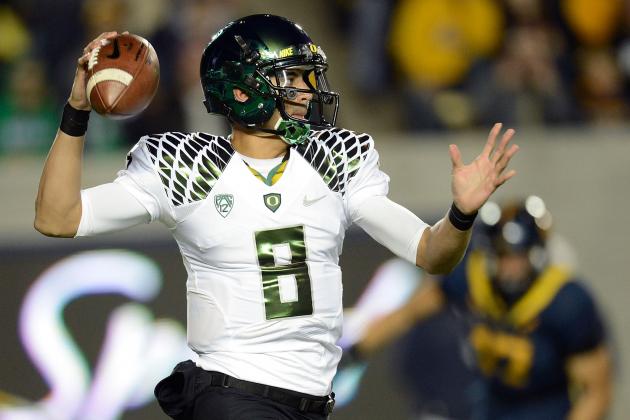 Thearon W. Henderson/Getty Images

Be expecting to see Mariota's arm in action Saturday night.
With Cal being able to shut down the Oregon run game so easily, Stanford, the No. 1 run defense team in the nation, should be able to do the same.
Chip Kelly will still be Chip Kelly with his play-calling, but Mariota will undoubtedly be going to the air a lot against the Cardinal.
It's only logical to play to the weakness of your opponent.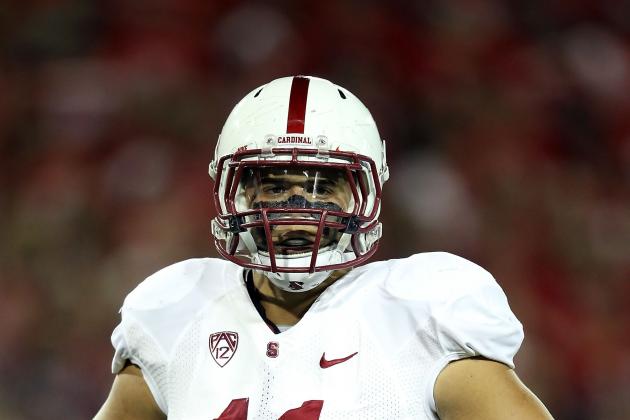 Christian Petersen/Getty Images

Meet the man charged with the most audacious task in the nation: stopping the potent Oregon offense.
Skov, the Cardinal's middle linebacker, will be up and down the field all night long come Saturday, trying to contain De'Anthony Thomas and Kenjon Barner, while trying to keep Marcus Mariota in check as well.
Skov should be up to the task. He enters the game with 44 tackles and 2.5 sacks after coming back from a knee injury in 2012.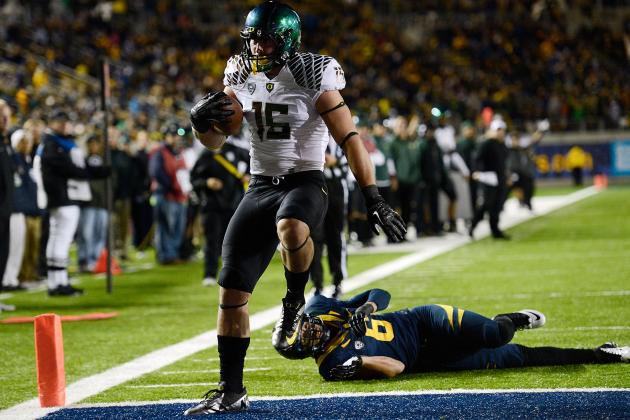 Thearon W. Henderson/Getty Images

...they can get off to a fast start and wear the defense out quickly.
The Ducks have officially made the Time of Possession stat a useless stat, With the faced-paced offense scoring so quickly, opposing defenses are forced to cycle more and more players in, or resort to faking injuries—as Cal and Stanford have done in the past—in order to get a rest.
If Oregon can force the No. 1 rush defense into a state of fatigue early on, then the offense will truly be able to turn this game into a beatdown.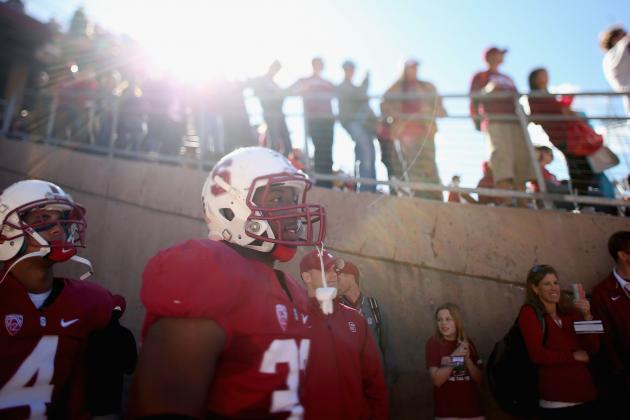 Ezra Shaw/Getty Images

...they can score off turnovers.
But first the Cardinal have to force those turnovers.
Let's all be honest, there is no easy way of stopping Oregon. Even when opposing teams try to win by using T.O.P to keep the Ducks offense off the field, Oregon still finds ways to win easily.
The only way for Stanford to have a chance at this one is by taking possessions away from the Ducks and then scoring off those turnovers.
The inability to score off turnovers was what dealt Oregon State a loss against the Cardinal.
The Beavers won the turnover ratio 4-1, but only scored three points off of those four turnovers.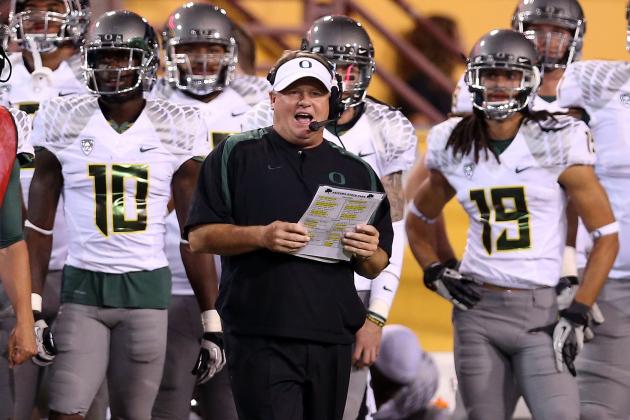 Christian Petersen/Getty Images

Oregon 57, Stanford 31
The dream stays alive.
Despite a valiant effort from David Shaw's team, the Cardinal will fall at Autzen Stadium, and the Ducks will improve to 11-0 on the season and clinch a second straight Pac-12 North title.
Oregon will have trouble running the ball at the beginning of the game, but after Marcus Mariota wears out the Stanford defense with his passing ability, Barner and Thomas will begin to break off long runs that continue to drive the proverbial nail in Stanford's coffin.