Odds of Every NFL Head Coach Leaving in 2013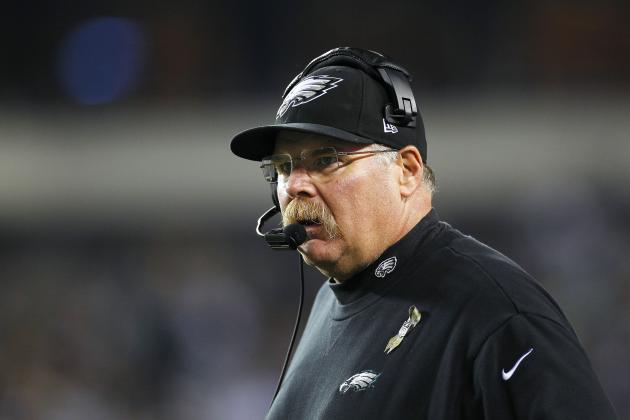 Rich Schultz/Getty Images

The NFL coaching carousel will continue this offseason. There will be blood.
Why teams cannot inject more new blood rather than recycle failures is anybody's guess, but that is no matter in this discussion. Some coaches entered the season on a hot seat while others have warmed them up as the season has progressed.
Which coaches are the safest? And which ones are on their way out?
Begin Slideshow

»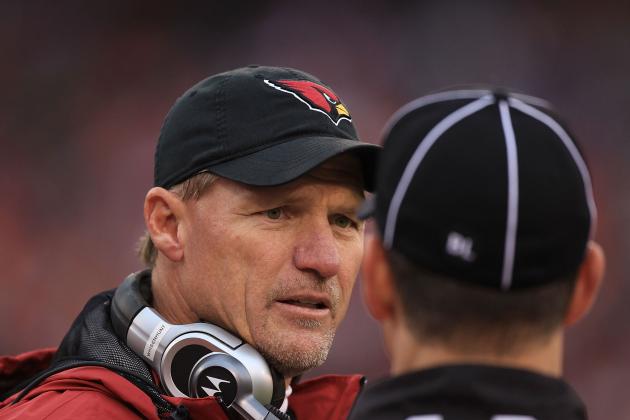 Jed Jacobsohn/Getty Images

The Cardinals have practically been in free fall since Kurt Warner retired. Only some great play by the defense at times has saved them from being bottom-feeders.
Ken Wisenhunt can hardly be blamed for having to deal with the mess at quarterback he has been handed. From Derek Anderson to Kevin Kolb and everyone in between, the offense has not had any consistently good quarterback play.
Maybe Kurt Warner can pull a Brett Favre and unretire for one more go.
Odds of Departure: 10/1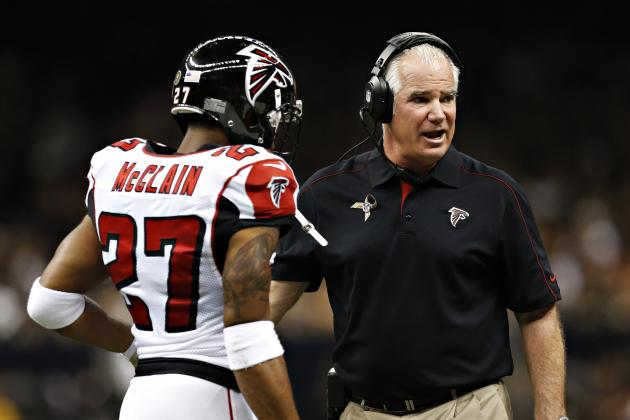 Wesley Hitt/Getty Images

About the only thing that could derail Mike Smith's tenure in Atlanta is another would-be first-round exit. The Falcons are rolling right now, despite their first loss of the season, and they could make a deep run in the playoffs.
Even if they don't, however, Smith's job is relatively safe.
Odds of Departure: 35/1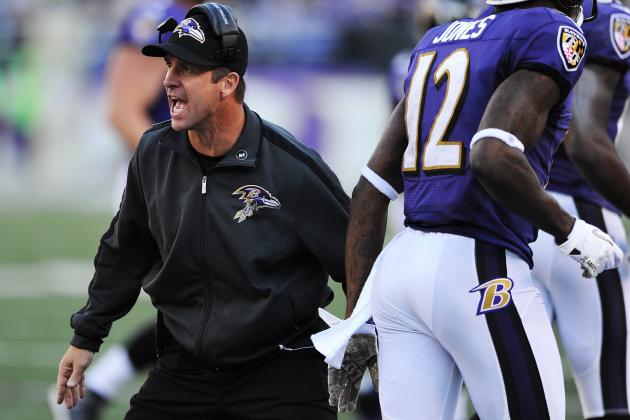 Patrick Smith/Getty Images

John Harbaugh's team was a dropped touchdown catch away from the Super Bowl last season, and they continue to play at a high level despite a rash of injuries to key players.
His problem is his quarterback; Joe Flacco talks a good game, but he has not taken that next step into the elite. If he had, his home/road splits would not be atrocious.
Odds of Departure: 50/1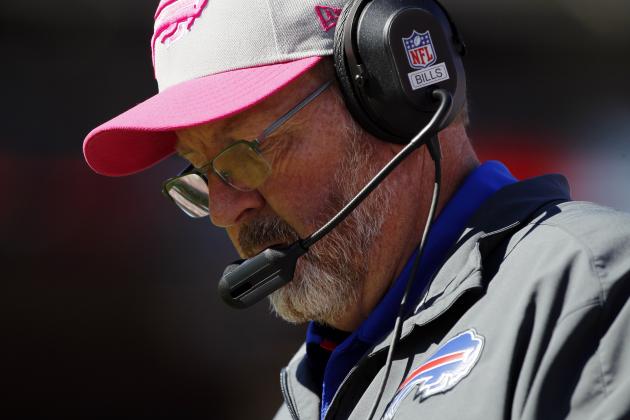 Brian Bahr/Getty Images

The Bills have been horrendous once again this season despite their cannon-ball into the free agent pool last March. Dave Wannstedt has already been fired because of the team's terrible defense, but it has barely improved.
Patience for Chan Gailey has been long gone for many Buffalo fans if Twitter is any indicator, but he is not a shoo-in to be fired just yet.
The key word in that last sentence is "yet."
Odds of Departure: 1/1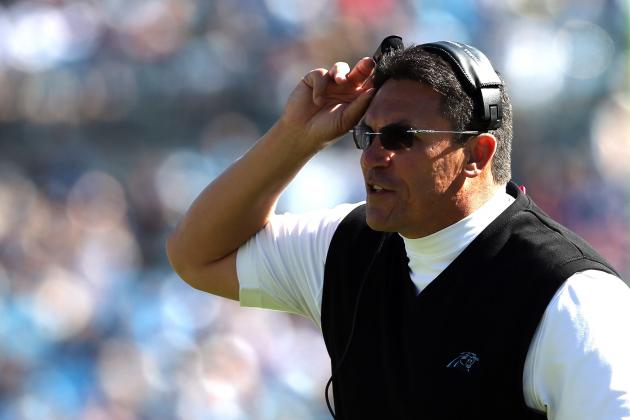 Streeter Lecka/Getty Images

The wheels have fallen off in Carolina for Ron Rivera and the Panthers. Things are bleak for a head coach once he starts firing assistants mid-season.
A year after Cam Newton's impressive rookie season, the Panthers are back in the NFC South cellar with a grim outlook under Rivera's watch. A defense that was supposedly improved has not been much better, and Newton's sophomore slump has cost the Panthers some games.
Rivera's lack of commitment to the run despite its effectiveness in many games has also been an issue.
Odds of Departure: 2/5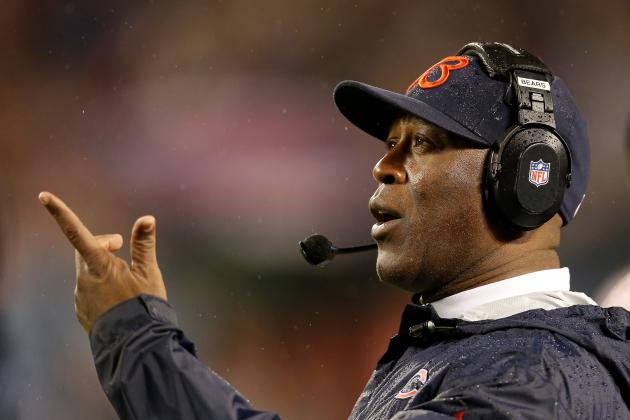 Jonathan Daniel/Getty Images

The Bears have been an underrated team for years under Lovie Smith, but they know a good coach when they see one.
Smith has his defense turned up to 11 this season, and his team is a serious Super Bowl threat if their quarterback can stay healthy. Smith isn't going anywhere, even if the Bears have an early playoff exit.
Odds of Departure: 40/1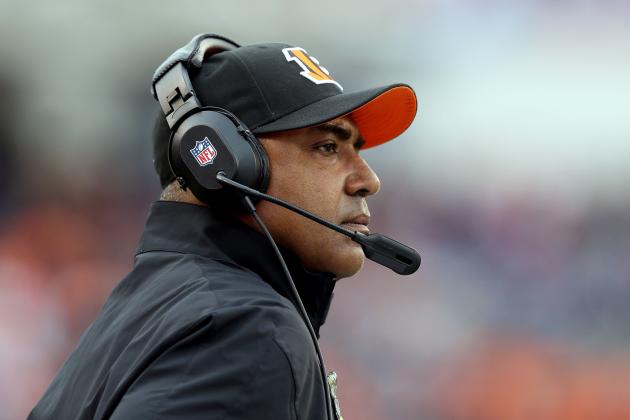 Andy Lyons/Getty Images

The Bengals are struggling this season after a surprising playoff appearance with rookie Andy Dalton at the helm last season.
A big victory against the Giants might have gotten them moving in the right direction, and a big injury to Ben Roethlisberger might have opened the door for Cincinnati to squeeze through if they can get past the Steelers.
This is Marvin Lewis' 10th season, and he is Cincinnati's winningest head coach, believe it or not. Even if the Bengals miss the playoffs, it would be surprising to see Mike Brown jettison the head coach that turned the franchise around and kept it relevant for much of his tenure.
Odds of Departure: 20/1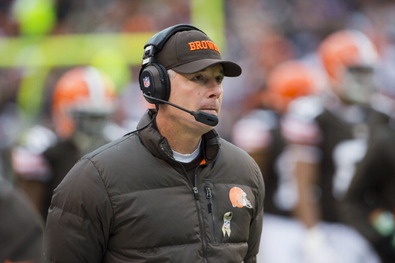 Jason Miller/Getty Images

The Browns have plenty of young talent, but they have been wallowing in the AFC North cellar for quite some time now. Pat Shurmur has done little to dig them out.
But the real reason he will likely be gone this offseason is the team's new owner, Jimmy Haslam. As we might expect from any new owner of a NFL franchise, a front office overhaul is likely.
Piloting a bad team just makes it easier.
Odds of Departure: 1/5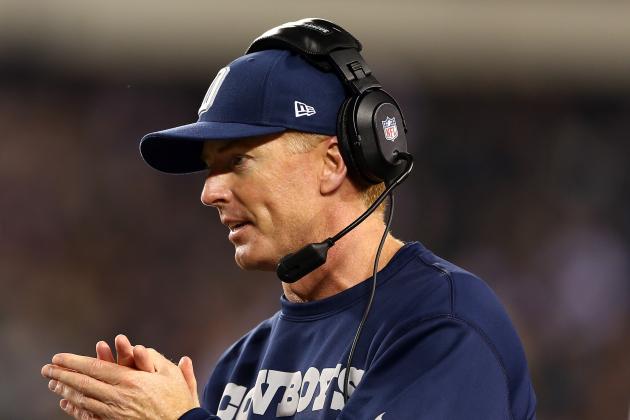 Elsa/Getty Images

Jerry Jones loves Jason Garrett.
We don't know why. Maybe Garrett bought him a lifetime supply of Papa John's pizza, or perhaps Jones is just stubborn enough to trick himself into staying in love with his head coach.
The longer Jones is stubborn—not just about Garrett; Jones should fire himself as general manager as well—the longer Cowboys fans will suffer.
Perhaps he is biding his time in private. Garrett might be on a "hot seat," but Jones might have unplugged the power.
Odds of Departure: 1/1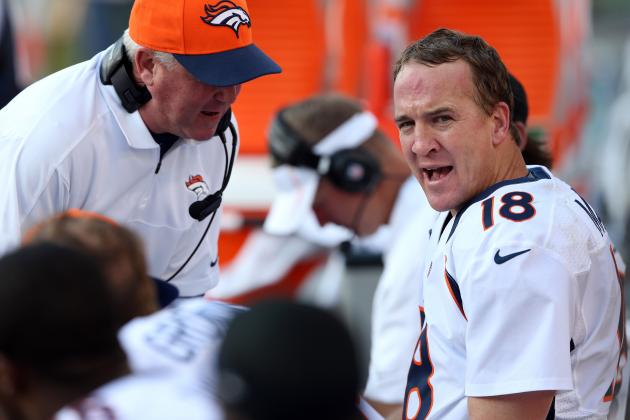 Streeter Lecka/Getty Images

This is a man who led his team to the playoffs with Tim Tebow at quarterback last season.
Yes, we can talk about the merits of leadership and all those other great intangibles Tebow possesses, but were it not for Fox's decision to eschew traditional quarterbacking in favor of a run-heavy, option style, the Broncos might have won four games last season.
His reward was Peyton Manning, who is cruising to another big season with another division title in sight. His job is quite safe.
Odds of Departure: 40/1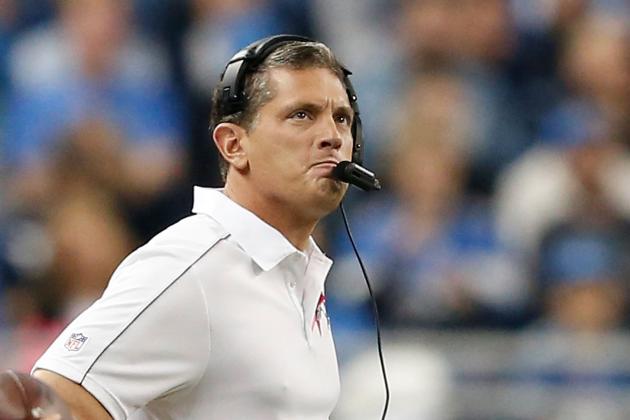 Leon Halip/Getty Images

It was no wonder Lions brass gave Jim Schwartz an extension this past summer considering they made the playoffs last season after years of frustration and ineptitude. The extension came in the midst of a rash of arrests for Lions players, though, perhaps portending doom for the 2012 season.
Unless they go on a major run against the likes of Green Bay and Chicago, the Lions are likely out of the playoff picture this season. Schwartz has come under fire in Detroit for his team's poor performance, including an inability to get into the end zone on a consistent basis.
All things considered, it would be surprising to see Schwartz go after one subpar season. Unless he punches Jim Harbaugh at a Denny's or his team completely self-destructs the rest of the way, he should be back.
Odds of Departure: 10/1
Jonathan Daniel/Getty Images

The Packers are annual Super Bowl contenders, though Aaron Rodgers has a lot to do with that.
Mike McCarthy has taken Ted Thompson's roster and turned it into a NFC North power house, though that defense has been subpar for the past season-and-a-half.
As long as the Packers keep winning, there are few head coaching gigs with more job security than McCarthy enjoys.
Odds of Departure: 50/1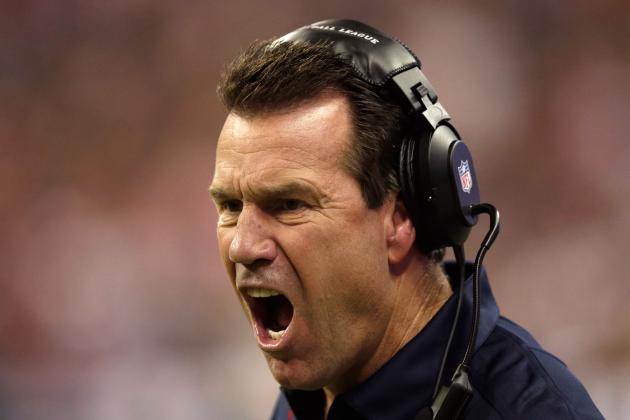 Scott Halleran/Getty Images

The Texans were Peyton Manning's whipping boys in the AFC South when Gary Kubiak took over in 2006, but he has slowly turned them into an AFC juggernaut.
Were it not for injuries to Andre Johnson and later Matt Schaub last season, the Texans might have made a run at the Super Bowl in their first-ever postseason appearance. They are poised to make one this season as the AFC's best team through 10 weeks.
Odds of Departure: 50/1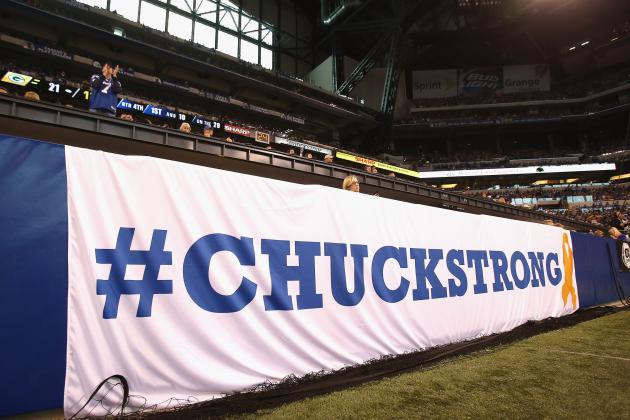 Jonathan Daniel/Getty Images

Imagine the ovation Chuck Pagano will receive upon his return from leukemia, cancer free.
Now imagine the Colts firing him in the offseason for some God-forsaken reason.
Odds of Departure: ∞/1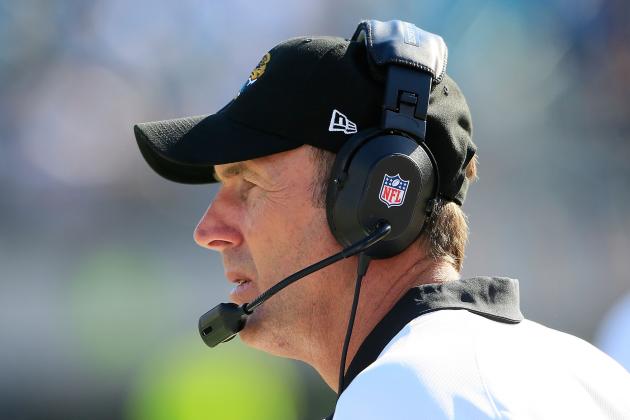 Sam Greenwood/Getty Images

The Jaguars look like they might be the team to beat for the worst record in the NFL, though the Chiefs are certainly giving them a run for their money.
Mike Mularkey is just in his first season as head coach, but his team is playing some bad football this year. Of course, how much blame can we assign a head coach when his general manager drafts the likes of Blaine Gabbert and Justin Blackmon in the first round?
Unfortunately for Mularkey, Smith hired him. If relatively new owner Shad Khan decides to clean house, Mularkey could be out.
Odds of Departure: 1/1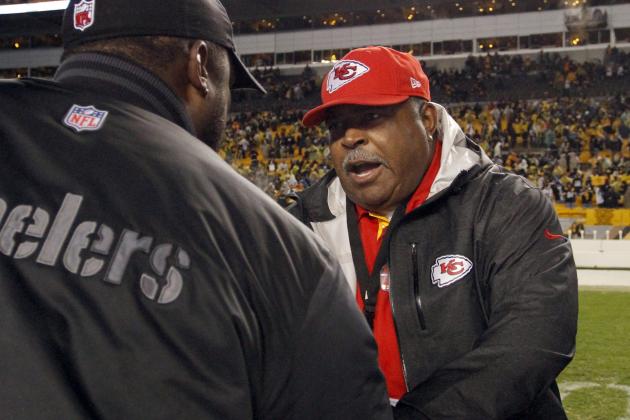 Justin K. Aller/Getty Images

You know things are bad when your team is rumored to be kicking the tires on Marty Schottenheimer.
It looks like the Chiefs won't be retreading those tires, but Romeo Crennel is in big trouble. He was able to take the "interim" tag off his head coaching gig after the Chiefs rallied to finish the season strong, but this year has been an abject disaster.
Odds of Departure: 1/10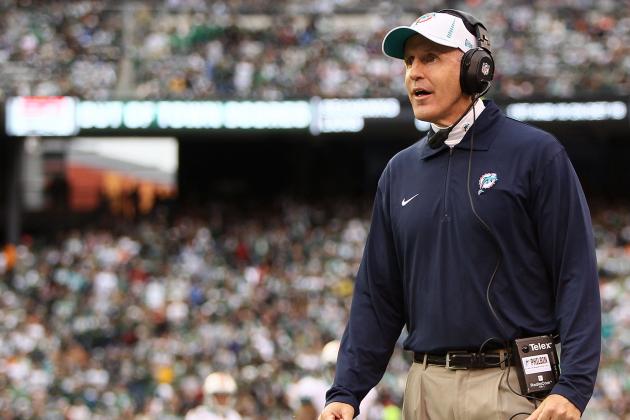 Alex Trautwig/Getty Images

The Dolphins are riding with a rookie head coach and a rookie quarterback, yet they sport a decent 4-5 record.
Jeff Ireland might be under constant fire, but his fate is not tied to Philbin's like some other general managers are tied to their coaches. Philbin was hired by Stephen Ross, who seemingly overruled Ireland on the matter.
It is highly unlikely Ross will can Philbin even if Ireland goes; he will be given a few seasons to rebuild the offense and develop Ryan Tannehill.
Odds of Departure: 20/1
Andy King/Getty Images

The Vikings are unexpectedly contending in the NFC north just a season after having a Top-5 pick in the NFL draft. As long as Frazier keeps this team pointed in that direction, he should feel safe in Minnesota.
Odds of Departure: 20/1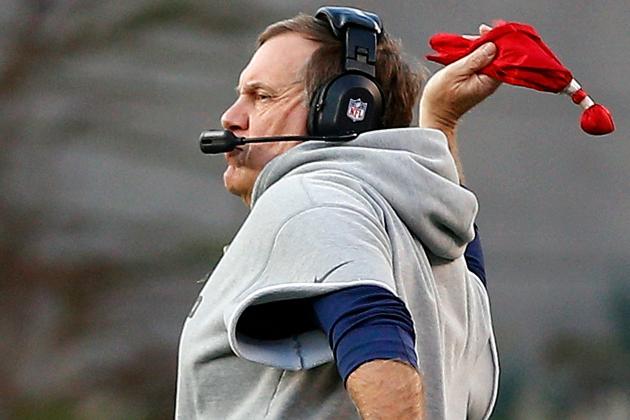 Jim Rogash/Getty Images

How long before Bill Belichick hangs up his hoodie?
The venerable leader of the New England Patriots is 60 years old, having taken his team on deep playoff runs on several occasions. It seems like he will be donning his cowl in New England as long as Tom Brady is suiting up, but you never know when the siren song of retirement will catch a coach's ear.
Aside from that, however, Belichick's job is safer than a golden parachute.
Odds of Departure: 50/1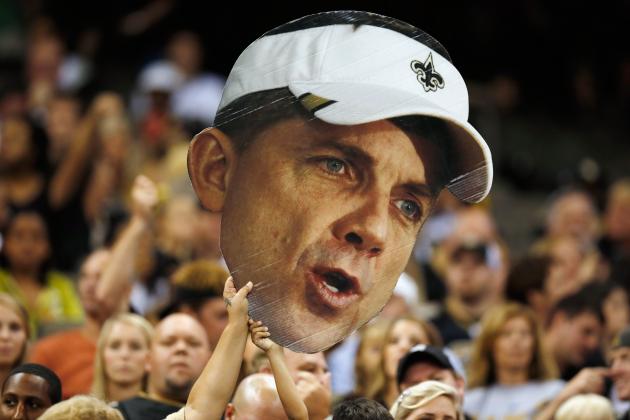 Chris Graythen/Getty Images

He might be suspended, and his contract might be voided, but Sean Payton is the spiritual leader of the Saints. Besides, Joe Vitt doesn't have the label "interim" in front of his title without reason.
It looks like the Saints negotiate a new deal with Payton while he is on his year-long vacation. Of course, anything could happen—Jerry Jones might offer Payton a private island and 21 Papa John's franchises to take over the Cowboys—but it looks like Payton will be back in NOLA next season.
Odds of Departure: 50/1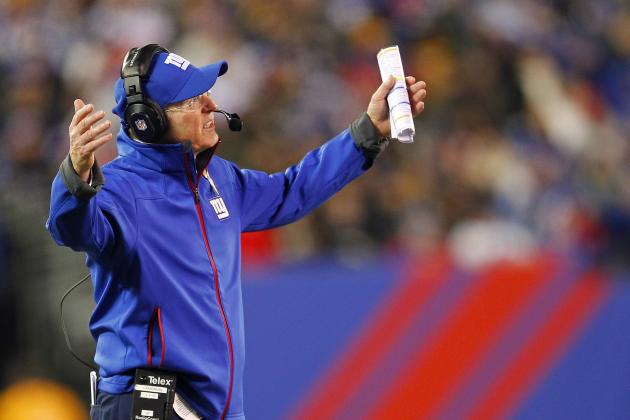 Rich Schultz/Getty Images

Coughlin has at least two seasons of immunity before he gets voted off the island thanks to last year's Super Bowl victory. But will he leave on his own?
The Giants coach is no spring chicken himself; at 66 years old, Coughlin is the NFL's oldest coach. If anyone is going to retire, Coughlin would be the best bet.
Odds of Departure: 35/1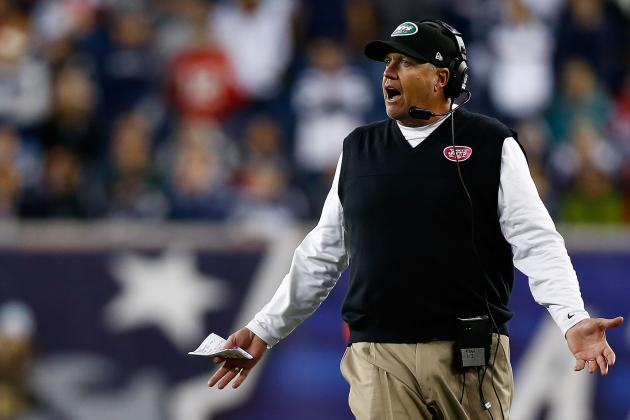 Jared Wickerham/Getty Images

It will be an interesting offseason in New Jersey should the Jets continue on their course to crash and burn.
A team built on bravado over the years is crumbling before our very eyes, and Rex Ryan has plenty to do with it. Indeed, it seems that every week we hear about how the Jets are still going to make the playoffs or they are very close to clicking.
But owner Woody Johnson loves Ryan despite the team's recent woes. As unlikely as it seems, Ryan's job appears safe for at least one more season. Of course, if the Jets wind up in the AFC East cellar, things might change quickly.
Odds of Departure: 15/1
Rob Carr/Getty Images

The Raiders are reclamation project with years to go, and they knew it when they hired Dennis Allen last offseason.
Reggie McKenzie is not about to fire the guy he brought in to replace the embattled Hue Jackson this past offseason, no matter how bad the Raiders look this season.
Odds of Departure: 20/1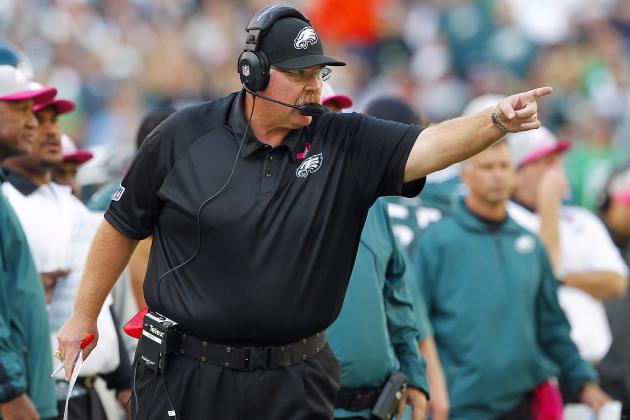 Rich Schultz/Getty Images

It was a narrow escape for The Walrus this past offseason after the Eagles failed to make the playoffs despite all the "Dream Team" talk. He will not be so lucky this year.
Clock management woes aside, Reid is not so bad. He did, after all, lead the Eagles to several NFC Championship games during his hey day in Philadelphia.
No matter. His seat has turned into a broiler; Reid is cooked.
Odds of Departure: 1/15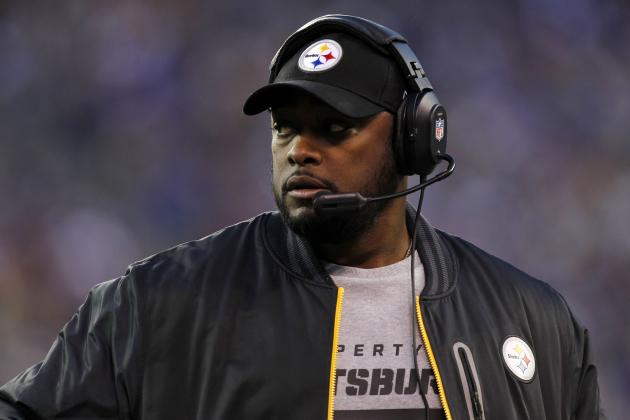 Jeff Zelevansky/Getty Images

The Steelers are supposed to be having a down season.
Their defense has been besieged by injuries and age. The offensive line was in tatters. Pittsburgh was playing with a running back carousel because of a new injury every week.
Somehow, the defense has pulled together to rank at the top of the league and the offensive line has been so good that the Steelers could plug Jerome Bettis in and he would rush for 100 yards.
Mike Tomlin has kept this team focused and together, and they are in the driver's seat for a playoff spot despite the problems. They just have to hope losing Ben Roethlisberger to a shoulder injury is not a back-breaker.
Odds of Departure: 75/1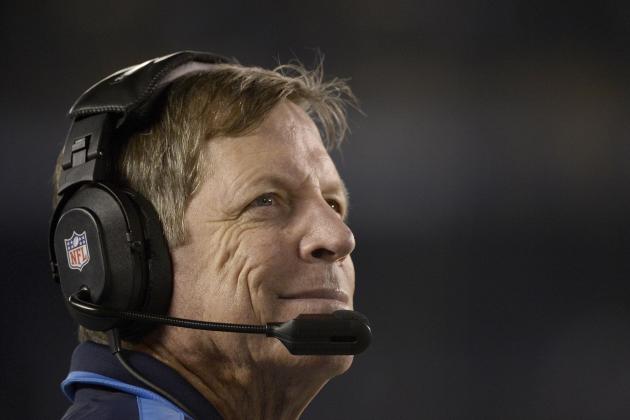 Donald Miralle/Getty Images

When you have turned into a caricature of yourself, it is time to go. That happened to Norv Turner years ago.
The Chargers head coach inexplicably lands head coaching gigs despite the mountains of evidence showing he is not a good coach. Even more perplexing is the fact San Diego retained his services last season despite letting Tim Tebow win the division.
Odds of Departure: 1/5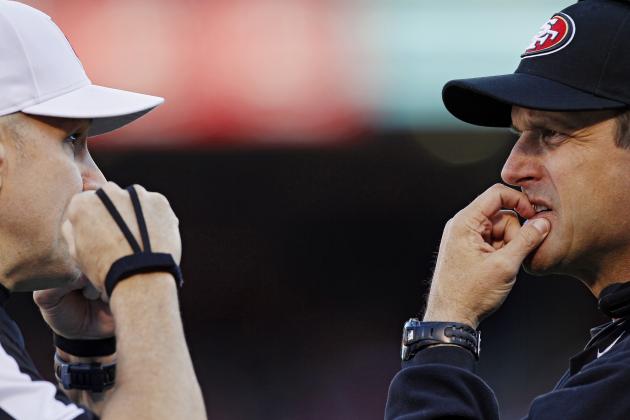 Brian Bahr/Getty Images

The 49ers are bye-hunting for the second year in a row under Jim Harbaugh as his legend grows exponentially.
San Francisco's head coach has an intensity that few other can match, and his team plays like it. They might be a bit off their 2012 pace with some uncharacteristic lapses, but Harbaugh has his team playing at a level nobody would have predicted two seasons ago, with much of the same personnel.
He is also driving San Francisco Giants parade floats. Harbaugh practically has the keys to the City By the Bay already.
Odds of Departure: 100/1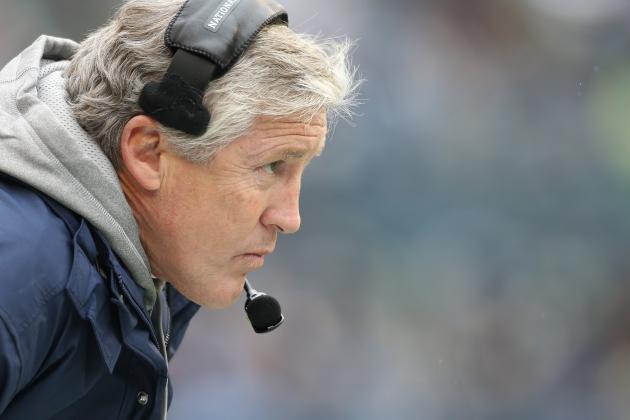 Otto Greule Jr/Getty Images

Moderate success.
That is the best way to describe Seattle during Pete Carroll's tenure. There is another term for it: mediocrity.
The Seahawks lucked into the playoffs at 7-9 two seasons ago, improbably beating the Saints at home by virtue of home field advantage and Marshawn Lynch "Beast Mode," but followed that up with another 7-9 performance that fell well short of the playoffs.
Seattle is pretty good this season thanks to a good defense and a fantastic home field advantage. Carroll just has to see to it that the improvement continues.
Odds of Departure: 25/1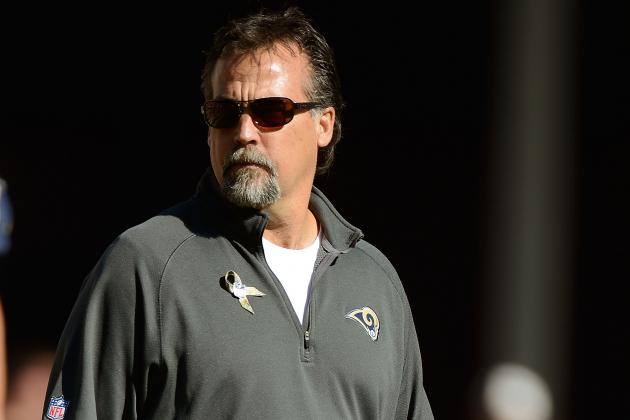 Thearon W. Henderson/Getty Images

The Rams might have a ways to go, but they are already improved from the Steve Spagnuolo era. Jeff Fisher and his mustache are going nowhere anytime soon, unless he decides he liked fishing more than coaching football after all.
Odds of Departure: 75/1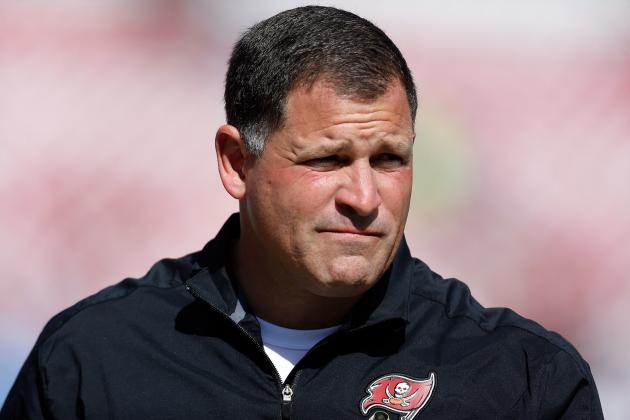 J. Meric/Getty Images

He is known for his totalitarian style, but Greg Schiano has righted the pirate ship in Tampa Bay. About the only thing that can derail him quickly is that players around the league voted him the least-liked coach, and that is with less than a full season under his belt.
If his team gets that notion and they start faltering again, he could go the way of Raheem Morris.
Odds of Departure: 50/1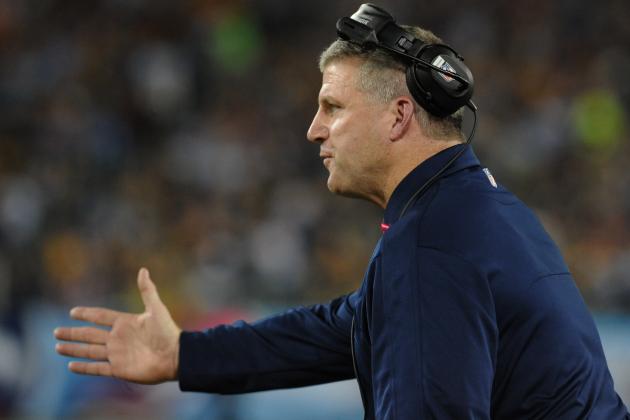 Al Messerschmidt/Getty Images

The Titans are a bit of an enigma; they play in a soft division, but they look terrible at times. Then they put a 37-3 whooping on the road against a pretty decent Miami team, potentially saving his offensive and defensive coordinators' jobs in the process.
Munchak played for the Titans, and this is just his second season. Odds are he gets at least one more crack at this thing before he is in serious trouble.
Odds of Departure: 15/1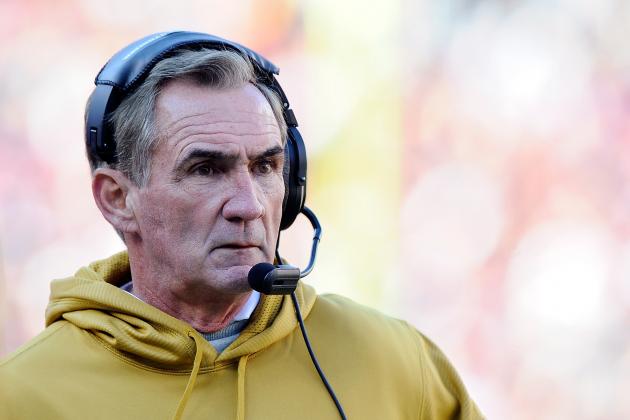 Patrick McDermott/Getty Images

Vinny Cerrato and Jim Zorn are long gone, but the losses remain.
Mike Shanahan has been given a longer leash than many of his predecessors under Daniel Snyder, but he might be on the fast track to an exit if the team cannot turn things around.
The Redskins have Robert Griffin III in all his splendor, but the defense has regressed significantly. Shanahan has put his mark on the roster and it has not worked out thus far. How much longer will Snyder lurk in the shadows before he strikes?
Odds of Departure: 2/1