Dissecting the New York Jets' Weakest Links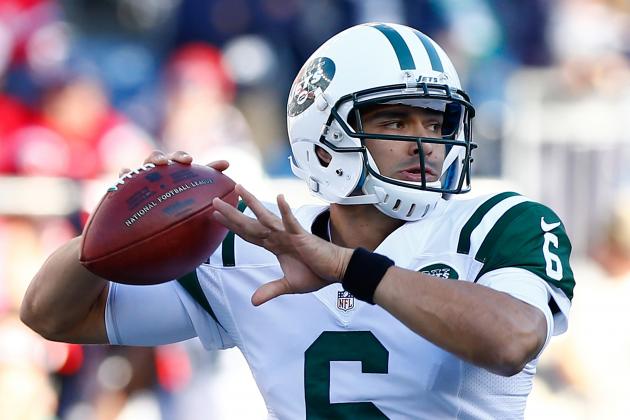 Jared Wickerham/Getty Images

If the New York Jets win this week against the St. Louis Rams, they will be standing with a record of 4-6. That's the same record they had after 10 games in their AFC Championship Game season of 2009.
The only difference is this team feels like it should be hooked up to a barrel of dynamite with Woody Johnson's hand on the plunger.
The Jets are one of the most enigmatic teams in the NFL this season.
The have blown out the Bills and Colts, making everyone's darling Andrew Luck look like a confused junior varsity quarterback.
They have looked like a middle school team in losses to the 49ers and Dolphins.
They were also one play away from beating the Texans and Patriots, perhaps the two best teams in the AFC.
The lack of consistency has been maddening to fans, who have become unruly, impatient and unreasonable as the season has worn on.
The season was set up well for the Jets. All they really had to do was survive a difficult first half of the season and then take care of business against a much lighter second-half schedule.
They didn't do what they needed to do in the first half and the second half of the season hasn't exactly gotten off to a rousing start.
The Jets need to pull a 6-1 record out of nowhere to make a run to the playoffs or even a 5-2 record to regain some level of respectability.
Looking at the remaining games, the Jets' talent level is at least equal to all of their opponents besides the Patriots.
However, this team has major problems, starting right from the top.
The Jets have a number of weak links that either need to be purged or built up. Here's a look at eight of the team's weakest links and what the future holds for each of them.
Begin Slideshow

»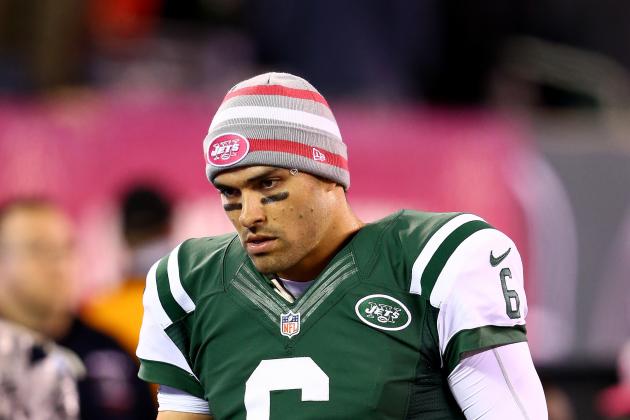 Al Bello/Getty Images

When the Jets were failing in the beginning of this season, it was easy to defend Mark Sanchez. He didn't have a running game, lost his best wide receiver and tight end and didn't have a single legitimate offensive weapon.
There was also the matter of Tim Tebow being forced into the team's lineup.
Even at 3-4, the Jets were just a J.J. Watt tipped ball and a Stephen Hill drop away from being 5-2.
However, in back-to-back losses to the Dolphins and Seahawks, Sanchez has become a major part of the problem.
Defend him all you want, but the fact that Santonio Holmes is injured or that Tebow is wearing a green and white No. 15 jersey didn't make Sanchez miss two open wide receivers in the end zone against the Seahawks.
Sanchez is still making rookie mistakes and has become more careless with the ball as the season has worn on. His lack of focus shows an immaturity that should be long gone by this point in his career.
Sanchez still has trouble progressing through reads and frequently struggles to get into any kind of rhythm. Last season, a putrid offensive line and an awful offensive coordinator severely hampered Sanchez.
Those excuses aren't there anymore.
Sanchez has done positive things in this game that only a few quarterbacks have ever done. He has a playoff record that a large majority of NFL quarterbacks won't even approach in their careers, and that cannot be overlooked.
With his contract constructed the way it is, Sanchez will likely remain the Jets quarterback this year and next at the least. He has proven that with a good team around him and a supportive running game, he can succeed at the highest levels.
But, the way the team is constructed right now, Sanchez is one of the team's weak links.
It's hard for even the most ardent Sanchez supporters to stand by him at this point.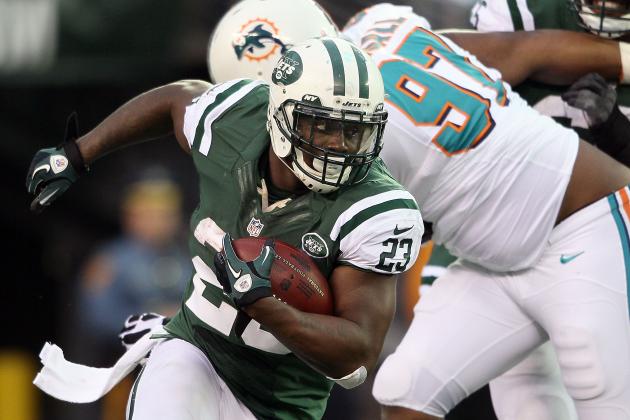 Alex Trautwig/Getty Images

Like Mark Sanchez, Shonn Greene needs the proper support system around him in order to be successful.
Greene isn't ever going to lift his team on his back the way Adrian Peterson or even Jamaal Charles can do. He simply is going to take what is given to him.
If a nice hole is there for Greene, he will hit it and run forward, delivering blows to anyone in his way. However, if his initial hole is clogged, Greene does not have the ability to create anything on his own.
Since becoming the full-time starter in 2011, Greene has had just three 100-yard games out of 23 starts. By comparison, Michael Turner, a running back with a similar style, has had eight 100-yard games over the same time frame.
Greene's inability to create on his own has especially hampered the running game because defenses aren't afraid to stack the box against the Jets.
With receivers who have trouble getting open in man coverage and a quarterback who isn't adept at taking advantage of other teams' mistakes, it's quite simple to slow down Greene.
By just putting more men in the box that the Jets are able to block, defenses are able to plug enough gaps to give Greene little room to run.
Even if he does hit a gap, he doesn't have the speed or secondary moves to really deliver a home-run blow.
Greene's average has dipped to a career-low 3.7 yards per carry this year, which is down a half of a yard from last season.
At 27 years old, Greene is not getting any younger or faster. What you have seen with Greene is what you are going to get.
He is a trustworthy ball-carrier but would be much better served as a part-time runner. Expect the Jets to address this position in the draft or through free agency in the offseason.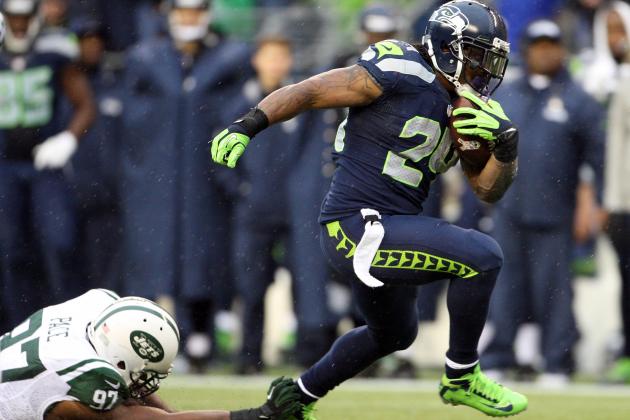 Kevin Casey/Getty Images

The entire Jets linebacking corps needs to be reworked, starting with Calvin Pace.
David Harris' production is down and Bryan Thomas is ancient, but Pace has been a real problem this season.
He is 32 years old and is on track for his least productive season as a starter. He has just 21 tackles and two sacks in nine starts this year.
Pace played in 94 percent of the team's defensive snaps through the first eight games and averaged just a shade over two tackles per game.
Pace has had 12 assisted tackles on the season, meaning that he has been involved in 33 tackles in 524 snaps. Quick math shows that on 491 of the 524 snaps he has played (94 percent of the time) he has had the same impact as the peanut vendor in section 225.
The final seven games of the 2012 season could be the last stretch for Jets fans to get one last look at Pace as a Jet.
In 2013 he will count approximately $11.57 million against the salary cap. If he is cut after this season, it will save the Jets $8.5 million in cap space.
He hasn't lived up to his potential but has been a good soldier during his Jets tenure. However, there is simply no way he could be kept around at those numbers.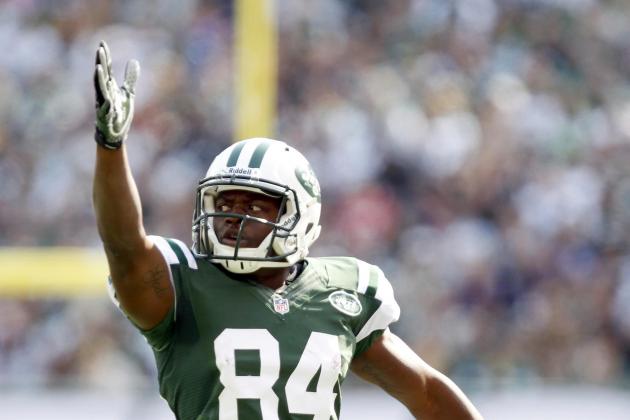 The Star-Ledger-US PRESSWIRE

The Jets had to know what they were getting in to when they drafted Stephen Hill.
It's much too early to say it was a mistake, but Hill is a long-term project to be sure.
There have been times when Hill has flashed the type of athleticism that led most pundits to declare the Jets selection of Hill as a home run. However, he has predictably lacked consistency during his rookie year.
Hill has started seven games and in three of them he's failed to catch a pass.
Hill's most glaring problem has been his knack for dropped passes. Officially, the NFL has Hill for four dropped passes. However, that total does not include catchable passes that typical NFL receivers usually make.
It's still perfectly feasible that Hill will develop into a legitimate threat and have a productive NFL career. By all accounts, he is a hard worker and has been a stand-up teammate in the face of adversity.
The biggest problem with Hill is that the Jets need more of an immediate impact at the receiver position instead of a project.
Jets fans who are down on Hill should use the case of Herman Moore when trying to stay positive. Moore, who is the same exact size as Hill, was considered an early bust after being taken No. 10 overall in the 1991 draft.
Moore had just 11 catches as a rookie but slowly learned the system, building up into a perennial Pro-Bowler by the time he was 25.
Hill may never turn into Calvin Johnson, but if he develops into a Herman Moore type of receiver, that would be perfectly fine.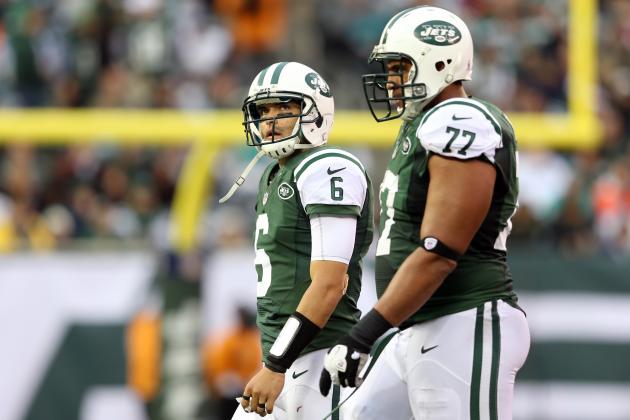 Debby Wong-US PRESSWIRE

Early in the season, Austin Howard looked like an absolute steal by Mike Tannenbaum.
After he shut down Mario Williams, LaMarr Woodley and NaVorro Bowman in three of his first four starts at right tackle, it seemed that the Jets had found their right tackle of the future.
Either the league has caught up to Howard or the rigors of his first season as a starter in the NFL have worn him down.
It's hard to pick on Howard, who came to the NFL as an undrafted free agent after playing as a converted tight end at Northern Iowa. The fact that he has been an adequate right tackle is above what many people expected of him thus far.
However, in the grand scheme of things, Howard is the weak spot on an average offensive line.
Next season, Jason Smith is due $12 million, all of which will be saved if the team cuts him after this season. Ideally, the Jets will cut Smith, move Howard into his role and then either groom a new right tackle through the draft or sign one via free agency.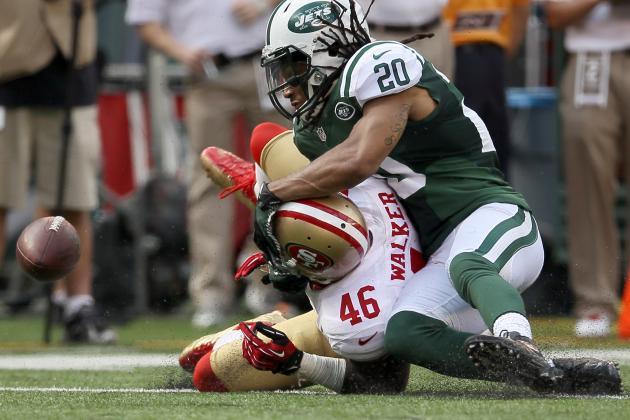 Elsa/Getty Images

With the season-ending injury to Darrelle Revis, all of the Jets secondary was asked to pick up the slack.
Most players have responded and raised the level of their play. Kyle Wilson has not been one of them.
With Antonio Cromartie playing at a Pro-Bowl level, most quarterbacks have taken to picking on Wilson instead.
Wilson struggles mightily against bigger receivers due to poor ball skills and often can't keep up with shifty receivers.
The latest example came last week against the Seahawks.
Wilson actually was in good position on Golden Tate on his first touchdown, but showed poor body control when trying to make a play on the ball. By the time the ball reached Tate's hands, it was an easy catch.
Tate has about a one-inch height advantage on Wilson, but based on the ease in which he made the catch, you would have thought Tate was six inches taller than Wilson.
What angers Jets fans most is that Wilson appears totally unaware of any flaws in his game. He celebrates overthrows and laments even the most obvious pass interference calls instead of just playing football.
Wilson does a lot of working out with Revis in the offseason. It's time that he starts acting like him.
Wilson still has a minimal cap hit next year and the Jets would actually lose money if he was cut, so he will be here next year for sure.
He has taken a slight step forward in his development and hopefully when he moves back inside next season, he can use this experience to continue to develop.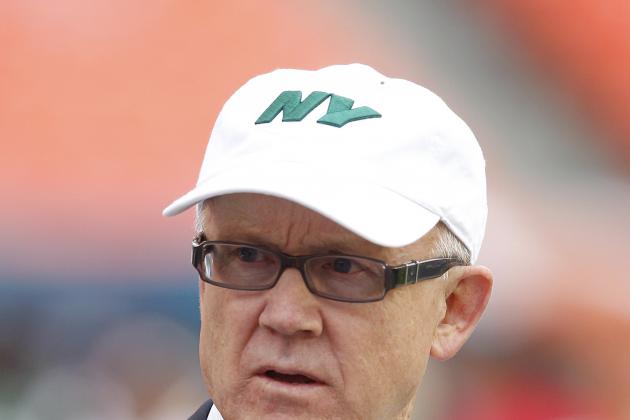 Joel Auerbach/Getty Images

First things first, the Jets aren't getting a new owner.
Fans that call for this to happen are borderline ignorant. Teams just don't "get" new owners.
Johnson is the owner of the Jets just the way you are the owner of that worn-out Chad Pennington jersey. You can do as you please with your jersey and Johnson can do as he pleases with his team (within the rules of the NFL of course).
Johnson's individual net worth is estimated at $3.5 billion and his family's net worth was estimated at $13 billion in 2010.
Basically, there's no need whatsoever to sell the Jets, who continue to increase in value.
Johnson bought the Jets for $635 million and the team's value is increasing each year. Forbes recently estimated the team's worth to be $1.23 billion, which was good for the 12th most valuable sports franchise in the world.
Even in this time of recession, NFL franchises aren't depreciating in value.
That being said, Johnson certainly has become a weak spot in this organization.
As much as he won't admit it, Johnson clearly wants to be the focal point of the New York media.
Rex Ryan's refusal to play Tim Tebow sends a clear message that it was indeed Johnson's idea to bring him to New York. He also had his hand in the decision to acquire Brett Favre, although that move worked out slightly better.
Most of all though, Johnson has been a blight on the fans.
He essentially took away the team's home-field advantage by spearheading the movement for a new stadium. The new stadium allowed the Jets to institute the personal seat license and push out fans who have had season tickets for decades.
As a result, Jets tickets have flooded the secondary market and are selling for less than face value—mostly to fans of other teams. He has also increased parking fees astronomically during his tenure.
But most of all, Johnson's meddling ways behind the scenes are what is harming this franchise the most. He has been the owner now for 12 years and still rarely ever admits to having input in football operations.
It's a sham that fans no longer are buying, but one that nobody can control. It's his franchise. He can do what he wants.
He may not be as vocal and visible and Jerry Jones, but he can harm the team just the same.
The Jets have won in the past with him and he's been willing to spend money. The Jets are just $6 million under the salary cap, which is a sensible place to be. He could easily spend that extra $6 million, but that will carry over to next season when they will need it more.
Johnson isn't going to change. He's a rogue billionaire with a trophy wife and a billion-dollar toy in the New York Jets.
Fans better get used to it.
Handout/Getty Images

If there is going to be a scapegoat for this season, it is going to be Mike Tannenbaum.
Jets fans are screaming for Tannenbaum's head with nearly the same vigor that they did for Brian Schottenheimer's.
Even though he has drafted the team's biggest stars, his overall draft record is less than spectacular and trending downwards.
The Jets had eight draft picks in 2012 and half of them aren't on the active roster. Jordan White, Terrance Ganaway and Robert Griffin barely had any chance at all to make the team.
Tannenbaum's downfall though is going to come because he has completely ignored the offense.
How can a general manager look at the stable of running backs on the Jets and think that it is good enough to chase the goals the Jets are supposedly chasing?
How can an offense not have a single legitimate weapon that other teams have to prepare for?
The Jets teams in Rex Ryan's first two years had much more depth but were admittedly aging. Players like Thomas Jones, Shaun Ellis, Tony Richardson, Jerricho Cotchery, Alan Faneca and Damien Woody were stalwart veterans who are aptly missed.
It was just three short years ago that those players were the heart of this team.
It's not Tannenbaum's fault that they are gone, as most of them either retired or ceased producing when they left the Jets. But it does fall on Tannenbaum that he hasn't brought in even decent players to replace them.
Ryan has practically been begging for a demonic pass rusher and a "bell-cow" running back since he got here. Tannenbaum hasn't even given him a player who remotely resembles either of those.
Tannenbaum is legitimately a genius—when it comes to numbers. He's a graduate of UMass Amherst and finished his law degree at Tulane University where he graduated cum laude.
He has had very good success as a capologist and has become a deft negotiator when it comes to contracts.
However, he is a sub-par evaluator of talent and has left this team seriously short-handed.
If Tannenbaum's incompetence isn't addressed this offseason, the fans just might riot. He has a great working relationship with Johnson and Ryan, so it could be likely he is reassigned back to being a numbers man.
Like Ryan, Tannenbaum has a contract that runs through 2014.
The Jets need a general manager with a long record of personnel success. The team needs a complete overhaul of the offense. If they want to be successful sooner rather than later, they need to hit home runs on a number of free agent signings and draft picks.
Does any Jets fan have confidence that Tannenbaum could do that?