Ranking the Big Ten Coaches by Job Insecurity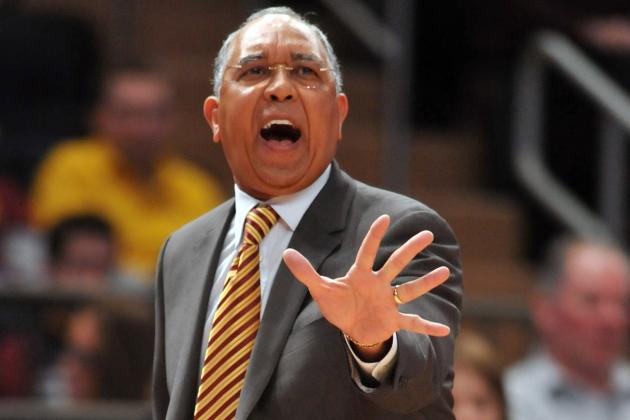 Jason Szenes/Getty Images

Part of coaching in any sport is dealing with pressure.
There's pressure from the fans' expectations, pressure to manage the players' egos and pressure to deal with demands from the coach's superiors, among others.
The Big Ten's basketball coaches know about pressure, having to make a living in America's toughest conference. While there are several who have built enough equity to survive a down year or two, there are also some whose hourglasses are running low on sand.
Here, we rank the Big Ten's coaches from the most to the least secure in their present jobs.
Begin Slideshow

»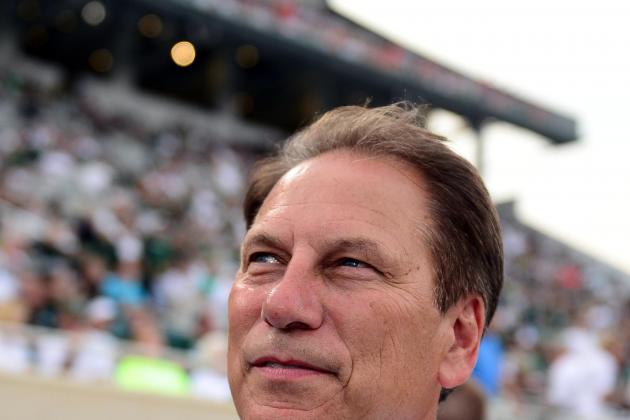 Andrew Weber-US PRESSWIRE

The words "hot seat" should never be uttered or written in the same sentence with Tom Izzo's name.
Fifteen straight NCAA tournaments, seven Big Ten titles, six Final Fours and a national title add up to a coach who will roam the sideline in East Lansing until he dies, retires or gets bored and decides to try out the NBA.
Of course, the Cleveland Cavaliers tried to lure Izzo out a couple of years ago, only for him to stay the general of the Spartan army. The resulting contract amendment ensured that if he does ever leave, money won't be the issue.
Izzo assured the Michigan State faithful that he was "[there] for life." His contemporaries would surely miss him, but they wouldn't be altogether sad to see him leave. Even if he does leave, it will certainly be on his terms.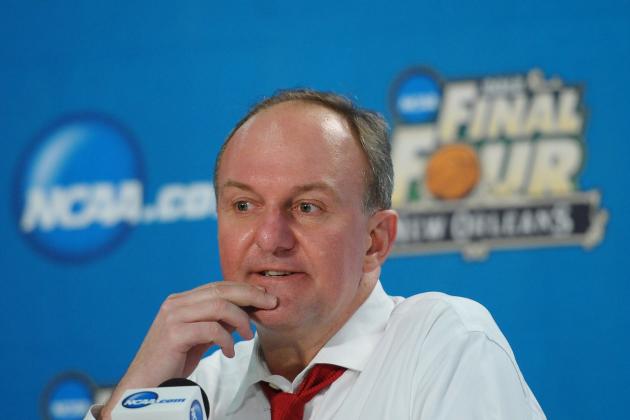 Derick E. Hingle-US PRESSWIRE

See what that backdrop behind Thad Matta says?
Yes, it says Final Four. He's been to a couple. Every year, his team is a threat to get to another, since he's assembled top-five RSCI recruiting classes in five of the last seven seasons.
The fact that his 2012-13 team relies heavily on unproven talent and was still awarded a top-five preseason ranking speaks volumes about Matta's abilities. Every year since Greg Oden, Mike Conley and Daequan Cook left after an NCAA runner-up finish, Matta has had questions to answer. In nearly every instance, those questions were answered with authority.
Three straight Big Ten championships or co-championships have OSU riding high. Don't expect Matta to be thrown off this wave unless the program hits a tsunami of misfortune.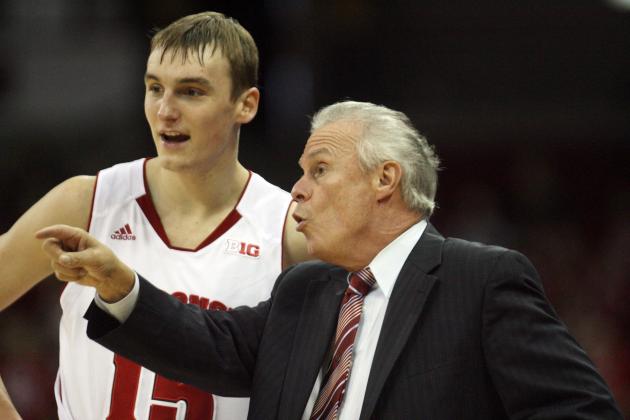 Mary Langenfeld-US PRESSWIRE

Bo Ryan has built Wisconsin basketball into a brand. Granted, it's a brand synonymous with some of the slowest, most methodical basketball in America, but it's worked.
None of Ryan's Badger teams have finished outside the Big Ten's top four, and as a result, none have missed the NCAA tournament. He's the only coach that's ever put a Wisconsin team atop the Associated Press poll. He has nine of the 14 20-win seasons in UW history.
Ryan's never managed to duplicate predecessor Dick Bennett's feat of putting Wisconsin into a Final Four, but he's come closer on more occasions than any other coach.
He ranks ahead of Thad Matta on this list only because of that Final Four drought, but the two are otherwise equals. In fact, it could even be argued that Ryan does more with less, since he's not drawing McDonald's All-Americans to Madison.
Much like Tom Izzo, the thought of Ryan being forcibly removed is laughable.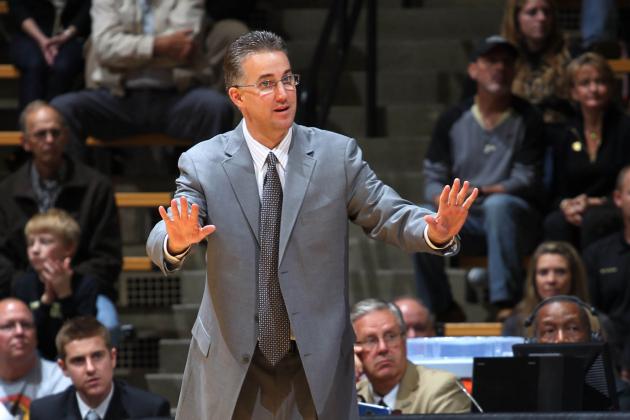 Brian Spurlock-US PRESSWIRE

Purdue fans held their collective breath after the 2010-11 season, when reports surfaced that Missouri was heavily courting Boiler coach and former point guard Matt Painter. When he remained at his alma mater, Purdue rewarded the loyalty by giving Painter a lucrative new contract.
So, barring the unthinkable, Painter's not going anywhere.
Why would he? His string of six straight NCAA tournament appearances equals his former mentor Gene Keady for second-longest streak in school history. He's maintained the Boilers' run of at least one tournament win in every trip since 1993.
This year's team has to prove itself but so did the school's last acclaimed recruiting class, the Hummel-Moore-Johnson "Baby Boilers." Even if Painter's touted rookies can't get Purdue back to the tournament, he's still one of the Big Ten's safest coaches. After all, Izzo and Matta have had an off year here and there themselves.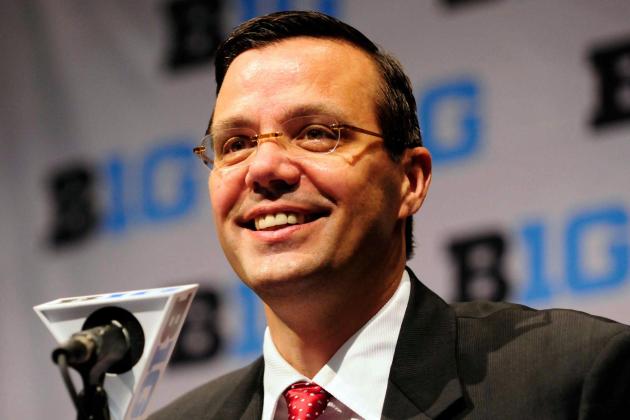 Reid Compton-US PRESSWIRE

Tim Miles is smiling here, primarily because this picture was taken before his first Nebraska game.
Husker basketball hasn't been relevant in quite a while, so no one's expecting miracles out of Miles. After all, the school's made a whopping six NCAA appearances ever, none since 1998. All of those visits were brief one-game cameos.
Still, the university is putting its money where its mouth is, hoping for some big results. A new $20 million practice facility and a forthcoming downtown arena represent major investments for a program that has always ridden a very distant second to the school's football team.
Miles has a seven-year contract that's longer than any deal given to any coach in the university's history. That even includes the man who gave Miles that offer, legendary football coach and current athletic director Tom Osborne. That's a major vote of confidence, and the school should know better than to expect a quick fix.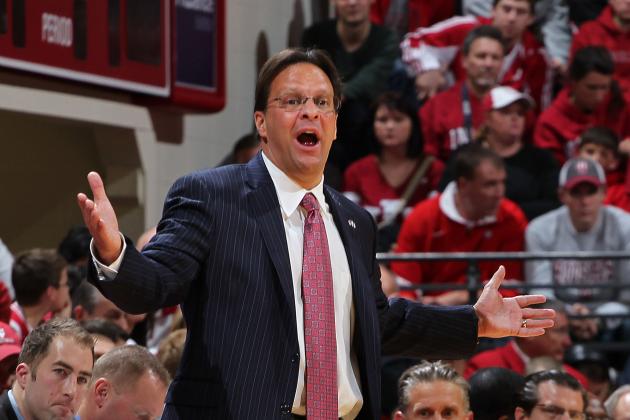 Brian Spurlock-US PRESSWIRE

It's odd to see the coach of the No. 1 team in America in the middle of one of these lists. In the wake of the euphoric 2011-12 rebirth of IU basketball, Tom Crean should be incapable of doing any wrong.
To completely write off Crean as untouchable, though, is to ignore the sheer volume of the complaints flowing his way during the painful rebuilding process. It was only this time last year that Crean was on one of the hottest seats in America.
Crean's current situation is light-years removed from the picked-clean carcass of a roster that he was left with after only a few weeks on the job. Then, he was left with two returning players, only one on scholarship. Now, he's drawing verbal commits from top-10 prospects and having to let veterans go to make room for all the blue-chippers.
It's highly unlikely that he'll feel that pressure ever again, at least as long as he keeps assembling stellar recruiting classes. Still, for now, he's a one-hit wonder chasing down the Big Ten's reigning coaching icons. Look for him to achieve Ryan/Matta status in short order.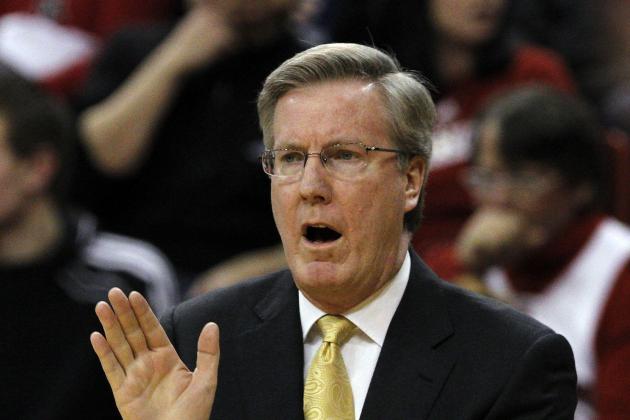 Bruce Thorson-US PRESSWIRE

Fran McCaffery took only two seasons to restore Iowa basketball to the right side of a .500 record. The Hawkeyes had suffered through four straight losing campaigns for the first time since the 1930s.
Last season, Iowa was buoyed by the performance of freshman Aaron White. This season, top-100 recruits Adam Woodbury and Mike Gesell have made auspicious debuts.
With upticks in attendance and recruiting, the man who was called "White Magic" during his playing days appears to be working some black-and-gold magic in Iowa City. His next step must be to reach the NCAA tournament. Iowa hasn't been there since 2006 and hasn't won a game since 2001.
Mike Carter-US PRESSWIRE

The stories about Penn State basketball taking a back seat to Bon Jovi concerts will simply never say goodbye. Patrick Chambers' predecessor Ed DeChellis decided to bail for Navy, with all the challenges inherent to recruiting for any military academy, rather than remain in State College.
Nittany Lion basketball could have become a salve for the university's expected football woes, in the wake of the NCAA's powerful post-Sandusky sanctions. With that team having a surprising winning season, however, basketball is set to resume its secondary posture.
Without the heavy expectations, or even much of a fanbase at all, it's hard to consider Chambers' job in tremendous jeopardy. After all, Jerry Dunn and DeChellis won less than one-third of their combined conference games and still lasted a whopping 14 years.
If PSU's recent track record is any indication, it will take something earth-shattering to force the school's hand regarding Chambers. Unfortunately, Penn State is one school that knows what "earth-shattering" feels like.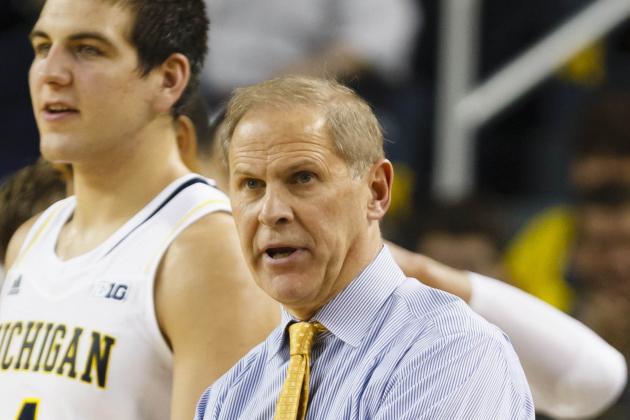 Rick Osentoski-US PRESSWIRE

It's early in the season, which is why coaches like Tim Miles and Pat Chambers can reasonably be considered more secure than a veteran like John Beilein.
Like Tom Crean, Beilein's wagon is hitched to a star-studded recruiting class. He'll be spending the early non-conference season trying to get a rotation set, trying to ensure that he can keep pedigreed players like Tim Hardaway Jr. and Glenn Robinson III happy about their usage and playing time.
Senior leadership that was present on last year's club is now gone. That's an ominous sign, considering that last year's club was bounced from the NCAA tournament by a Mid-American Conference school that didn't have a senior enter that game.
While Beilein isn't feeling the pressure right now, how understanding will Wolverine fans be if a Wolverine team talented enough to be ranked in the preseason top 10 makes a mere cameo in March?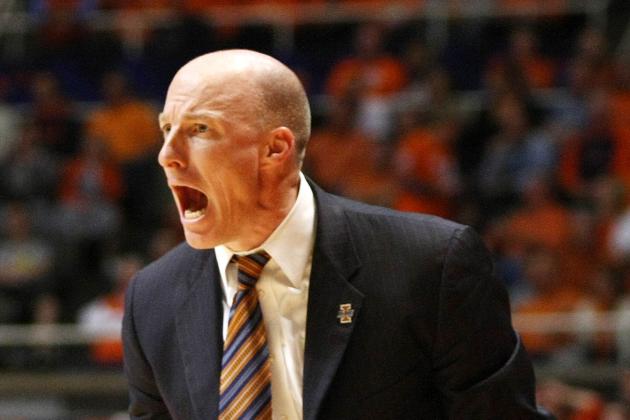 Ben Woloszyn-US PRESSWIRE

John Groce went from bouncing Michigan out of the NCAA tournament with Ohio to facing the Wolverines as a conference rival when he took over at Illinois.
He enters a situation in Champaign that was miserable to watch last season, with a talented roster appearing to quit on a veteran coach. He brings a system that requires a multitude of guards with strong ball-handling skills, something that his current squad lacks.
If guys like Brandon Paul and D.J. Richardson can adapt and make the Illini offense potent again, Groce will get plenty of time to continue his building efforts. He's already secured verbal commitments from a pair of ESPN 100 recruits and is doing a solid job of working Chicago in the process.
The current Illinois roster, however, looks very similar to the one that tuned out Bruce Weber. If Paul and Richardson are freelancing in February, a low finish in the Big Ten standings is highly possible. Those incoming recruits will have to excel for Groce to keep himself afloat in 2013-14.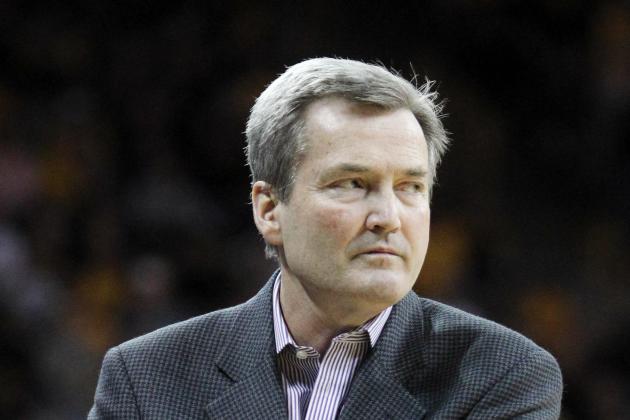 Reese Strickland-US PRESSWIRE

If Northwestern couldn't make the NCAA tournament with a star like John Shurna, are the Wildcats really a contender to get there without him?
The Drought (yes, at 75 years, it rates capital letters) is an annual story now, an unfortunate by-product of Carmody's relative success in Evanston. Carmody has recorded the program's only two 20-win seasons, and his four straight NIT bids are one more than every other coach in school history has managed to accrue.
This year's Wildcats, even without Shurna, still have talent, but it may not be enough to make a move in the loaded Big Ten. Another bubble season should keep Carmody in charge, but what happens if the 'Cats slump to four or five conference wins?
Even at a perennial also-ran like Northwestern, does there come a point where a change is needed to take the next step?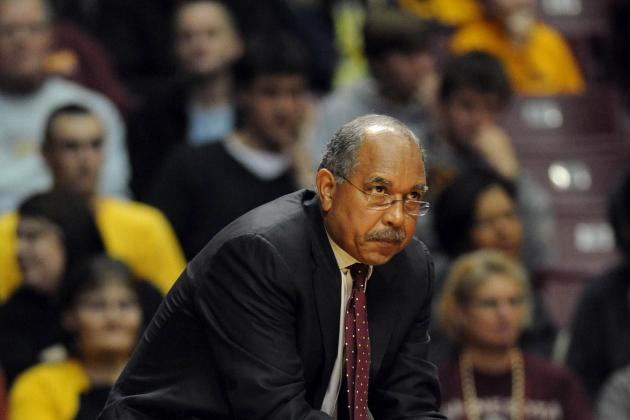 Marilyn Indahl-US PRESSWIRE

Tubby Smith's run at Kentucky was solid by anyone's standards. Anyone except the faithful at Kentucky, that is. Entering his sixth year at Minnesota, Smith has hit a rough patch the likes of which he's never seen as a head coach.
Only two of Tubby's five seasons have ended in the NCAA tournament, and both of those were in the first round. Last season's NIT runner-up finish was his most sustained postseason run since 2005's Elite Eight trip with UK.
In addition to the on-court losses, player attrition has been common during Tubby's tenure. Six players have left the Gopher program since 2010, including names like Devoe Joseph and Royce White who found some success elsewhere.
An embarrassing DWI incident involving Tubby's son/assistant coach Saul Smith serves to smear the program, as do recurring legal problems surrounding sixth-year senior forward Trevor Mbakwe.
Minnesota is expected to contend for a mid-table position in the Big Ten this season, and that may be the bare minimum to keep Tubby's seat from being turned up to scorching. Both on-court injuries and off-court turmoil have conspired to keep the Gophers from reaching what should have been considerable potential.
If Tubby can't instill the discipline needed to keep his team from spiraling out of control again, it'll be time for Minnesota to find someone who can.
For more from Scott on college basketball nationwide, check out The Back Iron (now on CollegeBasketballTalk's #NBCMustFollow College Hoop Directory).