UFC 154: Keys to Victory for Every Main Card Fighter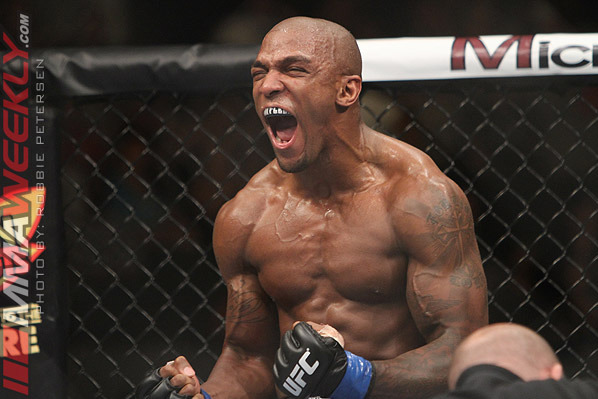 MMAweekly
UFC 154 comes to you this weekend live on pay-per-view, FX and Facebook from Montreal, Canada. The card boasts a welterweight championship unification between Georges St. Pierre and Carlos Condit.
The main card boasts young talent and top contenders alike. All of these fighters will come in with strategies to ensure that they walk out of the Octagon the winner.
Here are the keys to victory for every fighter on the main card.
Begin Slideshow

»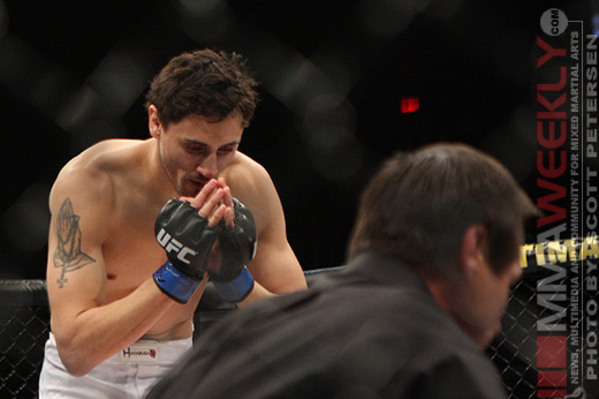 MMAweekly
Pablo Garza is taking on a very skilled kickboxer in Mark Hominick, so the strategy is simple. Put Hominick on his back and maintain top control.
Hominick has been submitted twice during his time in the WEC against Josh Grispi and Rani Yahya. Both of those came as a result of rear-naked choke, but they had to get Hominick to the ground first.
Garza has won seven times by submission, so it is possible for "The Scarecrow."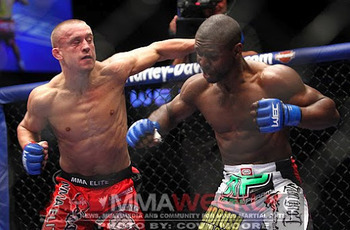 MMAweekly
There aren't many better pure strikers in the featherweight division than Mark Hominick. In saying that, he needs to stay on his feet and batter Pablo Garza with his striking.
If necessary, he can put Garza on his back and throw ground strikes. I really think that is unnecessary, considering that Hominick's standup alone is far superior than that of Garza.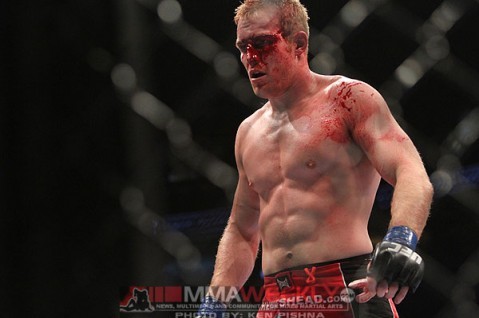 MMAweekly
Nick Ring does have good standup, but so does opponent Costa Philippou. The one thing that Philippou has had exposed during his UFC tenure is his ground game against Nick Catone.
Now, I do realize that the Catone fight was fought at a 195-lb. catchweight and on very short notice. I also realize that Philippou has proven hard to take down.
However, I think Ring has the best combination of striking used to take the fight down. Therefore, he needs to utilize it and make Philippou uncomfortable.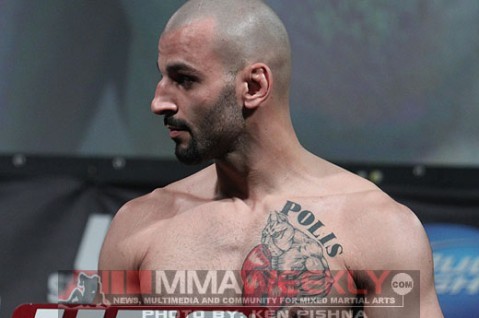 MMAweekly
Costa Philippou has proven that his boxing skills are very good so far in the UFC. Even more than that, he has proven he has jaw-rattling power in his hands.
He will face a tough Muay Thai striker with pro boxing experience in Nick Ring. Given that information, I still think Philippou's speed and power are too much for the Canadian.
All he needs is one big punch to land. If it does, he can go home a happy man.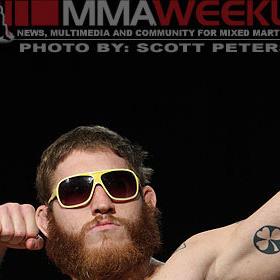 MMAweekly
Tom Lawlor got back in the win column in his last fight, but he has a huge challenge in front of him in the form of Francis Carmont.
Unfortunately for Lawlor, I think the only way he wins this fight is in a boring, non-crowd friendly fashion. He is going to need to clinch Carmont against the fence, put him on his back and grind him until he breaks.
Lawlor has the ability to do that, but he has to deal with the strength of Carmont. If he gets past that, he is in good hands.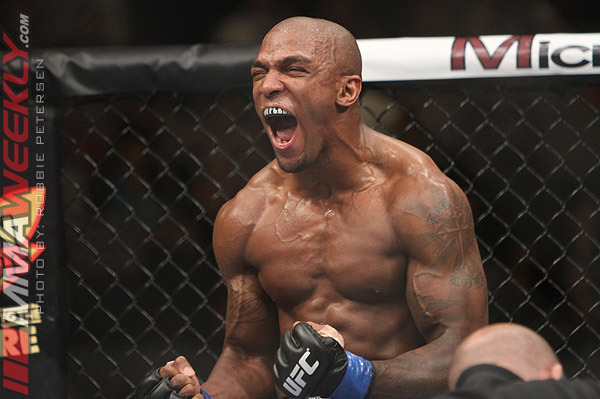 MMAweekly
Francis Carmont is taking on another wrestler in Tom Lawlor. He could go about the same game plan he had in his last fight with Karlos Vemola.
Carmont is a big, fast, strong middleweight with good striking and top-game grappling. Lawlor is going to make this an ugly fight, so Carmont is going to play it smart.
If he batters Lawlor from the outside, keep off his back and maybe even plant Lawlor on his back, Carmont will win easily. Training at Tristar, this game plan is definitely achievable.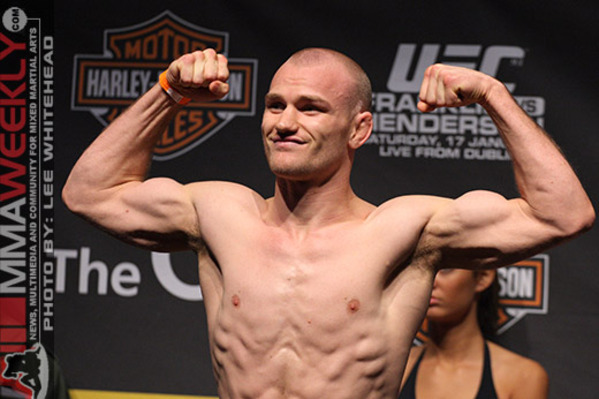 MMAweekly
In Martin Kampmann's last two wins, he has had to make a dramatic comeback to earn the victory. While this leads to exciting bouts, it is too risky if he wants to continue his road to the welterweight title.
Against Thiago Alves, it took one Alves mistake with little time in the third to get his comeback. When he took on Jake Ellenberger, he took a great amount of damage before coming back in spectacular fashion.
I may think Johny Hendricks is vastly overrated, but he is not a guy you want to get behind on the scorecards against. Kampmann needs to avoid the need for a comeback in this fight.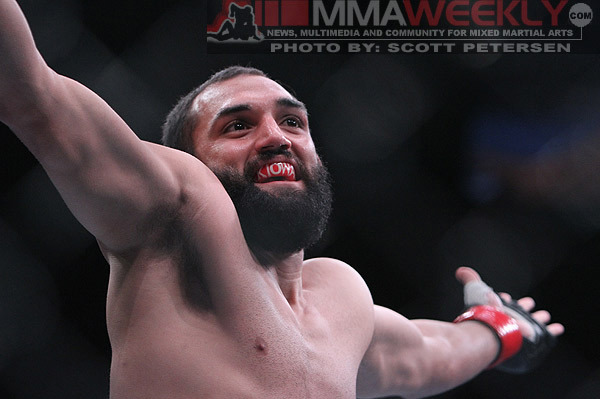 MMAweekly
Johny Hendricks has enjoyed striking lately, but to win this fight he is going to need to stick to his roots and wrestle.
Kampmann is a technical master when it comes to kickboxing in MMA. Although Hendricks has good power in his fists, Kampmann fights long and has great movement.
Hendricks will need to use his striking to set up takedowns. From there, throw ground-and-pound and make Kampmann's night miserable.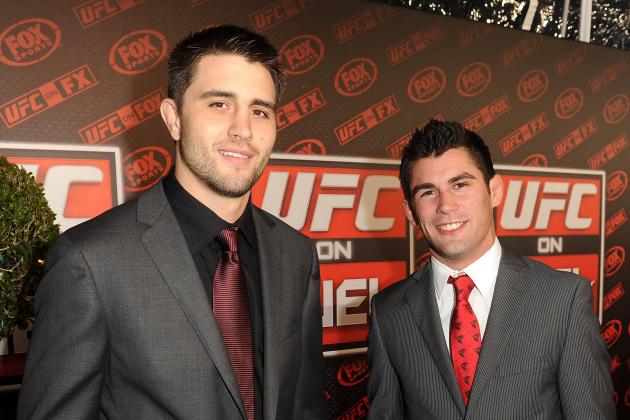 Jason Merritt/Getty Images

For Carlos Condit, he throws caution to the wind because he is so good off his back. Although he may not want to be on his back against Georges St. Pierre, I really think he has no choice but to throw caution to the wind anyway and fish for the knockout.
If St. Pierre wants to put Condit on the mat, he will. His wrestling is that good.
If Condit wants to disturb this, he needs to be aggressive and make St. Pierre uncomfortable on the feet. One big key will be testing St. Pierre's knee with leg kicks.
Condit's leg kicks can slow down anyone. Consider that GSP is coming off knee surgery, and they can be ultra-useful.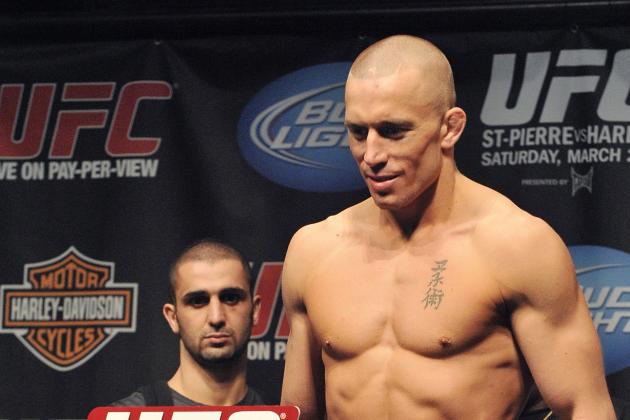 Jon Kopaloff/Getty Images

Georges St-Pierre needs to be smart. Just because the fans think he is boring doesn't mean he should get risky against Carlos Condit. Believe me, Condit is probably the biggest test GSP has faced in a while.
GSP needs to set up his shot using his stiff jab. Then, he will need to force a clinch against the cage and plant Condit on his back.
He will need to avoid submissions and sweeps, but he definitely can. Throw ground-and-pound in an attempt to break Condit mentally, and I think GSP has this fight in the bag.