San Francisco 49ers: Grading the Week 10 Tie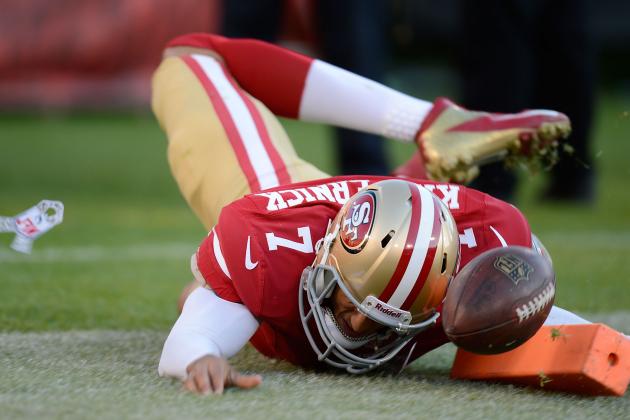 Thearon W. Henderson/Getty Images

Ties are for interviews, executives, prom and ponytails. They don't belong in the National Football League. With that said, I'm utterly embarrassed to be a San Francisco 49ers fan this week, as they put forth a pathetic effort against the St. Louis Rams on Sunday, tying the Rams, 24-24.
If anything good came out of that game, it was the undeniable evidence that this team needs Alex Smith to win. And it's no discredit towards Colin Kaepernick, who had a pretty good game after he took over.
It's just that...Alex is a veteran. He makes the right reads, makes the quick decisions and the smart throws that Kaepernick can't be expected to make yet.
Anyway, I still have a bitter taste in my mouth from tying. The unthinkable.
Here's how the 49ers grade out for the Week 10 tie.
Begin Slideshow

»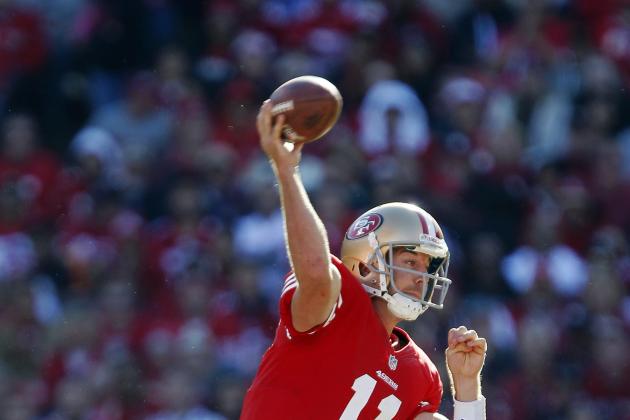 Brian Bahr/Getty Images

Well, Smith looked good on his eight pass attempts before going out with a concussion. He completed 7 of 8 for 72 yards and a touchdown to Michael Crabtree (who had another big game, by the way). It's hardly a big enough sample size to grade the normal starter, so we shift to Kaepernick.
The biggest impact Kaepernick had was with his legs, turning blown plays into positive yardage. We all know he has that athletic ability, but I was intrigued to see him get a full half of action in a meaningful game. After it went through overtime, he had almost played a full game.
And what we got were mixed results. Kaepernick showed off his arm strength a couple times and made some nice strikes in big spots. But he also couldn't make up his mind on a lot of plays and ended up scrambling for a few yards.
Seeing a stat line of 11 for 17 with 117 yards isn't anything special, but it's also good enough. Nothing big could have been expected from Kaepernick in that situation, and I think he did as well as possible.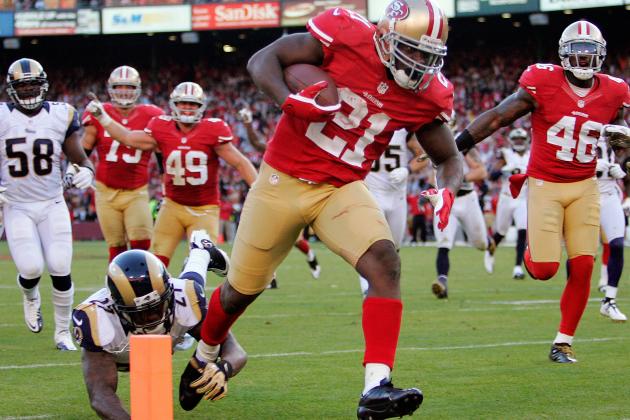 Brian Bahr/Getty Images

Frank Gore got obliterated all day, especially after Smith went down. Yet, he was still able to plow his way to a 97-yard game, score a touchdown and average over 4.5 yards per carry. Overall, the running game looked really good.
Was it as good as usual? No, but it was a solid all-around game. The stats are a little bit padded by Kaepernick's 66 yards and his "touchdown" (oh, come on...even the biggest Niner fan has to admit he stepped out at the two-yard line).
Overall, the offensive line had a pretty good game, but I would have liked to see the 49ers mix it up with Kendall Hunter a little more. He only got three carries, and Gore definitely could have used the help.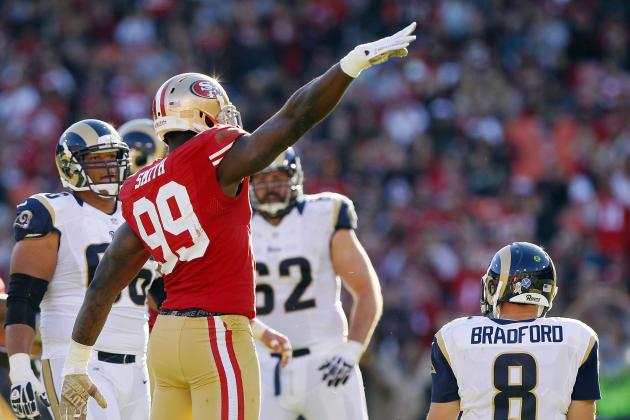 Brian Bahr/Getty Images

I know Steven Jackson is a big, strong, talented running back. And Daryl Richardson, his backup, is no fluke either. But the 49ers have made mince meat out of much better running backs over the past couple seasons.
And the fact that Jackson ran the ball 29 times for 101 yards and an easy score is infuriating. I know the 49ers were coming off a bye week, but you would think they would be mentally and physically prepared to face a star like Jackson.
Instead, they got worn down by the running game, which made the secondary susceptible to the passing game. Give Aldon Smith props for a couple huge plays, including two sacks. And you can give a hand to NaVorro Bowman and Justin Smith for overall stellar games.
The rest of the unit was just average, though.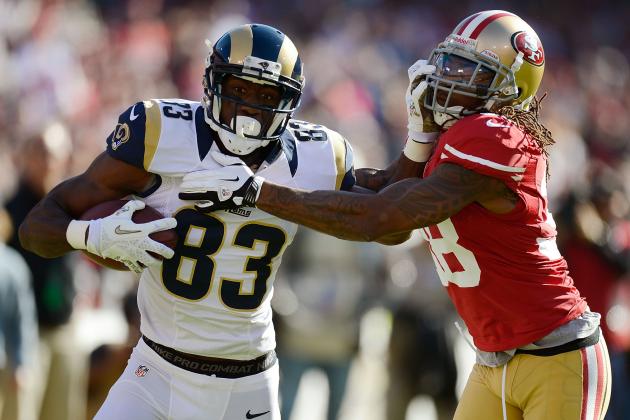 Thearon W. Henderson/Getty Images

Sam Bradford went 26 for 39 with two touchdowns, 275 yards and no interceptions. And most of the damage was done with Danny Amendola on the receiving end. No disrespect to either player, because they are both very good, but the 49ers have also shut down much better duos in the past.
It seemed like Amendola was able to beat a sluggish secondary all day, and don't even get me started on the mix-up that led to Brian Quick's touchdown catch on the Rams' first drive. Or Dashon Goldson's idiotic penalty for taking his helmet off.
I'm not sure what was going on—whether it be a loss of focus, a bad game plan or just being out of whack because of the bye—but the secondary did not look good at all on Sunday. Even Carlos Rogers was missing tackles.
They need to wake up next week before Brandon Marshall comes to town.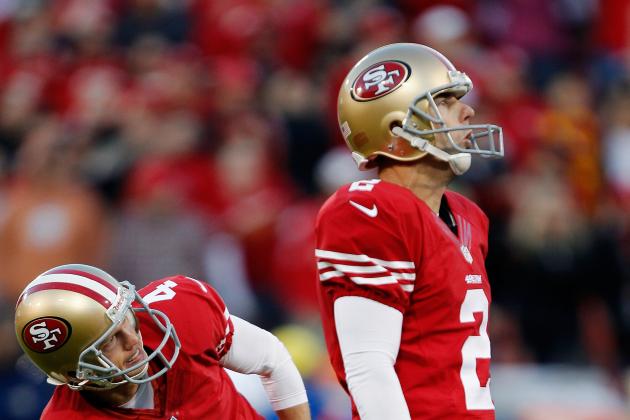 Brian Bahr/Getty Images

I don't care about the fumble that led to a short field for the 49ers. This unit was absolutely awful on Sunday.
Much can be attributed to the coaching for allowing such craziness to occur, but most of the blame falls on the players themselves.
Not once, but twice the Rams fooled the 49ers with a fake punt-pass that got them a new set of downs. One mix-up is bad enough, but the fact that the coverage team left a flanker wide open a second time in that game is atrocious.
And David Akers really screwed the pooch on Sunday, missing a very makeable kick in overtime, which would have won the game for the 49ers. It was just a big old mess.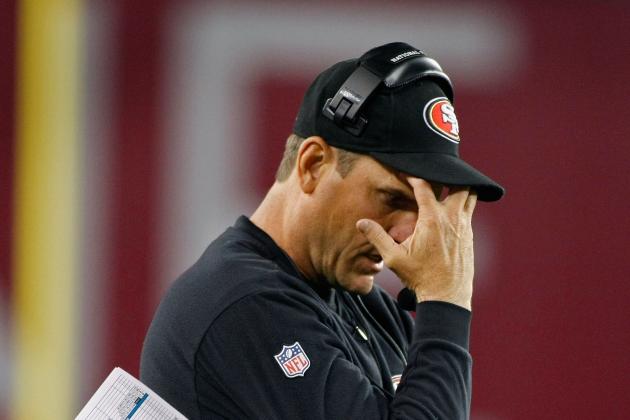 Ralph Freso/Getty Images

I think what I'm most shocked about from this game was that Jim Harbaugh did not have his guys mentally ready to play after the bye week. I could have been okay with a slight letdown and a close win, but let's be realistic here—the 49ers should have destroyed the Rams.
After Smith went down, I didn't like the way they used Gore and Hunter, who had very few carries. I didn't like trusting Kaepernick with tough throws. And whatever kind of defensive scheme was going on, I didn't like how that scheme was getting picked apart, nor was I happy with the coaches inability to adjust.
This unit should be getting an F, but the fact that they were able to salvage a tie with the starting quarterback injured early keeps them afloat. The special teams play was horrendous, and there's sure to be a lot of angry practices over the next week.
A loss might have been worse to this team, but the fact that Harbaugh and his team tied the Rams at home, coming off a bye week, is cause for frustration among the Niner faithful.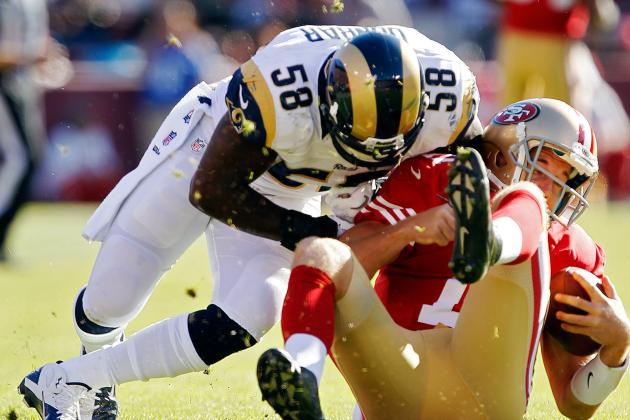 Brian Bahr/Getty Images

Let's play Good, Bad and Ugly with the overall grade for the first time:
The Good
Kaepernick had some flashes of brilliance under center, though the performance overall was a bit underwhelming. Gore had another nice game as did Aldon Smith. Alex Smith looked good until getting hurt, and the offensive line had a good enough day.
The Bad
In both facets of the game, the defense was below average—at least below the bar they've set for themselves. The front seven got torn up by Jackson and Richardson and the Bradford-Amendola connection was unstoppable.
The Ugly
Oh, goodness. The special teams. Where do I begin with this recap? Do I really have to talk about the two fake punts or the missed field goal in overtime anymore? It's making my head hurt.
Here's to moving on from this embarrassing debacle and showing the country why we are still an elite team against the Chicago Bears next Monday.