UFC 154 Fight Card: 3 Bouts Currently Under the Radar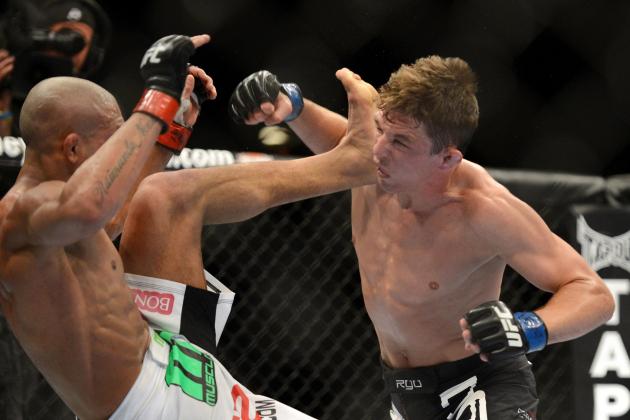 Ron Chenoy-US PRESSWIRE

UFC 154 goes down this Saturday night from the Bell Centre in Montreal, Canada. As you know, the main card is available only, as "Mean" Gene Okerlund used to say, ON A PAY-PER-VIEW BASIS.
Fortunately for cash-strapped MMA junkies everywhere, eight preliminary fights are available for free—four on Facebook and four on FX. Several of these undercard matchups and combatants are well-known to fans, but there are a few fights not blinking on the radar screens of even serious devotees. To be specific, I think there are three such fights. And here they are.
Begin Slideshow

»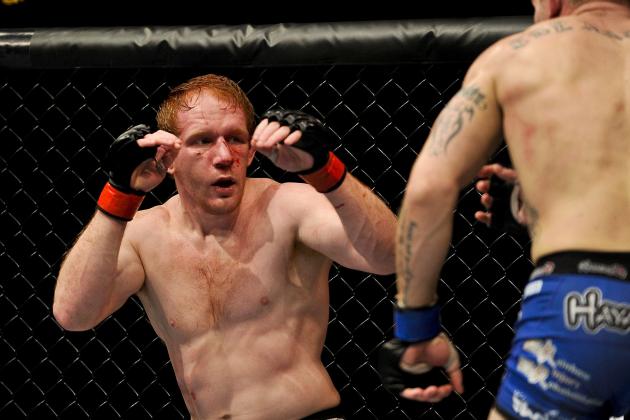 Paul Abell-US PRESSWIRE

Lightweight bout
See it on: FX
Mark Bocek might have some of the best grappling skills in the lightweight division. And don't even think about calling him a gatekeeper. I mean, the guy studies with Nova Uniao for goodness' sake. Plus, he's 6-2 in his last eight contests. The two black marks came from perennial contender Jim Miller and current champion Benson Henderson.
But Rafael dos Anjos (whose last name I think might mean "two rabbits") also has seriously slick jiu-jitsu. He might also be just a Mark Bocek away from becoming everyone's favorite new lightweight sleeper.
Though the ground game is each man's strength, both like to throw and try to outwork the other man. So the action should be pretty constant, even in the likely event that it goes to the ground or the fence.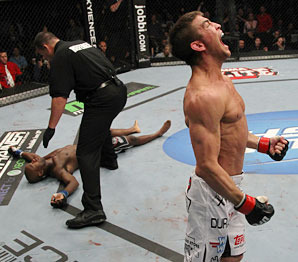 Photo credit: Donald Miralle/Getty Images
Lightweight bout
See it on: FX
It's amazing how fast a hype train gets derailed and how long it takes to get it back on track. Kind of makes you wonder if being a phenom is really worth it.
John Makdessi could probably prepare a very compelling lecture or two on the subject. He was a discussion-board darling until he dropped two straight (even missing weight in the second one for that extra touch of marginalization). Now everyone thinks he's a pile of garbage on the side of the road that everyone holds their noses at when they walk past. What? You lost two straight AND missed weight? Give me back my quarter.
I imagine, though, that "The Bull" still hits plenty hard. And no one has ever accused Sam Stout of ducking a fight. And if someone did, he'd probably end up like Yves Edwards here. Yves Edwards does not deserve such treatment.
Ron Chenoy-US PRESSWIRE

Featherweight bout
See it on: Facebook
The evening's very first bout features two guys on three-fight winning streaks and a total combined record of 35-11.
And they haven't been whipping up on cream puffs, either. All Darren Elkins did in his last match was upset young monster Diego Brandao with a game plan made of nothing more than takedowns and guile. Steven Siler's a nasty fighter and a choke artist in the good sense of the word. His last time out, Siler bled and then guillotined the rough and rugged Joey "I will dump you in a lake if you make any 'Goodfellas' references" Gambino.
(Seriously, though, I think he should acknowledge and embrace it. He should walk out to "The Godfather" theme or something. That'd be a killer walkout.)
Either way, this one is well worth pausing your Saturday evening for a quick staring contest with the nearest laptop.