UFC 154: Keys to Victory for Martin Kampmann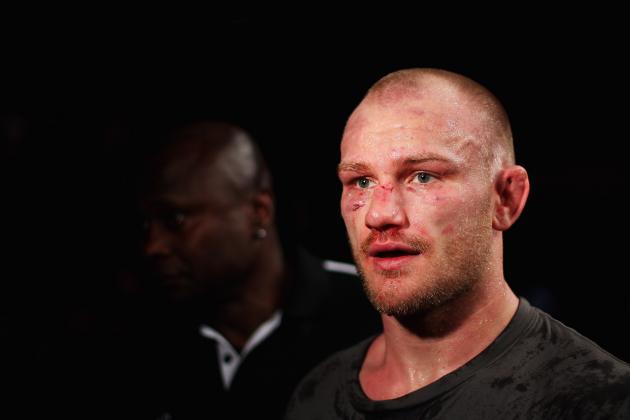 Mark Kolbe/Getty Images

Martin Kampmann is currently one of the hottest fighters in the UFC.
His overall work over the past year has secured the "Hitman" with a chance to contend for the Welterweight Championship.
There's just one problem: Powerful wrestler Johny Hendricks stands in the way.
Hendricks has just as much momentum as Kampmann does coming into their showdown this Saturday at UFC 154 in Montreal, Quebec, Canada.
It's going to be a true barn-burner between two top finishers, but if the 30-year-old Dane wants to escape the weekend victorious, he'll have to follow a fine-tuned game plan.
Here are Kampmann's keys to success.
Begin Slideshow

»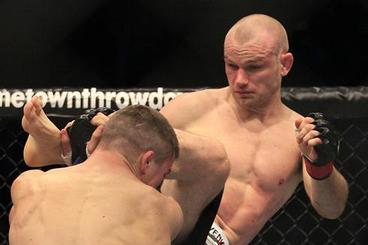 usatoday30.usatoday.com
At 5'9" Johny Hendricks doesn't pose a big threat to pick opponents apart.
Instead, he powers his way inside their comfort zone in order to launch his heavy hands with repetition. It has served Hendricks well in the past and will continue to do so unless it's stopped.
That's where Martin Kampmann's world-class kickboxing comes into play.
With a three-inch height advantage, the "Hitman" should be able to land kicks with success. If he can manage to throw them towards Hendricks' head then he should be able to limit the wrestler's punching power and takedown attempts.
It's always easier said than done, but considering Kampmann has successfully utilized kicks in the past against stockier foes like Thiago Alves and Jake Ellenberger, he could stifle Hendricks early.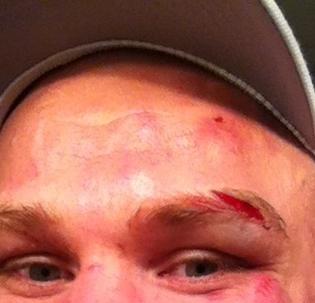 mmaresolutions.com
As good as Martin Kampmann has been over the past 12 months, his victories inside the Octagon could have very well ended in defeat.
On two separate occasions, opposite Thiago Alves and Jake Ellenberger, Kampmann was forced to pull off a momentous comeback.
And it wasn't on the judge's scorecard.
Kampmann needed a TKO and submission to win.
Now while that speaks wonders as to how tough and difficult Kampmann is to finish, it also symbolizes his inability to protect himself.
Unfortunately for Kampmann, Johny Hendricks is a guy that can put anybody in the division away with one swift punch—evident by his knockout of the grisly Jon Fitch.
If the "Hitman" wants to win this fight and prolong his three-fight win streak, he has to avoid early damage.
He has to make Hendricks work for his shots and make the fight last.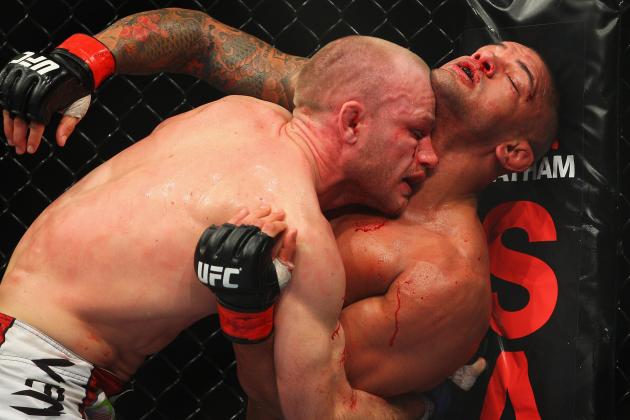 Mark Kolbe/Getty Images

With a significant height advantage feeding into his elite kickboxing and leg work, Martin Kampmann has got to push the issue against Johny Hendricks in the clinch.
Kampmann has a very respectable grappling game and should be able to get to Hendricks whenever the wrestler comes inside to land worthwhile blows.
Once he feels overwhelmed or skeptical about his abilities to avoid Hendricks' heavy hands, Kampmann should opt to tie up and throw knees in bunches.
It's a technique that worked really well against Jake Ellenberger, and it's something that could limit Hendricks' dangerous uppercuts and lunging strikes.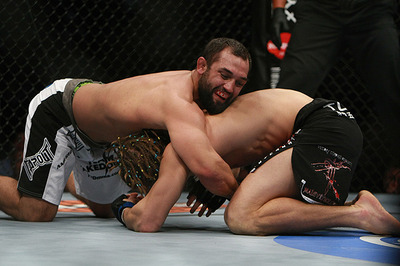 desi-radio.com
Johny Hendricks is certainly an athlete.
The guy is an absolute boss hog inside the Octagon and shouldn't be taken lightly at any point during a fight.
However, considering he loves to throw heavy hands early and often, Kampmann should have a real opportunity to potentially expose Hendricks' longevity issues.
It may not be substantial, but if Kampmann can get Hendricks to blow his wad early in the fight, he could have an opportunity to grind out a decision.
We've seen Kampmann come from behind before and we've seen him battle for an entire three-round fight. Hendricks' will simply hasn't been tested to the point of exhaustion.
Kampmann is more than capable of doing that.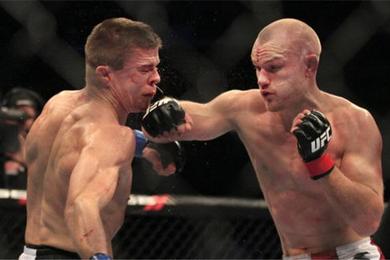 h4-entertainment.com
Experience often separates good fighters from great ones.
It's what gives them an edge inside the cage.
Whether it's understanding how to escape precarious positions or knowing when to go for the kill, experience is always key for successfully dismantling another fighter.
In Martin Kampmann's case—a tenured UFC welterweight who has fought the very best in the world throughout his career—experience is definitely going to play a role in his No. 1 contender bout against Johny Hendricks this Saturday.
Hendricks is no slouch and has certainly put the work in to deserve this opportunity, but when you look at their separate track records, it's not even a comparison.
Heck, Kampmann is the only fighter to defeat Carlos Condit in the last six years.
That has to be worth something.
For more UFC/UFC 154 news and coverage, Follow @DHiergesell