2013 MLB Free Agents: Ranking the Top 15 Pitchers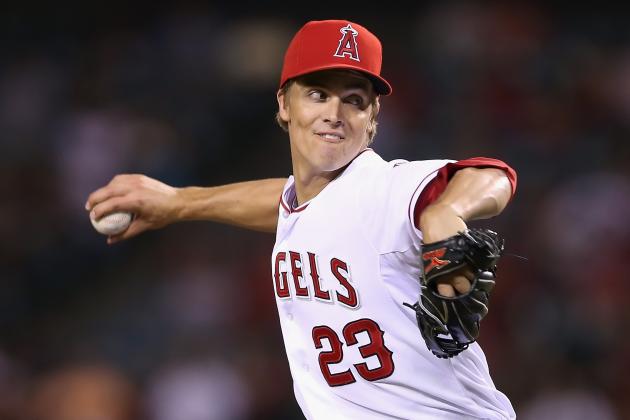 Jeff Gross/Getty Images

As the MLB Hot Stove climbs toward its boiling point, a number of teams are surely going to be in the hunt for some solid arms. Fortunately, this year's free-agent class has plenty of viable hurlers available. From solid starters to reliable closers, any pitching needs should be able to be filled.
In a move that everyone saw coming, so many eyes are going to be on right-hander Zack Greinke. The 2009 AL Cy Young Award winner is going to receive a bevy of offers, but will his well-documented struggles with anxiety play a role in his decision as to whether or not he plays in a small or large market?
On the relief pitchers' side, where will Rafael Soriano end up after saving 42 games for the New York Yankees in place of the injured Mariano Rivera?
Needless to say, MLB free agency this season is going to see a lot of pitchers signing new deals and when it comes to a few, the bidding could reach warlike intensity.
Begin Slideshow

»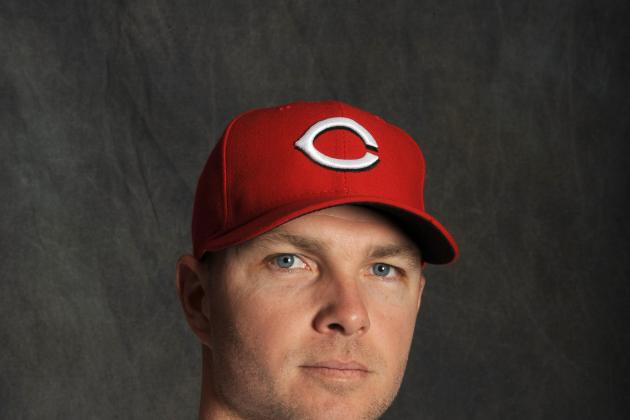 Rich Pilling/Getty Images

Ryan Madson was supposed to be the closer for the Cincinnati Reds in 2012, but suffered a torn elbow ligament toward the end of spring training and had to undergo Tommy John surgery, thus ending his season. Seeing as how he only signed a one-year deal, he declined his option and is now on the open market.
The man could surely find a closer's job somewhere, having notched 32 saves with the Philadelphia Phillies in 2011, but his unavailability to pitch until around May or June could lower his value. Him being 32 years old doesn't help matters either.
Still, scouts, players and GMs alike have seen what Madson can do and if there is enough of a need, he should be able to land a deal.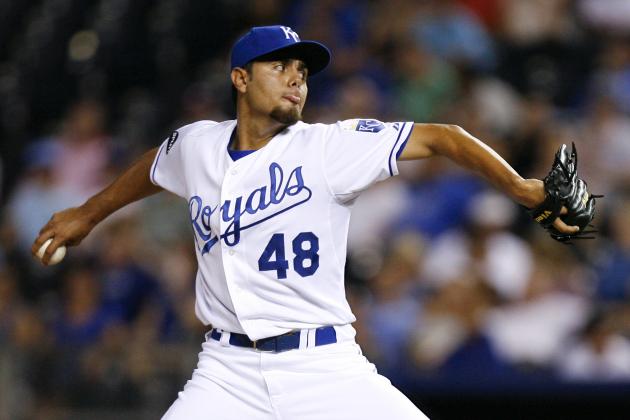 Ed Zurga/Getty Images

Like Madson, Joakim Soria missed all of 2012 recovering from Tommy John surgery. The Kansas City Royals declined his option, making him a free agent. Since becoming a full-time closer in his rookie year of 2007, the 28-year-old has notched 160 career saves with a 2.40 ERA.
Adding to Soria's value is that he seems open to the idea of being a setup man. He has already said he would be willing to set up Mariano Rivera if the New York Yankees showed any interest. Given how the team will probably lose Rafael Soriano to free agency, this could prove to be a critical decision.
Still, with many teams in need of a solid closer, the bidding for Soria could become quite high.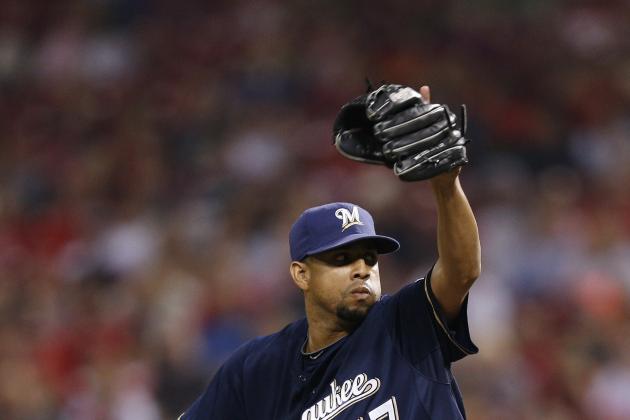 Joe Robbins/Getty Images

Though he holds the record for most saves in a season after having closed out 62 for the Los Angeles Angels in 2008, Francisco Rodriguez could have a hard time finding a new deal this winter. He spent last season as a setup man for the Milwaukee Brewers, posting a 4.38 ERA in 78 appearances last season.
A big question mark for the hard-throwing righty is his attitude, as he was arrested on a domestic violence charge late last season and could face up to nine months in prison.
Still, with his ability to just blow away hitters with his fastball plus his record-setting season, it'd be hard to believe that he won't get at least one offer.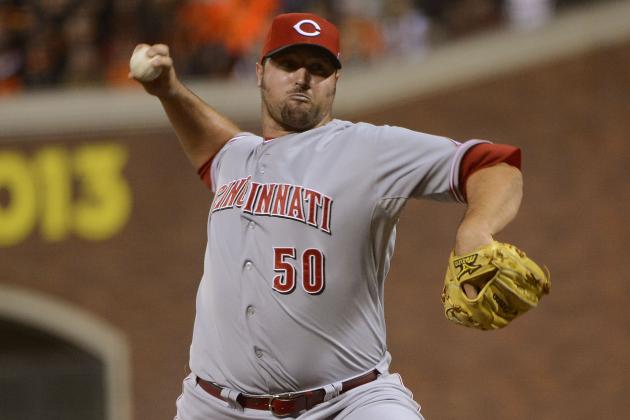 Thearon W. Henderson/Getty Images

After a lost 2011 season with the Los Angeles Dodgers, Jonathan Broxton bounced back in 2012.
Splitting the season between the Kansas City Royals and Cincinnati Reds, the hefty righty registered 24 saves with a 2.27 ERA in KC before being dealt to the Reds to be the setup man for Aroldis Chapman.
He may not look like an athlete at 6'4", 300 pounds, but the fact remains that the man can pitch well. He's still only 28 years old and will easily find a closer's job somewhere. Just which team shows interest, however, remains to be seen.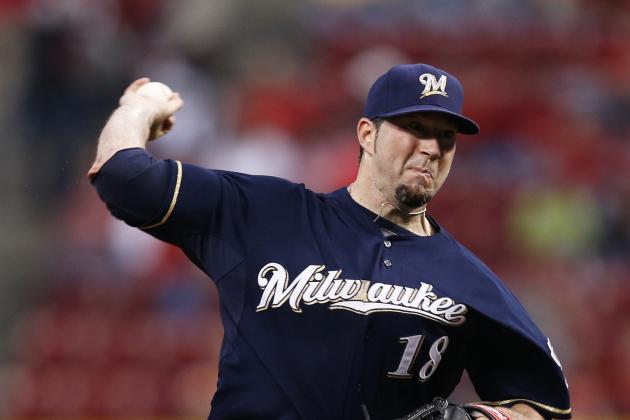 Joe Robbins/Getty Images

Injuries limited Shaun Marcum to 124 innings over 21 starts in 2012, but he still managed to put up solid numbers for a Brewers team that appeared to be put together with scotch tape at times. He ended up going 7-4 with a 3.70 ERA.
That said, it's hard to determine just how many years a team will offer Marcum, let alone how much money. He has shown that he can be a solid producer in terms of ERA and WHIP, but doesn't have a reputation as an innings eater, surpassing 200 frames just once in seven seasons.
Regardless of that, however, he has proven to be one of the most consistent arms in the game since 2010 and will be rewarded accordingly.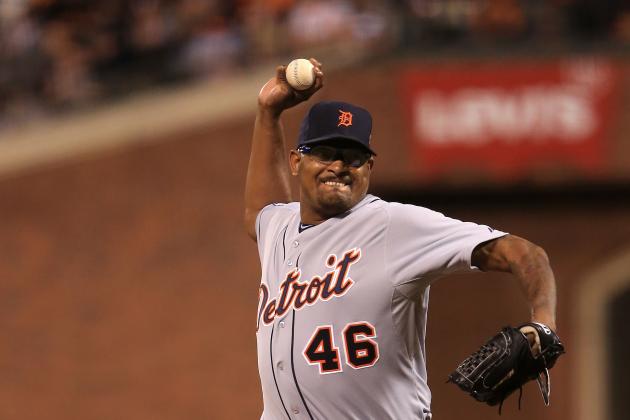 Doug Pensinger/Getty Images

Allow me to tell you the story entitled "Jose Valverde: A Tale of Two Closers."
Here's a man who was perfect in all 49 of his save opportunities in 2011, but regressed in 2012. He saved 35 games, but blew five and posted a 3.78 ERA.
Come playoff time, he absolutely choked, appearing in just four games and allowing nine earned runs with a 30.38 ERA.
That said, just what kind of money is Valverde going to get? Will he get money due to his 2011 form or his playoff-choking 2012 self?
Rick Yeatts/Getty Images

It was a tale of two seasons for Ryan Dempster in 2012, which he split between the Chicago Cubs and Texas Rangers. He pitched like an ace in the Windy City, going 5-5 with a 2.25 ERA and 1.03 WHIP.
Once he made the switch to the AL, however, his luck changed.
Dempster was able to post a respectable record of 7-3 playing in the hitter-friendly Ballpark at Arlington, but his ERA skyrocketed to 5.09 and his WHIP to 1.43. Clearly, the man fares much better in the National League and would probably prefer to pitch there next season.
However, he is also 35 years old and no team will want to break the bank on someone of that age. In Dempster's case, he probably shouldn't expect more than a two- or three-year deal.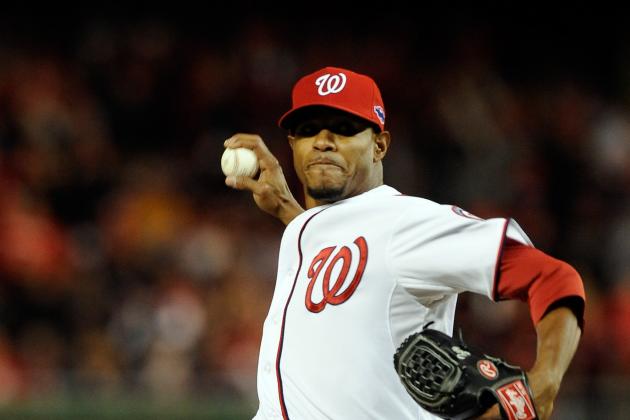 Patrick McDermott/Getty Images

Edwin Jackson is like the little girl with the curl. When he's good, he's very, very good. When he's bad, he's terrible.
Playing for the Washington Nationals on a one-year deal, the young right-hander went 10-11 with a 4.03 ERA and and 1.21 WHIP. The numbers as a whole aren't bad, but he was clearly the odd man out on a Nationals pitching staff that helped Washington to the best record in baseball.
That said, it's going to be even tougher to put a number on Jackson's value this winter. He's a Scott Boras client, so he'll demand top dollar. But not even the most desperate for pitching team would write out a fat check for a right-hander prone to walking a lot of hitters and giving up more than a hit per inning.
He'll be playing baseball somewhere next year, but probably not for the money he thinks he'll be able to get thanks to Boras.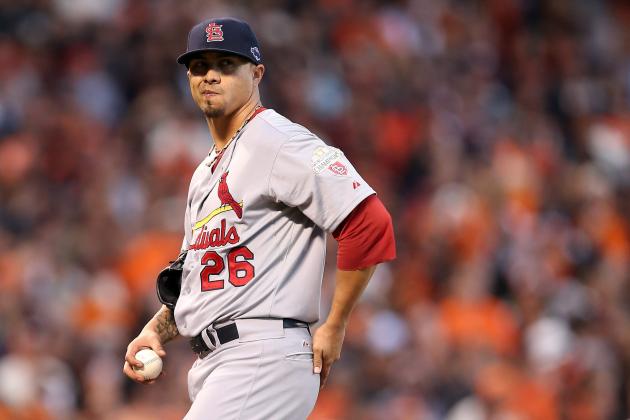 Christian Petersen/Getty Images

It took him until age 34 to do it, but Kyle Lohse had a career season in 2012. Pitching for the St. Louis Cardinals, he went 16-3 with a 2.86 ERA and 1.09 WHIP.
Needless to say, Lohse is going to get paid this winter. The sad part is that some GM is going to get overly excited about his one good season and offer him way too much money.
Keep in mind, Lohse holds a 4.45 ERA and 1.36 WHIP. In terms of effectiveness, he only started coming into his own two seasons ago and pitched a career-high 211 innings in 2012.
With wear and tear plus the possibility that he overachieved last season, to say that he won't get a lucrative deal is ridiculous.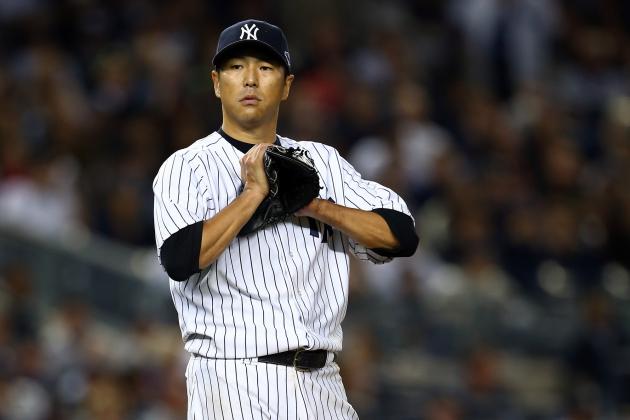 Elsa/Getty Images

Even at age 37, Hiroki Kuroda was nothing but reliable for the New York Yankees. He went 16-11 with a 3.32 ERA and 1.16 WHIP, pitching a career-high 219.2 innings along the way.
Of course, he enjoyed his time in New York and is at another career crossroads. According to Newsday, the veteran righty is considering a return to the Yankees or a possible return to Japan.
Wherever Kuroda ends up, he's going to be getting a raise from the $10 million he earned in 2012. He may be getting older, but he's still one of the most consistent pitchers in the game and has proven that he can pitch in both leagues.
That said, let the bidding war begin!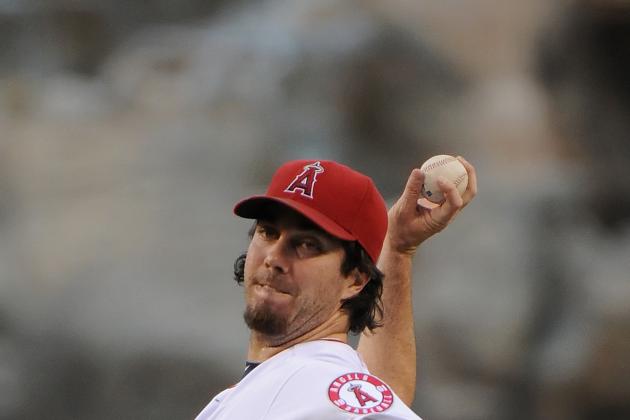 Lisa Blumenfeld/Getty Images

Usually a lock for solid marks in ERA, strikeouts and WHIP, Dan Haren's 2012 was a bit of a letdown. On an Angels team that struggled out of the starting gate and throughout most of the season, the 6'5" righty went 12-13 with a 4.33 ERA, 1.29 WHIP and 142 strikeouts in just 176.2 innings. It was his lowest innings total since 2004, his second year in the majors.
Fortunately for Haren, most GMs will probably look at last season as a fluke since he was injured for part of it. He's going to get paid, but probably not with as lucrative a contract as some other pitchers.
Teams will look at him as an innings-eater to slot in behind the ace of the staff and he will fit in perfectly. Just where he ends up, however, is a mystery.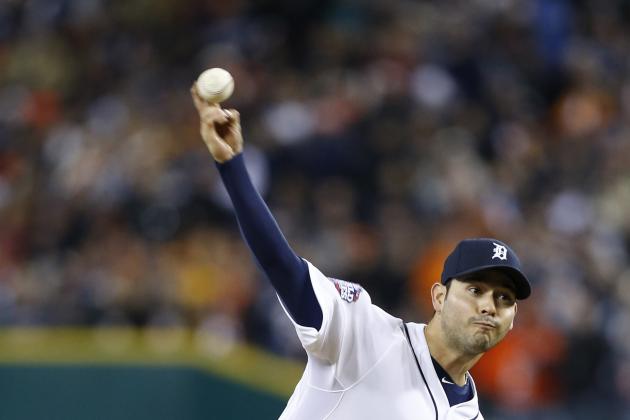 Rick Osentoski-USA TODAY Sports

Anibal Sanchez split 2012 between the Miami Marlins and Detroit Tigers, posting a 9-13 record with a 3.86 ERA and 1.27 WHIP. Were it not for poor run support, he surely would have had a better record.
However, what's going to earn Sanchez a hefty paycheck this offseason is his postseason performance. His record there was 1-2, but he posted a 1.77 ERA and 0.98 WHIP.
Sure, it's silly to reward someone based solely on their work in the playoffs, but Sanchez has already been establishing himself as something of an innings eater in recent years. Give him the right amount of money, and he'll be a valuable member of any pitching staff.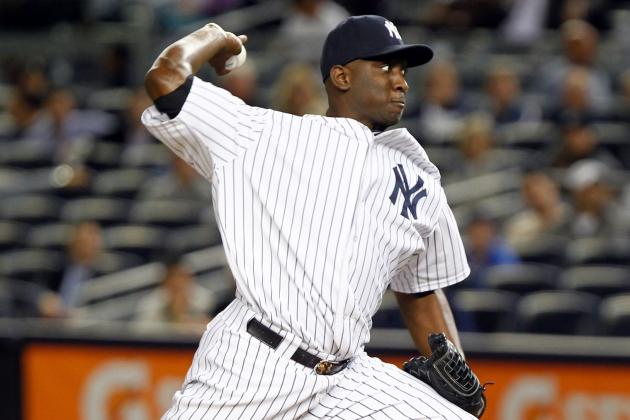 Debby Wong-US PRESSWIRE

After spending his first year in pinstripes as the setup man, Rafael Soriano got the chance to close again after teammate Mariano Rivera suffered a torn ACL in May. While most fans were concerned about the absence of the future Hall of Fame closer, Soriano quickly quieted the doubters.
He appeared in 69 games and notched 42 saves to go with his 2.26 ERA and 1.17 WHIP.
That said, a team in need of a closer is going to write a big check for Soriano. He has proven multiple times that he can be a clutch arm out of the bullpen, regardless of rules, and his success will only carry him to his next destination.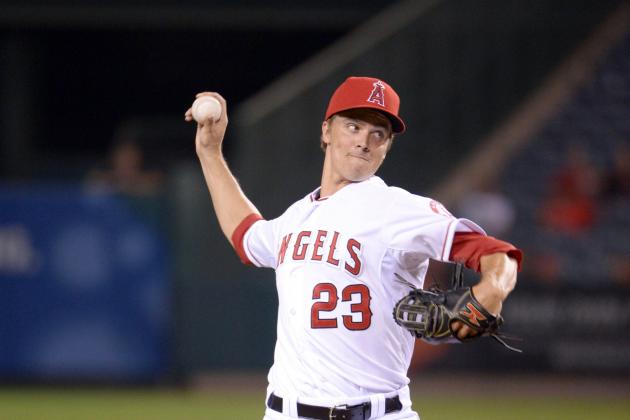 Kirby Lee-US PRESSWIRE

When Zack Greinke was dealt to the Los Angeles Angels last season, I for one was very concerned about his future, both personally and professionally. Here is a man whose struggles with anxiety are well known, so to see him move from a smaller market in Milwaukee to a bigger one in LA was a bit shocking.
Still, with the Angels, Greinke managed to go 6-2 with a 3.53 ERA and 1.19 WHIP. It may not seem that way now, but this man is going to be the cash cow of this year's free agency class that isn't named Josh Hamilton.
When the dust settles at the negotiating table, expect Greinke to have a paycheck comparable to that which Cliff Lee received from the Philadelphia Phillies.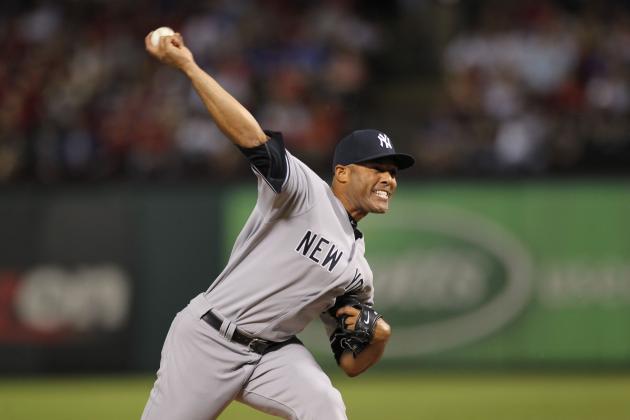 Matthew Emmons-US PRESSWIRE

Mariano Rivera may turn 43 this month, but just look at what he has accomplished during his career—also known as every reason to give the man what he wants at the negotiating table.
Rivera has posted a 2.21 career ERA, 1.00 WHIP and an MLB-best 608 career saves.
That said, pay the man whatever he wants!