NFL Power Rankings: Latest Notes on Every Team Entering Week 11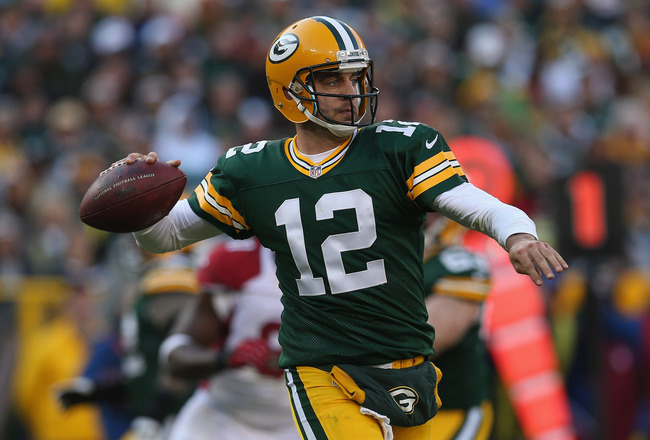 Aaron Rodgers and the Packers had a great week... by doing nothing.
Jonathan Daniel/Getty Images
Week 10 was cruel to many of the league's top contenders, and the results have brought about some major developments evident in the Week 11 NFL Power Rankings.
The NFC division leaders went a collective 0-3-1 this past weekend. New England narrowly defeated Buffalo and the Steelers eked past Kansas City.
Meanwhile, many of the NFC squads with "must wins" did exactly that. Dallas, Minnesota, Tampa Bay, New Orleans and Seattle all bettered their postseason chances.
And who is the worst team in the NFL? The debate might be even more uncertain than the one for the top spot.
Here's how I see every team entering Week 11.
32. Kansas City Chiefs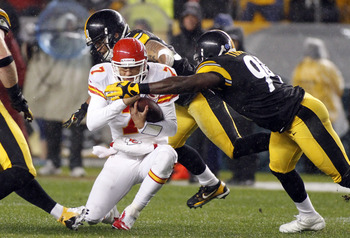 Justin K. Aller/Getty Images
Record: 1-7
Glenn Dorsey has been placed on injured reserve, and there does not appear to be a single thing going right in Kansas City.
For a while it looked like Kansas City would pull off the shocker of the year by beating Pittsburgh, but the end was all too familiar. Matt Cassel blew the game.
31. Jacksonville Jaguars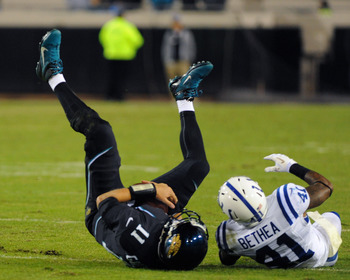 Al Messerschmidt/Getty Images
Record: 1-8
The Jags were hammered on Thursday night by an Indianapolis team that really didn't bring its A-game.
They should improve if/when Maurice Jones-Drew returns, and the second-half schedule isn't exactly daunting. Still, don't expect the Jags to stumble to more than three wins.
30. Carolina Panthers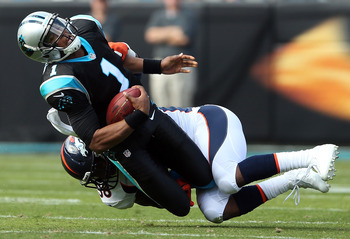 Streeter Lecka/Getty Images
Record: 2-7
The Panthers do not have the glaring weaknesses of many of the other bottom dwellers, but they continue to look outmatched nonetheless. Some of this might have to do with their strong schedule—six of the Panthers' nine opponents are currently over .500.
Luke Kuechly shows every indication of a future superstar, but until Carolina's running backs can help out Cam Newton, the Panthers have a long way to go before they can become consistent winners.
29. Cleveland Browns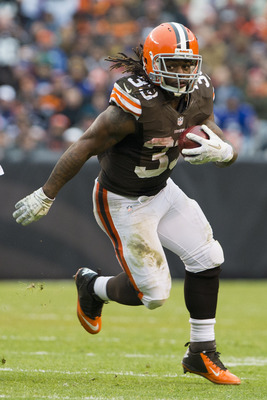 Jason Miller/Getty Images
Record: 2-7
Inactivity has been kind to the Cleveland Browns. Jacksonville, Carolina, the New York Jets, Oakland and Buffalo all had poor Week 10 showings.
Trent Richardson's consecutive 100-yard games give more credence to the thought that Cleveland will be outside of the bottom-five by season's end.
28. New York Jets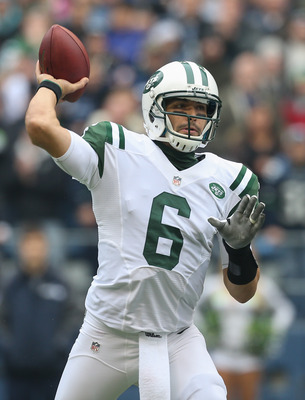 Otto Greule Jr/Getty Images
Record: 3-6
New York's Week 8 loss to Miami was the only one to come against an opponent that currently has a losing record. Still, there are no excuses for how poorly Rex Ryan's bunch has played for much of the 2012 season.
The Jets simply cannot do anything on offense (They've posted 10 or fewer points in five games) and they are unable to get their opponents off the field (No. 29 against the run). That is a recipe for disaster… and the Jets have become experts at cooking it.
27. Oakland Raiders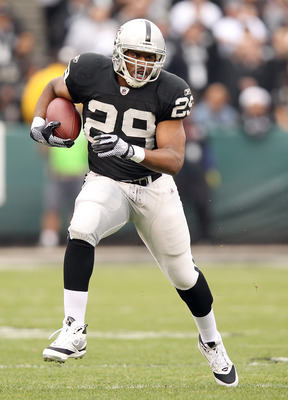 Ezra Shaw/Getty Images
Record: 3-6
The 2012 season has been particularly bad because of two recent Oakland departures: 2011 head coach, Hue Jackson, and second-string back Michael Bush.
They had two more wins at this point last year and averaged 79 more rushing yards per game through their first nine.
26. Buffalo Bills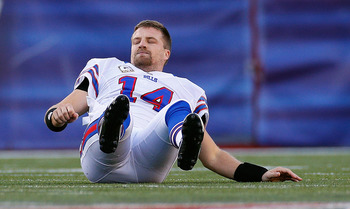 Jim Rogash/Getty Images
Record: 3-6
So close, but so predictable.
Buffalo fell to Tom Brady in New England once again in a game that was capped-off in typical Bills fashion—Ryan Fitzpatrick tossed a red zone pick.
The Bills can get it done on the ground. Until their defense can stop anyone, though, Buffalo still has a long way to go before any talk of winning the AFC East is realistic.
25. Arizona Cardinals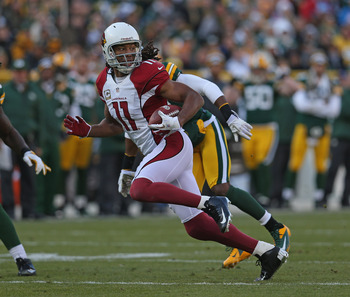 Jonathan Daniel/Getty Images
Record: 4-5
Could Arizona's Week 10 bye have gone any worse? Seattle, Minnesota, New Orleans, Tampa Bay and Dallas all won. St. Louis and San Francisco tied.
The NFC West teams, as well as the fringe playoff contenders, seem to be up for late-season pushes. I haven't lost faith in the Cardinals just yet, but they need to return to early-season form immediately.
24. Philadelphia Eagles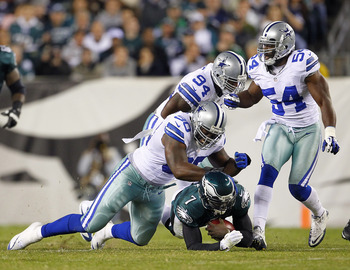 Rich Schultz/Getty Images
Record: 3-6
Andy Reid and Michael Vick will be the focus of criticism, although equally significant problems lay, once again, with the defense.
Philadelphia has been trampled on the ground by teams that do not trample too often. Detroit, Atlanta, New Orleans and Dallas have averaged 131.25 yards against the Eagles.
23. Washington Redskins
Rob Carr/Getty Images
Record: 3-6
Washington has lost four of its last five games. With the slide, Andrew Luck is the clear favorite for Rookie of the Year.
Robert Griffin III hasn't been bad, but you have to think he'd have an easier time if his defense allowed less than 300 yards through the air per game.
22. Miami Dolphins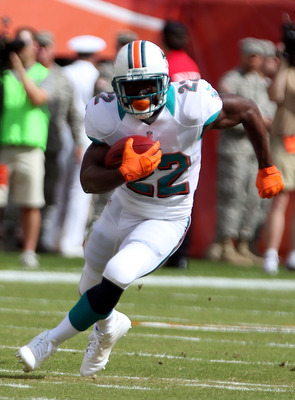 Marc Serota/Getty Images
Record: 4-5
Two weeks ago, the Dolphins looked like they could possibly grab the final AFC playoff spot.
They lost to the Colts in Indianapolis by a field goal in Week 9. Fine.
They lost to the Titans in Miami by 34 in Week 10. Not fine.
21. St. Louis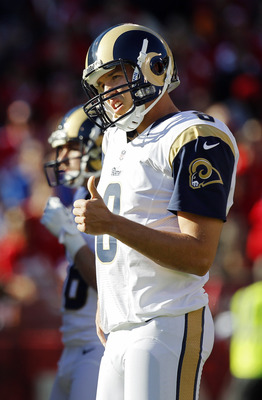 Brian Bahr/Getty Images
Record: 3-5-1
On one hand, the Rams held a lead against the division-leading 49ers and very nearly won. On the other, it was against an Alex-Smith-less version and St. Louis totally blew it down the stretch (delay of game before a would-be game-winning field goal).
Danny Amendola and Sam Bradford clearly have outstanding chemistry. He caught 11 of his 12 targets on Sunday against San Francisco. Maybe his return will be enough to get the Rams their first win since Week 5.
20. Tennessee Titans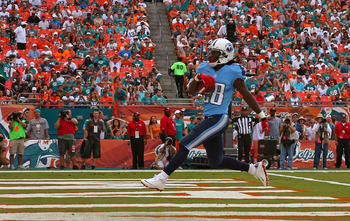 Mike Ehrmann/Getty Images
Record: 4-6
When Chris Johnson is gaining consistent yardage, the Titans can be tough to beat.
Unfortunately, it seems as though whenever Johnson is playing well, his defense is playing worse. Tennessee has surrendered less than 30 points only three times in 2012.
Titans fans will feel good after smoking the Dolphins, but let's not forget their humiliating beat down at the hands of the Bears.
19. San Diego
J. Meric/Getty Images
Record: 4-5
Philip Rivers is simply not the same quarterback that he was in 2010. Even against a secondary as terrible as that of Tampa Bay, he was still unable to string together four good quarters of football.
His red-zone pick-six in the final period was an absolute killer.
Rivers is No. 24 in the NFL in total QBR (48.8).
18. Detroit Lions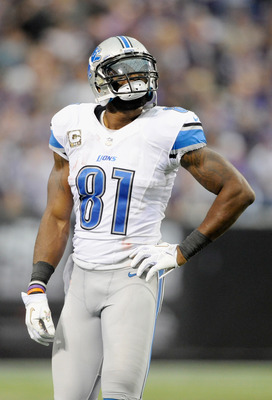 Hannah Foslien/Getty Images
Record: 4-5
The Lions needed a big win against Minnesota. They didn't get it.
Detroit might be better than its record indicates. Until the Lions can contend in the difficult NFC North, though, it will not matter.
The Lions are 4-2 out of the division but 0-3 in it.
17. Dallas Cowboys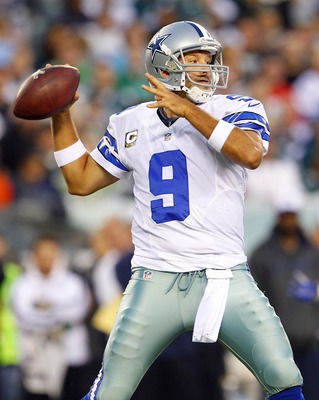 Rich Schultz/Getty Images
Record: 4-5
Anyone who blasts Tony Romo for the disappointing first half is over-simplifying the Cowboys' issues. However, when Romo does play at his best, Dallas can beat almost anyone.
To the outside eye, the Cowboys too often appear as though they are uninterested in winning. That's obviously not the case, but if Dallas does need some extra motivation, perhaps it can win for DeMarcus Ware.
Ware, who I believe is the league's best defensive player, will never get his Defensive Player of the Year award on an underachieving team. Sunday against Philly was the first game in which he failed to record a sack since September 16.
16. Cincinnati Bengals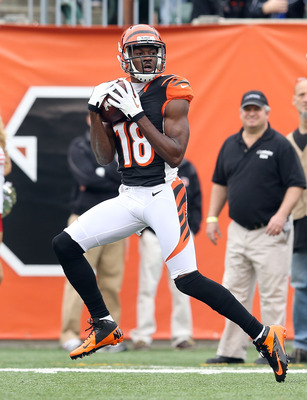 Andy Lyons/Getty Images
Record: 4-5
Cincinnati didn't exactly remedy all of its problems in the blowout win over the Giants, but at least the secondary looked better. The Bengals allowed just 189 passing yards and intercepted Eli Manning twice.
BenJarvus Green-Ellis continues to be one of the worst starting backs in the NFL. He's averaged just 3.4 yards per carry.
15. New Orleans Saints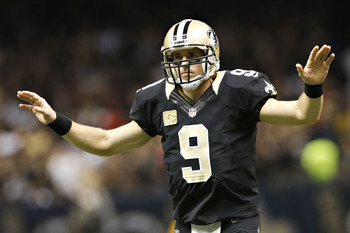 Wesley Hitt/Getty Images
Record: 4-5
The Saints finally got a signature win in the 2012 season.
Did Joe Vitt return in time for New Orleans to make the playoffs? At least his team looks as though they think so.
Shockingly, Drew Brees is on pace to throw for less than 5,000 yards.
14. Tampa Bay Buccaneers
Al Messerschmidt/Getty Images
Record: 5-4
The mark of a good coach is the ability to make adjustments with time. Greg Schiano deserves praise for what he has done with the Buccaneers. Tampa Bay is 4-1 since its bye.
Doug Martin plus Vincent Jackson equals instant offense.
13. Indianapolis Colts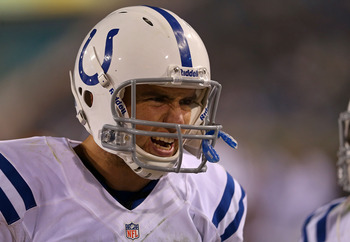 Mike Ehrmann/Getty Images
Record: 6-3
The Indianapolis Colts have some issues (No. 15 rushing offense, No. 21 rushing defense). However, these are really only deficiencies for a playoff contender.
Simply put: Andrew Luck has been absolutely sensational. The Colts are in complete control of their destiny and well on their way to a postseason birth.
12. New York Giants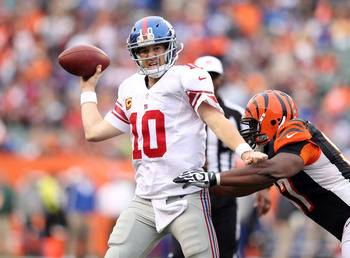 Andy Lyons/Getty Images
Record: 6-4
Clearly, the middle of the season is irrelevant. I believe in the Giants and do not want to overreact to recent struggles, but they looked terrible against Cincinnati.
The Giants have dropped two straight and the bye could not have come at a better time.
It is beginning to look like nine wins will win the NFC East. A media-frenzy might be knocking on the door (or breaking it down), but the Giants are still in a good position to make the playoffs.
11. Minnesota Vikings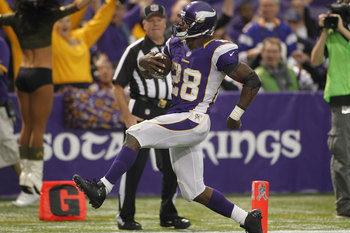 Andy King/Getty Images
Record: 6-4
Adrian Peterson is the best running back in the NFL. Teams need to avoid being one-dimensional, but when you have someone as talented as Peterson, I'm not so sure variety matters.
Even if Peterson is struggling to gain yardage, it seems almost inevitable that he will break one for a huge gain eventually. He ripped-off a total of 80 yards on consecutive carries this past weekend.
Give him the ball—there's a reason he's nicknamed All Day.
10. Seattle Seahawks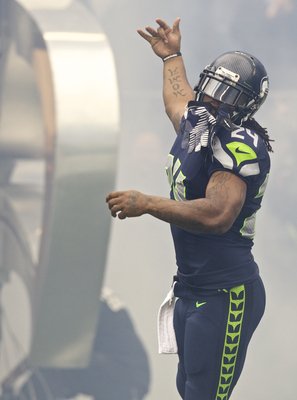 Stephen Brashear/Getty Images
Record: 6-4
Even before they beat Minnesota, I liked to think of the Seahawks as a better version of the Vikings—and that's primarily because of their defense.
Only Green Bay and Arizona have recorded more sacks than the Seahawks.
They are still yet to lose at home in 2012.
9. Pittsburgh Steelers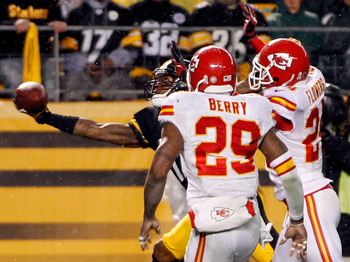 Gregory Shamus/Getty Images
Record: 5-3
The Steelers are one game behind the Ravens, but suddenly it is Pittsburgh that must deal with health issues. Ben Roethlisberger's status for next week is uncertain.
It's a real shame, because Roethlisberger has thrived under Todd Haley's tick-tack offense and the running game has come alive.
8. Baltimore Ravens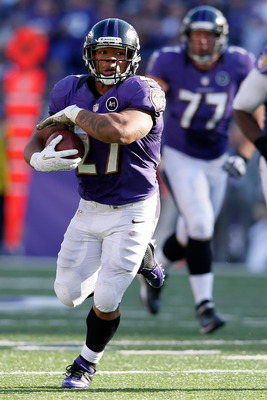 Rob Carr/Getty Images
Record: 7-2
The Ravens finally looked like a division-leader against Oakland with their 55-20 victory. Hopefully, this means Baltimore is beginning to figure out how to win with a patchwork squad.
One of the only less-than-stellar aspects from Baltimore's win was the performance of Ray Rice. Rice gained 35 yards on the ground and hasn't rushed for over 100 since Week 5.
7. New England Patriots
Jim Rogash/Getty Images
Record: 6-3
One down, seven to go. New England won all of its final eight games in 2010 and 2011. Can they do it again?
Is it possible that Tom Brady is flying under the radar? Total QBR statistics go back as early as 2008. Brady's current score of 80.1 is the highest of his career.
6. San Francisco 49ers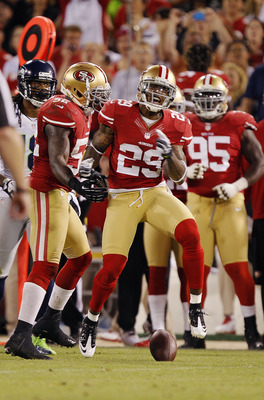 Brian Bahr/Getty Images
Record: 6-2-1
Hurray—we got the much-beloved NFL tie and all the subsequent confusion. It's hard for anyone to look good in such an anticlimactic event.
The 49ers managed to come within a missed field goal of winning a divisional game in which they lost their starting quarterback. I cannot really fault them for that.
5. Denver Broncos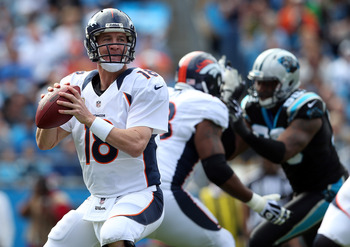 Streeter Lecka/Getty Images
Record: 6-3
Peyton Manning has been exceptional, although it is the emergence of the Denver defense that has taken them to the No. 2 spot in the AFC. Of course, playing with the lead certainly helps.
Only J.J. Watt has more sacks than Von Miller.
4. Chicago Bears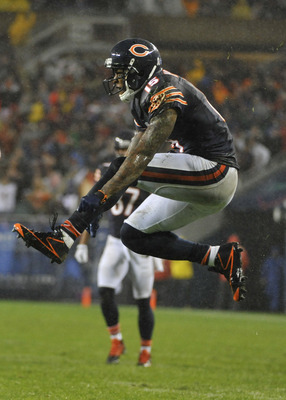 David Banks/Getty Images
Record: 7-2
I can't really be too critical of Chicago for losing a game played in grueling weather to the Houston Texans with Jay Cutler in for only half of the game. That said, the Bears are clearly not a team without weaknesses.
A successful passing game must be about more than just one wide receiver. The defense is generating a historic number of turnovers. Imagine how good this team could be if the offense didn't have 16 giveaways of their own.
3. Green Bay Packers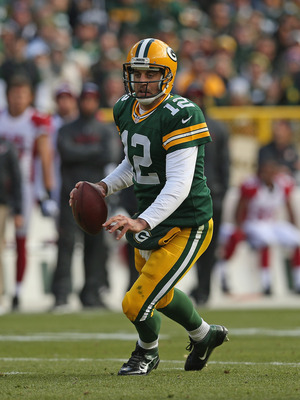 Jonathan Daniel/Getty Images
Record: 6-3
The Packers have won four straight games and only the Texans have committed fewer turnovers.
I said last week that Chicago would still hold on to win the division, granted that was before Jay Cutler went down. Assuming Cutler does return, I'm still riding the Bears.
However, Atlanta, San Francisco, New York and Chicago all had bad weeks, which means the Packers, who got to rest up during Week 10, are exactly where they need to be at this point in the season.
2. Atlanta Falcons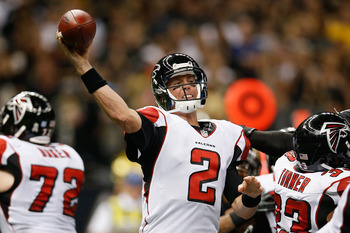 Chris Graythen/Getty Images
Record: 8-1
Well, congratulations to those who "called" that the Saints would top the Falcons. You probably have been saying it for weeks.
New Orleans has now won 11 of its last 13 games against Atlanta.
Even with the loss, Atlanta is still atop the NFC. The Falcons are good in every department and, if they can avoid two-possession deficits, should still grab the top spot.
1. Houston Texans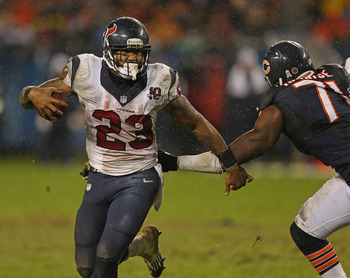 Jonathan Daniel/Getty Images
Record: 8-1
With wins over Denver, Baltimore and, now, Chicago, the Houston Texans are clearly the best team in the NFL (at least for the next six days). They should be 11-1 before ending the year with four difficult games against New England, Minnesota and Indianapolis twice.
The Bears may have the "flashiest" defense, but the Texans have the most consistently dominant group in the league.
Andre Johnson finished Sunday night with just 35 yards, but he had 279 combined yards in the previous three. If he can play his best, this offense will be as imposing as the defense.
Keep Reading