The Portland Trail Blazers have the makings of what most NBA teams covet: a franchise point guard and an All-Star big man.
Despite its talented duo, though, Portland has won just two of its first six games, leaving them ahead of only the Sacramento Kings in the Western Conference.
There's plenty of blame to go around for their early struggles.
Wesley Matthews (15.8 points on 42.7 percent shooting) and J.J. Hickson (10.2 points on 44.4 percent shooting) have continued to display the inconsistencies that have marred both of their young careers.
The front office has failed to assemble even an average NBA bench, as evidenced by the 37.7-plus minutes logged by Lillard, Aldridge, Matthews and Nicolas Batum.
But those problems will require lengthy fixes.
There is one problem that could be holding this team back from a playoff berth and would need an immediate, fairly easy solution.
Aldridge needs to redefine himself as, at least, an inside-outside threat, or, at best, a dominant post presence.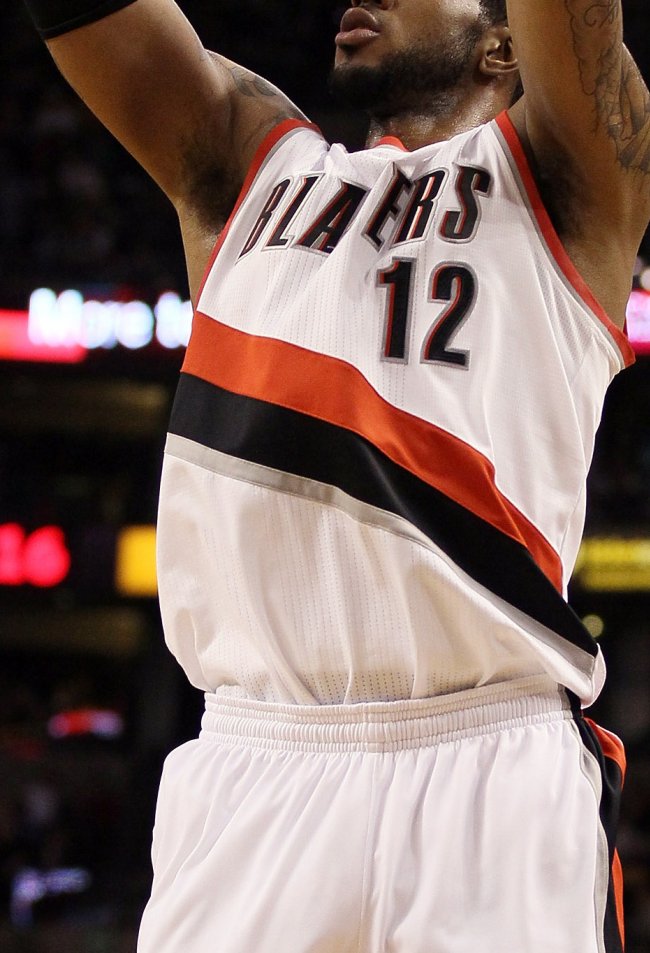 Elsa/Getty Images
Like too many rising stars at the forward position, Aldridge has embraced the
midrange
jumper to a fault. Simply put, he's eschewed his post position for an average
midrange
jumper.
As ESPN Insider John Schumann noted following Saturday's 109-112 home loss to the San Antonio Spurs, Aldridge attempted 22 of his 26 field goals from outside of the paint.
And that was anything but an anomaly.
In fact, according to nba.com/statscube, he has attempted just 27 shots in the restricted area, 10 shots in the non-restricted area paint and a whopping 92 midrange jumpers.
Granted, he's handled this questionable shot-taking well enough to lead the Trail Blazers in scoring at 21.8 points per game. But his 43.6 field-goal percentage is a far cry from what teams would hope for in their prime post option.
Not only could an occasional visit to the post provide an increase in his effectiveness, but it could also create more spacing for Rookie of the Year award front-runner Lillard to do what he does best.
Lillard's scoring has been as good as advertised (18.8), but his court vision (7.0 assists) and decision-making (3.17 turnovers in 37.8 minutes) have suggested he's a much better point guard than most scouts gave him credit for.
With Aldridge in the post, Lillard could find more passing lanes to find Portland's shooters and more driving lanes to find his own way to the hoop.
Throw in the fact that Lillard is a capable outside threat (36.1 percent) himself and that assistance becomes two-fold. Aldridge's postgame opens up the floor for Lillard, while Lillard's shooting touch opens up space for Aldridge to work in the paint.
The Western Conference appears headed for another heated playoff race with at least 12 teams holding a somewhat realistic shot at a postseason berth.
Portland's stumbles out of the gate have the Blazers already trailing the back and their lack of depth means that first-year coach Terry Stotts needs to maximize the effectiveness of his starting unit to keep his team alive.