Big 12 Football: Ranking the Conference Head Coaches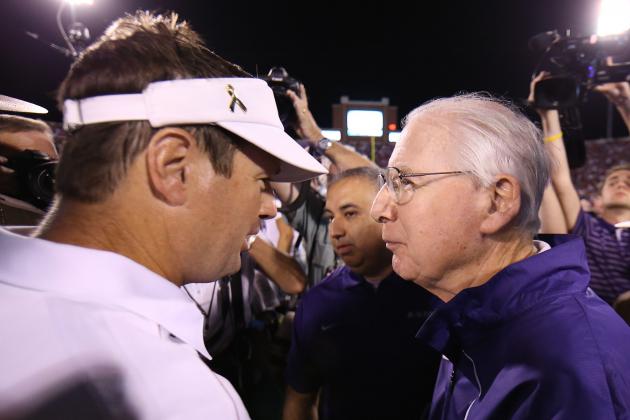 Matthew Emmons-US PRESSWIRE

The Big 12 conference has some of the best football coaches in the nation, and ranking them is no easy task.
Combined, the coaches of the Big 12 have multiple national titles, conference titles and years upon years of experience. Some have been at their current schools for over a decade, while others are in their first season.
From the established stalwarts like Bob Stoops and Mack Brown, to the newer upstarts like Dana Holgorsen, Paul Rhoads and Mike Gundy, I'll rank the Big 12 coaches from worst to first.
Career accomplishments will be used to rank the coaches. However, the current status of each coach and his team will also factor into the equation.
Begin Slideshow

»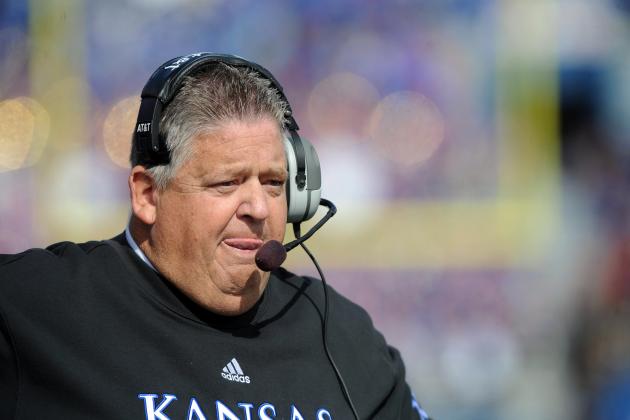 John Rieger-US PRESSWIRE

Career Record: 36-36
Bowl Record: 1-2
Conference Titles: 0
National Titles: 0
I might be being a little harsh on Charlie Weis, but he has not done enough to rank any higher right now. He had some good years at Notre Dame (his first two), but they were largely with the players recruited by the former coach. His last three years were mediocre, even with the Irish's poor schedule.
However, his Kansas team does look much better than it did. Weis has not been able to make much of a dent in the win column yet, but he has made this team look like it knows what it's doing. If he can keep developing his players, Weis will likely be winning bowl games soon.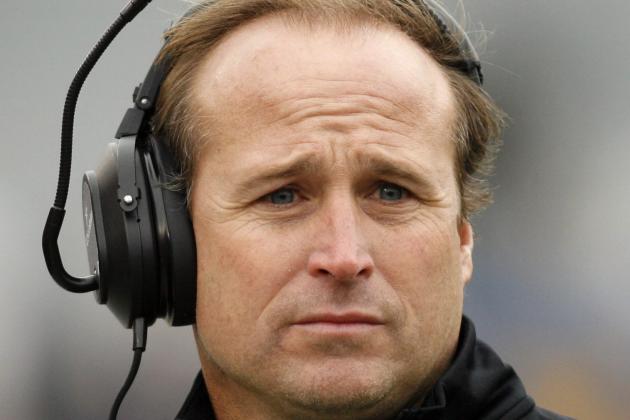 Charles LeClaire-US PRESSWIRE

Career Record: 15-7
Bowl Record: 1-0
Conference Titles: 1 (Big East-2011)
National Titles: 0
Dana Holgorsen is best known for his high-octane passing attack that he installed at Oklahoma State as Mike Gundy's offensive coordinator and now at West Virginia as the head coach. Holgorsen has the least head coaching experience of anyone on this list, but he could easily be among the top five in just a few years.
Despite his recent losses, Holgorsen did win a BCS Bowl game last season, and he clearly knows how to recruit talent. If he can get a better defense going in Morgantown, there is no end to what the Mountaineers could do under his leadership.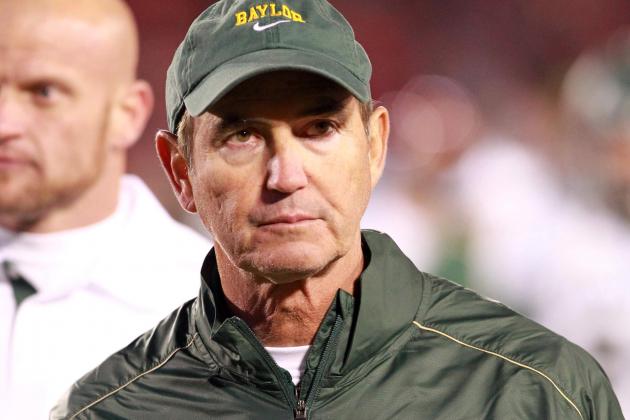 Reese Strickland-US PRESSWIRE

Career Record: 63-58
Bowl Record: 1-4
Conference Titles: 1 (C-USA-2006)
National Titles: 0
An extremely successful high school coach, Art Briles has also proven his worth as a college coach at the Division I level. It was Briles who built the foundation for what Houston football has become in recent seasons, and now Briles has also turned Baylor into a contender for the first time in a very long time.
Briles also holds the distinction of being one of just two coaches on this list to coach a Heisman Winner (the other being Bob Stoops who coached Sam Bradford). Robert Griffin III will remain one of the best players this conference has ever seen, and he would not have been if Briles had not developed him.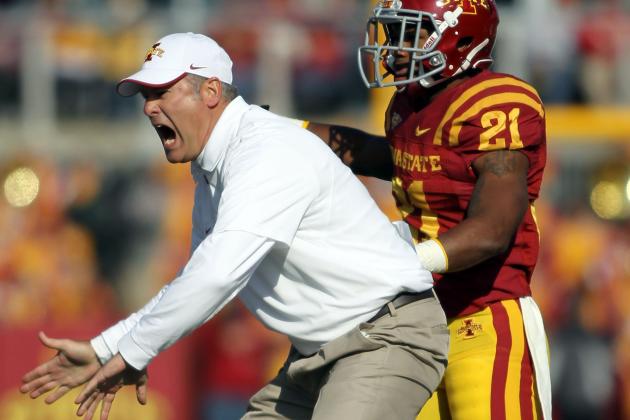 Matt Ryerson-US PRESSWIRE

Career Record: 23-25
Bowl Record: 1-1
Conference Titles: 0
National Titles: 0
Of all the coaches on this list, Paul Rhoads has the smallest head coaching sample size other than that of Dana Holgorsen. The 45-year-old head coach has made the Iowa State Cyclones matter, especially in the state of Iowa, as the Cyclones are currently on par with their rival Hawkeyes for the first time in awhile.
His team upset No. 2-ranked Oklahoma State last season, one of the biggest games in school history. His defensive mentality has taken hold in Ames, and Iowa State is no longer a cupcake on other teams' schedules thanks to Rhoads.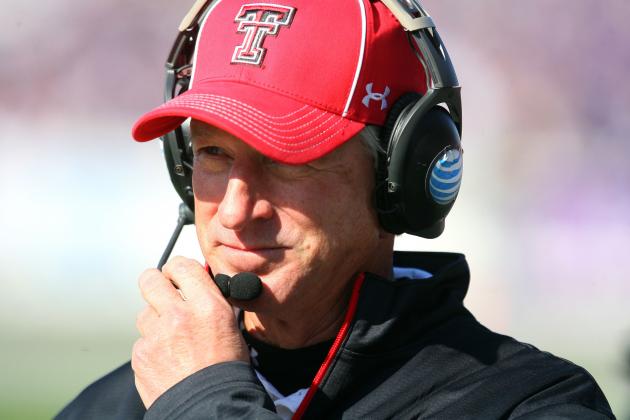 Scott Sewell-US PRESSWIRE

Career Record: 130-75
Bowl Record: 7-3
Conference Titles: 1 (SEC-2004)
National Titles: 0
Tommy Tuberville is currently leading the Red Raiders back to prominence down in Lubbock, but he had already proven himself in his other stops as a head coach (Ole Miss and Auburn). In his 16 full seasons of being a head coach, Tuberville's teams have made a bowl game 10 times and his bowl-winning percentage of 70 percent is also impressive.
Although he has no national titles, many think he should have had a shot at one back in 2004, when his Auburn Tigers team went 13-0 and won the SEC. Tuberville is still fairly new to the Big 12, but he is beginning to make his mark there as well.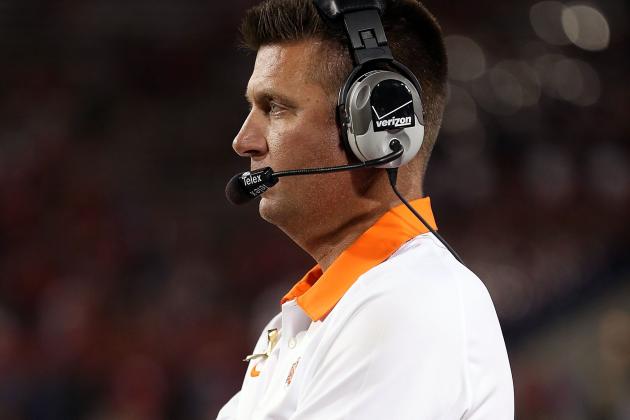 Christian Petersen/Getty Images

Career Record: 65-33
Bowl Record: 4-2
Conference Titles: 1 (2011)
National Titles: 0
Mike Gundy is finally making the transition from a young upstart head coach to becoming one of the consistently best Big 12 coaches. Of all the recent efforts to build an elite program, Gundy's effort might be the most impressive.
After going 4-7 in his first season in 2005, Gundy's Cowboys have never had another losing season. Oklahoma State has had a winning conference record in every season since Gundy's first two. His record of 47-14 over the past five seasons is particularly impressive, especially when one considers the other great coaches on this list he has had to face each year.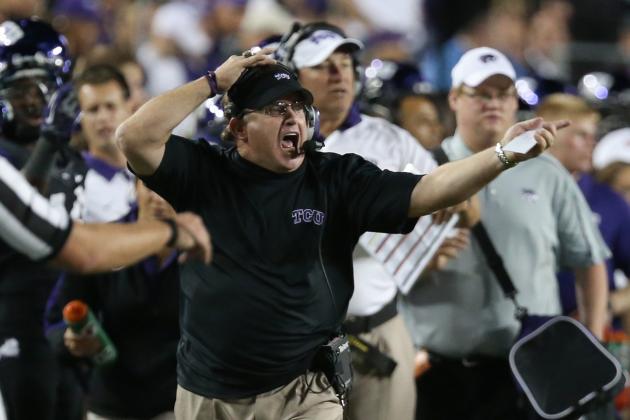 Jim Cowsert-US PRESSWIRE

Career Record: 115-34
Bowl Record: 7-4
Conference Titles: 5 (C-USA-2002, MWC-2005, 2009-11)
National Titles: 0
Gary Patterson is new to the Big 12, but no one can deny the level of consistency and winning tradition he has brought to the TCU program. His teams have won 10 games in one season eight times, and, in his 11 seasons as TCU's head coach, the Horned Frogs have failed to make a bowl game just once.
Granted, Patterson did all this in the Mountain West and Conference USA leagues, but it is impressive nonetheless, especially considering the teams he beat in big bowl games. His wins over Boise State and Wisconsin proved how good his teams were. If he can continue to be successful in the Big 12, he may shoot up this list at some point.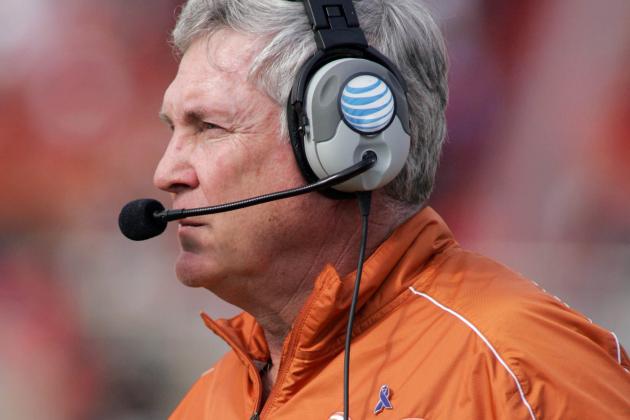 Michael C. Johnson-US PRESSWIRE

Career Record: 145-39
Bowl Record: 12-7
Conference Titles: 2 (2005, 2009)
National Titles: 1 (2005)
His star may have faded in recent years, but there is no questioning the fact that Mack Brown has had a great career as a head coach. He is one of just two coaches (the other being Bob Stoops) who has won a national title in the Big 12.
Brown also had great success at North Carolina, where he was head coach for a decade before coming to Texas. In North Carolina, he made the Tar Heels into winners again, with three 10-win seasons. His Texas teams have been consistently ranked in the Top 10, although his inability to consistently win the conference has him lower on this list than one would have hoped for.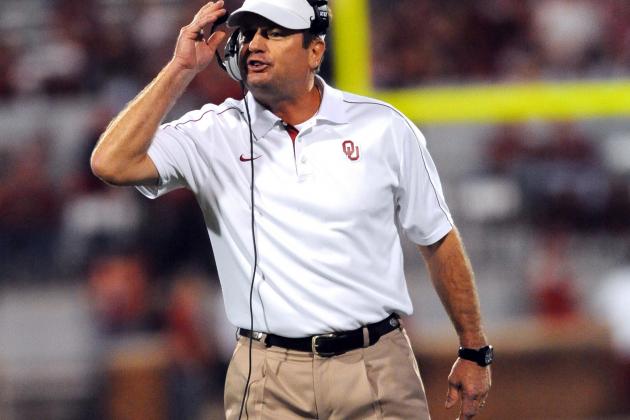 Denny Medley-US PRESSWIRE

Career Record: 146-36
Bowl Record: 7-6
Conference Titles: 7 (2000, 2002, 2004, 2006-08, 2010)
National Titles: 1 (2000)
There is an extremely legitimate case to be made for Bob Stoops being No. 1 on this list. For over a decade now, Stoops' Sooners have been the model of a Top 10 program. They have dominated the Big 12, winning almost half of the conference championships since the inception of the league.
His team has also appeared in four national championships, winning one, and has been among the most consistent programs in the nation. Stoops probably deserves 1B on this list, but for now No. 2 will have to do.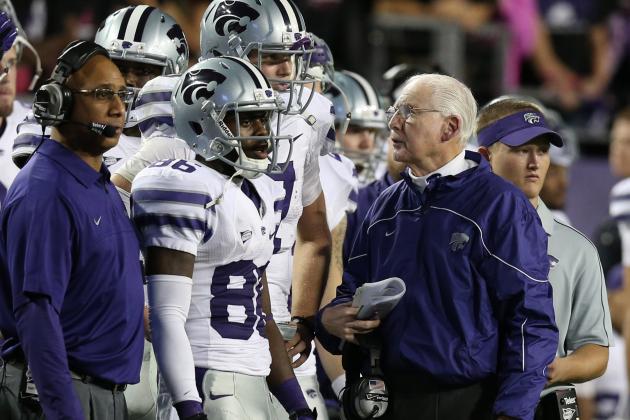 Matthew Emmons-US PRESSWIRE

Career Record: 169-83-1
Bowl Record: 6-7
Conference Titles: 1 (2003)
National Titles: 0
It all ends here, both for the 2012 season and career-wise. Bill Snyder is the No. 1 coach on this list because of the incredible coaching job he has done during his two tenures as Kansas State's head coach.
A Sports Illustrated article published the year before Snyder arrived in Manhattan correctly called the Wildcats "America's Most Hapless Team." Ten years later in 1998, the Wildcats posted their first 11-0 season. Snyder does more with and develops players better than any coach in the country, which is why he deserves the top spot on this list.