6 Improvements the Titans Must Make During the Bye Week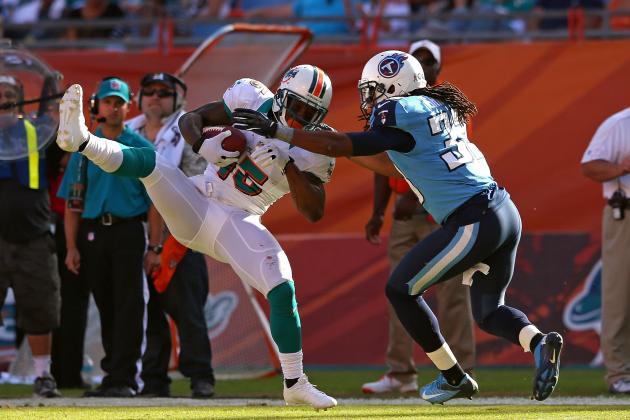 Mike Ehrmann/Getty Images

The Tennessee Titans had an awesome performance against the Miami Dolphins on Sunday, beating them 37-3. It's easy to forget, after a game like that, that the Titans still have a lot of kinks to work out.
Keep in mind that the week before, they lost 51-20 to the Bears. They also gave up five turnovers in that game.
Now since that game, there's been a change at quarterback, and now, I hope there is no more question that Jake Locker is the quarterback for the Titans.
Even with optimism and a much easier schedule going forward, there are a lot of things that the Titans need to improve. Here are the top six.
Begin Slideshow

»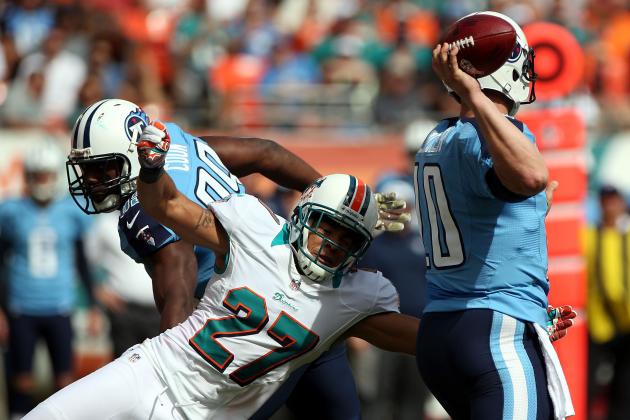 Marc Serota/Getty Images

Accuracy is something that has been a persistent weakness of Locker's game. He struggled in college, only getting over 60 percent in one year, and in 2011, he completed just over half his passes.
He started this season out very well in the accuracy department, but faltered again last week against the Dolphins, completing only nine of 21 passes.
That is not to say that he did poorly. Two of those nine completions were touchdowns, and he didn't turn the ball over (of course, it didn't hurt that he also rushed four times for 36 yards, three of them for first downs).
Despite the great overall performance, there is still room for improvement, although not all of it is on Locker...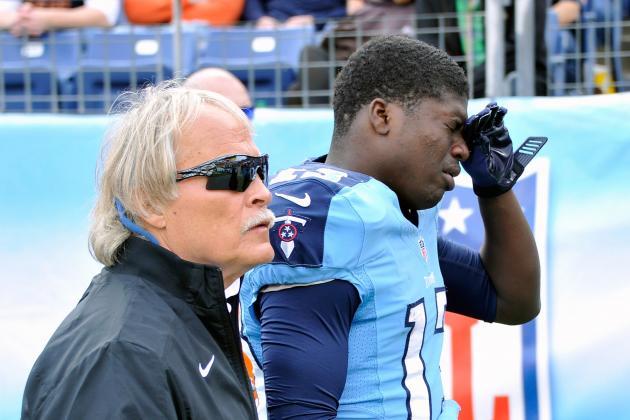 Frederick Breedon/Getty Images

One reason Locker wasn't completing a higher number of passes was that the receivers weren't catching them.
A particularly notable non-catch occurred when the ball landed in Kenny Britt's hands, whereupon he juggled it back into the air, unable to catch it. As it came back down, Kendall Wright cradled it, but lost control as he went to the ground.
It wasn't a difficult catch, but neither receiver made it.
Wright had a good performance overall, and it was great that he managed to get to the ball after Britt couldn't make the catch, but they are receivers. They need to be able to catch balls.
Jared Cook had at least one notable drop as well, but Britt was the worst offender, only pulling in two of his six targets.
Strangely enough, Damian Williams, usually the picture of inconsistency, caught both passes thrown his way, including one very difficult catch nearly out of bounds.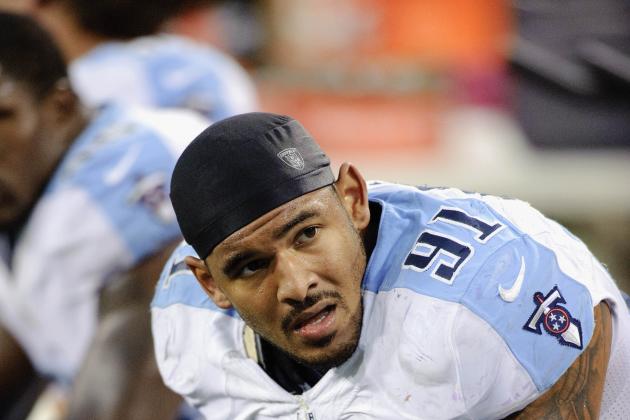 Hannah Foslien/Getty Images

It's hard to fault the Titans defensive line too much for their lack of production against the Dolphins. Miami has a first-overall pick at left tackle in Jake Long, a first-round center in Mike Pouncey and a second-rounder at right tackle, Jonathan Martin.
That's a pretty good line. However, non-production in the sack department has been the norm for the Titans over the last two years. Simply put, that has to change if they want to be playoff contenders.
One problem is that Derrick Morgan and Kamerion Wimbley are all the Titans have at end. The depth at the position is terrible, and neither Morgan nor Wimbley are premier pass-rushers.
However, another problem is the lack of blitzes. The Titans have three very talented linebackers that are all capable of making big plays.
Akeem Ayers was projected as a rush linebacker before the Titans drafted him. He is capable of sacking the quarterback, but he has to be given a chance. Zach Brown is as fast as they come, and would benefit from being used as an occasional blitzer.
If Jerry Gray would simply call more blitzes, the Titans would probably have five or six more sacks right now.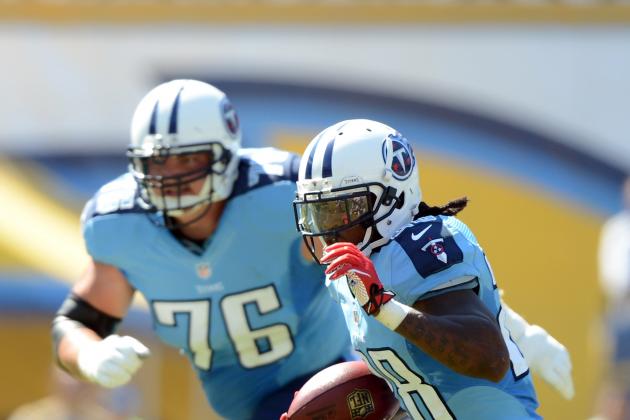 Harry How/Getty Images

This isn't really something that needs to improve so much as something that needs to keep being done well. Blocking against Miami was fantastic, as evidenced by the fact that Chris Johnson had 126 rushing yards.
Before that, the Dolphins had the No. 3 rush defense in the NFL. Now they've dropped to No. 6.
Furthermore, the Titans surrendered only one sack in the entire game. Cameron Wake was kept out of the backfield entirely, when he had averaged over a sack per game before Miami's game against the Titans.
Whatever happened lately to make the offensive-line play that much better, it needs to keep up. They've been steadily improving in the last few weeks, and if they keep it up, the Titans could actually finish with a favorable record.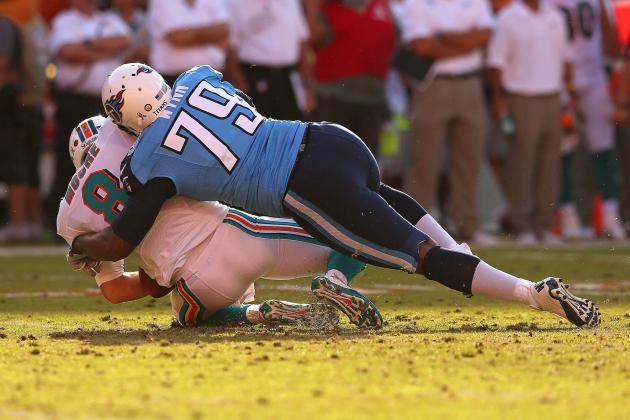 Mike Ehrmann/Getty Images

The Titans have had trouble tackling all season long. It wasn't an issue against Miami, but it had been an issue with every team before that, it seems.
Poor tackling has been a particular problem on special teams, which have been stellar all season outside of that one problem.
Tennessee's opponents get better field position when tackling is poor, and every successful play goes just a yard or two further when the first tackler misses or fails to bring the ball-carrier to the ground.
Those extra yards add up quickly, and they're often the difference between three-and-out and a fresh set of downs.
Hopefully, the rest of the season will look more like the Miami game.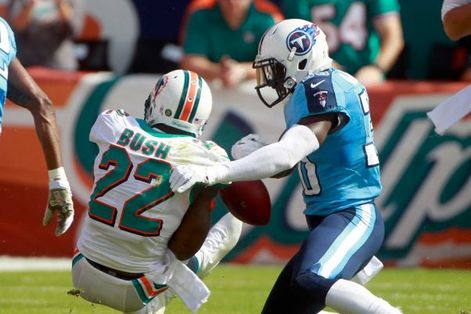 This is something that the Titans did very well yesterday. They had three interceptions, one of which turned into a touchdown while another became a field goal. They also got a touchdown off of Reggie Bush's fumble.
However, Alterraun Verner dropped what could have been an easy interception, and that is the kind of thing that has been more typical of the Titans this season. They are getting close to takeaways via fumble or interception, but aren't following through.
Just as common, when they do get takeaways, they don't capitalize on them, the way the first interception resulted in a punt.
With a defense that tends to give up the yards and points the way that Tennessee's does, it have to make the most of it when the defense comes through with a turnover. Use that momentum, and make the other team pay.
If the mistakes of the other team aren't used against it, then turnovers become meaningless.