ESPN Tip-Off Marathon: Previews, Instant Analysis and Reaction for All 24 Hours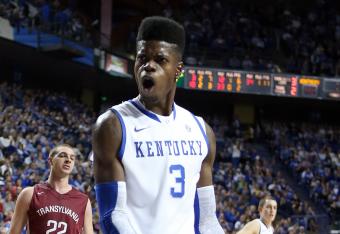 Kentucky's Nerlens Noel is pumped for the ESPN Tip-Off Marathon. Are you?
Andy Lyons/Getty Images
The ESPN Tip-Off Marathon is a night that has been highly anticipated by college basketball fans everywhere.
This event captures the nation's attention because as its name indicates, this is truly a marathon of hoops.
Starting tonight at midnight ET, ESPN will be running 24 hours (and possibly a few more) of non-stop college basketball games.
The event features teams from all over the country, and while there are some marquee matchups, there is something for everyone in each game of the night.
Here is the schedule of games that will be aired on ESPN's family of networks (via ESPN):
Midnight: West Virginia at Gonzaga
2 a.m.: Davidson at New Mexico
4 a.m.: Houston Baptist at Hawaii
6 a.m.: Stony Brook at Rider
8 a.m.: Northern Illinois at Valparaiso
10 a.m.: Harvard at Massachusetts
Noon.: Temple at Kent State
2 p.m.: Detroit at St. John's
4 p.m.: Butler at Xavier
7 p.m.: Michigan State vs. Kansas (Champions Classic, Georgia Dome, Atlanta)
30 minutes following MSU/KU: Duke vs. Kentucky (Champions Classic)
***All times are Eastern****
Analysis will begin with a preview of the first matchup, West Virginia at Gonzaga, and will continue throughout the whole marathon.
Apologies for gaps that will occur due to attending the first game, taking a stats midterm and general life activities such as eating and going outside.
Enjoy what promises to be an extremely entertaining night of college basketball!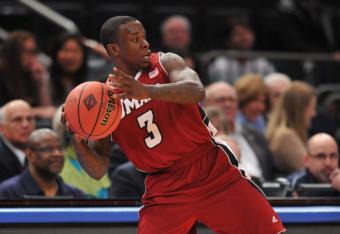 Harvard at UMass Preview:
This should be an incredibly exciting game.
UMass has the opportunity to be very special this season, and many believe that they will compete well in the A-10 this year.
Look for Chaz Williams to take control of this game.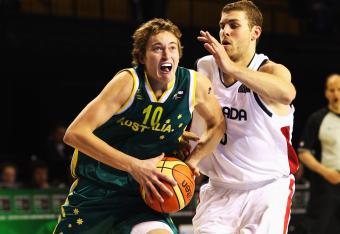 Alright! Since the last update there have been a couple final scores.
Hawaii: 73
Houston Baptist: 60
Stony Brook: 54
Rider: 46
Valparaiso: 69
N. Illinois: 46
Now let the marathon continue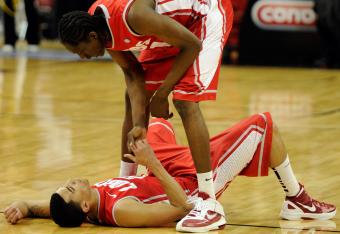 Final Score
Davidson: 81
New Mexico: 86
Despite facing massive deficit for most of the game, the Lobos rallied at home to claim victory in this tightly contested matchup.
Behind 25 points from Tony Snell, the Lobos rallied around the 10 minute mark in the second half to bring the game to a tie.
From there, New Mexico and Davidson exchanged hoops until the Lobos would eventually take control heading into the closing minutes.
The key stat here is 38, the number of free throws New Mexico made out of their 44 attempts.
Furthermore, the Lobos were able to slow down Davidson's three point shooting. Despite starting the game with 8-17 shooting from beyond the arc, the Wildcats ended up making just four of their next 13 attempts.
At the end of the day, the Lobos were able to out-muscle their oponents and got it done at the charity stripe.
One thing is for sure, both these teams will make some noise this season and are solid mid-majors to keep an eye out for.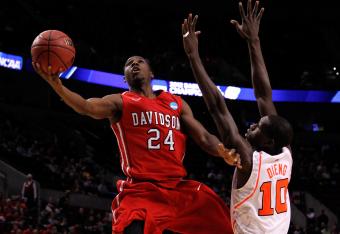 Davidson at New Mexico Halftime Analysis
Davidson: 45
New Mexico: 31
New Mexico is trailing at home to a very talented Davidson team.
Davidson is being led by De'Mon Brooks' 11 points.
New Mexico's Tony Snell has already registered 14 points with five points at the charity stripe.
Davidson's main advantage has been from beyond the arc. They have shot 8-17, which is 47 percent. This is much better than New Mexico's 1-9 shooting.
If New Mexico wants to get back in this game, they must secure the perimeter. Shut down Davidson's shooting, shut down Davidson.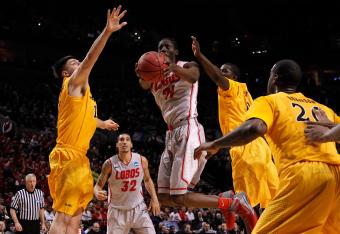 Jed Jacobsohn/Getty Images
There are only a couple of arenas in the nation that can compete with Cameron Indoor, Allen Fieldhouse and the Kennel.
One such arena is The Pit at New Mexico.
Look at this from Davidson's perspective. They will be playing a tough matchup late at night in one of the most hostile student sections in the nations.
New Mexico shooting guard Tony Snell could be set for a breakout season. Last year, the junior guard scored 10.5 points per game.
Davidson returns the majority of their team from last season. Fans remember, of course, that this Davidson team beat Kansas last season and gave Duke a fantastic run for their money.
This matchup may not jump out to the casual college basketball observer, but to the true fan, this could be one of the top matchups of the night.
More than anything, fans will get a good first look at two mid-majors that could make some noise in March.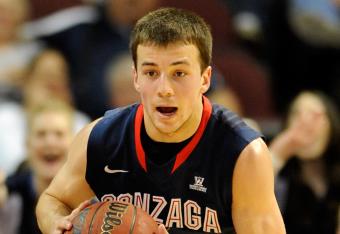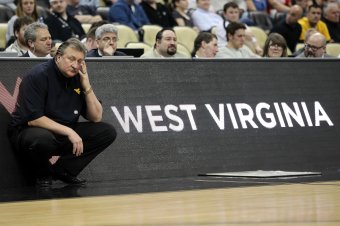 Gregory Shamus/Getty Images
Game 1 Final Score:
Gonzaga: 84
West Virginia: 50
Gonzaga rolls in the tip-off opener.
The Kennel was incredibly loud tonight, and Gonzaga proved once again that they can go toe-to-toe with the most physical teams in the nation.
The Bulldogs prevailed due to incredible depth and great play from their back court.
Kevin Pangos and Gary Bell Jr. combined for 28 points, and Gonzaga fans should be excited to see them continue to grow together this season.
West Virginia is a talented team that just needs some time to mesh.
Aaric Murray did a fantastic job tonight with 14 points, and he should be a valuable asset for the Mountaineers this season.
On to game two!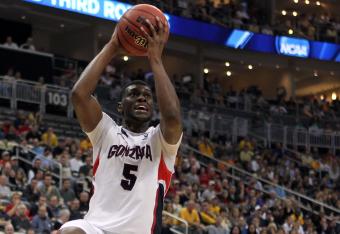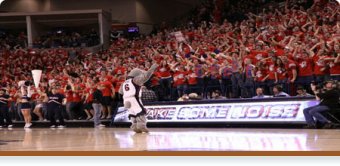 Preview of West Virginia at Gonzaga:
This promises to be an incredibly entertaining matchup to get the marathon under way!
The Mountaineers and the Zags could get to know each other pretty well in the coming years.
First-and-foremost, this is a rematch of a second-round matchup of last year's NCAA Tournament. The Zags left that meeting with a convincing 77-54 win.
Now, Bob Huggins and his team will look to get even with the Zags in the Kennel.
They have their work cut out for them, though.
The Zags only lost one starter, Robert Sacre, from the team that throttled the Mountaineers and have replaced him with 7-foot-1 Polish-import Przemek Karnowski who scored 22 points in his debut
against Southern Utah.
Beyond that, Gonzaga rarely loses on their home court. The Zags have only dropped seven games since the MAC opened in 2004, and they boast one of the rowdiest student sections in the country.
Both of these teams are also in the Old Spice Classic in Orlando later this year. If the two faceoff in Orlando, they will have played one another four times in just three years.
The Mountaineers will rely on Aaric Murray and Matt Humphrey, both transfers, to try and overcome the powerful Zags squad away from home.
With that, let the madness begin!
This article is
What is the duplicate article?
Why is this article offensive?
Where is this article plagiarized from?
Why is this article poorly edited?