Boston Celtics vs Chicago Bulls: Postgame Grades and Analysis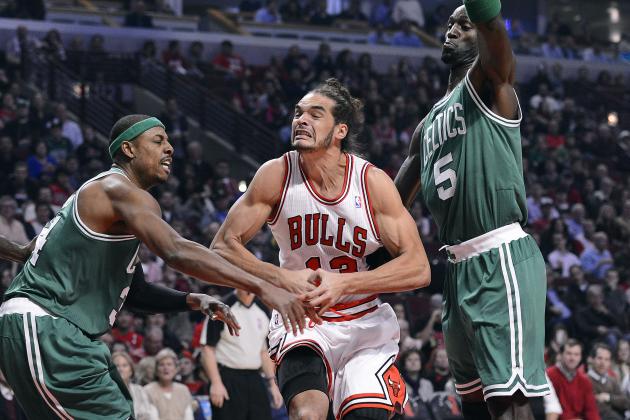 Mike DiNovo-US PRESSWIRE

Monday night's contest between the 4-2 Chicago Bulls and the 3-3 Boston Celtics was a matchup of two teams who have looked quite different in the early going this season.
The Celtics started the season looking lethargic, while the Bulls have looked surprisingly confident without their floor general, Derrick Rose.
However, Monday night provided the C's with their finest win of the season to date. It was the Celtics who would prevail by a score of 101-95, in a game that will certainly provide Doc Rivers' bunch with confidence moving forward.
The Bulls made it a game late, surging back and outscoring the Celtics 25-19 in the fourth quarter, but they couldn't hit big shots when they needed them in the closing minutes.
In a matchup of two of the league's stingiest defenses, the Celtics were able to come out on top, thanks to yet another stellar all-around performance from point guard Rajon Rondo.
Begin Slideshow

»
Rajon Rondo, PG, Boston: A

The Celtics' dynamic point guard was in the zone early, securing eight points on his first five shots. Rondo was at a clear advantage going up against Nate Robinson, and was fully aware.
Rondo was in Robinson's face throughout the game and promptly smothered him on the defensive end. Rondo finished the first half with a stat line good for an entire game,with 10 points, five rebounds and five assists.
As for the second half, Rondo refused to relent. Rondo's shots were calculated, smart and efficient, and he finished the evening with 20 points, nine rebounds, 10 assists and five steals.
Nate Robinson, PG, Chicago: C-

With Kirk Hinrich injured, Nate Robinson was thrust into the starting role.
Robinson played within himself early, scoring four points and dishing out five assists (also three turnovers), but never really had an answer for Rondo on either end of the floor.
Robinson played in Rondo's shadow all night, finishing with 11 points, seven assists and four turnovers.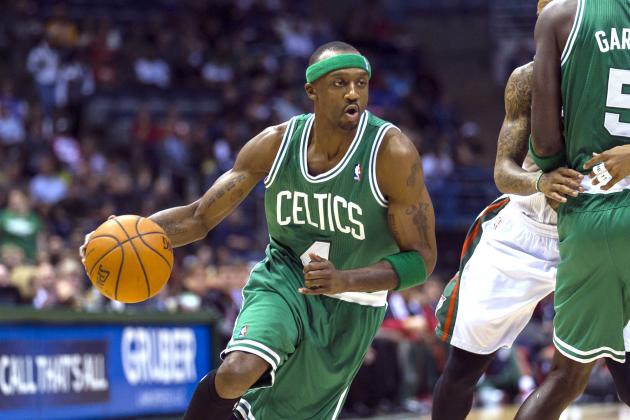 Jeff Hanisch-US PRESSWIRE

Jason Terry, SG, Boston: B-

Jason Terry was quiet for much of the game's first half, scoring five points (1-of-2 from three) in just nine minutes of action.
Terry's shot didn't look particularly crisp early on but picked it up down the stretch, knocking down some big shots just as the Celtics appeared to be going cold.
The Celtics' big offseason pickup finished with 13 points on 5-of-10 shooting.
Richard Hamilton, SG, Chicago: C-

Much like his counterpart, Richard Hamilton was held in check early on in the contest.
With the offense running largely through Carlos Boozer and Luol Deng, Hamilton's role was diminished, and there weren't many opportunities for him to score off of the pick-and-roll.
The Bulls attempted to work the ball to Hamilton into the post with a mismatch on Terry, but they could not do so effectively.
Hamilton finished with just eight points in a game where the Bulls really could have used some steady production.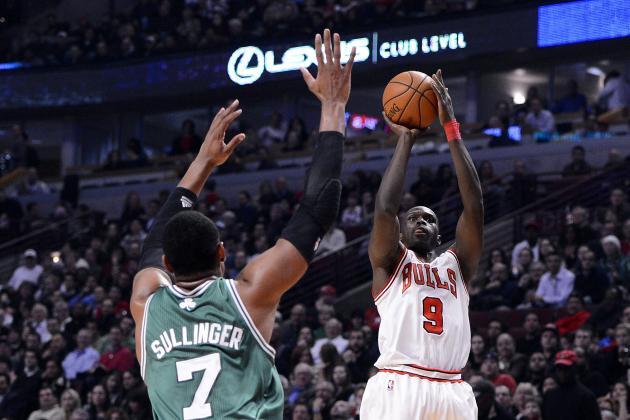 Mike DiNovo-US PRESSWIRE

Paul Pierce, SF, Boston: C
Dropping a quiet 10 points in the game's first half, Paul Pierce went largely unnoticed.
While Pierce was relatively quiet, he was efficient, converting on four of his first seven looks from the floor, while securing five rebounds and dishing out three assists.
Pierce finished with 10 points, six rebounds and five assists in a relatively poor showing for the Celtics' aged leader.
Luol Deng, SF, Chicago: A

With Derrick Rose out of the lineup, someone needed to put up shots. On Monday night, that someone was Luol Deng.
Deng hoisted up 12 first half shots en route to 11 points (5-of-12 shooting), playing all but two minutes in the game's first two quarters.
Deng would finish with a game-high 26 points (11-of-20 shooting) and 11 rebounds, leading the Bulls' surge in the second half.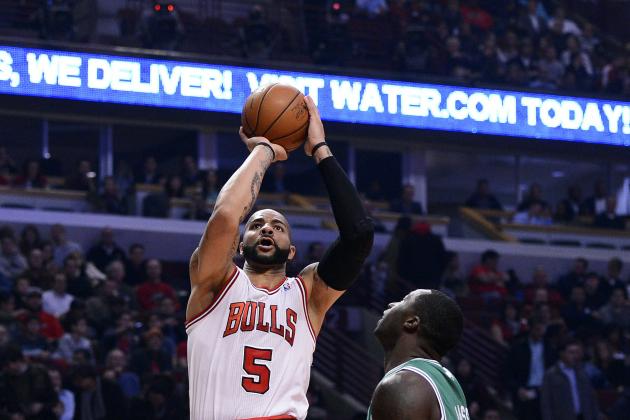 Mike DiNovo-US PRESSWIRE

Brandon Bass, PF, Boston: B

Brandon Bass was forced from the game in the first quarter with an injury to his finger, but returned early in the second quarter.
Bass provided a spark for the Celtics late in the second quarter, running the break with Rajon Rondo effectively to the tune of eight first-half points.
Worked more into the offense in the second half, Bass got some open looks in the high post and finished with 16 points and five rebounds.
Carlos Boozer, PF, Chicago: B

Carlos Boozer has struggled to get in a rhythm early on this season, but had a good thing going early on versus Boston.
Boozer had his mid-range jumper working early to the tune of 10 points (5-of-6 shooting), and kept the Bulls competitive for much of the first quarter. By halftime, Boozer had a game-high 12 points (6-of-9 shooting) to go with four rebounds.
Boozer's performance held steady in the second half, eventually finishing with 15 points (7-of-14 shooting) and four rebounds.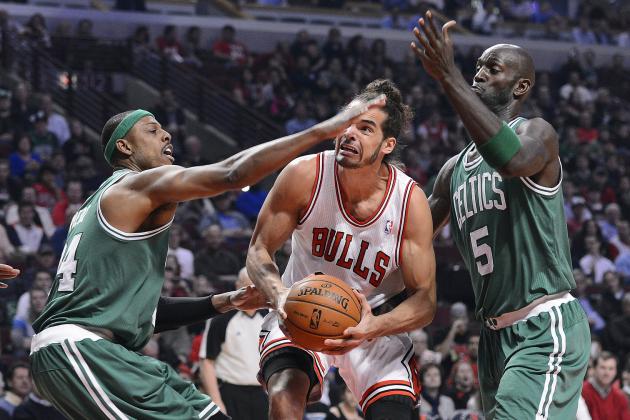 Mike DiNovo-US PRESSWIRE

Kevin Garnett, C, Boston: C

It didn't take long for the Celtics to work Kevin Garnett into the offense, as he recorded seven early points in his first five minutes of action.
Garnett was clearly energized going up against Joakim Noah, as the two battled for post position all night long. KG ended the first half with nine points, but just one rebound.
After a strong opening half, Garnett was largely contained by Noah, finishing with totals of 15 points and five rebounds.
Joakim Noah, C, Chicago: B+

Noah continues to be the linchpin of the Bulls offense and defense with Derrick Rose sidelined, scoring, rebounding and passing unlike any other center in the NBA.
Noah finished the first half with four points, four rebounds and three assists, working his hardest to beat Garnett on the glass.
With his production holding steady in the second half, Noah finished the game with 17 points, 11 rebounds and three assists.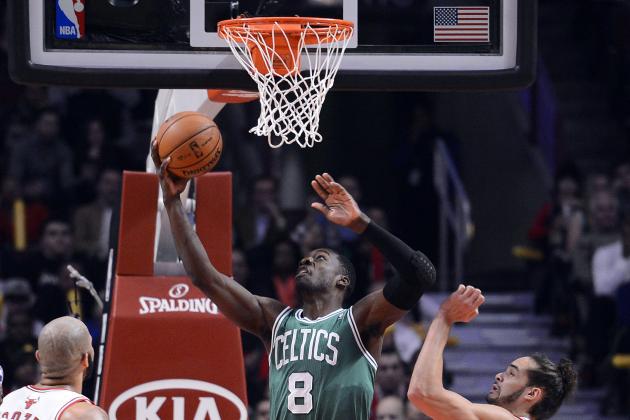 Mike DiNovo-US PRESSWIRE

Jeff Green, SG, Boston: C-

Jeff Green was steady in the early going, contributing four first-quarter points (2-of-3 shooting). However, Green continued to look a little lethargic, making the occasional lazy pass.
Green was forced to leave the game midway through the second quarter, as he rolled his ankle on Kevin Garnett's foot. Returning to action in the second half, Green was only mildly effective, taking some questionable shots in traffic.
Green finished with seven points and five rebounds in just 15 minutes of action.
Taj Gibson, PF, Chicago: D

We know Taj Gibson to be a high-energy player who comes off of the Bulls bench and wreaks havoc in opponents' frontcourts. However, we haven't seen that same spark from Gibson thus far this year.
Gibson was held in check in the first half, scoring just two points on two shot attempts. And unfortunately, Gibson's production was stymied all night. He finished with a grand total of four points.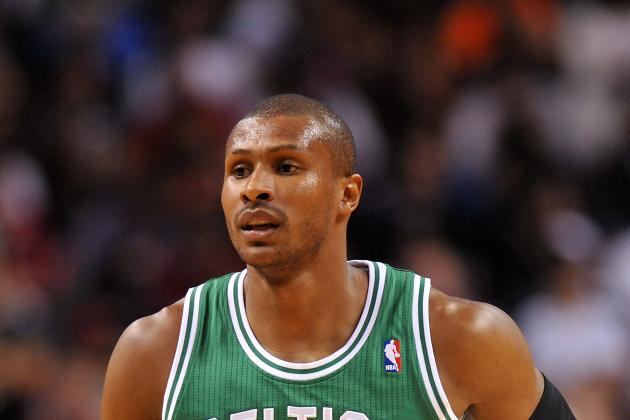 Steve Mitchell-US PRESSWIRE

Boston Bench: C-

The Celtics bench was balanced and strong throughout the game's first half. Leandro Barbosa looked particularly good, scoring six points in the game's opening stages.
Among the Celtics' other active bodies were Courtney Lee and Chris Wilcox. Lee checked in with four first half points, while Wilcox helped spell Brandon Bass.
However, Barbosa couldn't find the bottom of the cup in the second half, failing to increase his scoring output from the first half. First-round pick Jared Sullinger was neutralized all evening and scored just three points in 13 minutes.
Chicago Bench: C

Chicago's bench has not been their greatest strength this season, and it showed once again on Monday night.
Marco Belinelli was the Bulls' leading bench scorer in the first half, scoring five points (including a deep, deep three) on 2-of-4 shooting.
Jimmy Butler continues to provide some nice energy on the wing and recorded four points in the game's first 24 minutes (4-of-4 from the line). Butler would finish with just the four points, however.
Rookie Marquis Teague came in and played significant fourth-quarter minutes, totaling five points (3-of-4 from the line) on the night.