UFC 154: 5 Reasons Condit Will Beat GSP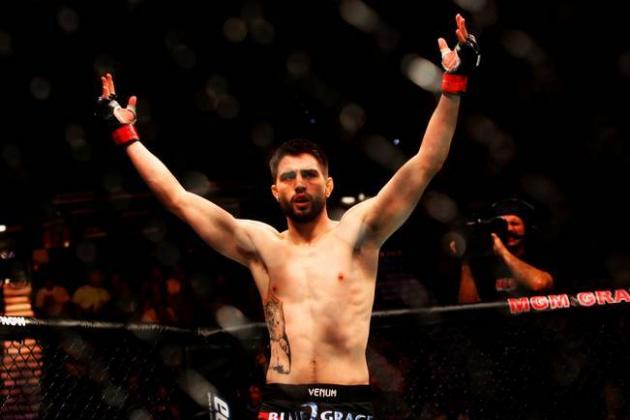 lasvegassun.com
Many people are underestimating the overall capabilities of Carlos Condit heading into his showdown with one of the greatest UFC champions of all time.
As good as Georges St-Pierre is, assuming he still has it, Condit possesses one of the most well-rounded arsenals in the sport today.
With exceptional conditioning, excellent standup and a track record that rivals the best in the business, nobody should be sleeping on the interim titleholder this Saturday at UFC 154 in Montreal, Quebec, Canada.
It's not going to be easy, but if "The Natural Born Killer" can utilize his most valued assets, he'll be able maintain his steady rise within the pound-for-pound ranks by knocking off the man known as GSP.
Begin Slideshow

»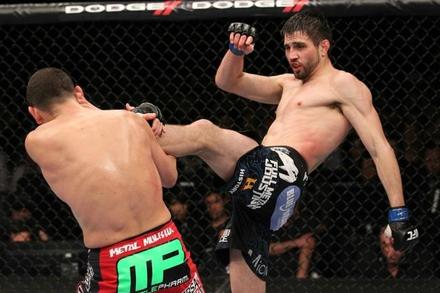 TheProvince.com
Currently one of the most productive kickboxers in the UFC welterweight division, Carlos Condit possesses an innate ability to inflict damage with his legs.
He has mastered his skill to the point of absolute domination. This was never more true than in his unanimous victory over Nick Diaz at UFC 143.
Condit was able to continuously land precise body kicks and vicious leg kicks while maintaining an advantageous reach and defensive approach.
With that said, Georges St-Pierre isn't going to fight like Diaz did. The champion is going to utilize his quickness and grappling skills to implement strategic takedowns and dangerous ground and pound.
If Condit wants to keep GSP at bay, challenging him on the feet via world-class kickboxing is going to be the key.
mmamania.com
Over the past few years, Carlos Condit has delivered elite performances inside the cage.
He has displayed the ability to successfully adapt to any environment within a fight. This includes striking, clinching, wrestling and jiu-jitsu.
Condit may not be the best in the business at each and every one of these MMA facets, but by incorporating these various disciplines into one technically complete skill set, he has become virtually unbeatable.
With that said, Georges St-Pierre has to be at the top of his game from the first second of the fight to the last. His wrestling and transitions cannot falter at any point.
That may be asking too much from a guy who has yet to explode off his surgically-repaired knee outside of training.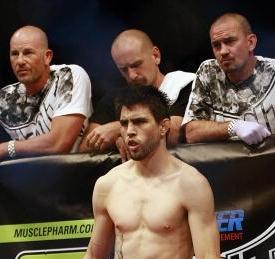 cagepotato.com
Carlos Condit is not a naturally overpowering fighter. He may possess one-punch knockout ability, but he doesn't use his muscular build to intimidate fighters.
Instead, Condit utilizes his 6'2" frame in order to pick opponents apart. Whether it's long kicks, crisp jabs or devastating hooks, the interim champ always seems to find his range early and often.
Assuming he can do the same opposite Georges St-Pierre at UFC 154 this Saturday, the Canadian could be in serious trouble in front of his home crowd.
The fact of the matter is that GSP has won many of his recent fights on the back of slick striking.
Sure, his takedowns are his bread and butter, but it's been lunging punches and great defense that has left the champion victorious over familiar contenders like Josh Koscheck and Jake Shields.
If Condit can find a comfort zone early in the first round, giving GSP little time to adapt to his rangy striking, he should be able to dictate the pace of the fight.
Of course, this still hinges on Condit's ability to defend GSP's takedowns.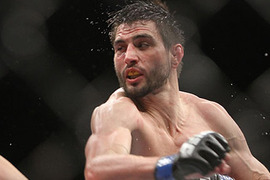 mmaweekly.com
Unlike Georges St-Pierre, Carlos Condit has finished most of his fights over the past two years.
As a matter of fact, outside of his impressive performance against Nick Diaz to win the interim UFC welterweight title, Condit has secured three TKO victories since 2010.
This includes a third-round beatdown of Georges St-Pierre's main sparring partner and MMA top prospect Rory MacDonald.
The bottom line is that Condit lives up to his nickname every time he enters the cage. From smashing Dan Hardy and Dong Hyun Kim to winning four of his five career WEC bouts via submission, "The Natural Born Killer" is a natural born finisher.
Add in a barrel-load of tenacious hunger and you have one of the most dangerous fighters in the world today. Obviously, nothing is for certain, but GSP could find himself unexpectedly overwhelmed by Condit's raw will to stop the clock.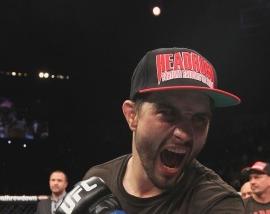 mmafrenzy.com
Momentum is often tossed around the sport of MMA without serious consideration.
It's a word that not only explains the path a fighter has blazed in the past but it indicates the one he will traverse in the future.
It's a word that is sometimes mishandled to promote cash-driven pay-per-views or stagnant title fights, but in the case of Carlos Condit, his momentum is anything but tainted.
Condit has ferociously stormed onto the UFC scene since coming over from the WEC in 2009. He has destroyed nearly every relevant contender in his path en route to global stardom.
He's an ambitious, dedicated and humble 28-year-old interim champion that has looked every bit of an undisputed tactician whenever he steps inside the cage.
At this point in his career, whether it's a historic Georges St-Pierre comeback or a trash talking Nick Diaz standing in his way, Condit is simply going to prevail.
He's just too well-rounded and too focused to settle for defeat.
For more UFC/UFC 154 news and coverage, Follow @DHiergesell