Sam Houston State vs. Texas A&M: Complete Game Preview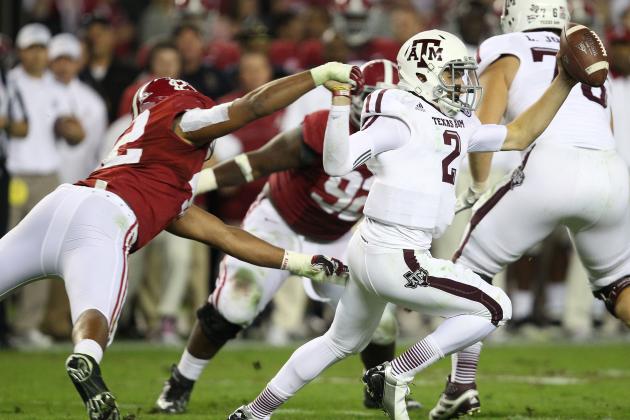 Mike Zarrilli/Getty Images

The No. 8 Texas A&M Football team will take on the Sam Houston State Bearkats on Saturday at Kyle Field. The Bearkats are the Southland Conference champions and are coming off of seven consecutive wins.
This game is the first time in recent memory that the Aggies will play a non-conference game this late in the season. Because of the Southeastern Conference's typical scheduling format, each team plays a conference game early in the season.
Therefore, everyone plays a non-conference game late in the season. This was the week to do that for A&M and many of the other SEC schools.
This is a complete preview of the game between Texas A&M and Sam Houston State.
Begin Slideshow

»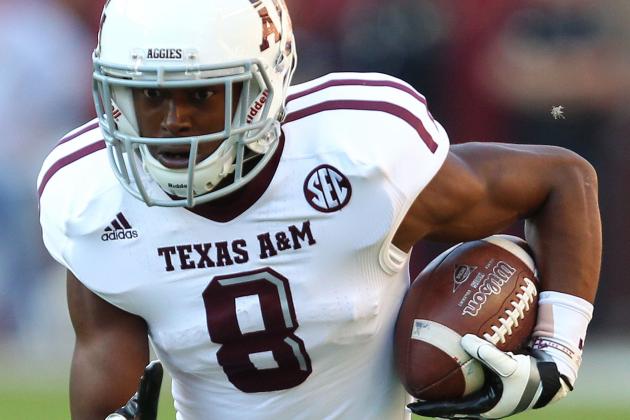 Mike Zarrilli/Getty Images

Who: Texas A&M Aggies vs.Sam Houston State Bearkats
When: 2:30 p.m. CDT
Stadium: Kyle Field
TV: PPV
Radio: WTAW 1620, Sirius 93, XM 201
Rankings: Texas A&M No. 8 BCS, SHSU No. 3 FCS
Records: Texas A&M 8-2, 5-2, SHSU 8-2, 7-1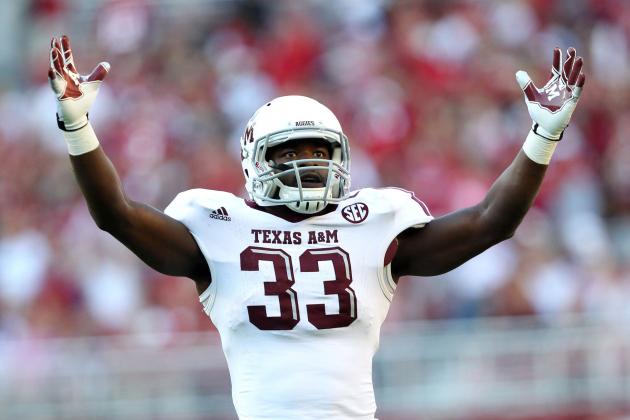 Mike Zarrilli/Getty Images

Offense
QB: Johnny Manziel
Backup: Matt Joeckel
WR: Mike Evans
Backup: Derel Walker
LT: Luke Joeckel
Backup: Germain Ifedi
LG: Jarvis Harrison
Backup: Germain Ifedi
C: Patrick Lewis
Backup: Mike Matthews
RG: Cedric Ogbuehi
Backup: Ben Compton
RT: Jake Matthews
Backup: Joseph Cheek
TE: Michael Lamothe
Backup: Nehemiah Hicks
WR: Uzoma Nwachukwu
Backup: Sabian Holmes
WR: Ryan Swope
Backup: Malcome Kennedy
WR: Kenric McNeal
Backup: Thomas Johnson
TB: Ben Malena

Backup: Christine Michael
Defense
DE: Gavin Stansbury
Backup: Julien Obioha
NG: Kirby Ennis
Backup: Jonathan Mathis
DT: Spencer Nealy
Backup: Ivan Robinson
Rush: Damontre Moore
Backup: Tyrone Taylor
WLB: Steven Jenkins

Backup: Donnie Baggs
MLB: Jonathan Stewart
Backup: Justin Bass
SLB: Sean Porter
Backup: Michael Richardson
CB: Deshazor Everett
Backup: Dustin Harris
CB: De'Vante Harris
Backup: Floyd Raven
BS: Howard Matthews

Backup: Steve Campbell
FS: Steven Terrell
Backup: Toney Hurd, Jr.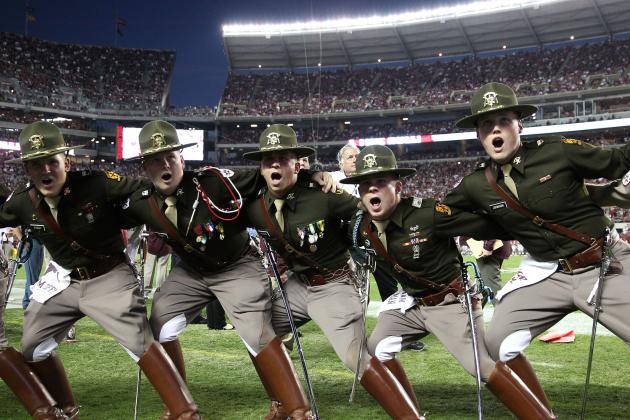 Mike Zarrilli/Getty Images

QB Brian Bell 6'2", 175 Passing: 135-of-206, 1,883 yds, 18 TDs, 69 rushes, 259 yds, 3 TDs
RB Tim Flanders 5'9", 210, Rushing: 166 carries, 1,087 yds, 16 TDs
WR Trey Diller 6'2", 200, Receiving: 45 receptions, 671 yds, 3 TDs
LB Darius Taylor 6'0", 240, 59 tackles, 13.5 tackles for loss, 5 sacks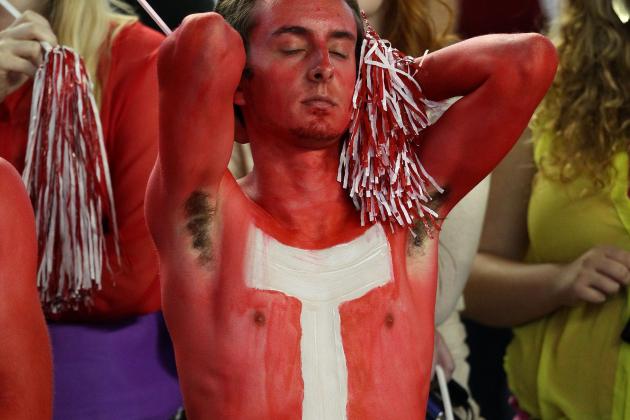 Mike Zarrilli/Getty Images

Texas A&M shocked the college football world by going to Tuscaloosa and beating No. 1 Alabama in its house. Johnny "Football" Manziel thrust himself into the national consciousness by completing 24 of 31 passes for 253 yards and two touchdowns. He also rushed for 92 yards.
He had his Heisman moment in the first quarter when he spun away from a sure sack and fired a touchdown pass for Ryan Swope.
It was the Aggies' biggest win in at least a decade. The win sent a message loud and clear to the rest of the SEC that the Aggies are a program to be reckoned with.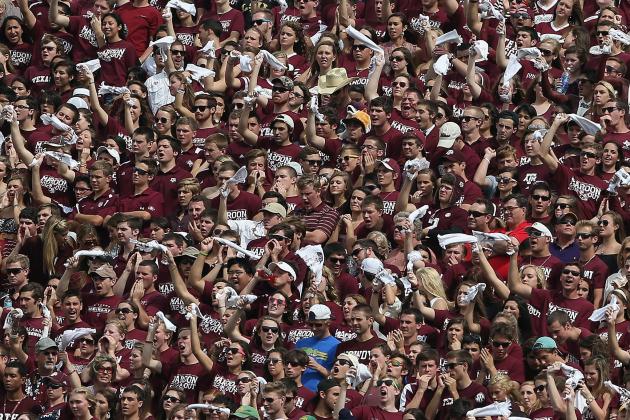 Ronald Martinez/Getty Images

The Bearkats beat Northwestern State 56-17 to win their second straight Southland Conference title. It was the Bearkats' seventh win in a row.
The Bearkats ran up 509 yards of offense on the Demons. SHSU rushed for 253 yards in the game. Brian Bell passed for 239 yards and three touchdowns.
Tim Flanders rushed for 138 yards and two touchdowns. SHSU scored 31 points in the second quarter to break the game open.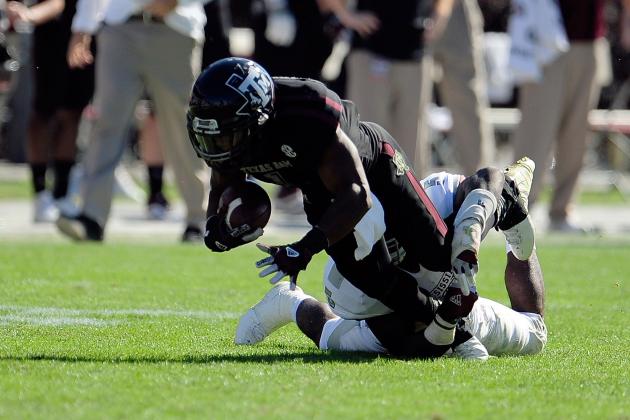 Stacy Revere/Getty Images

This is a pay game for SHSU. It picks up a big paycheck for showing up to play A&M. Chance Nelson is the second-leading receiver for the Bearkats, and he spent his freshman year at A&M. He should be motivated for this game.
A win for the Bearkats would be the greatest win in the history of their program. It would be an upset the magnitude of the Appalachian State beating Michigan. SHSU went to the FCS finals in 2011 before losing to Montana. It would like to win the game, but the most important thing is to avoid major injuries before the playoffs start.
A win for A&M would simply boost its record to 9-2. They just need to avoid a major letdown after the win in Tuscaloosa. A win would also keep its hopes alive to land in a BCS bowl game.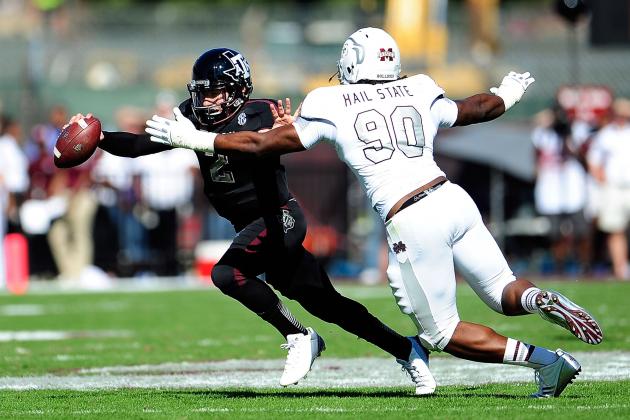 Stacy Revere/Getty Images

Johnny Manziel is the most important player for the Aggies. He is the engine that makes the Aggies offense go. Manziel needs to have a solid game with limited turnovers to keep his Heisman campaign alive.
If Manziel is sharp early, the Aggies may be able to get out to a big lead and give their starters a much-needed rest.
The most important thing for A&M is to keep everyone injury-free for the final game of the regular season against Missouri.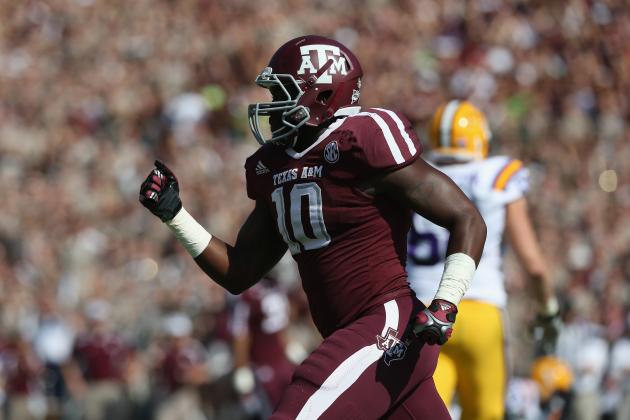 Ronald Martinez/Getty Images

Brian Bell is the key to the Bearkats' chances to win the game. The Aggies' weakness is their secondary. If Bell can get hot, the Bearkats will be able to score some points and make this a four-quarter game.
The Aggies are riding high right now. Everyone is patting them on the back and telling them how great they are.
The Bearkats have an explosive offense. They are going to come into Kyle Field and try to be giant killers. If Bell gets in rhythm, it could be a long day for the Aggie secondary.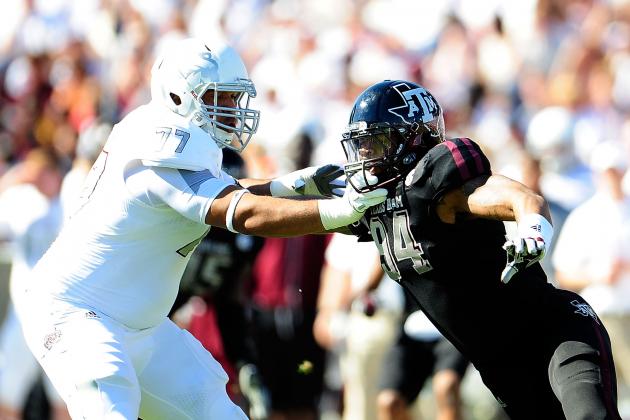 Stacy Revere/Getty Images

The Aggies will win the game if they take the game seriously. The Ags have too much talent at too many skill position standouts to lose to a FCS team. If they show up ready to play, then this game should be over shortly after halftime.
They simply need to take care of business at home. The Aggies need to recognize that this is a good football team they are facing, and they will get their best shot. As long as A&M limits turnovers, it should be fine.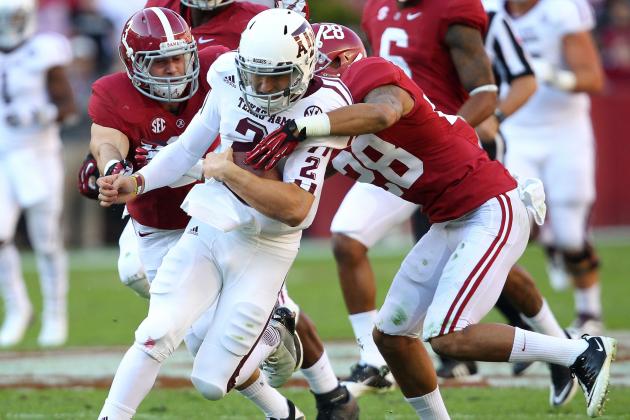 Mike Zarrilli/Getty Images

The Bearkats will win if the Aggie football players spent the whole week drinking and celebrating their win over Alabama. SHSU has a great FCS program and would likely beat a few FBS teams.
If the Bearkats can force a bunch of turnovers, then they have the kind of offense that can hold onto the ball for a long time and keep the Aggies offense on the sideline.
If the Aggies come out lethargic and the Bearkats force a bunch of turnovers, it could become a game.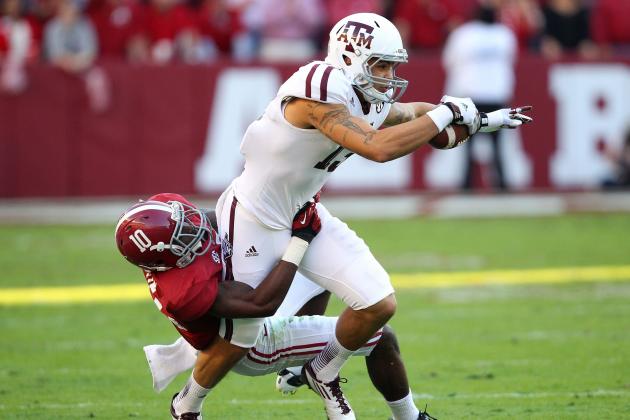 Mike Zarrilli/Getty Images

Prediction: Texas A&M 51 SHSU 27
If Texas A&M shows up ready to play, then this should not be a game. The Aggies will likely come out a little lethargic, and this will be a game until at least the second quarter.
SHSU will be able to score some points because it does have some talent on offense. Eventually, the Aggies will pull away. Expect Jameill Showers to lead the second team offense to a touchdown or two in the fourth quarter.