College Basketball: 10 Most Explosive Players in the Game Today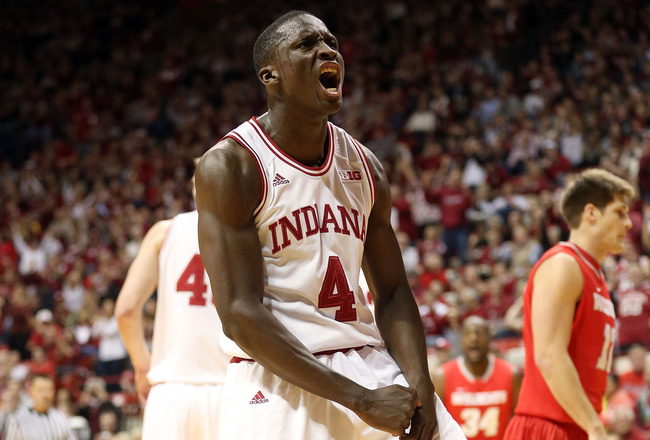 Andy Lyons/Getty Images
Whether it is rim-rattling dunks, crowd silencing threes or a big play of another sort, college basketball has no shortage of explosive players throughout the ranks.
From conference to conference, the list of players who can ignite a crowd with one play goes on and on.
Some players possess an ability unlike any other though. Those players quickly rise above the rest, making themselves known as the country's most explosive. From dunks to threes to just creating separation for themselves, coaches look for all these things in players.
These players are ones who the fans pay to see. They are the players who people all over scramble to get a glimpse of. These guys are the players that coaches dread seeing on the lineup sheet for the opposing team, and love having on their side of the lineup.
Explosiveness is not something that every player is blessed to have, yet these players do.
Here's a look at 10 of some of the most explosive players in college basketball today.
Mason Plumlee, Duke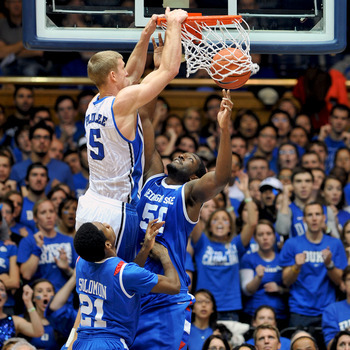 Lance King/Getty Images
The Duke senior has gotten much criticism during his time under Coach K, but there is no denying the sheer talent and ability that Mason Plumlee has.
Plumlee, who saw his role somewhat diminished during his first three seasons at Duke due to the presence of other stars, has shown flashes of electric play during his time.
A dangerous player who knows his way around the basket, Plumlee has energized crowds each season he has played. Showing great agility and movement for someone his size, Plumlee is a player who gives coaches in the ACC headaches.
His explosiveness is not only seen on the offensive side of the ball though. By becoming a force on the defensive glass, he has made himself even more valuable as a dominant explosive player for the Blue Devils.
While Plumlee may not always produce the SportsCenter Top 10 posterizing dunk, he has proven to be an explosive player.
CJ Leslie, NC State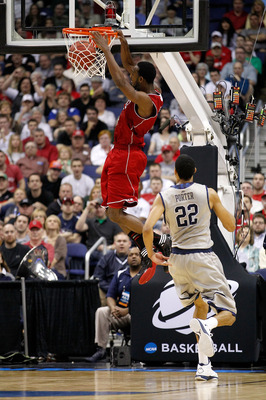 Rob Carr/Getty Images
CJ Leslie is an extremely gifted athlete who can be considered explosive in every aspect of the word.
An important piece of the N.C. State roster, Leslie has been known to lay down thunderous dunks and just the right time, energize his teammates and the crowd. A player who has had no shortage of highlight dunks during his career with the Wolfpack, Leslie has been able to make opponents look like children at times.
His explosive first step also allows him to make a quick first move and take his man right off the dribble, slicing and dicing his way to the rim.
A phenomenal athlete who has wowed fans since arriving in Raleigh, Leslie makes the list.
Doug McDermott, Creighton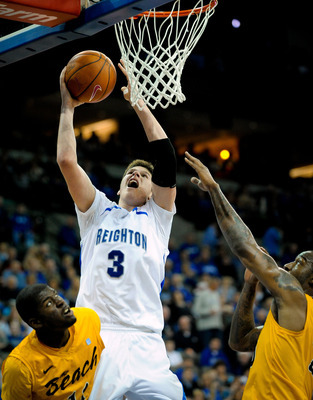 Eric Francis/Getty Images
Doug McDermott, the third-leading scorer in the nation last season, often times gets overlooked because he does not play for one of the sport's juggernauts.
Proving to be a game changer for Creighton last season, McDermott is a player who can slash his way through opponents or light them up from the field. By shooting 60.1 percent from the field, he forced opponents to cheat his way when he was on the court.
A quick player who can seemingly create separation at the drop of a pin, McDermott's quickness is a big key to his explosive play. While some players rely on their strength to force their way to the basket, McDermott is not afraid to create separation and take the outside shot.
An explosive shooter, teams will have to try to keep McDermott in check this season.
Peyton Siva, Louisville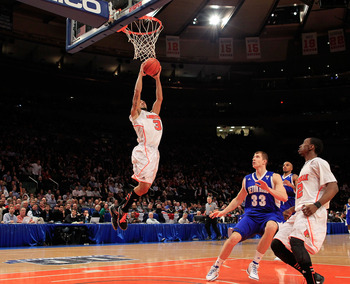 Chris Trotman/Getty Images
This Louisville guard just might be the fastest player in NCAA basketball today. Peyton Siva's play over the past few seasons has made him stand out above other players.
Having speed is one thing, but knowing how to utilize it and control it is a completely other monster. Siva has shown over the past few seasons an ability to use his quickness to his advantage.
Despite struggling with turnovers over the course of last season, Siva still used his electrifying speed and talent to help the Cardinals reach the Final Four. As he learns to manage the ball better and make smarter decisions, Siva's upside will only grow.
Already one of the most fun players to watch due to his great speed, Siva has lots of upside as an exciting, explosive player.
Deuce Bello, Baylor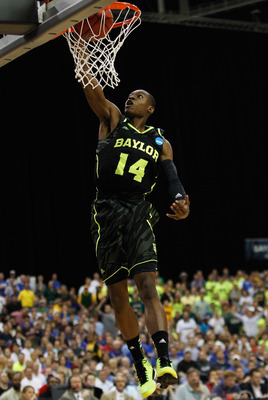 Ranked the No. 20 best dunker before enrolling at Baylor, Bello has struggled at times
Streeter Lecka/Getty Images
Another great athlete, Deuce Bello comes into his sophomore season after struggling greatly during his freshman campaign. Prior to arriving in Waco, Bello had already made a name for himself as an electric dunker.
Being named the No. 19 best dunker in the world by DimeMag.com in 2010, Bello has made several monster dunks during his high school and college career. A player whose DraftExpress.com profile says has a "lighting quick first step" as well as an ability to "elevate around the basket like few players in basketball at any level," Bello has electrified crowds his entire career.
Bello started off his sophomore campaign in style by dunking over teammate Isaiah Austin, and hopes there are several more highlight dunks to come.
For fans who want to see some unbelievable dunks, Bello's highlight reel is worth checking out. He is a player who when he gets an opportunity can definitely light up a bench and a crowd.
Shabazz Muhammad, UCLA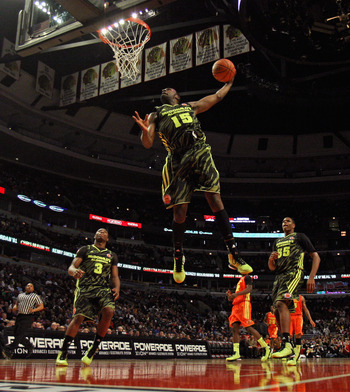 Jonathan Daniel/Getty Images
Even though the UCLA freshman has yet to play a game, the raw ability and athleticism showcased prior to his college career has begun lands him on the list.
Touted as the most exciting freshman in this year's class, fans will have to wait a little bit to get a look at Muhammad.
The product will be worth the wait though. An electric dunker and all around player, Muhammad has demonstrated his ability to torch any defense or player put against him.
An explosive first step and great moves make his potential unlimited. His raw skill set is something that coaches can only drool over.
Whenever he is able to make his college debut, expect Muhammad to be one of the more explosive and electrifying players on the court.
Rodney Williams, Minnesota
Jonathan Daniel/Getty Images
Joined by Trevor Mbakwe on a dangerous Minnesota roster, Rodney Williams has shown the ability to electrify crowds as well as anyone in the country.
Sometimes overshadowed by Mbakwe, the Minnesota forward started to get his own recognition last season with dunks such as his 360 dunk against USC.
Referred to by some college basketball fans and writers as the best dunker in college basketball, this Golden Gopher is definitely a player to keep an eye on this season.
Whether or not you are a fan of the Gophers, Williams makes games worth watching, if for no other reason then to see what the forward will do next.
Victor Oladipo, Indiana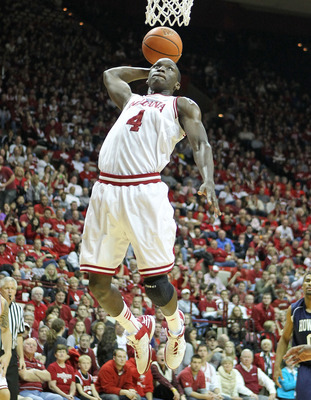 Oladipo's dunks has electrified Indiana fans his entire career
Andy Lyons/Getty Images
A lightning quick player with the ability to jump out of the gym, Victor Oladipo has been laying down huge dunks since arriving in Bloomington.
With possibly his most well known and most viewed dunk being his posterization of a Kentucky defender last season, Oladipo always seems to energize the crowd in Assembly Hall. This dunk went on to be nominated as a dunk of the year.
A pure athlete with lots of talent and ability, Oladipo's playing still has been compared to a spider scurrying around the court wrecking havoc on opponents. This high energy style of play makes him one of the most fun players to watch in the nation.
As the media circus arrives in Bloomington this season, expect to see many more exciting plays from Oladipo this season.
Pierre Jackson, Baylor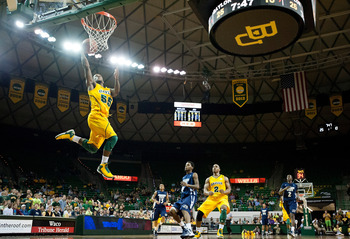 Cooper Neill/Getty Images
Another player with blazing speed up and down the court, Pierre Jackson made a big impact on the Bears lineup upon his arrival in Waco last season. A highly-recruited junior college transfer, Jackson led Baylor in scoring last year in his first season.
Even though he only stands at 5'10, Jackson has made dunks that would be qualified as dunk of the year contestants. His ability to jump may be one of his top traits, but his talent and explosive power does not stop there.
A phenomenal ball-handler, Jackson combines agility and quickness with his ball-handling to make a combination that makes him both fun to watch and terrible to play against.
Jackson's ability to break open games and swing momentum his way with one dunk is something that few other players his size bring to the table.
Isaiah Canaan, Murray State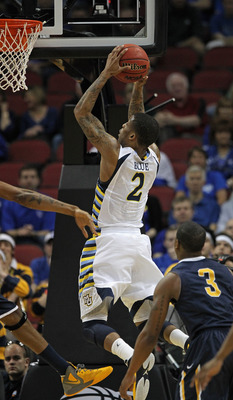 Jonathan Daniel/Getty Images
Isaiah Canaan is a player who really emerged as a star last season during Murray State's unprecedented run to the nation's best record.
During last season's incredible run, Canaan proved to be more than a handful for teams as his quickness and scoring touch began to torch teams down the stretch. His ability to hit shots from beyond the arc also allowed him to play a large factor in helping the Racers as well.
While quickness is a trait that is desired for offensive players, Canaan featured his on the defensive side of the ball as well. A stellar defender, Canaan helped Murray State pick up points in transition due to his ability to make moves defensively.
A player who utilizes his explosive speed and quickness to give himself separation, Canaan proved himself to be one of the most explosive players in the nation last season.
Keep Reading