Comparing LeBron James' Historic 2012 Season with Michael Jordan's 1992 Campaign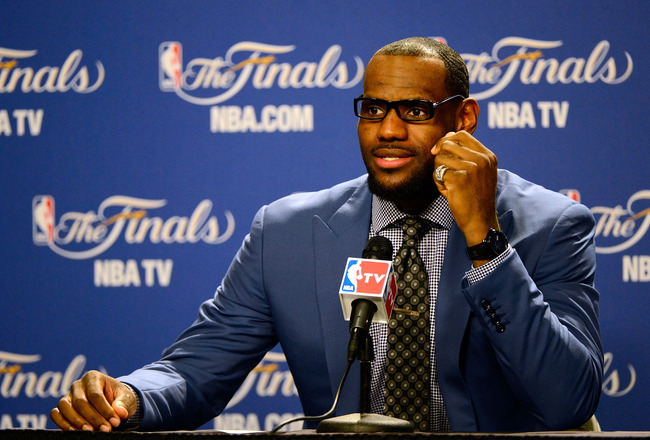 Ronald Martinez/Getty Images
Perhaps there is no greater compliment to LeBron James' 2012 season than the simple fact that his historic year is drawing comparisons to the magical 1992 campaign by His Airness, Michael Jordan.
Within these seasons, both players captured an NBA MVP award, an NBA championship and an Olympic gold medal.
To call these years special would be akin to calling Babe Ruth a solid hitter or Red Auerbach a good coach.
These were two of the most impressive seasons ever enjoyed on a basketball court.
Seemingly seconds after the Olympic gold was draped around James' neck, though, the comparisons (er...arguments) commenced over which season was more impressive.
Needless to say, this is a loaded argument with strong, opinionated voices coming from both sides.
This in-depth comparison probably won't sway your opinion from one player to the other (more than likely, you already love or hate both of these megastars), but it will allow for a closer examination of just what it was that these two accomplished.
Speaking Offensively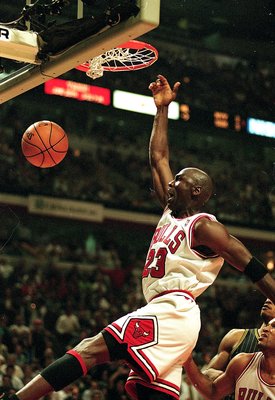 Jonathan Daniel/Getty Images
From a stylistic standpoint, the numbers tell an expected story.
Jordan's 1991-92 campaign came near the end of a seven-year run as scoring champion. His 30.1 points per game gave him his sixth scoring crown in a row, a streak stretching from the 1986-87 season through the 1992-93 season.
As for James, he entered the 2011-12 season with just one scoring title on his resume (2007-08) and was still finding his place alongside his All-Star teammates. By season's end, he finished third in the league with 27.1 points per game (his second-lowest mark in eight NBA seasons).
As any offensive-minded coach (Don Nelson, Mike D'Antoni, George Karl, etc.) can tell you, though, offense is more than scoring.
James held a slight edge over Jordan in assists (6.2 to 6.1), field-goal percentage (53.1 to 51.9) and offensive rebounds (1.5 to 1.1).
So, who actually had the better offensive season? It depends on your barometer.
ESPN Insider John Hollinger's player efficiency rating (a formulaic approach to assigning a value to a player's contribution) gives James the slight edge (30.7 to 27.7). Both players led the league during their respective seasons.
But, in terms of offensive win shares (a calculated examination of how many wins a player brought his team offensively), Jordan holds the advantage (12.1 to 10.3). Perhaps the most surprising statistic here is the fact that James actually finished second in offensive win shares behind Chris Paul's 10.4.
Advantage: Jordan
Getting Defensive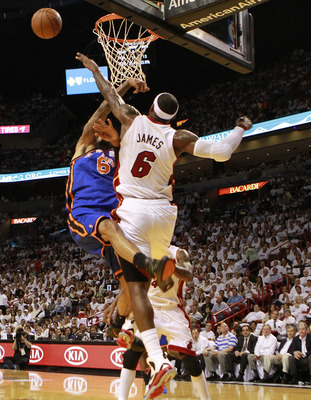 Marc Serota/Getty Images
Just as offense is about more than scoring, basketball is about more than offense.
Just ask the ringless trio of offensive gurus mentioned on the last slide (D'Antoni, Nelson and Karl).
It's easy to think that this would be the area that James would hold the biggest advantage.
Or rather this better be where he gained some separation because he simply could not challenge Jordan's 1991-92 offensive display.
But here is where the comparison becomes difficult. It enters that omnipresent area of all historic sports comparisons—different achievements in different eras.
By the numbers, Jordan appears to be the easy pick with more steals (2.3 to 1.9) and blocks (0.9 to 0.8) and a closer-than-you'd-think gap in defensive rebounding percentage (15.3 to 19.7) given the inherent advantage the power forward, James, would have over the shooting guard, Jordan.
But knowledgeable NBA fans would be quick to point out that it's hard to judge the numbers because NBA defenses of the 1990s simply got away with more contact than today's defenses.
Jordan holds the advantage in defensive win shares (5.6 to 4.5), but James finished higher among his peers (second) than Jordan did among his (fifth).
Advantage: James
By the Hardware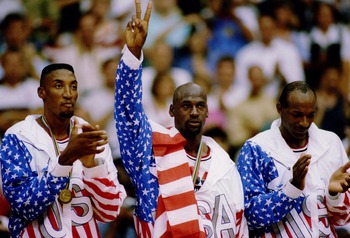 Mike Powell/Getty Images
These seasons resulted in the third MVP award for each player, although neither captured their most MVP award shares for their efforts.
Jordan received 80 of the 95 first-place votes (84 percent) to hold off the runner-up, Clyde Drexler.
James, meanwhile, captured 85 of the 121 first-place votes (70 percent) to hold off his challenger, Kevin Durant.
So, who's MVP was more impressive? Well, that largely depends on whom exactly they beat out.
Durant had more points (28.0 to 25.0) and rebounds (8.0 to 6.6), while Drexler had better assist (6.7 to 3.5) and steal (1.8 to 1.3) totals.
Drexler powered his Trailblazers to a tie for the NBA's second-most wins (57) and an eventual (losing) matchup with Jordan's Bulls in the NBA Finals.
Durant's Thunder had the third-most wins in the league (47) and ultimately lost to James' Heat in the NBA Finals.
Advantage: Jordan
Ring of Champions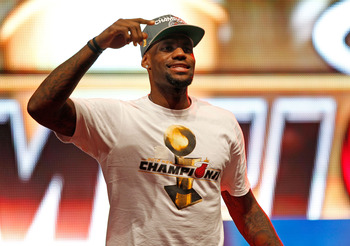 Mike Ehrmann/Getty Images
Jordan's six rings may not match the bling in James' diamond-studded (219 diamonds in all) ring, but which team enjoyed the more impressive season: Jordan's Bulls or James' Heat?
The 1991-92 Bulls were reigning champions and the NBA's most dominant team from start to finish. With 67 wins, Chicago won 10 more regular season games than any other franchise, then swept the Heat in their opening round, best-of-five series.
The 2011-12 Heat amassed just the fourth-most victories (46) during the strike-shortened regular season, then needed just five games to dispatch the Knicks in their opening round, best-of-seven series.
Once the playoffs reached their second round, though, Miami may have been the more dominant team. Despite losing Chris Bosh for a large chunk of the postseason, the Heat had only two of their following three series go to six games, while the Bulls needed six or more games in each of their following three series.
Miami's five-game dismantling of the Thunder simply looked more dominant than Chicago's six-game series win over the Trailblazers.
Individually, James and Jordan were (not surprisingly) dominant. Over the postseason, James tallied 30.3 points, 9.7 rebounds and 5.6 assists while Jordan managed 34.5 points, 6.2 rebounds and 5.8 assists.
While Jordan's team shared the proverbial target on their back as the defending champions, James' club featured a roster with many players who had never won a ring and, therefore, did not know if they could win one.
Advantage: James
Olympic Standards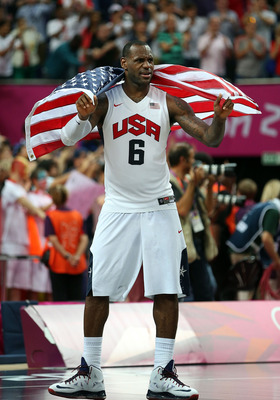 Christian Petersen/Getty Images
Comparing their Olympic exploits is sort of like comparing their All-Star game contributions; neither player was nearly the major factor that they were used to being.
With both clubs enjoying largely worry-free paths to gold medals, Jordan and James were allowed a bit of relaxation.
Of course, neither took the tournament off by any stretch.
Jordan was Team USA's second-leading scorer at 14.9 points per game, trailing only Charles Barkley (18.0).
James filled his stat sheet with 13.3 points, 5.6 rebounds and 5.6 assists and his versatility on Team USA's height-stricken roster played a valuable role in their gold medal pursuit.
Advantage: James
And the Winner Is...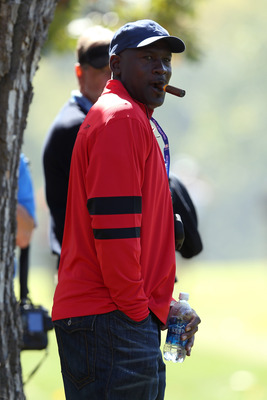 Andy Lyons/Getty Images
As much as it pains me to say this as a lifelong contrarian, James' 2012 season simply cannot matchup to Jordan's 1992 dominance.
Jordan was the better offensive and defensive player, and his Bulls were unquestionably the league's greatest team from day one.
Perhaps James' oft-cited versatility comes back to haunt him in this debate, as his statistics do not have the wow factor of Jordan's numbers.
Whether or not I believe James has a chance to dethrone Jordan as the league's greatest of all time is moot. The two play such a vastly different game in a vastly different league that there will be no definitive answer no matter how many rings James' Heat can amass.
But in terms of comparing and contrasting these specific players in these specific seasons, the answer is quite clear.
Advantage: Jordan
Keep Reading