The Biggest Homefield Advantages in Sports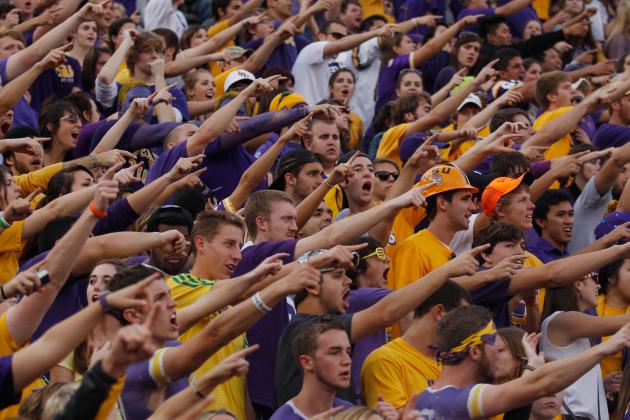 Chris Graythen/Getty Images

In sports, people believe that momentum and homefield advantages are myths. They believe they don't exist, and the only reason people think it's true has little to do with the sport and more to do with the psychology of the game.
They're wrong. Of course, there is such thing as home field advantage. Just go ask the teams that have to play in Eugene, Baton Rouge, Tuscaloosa, New York, or Boston.
But which places, in the world, have the best homefield advantage?
Here are the 25 Best Homefield Advantages in Sports.
Enjoy.
Begin Slideshow

»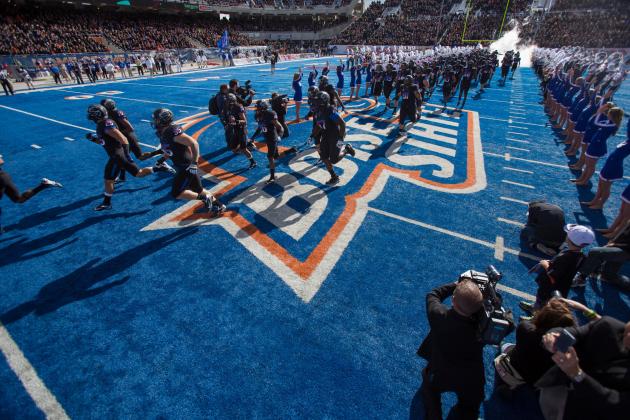 Otto Kitsinger III/Getty Images

If you had to guess which NCAA football team had the most home wins since 2000, would you have guessed it was Boise State?
They have won an amazing 74 of 77 games at home in the past 11 years.
So why only rank them 25th? Because until they move into a BCS conference, they won't move any further up the list.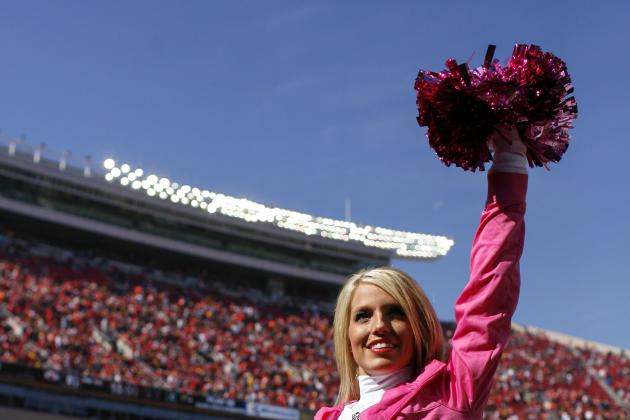 Kyle Rivas/Getty Images

You don't have to dominate to have homefield advantage. The best example of this is the rowdy fans of the Kansas City Chiefs. They show up every home game, screaming and roaring their team along the way.
The numbers don't do Arrowhead Stadium justice, 52-44 at home over the past 12 seasons. But the fans continue to come, and the noise is louder than you could imagine.
In the past decade, they are a mediocre team that wins at home.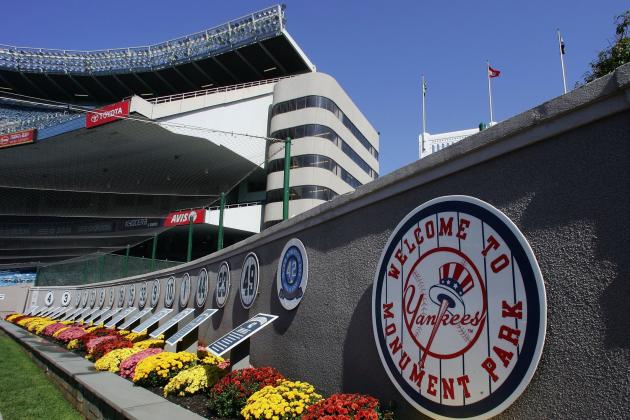 Jim McIsaac/Getty Images

The Yankees are one of the biggest names in sports history so it comes as little shock to me that they would also have one of the biggest homefield advantages in sports.
Opposing teams aren't just walking into a lion's den, they are walking into a place that Ruth built. There is so much history and so much respect for that stadium; it made it tough for everyone to concentrate on the game.
Too bad, it isn't there anymore.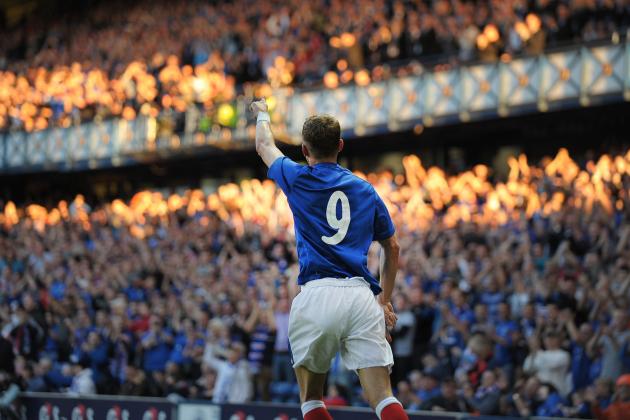 Mark Runnacles/Getty Images

How many of these places have been standing since the 19th century? Ibrox Stadium has been around since 1899, and the Rangers FC have played there and dominated for almost as long.
I can sit here and spew off the countless accolades of the Rangers FC since playing in Ibrox but I would run out of room. Just know that winning 54 Scottish League Championships is a feat that will never be topped.
Ever.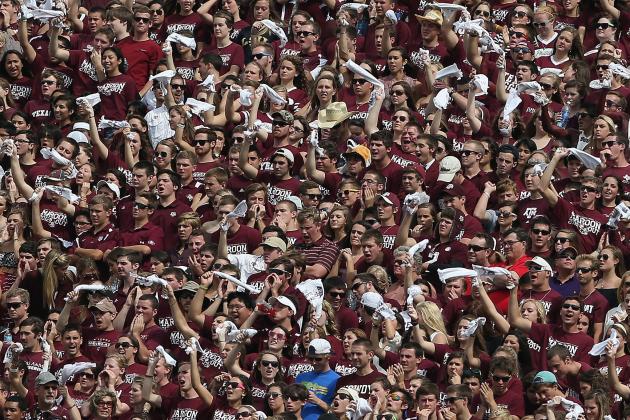 Ronald Martinez/Getty Images

Kyle Field is tough to play thanks to the dedicated fans, 12th Man, that fill the stadium every home game.
E. King Gill, a former player who left the team earlier in the season, was pulled from the stands back in 1922 when Aggie head coach, D.X. Bible, was afraid he wouldn't have enough players to finish the game.
Since then, the Aggie fans have dominated their home turf and have owned it.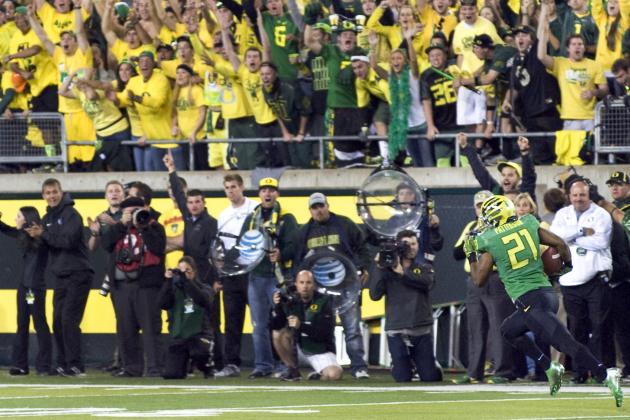 Steve Dykes/Getty Images

The Oregon Ducks haven't always been a high-profile offense. But they have always had fans in the stands.
They say the official capacity is 54,000 but they have exceeded capacity every home game since 2002, and usually end up with almost 60,000 screaming fans.
Oregon has only lost twice at home since 2008, and has scored about a million points during that span.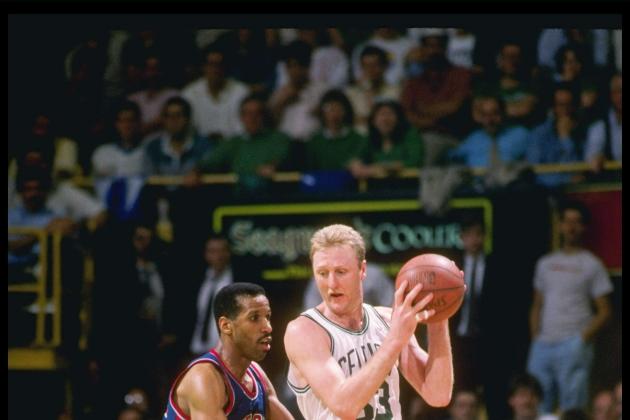 Getty Images/Getty Images

If history has anything to do with intimidation in the NBA, then the Boston Garden has to own it better than any other team.
Just walking into the Boston Garden was like walking into a time capsule where some of the greatest NBA teams have once played. From Bill Russell to Larry Bird, it was once one of the most intimidating arenas in the world.
Crystal Logiudice-US PRESSWIRE

As a lifelong season ticket holder, the new Alex Box Stadium is one of the greatest venues in college baseball. It rivals minor league stadiums.
I would rather go to an LSU game at Alex Box Stadium than any minor league or MLB game.
LSU has a ridiculous home winning record at the new stadium, 117-33, including a College World Series Championship back in 2009.
There is no place better to watch college baseball than at the Box.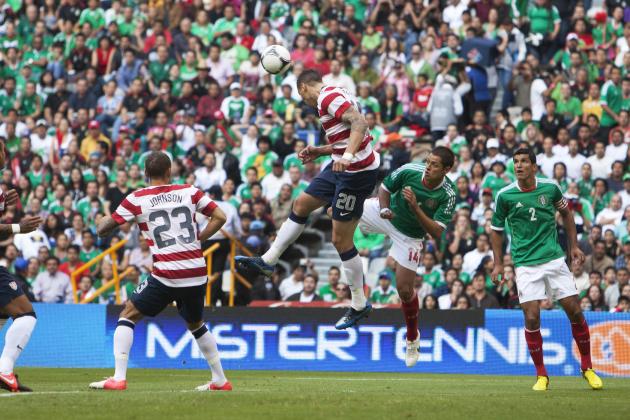 Miguel Tovar/Getty Images

Up until a few months ago, Estadio Azteca has been the place where the Mexican National Soccer Team has dominated the United States, beating them 23 consecutive times.
But this stadium makes the list for one reason: architecture. It seats 105,000 people but has built-in tiers so the top tier is right on top of the bottom, giving opponents a feeling of 100,000 people screaming in their back pocket.
It is also the only stadium, in history, to host two FIFA World Cup Finals.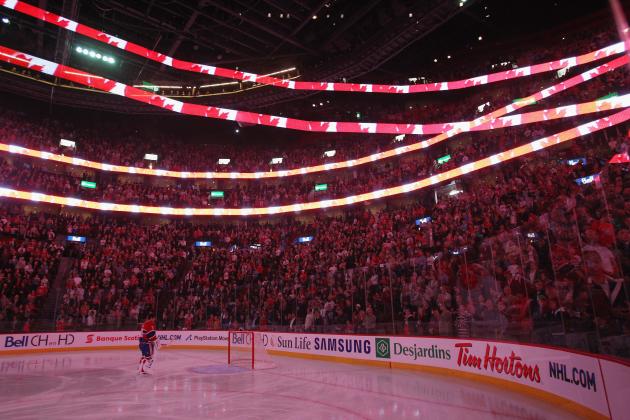 Bruce Bennett/Getty Images

Since 2004, the Montreal Canadiens have not seen an empty seat in their house. They have been sold out for the past eight seasons, and would be, too, this year, if they ever get back to playing hockey in the NHL.
Even after having a terrible 2011-2012 season, the Canadiens still finished above .500 at home.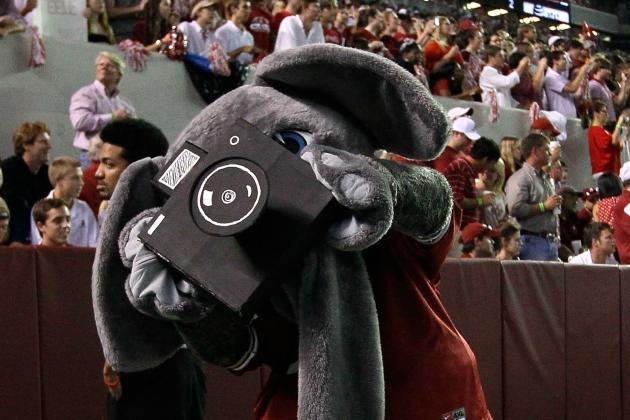 Kevin C. Cox/Getty Images

What started out being a tiny little football stadium in 1929, seating 18,000, has grown into one of the largest in the world, over 101,000.
It doesn't hurt that Alabama owns Bryant-Denny Stadium. They have owned college football for much of the past five years too.
It is already one of the best stadiums in the country but opposing teams will agree it is one of the toughest.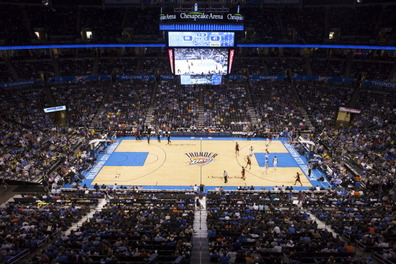 Shane Bevel/Getty Images

Not too many NBA arenas have made the list for one reason: smaller venues or less fandom.
But the Oklahoma City Thunder have become the hottest young team in the NBA, making it all the way to the NBA Finals last season. They have won 26, 30, and 27 games at home in consecutive seasons which is among the best in the NBA at home.
Those fans just love their Thunder.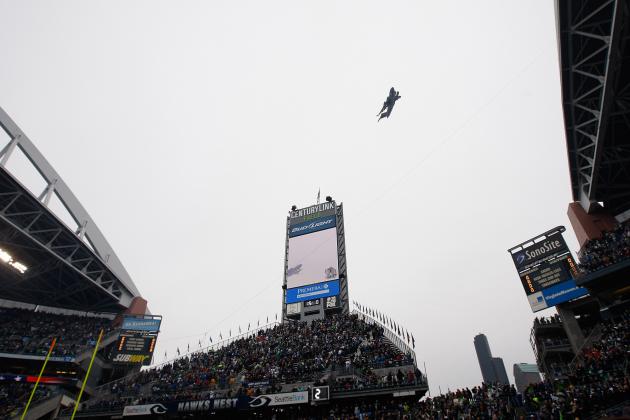 Kevin Casey/Getty Images

Outdoor stadiums are not suppose to be as loud as the indoor ones but the fans of the Seattle Seahawks beg to differ. They have turned CenturyLink Field into a scary venue for any visiting team.
Just because they haven't won a Super Bowl or dominated their opponents at home, doesn't mean this isn't one of the best homefield advantages in sports. As bad as the Seahawks have been, they still find ways to win games at home.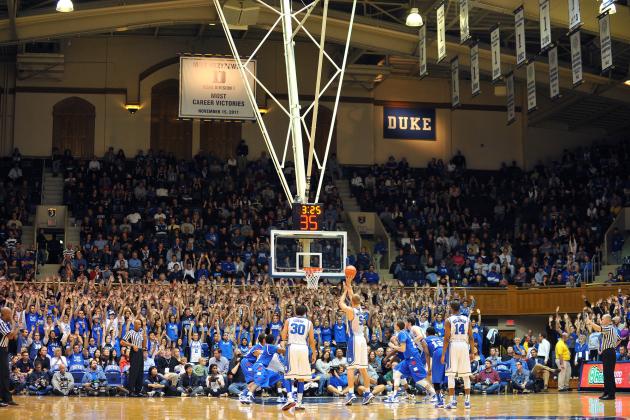 Lance King/Getty Images

In the world of college basketball, Cameron Indoor Stadium is one of the greatest of all time. Fans, literally sleep in tents outside the stadium for months, to be the first in line to purchase tickets.
I know homeless people with less dedication. And that is just to get into the arena. Once inside, it's like they added an entire row on the court where the fans are nearly touching the free throw line.
It's like a haunted house for the opposition and one of the scariest places for opponents to play.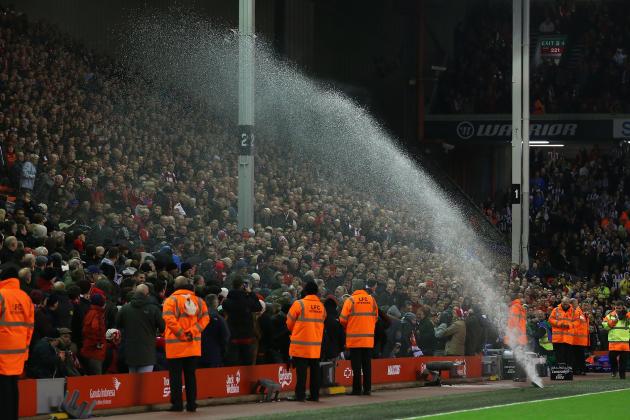 Alex Livesey/Getty Images

Anfield is yet another century-old stadium that makes the list. It has been standing strong since it opened in 1884. Not 1994, not 1984—1884. It has been around since the days of Grover Cleveland.
Fun fact about Anfield: Liverpool FC has never lost more than three home games in a row since 1884. They even had a run of 85 straight home wins where they outscored their opponents 212 goals to 35.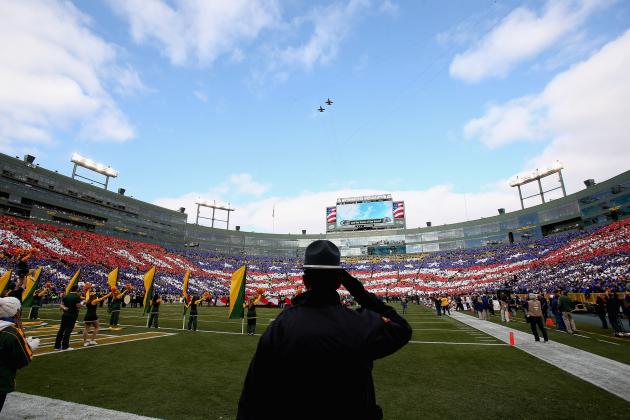 Jonathan Daniel/Getty Images

How tough is it to win at Lambeau Field? I am not sure but good luck trying to get a ticket to the game as the waiting list for season tickets is over 100,000 people names and counting.
Some of the people on that list have been waiting for 15 years to get season tickets. 15 years! You can only imagine how hungry those fans are to be in that stadium.
Extremely hungry and very feisty.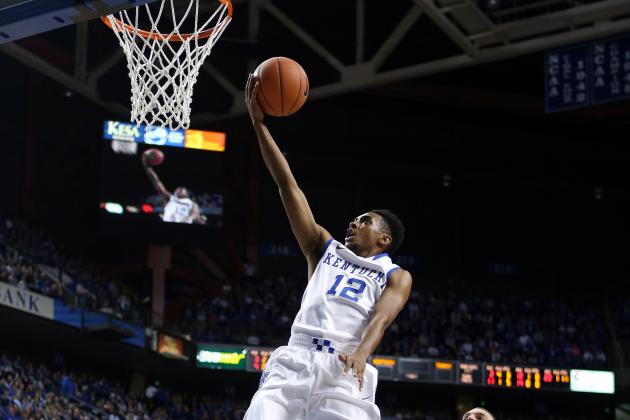 Andy Lyons/Getty Images

Since 1976, the University of Kentucky has played all their home games in Rupp Arena, the largest basketball facility in the United States, seating almost 24,000 people.
Under coach John Calipari, the Wildcats have lost only once at home since 2009. They just don't know how to lose at home, winning 62 of 63 of their home games in the past few years.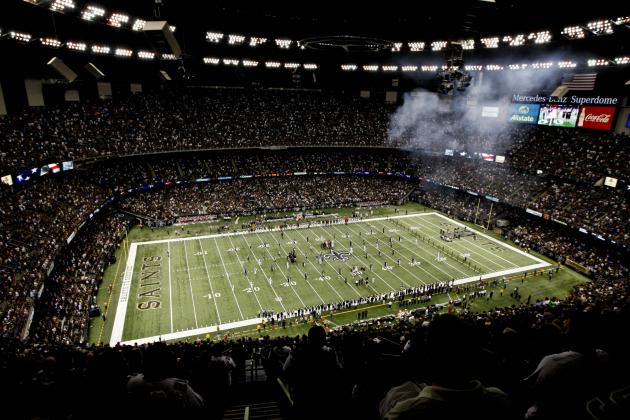 Derick E. Hingle-US PRESSWIRE

As a Saints fan, this was an easy choice for my list.
If you haven't been in the Superdome for a Saints game, you haven't lived. It is harder to hear your own thoughts, let alone what the people next to you are saying. It is so loud, you might not want to go back. Ever.
In 2008, the Saints finished the season 8-8 but went 6-2 in the Dome. Last season, they took it a step further, and didn't lose a single game at home on their way to a 13-3 finish.
Even when the fans wore bags on their heads, the Saints still managed to win games at home.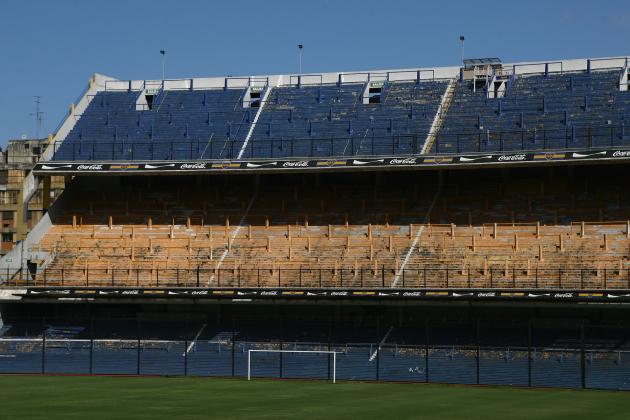 Julian Finney/Getty Images

You don't need 100,000 people to make noise and win games. And that is exactly what the fans of the Boca Juniors believe, they squeeze 50,000 people into a stadium that should only fit 40,000.
It is already bad enough these fans are crazy but imagine having to play in front of them. It must feel like you are in a can of sardines where all the other sardines hate your guts. Talk about awkward.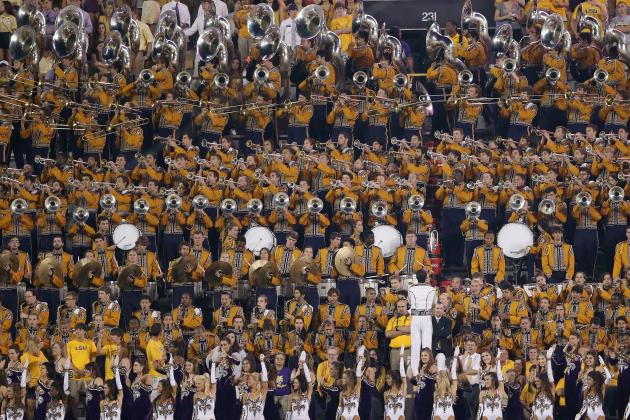 Ronald Martinez/Getty Images

As unbiased as I can be, Tiger Stadium in Baton Rouge defines homefield advantage.
Just go ask Les Miles. Even he will tell you playing in Baton Rouge is tough. His record in Death Valley is the best of his career at any venue, 49-7. And since 1924, LSU has a .722 winning percentage at home.
Did I forget to mention they bring out a live Tiger before the game too? That trumps bringing out any other animal. Ever.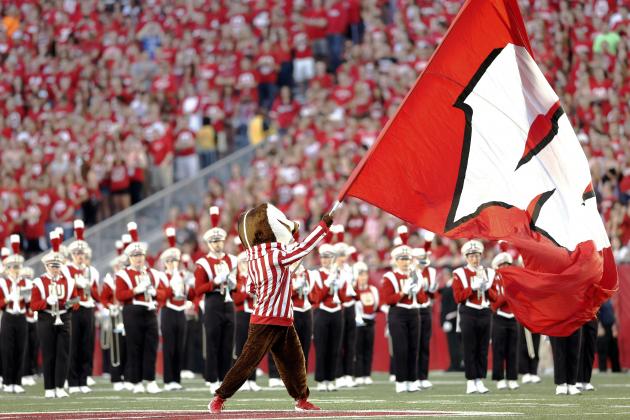 Tom Lynn/Getty Images

The Wisconsin Badgers don't lose at home very often. In fact, they have only lost twice since 2009.
They live on home-winning streaks. They have four impressive home-winning streaks of 21, 16, 11, and 9 consecutive wins.
Teams don't go into Wisconsin and beat the Badgers. Not anymore.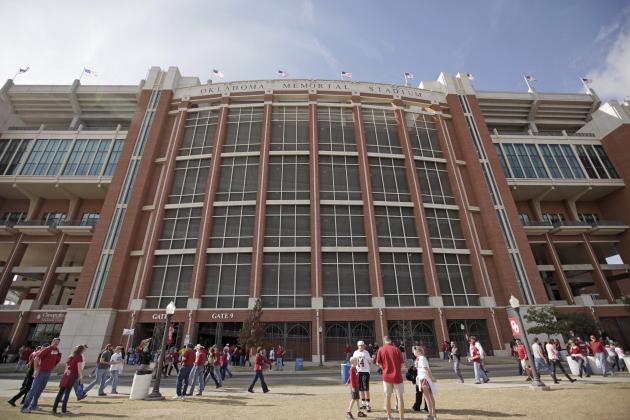 Brett Deering/Getty Images

Prior to this season, Oklahoma hasn't lost two games at home since 1998. Since then, they have gone 80-5 at home. That is insane.
They also had a streak of 39 consecutive home wins from 2005 to 2011. Still don't think homefield advantage is a myth?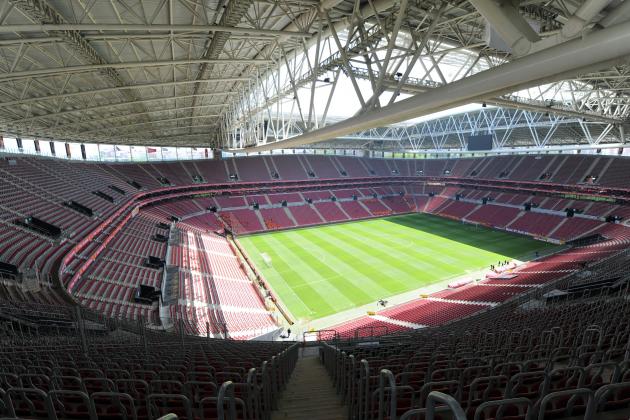 EuroFootball/Getty Images

Before it was demolished last year, this was one of the toughest places to play and most opposing fans didn't even travel to it due to the crazy Galatasaray fans that owned it.
If you defined homefield advantage as owning your home, then Ali Sami Yen Stadium was exactly that.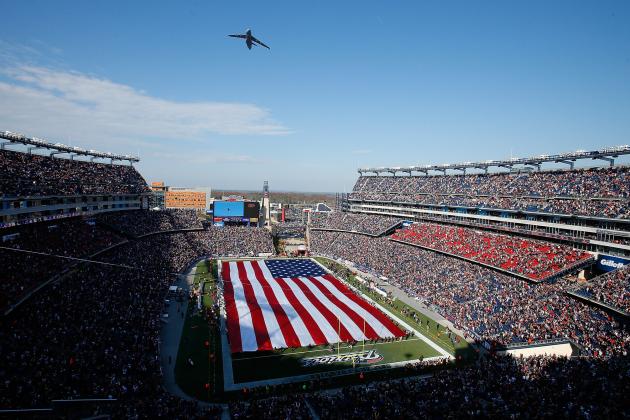 Jim Rogash/Getty Images

There are only a few select places in the NFL you would never want to play, and New England is at the top.
Since 2002 and prior to the 2012 season, the Patriots' home record is an unreal, 67-13. During that span, they have gone 8-0 from home, five times. They simply don't get beat at home.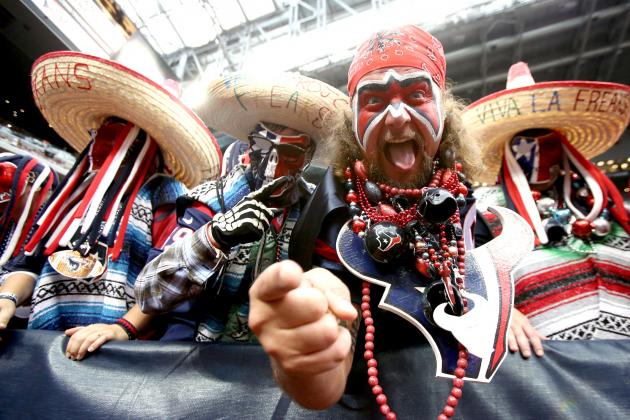 Thomas B. Shea/Getty Images

Without fans, there is no such thing as homefield advantage. An empty stadium is as useless an advantage as there ever was in sports. Crowds of screaming fans are what makes the home field advantageous.
It is no coincidence that the biggest venues in sports relate to the toughest places to play. None of these venues would make sense without the help of those rowdy fans.
Thanks to all fans for taking pride in your homefield.