UFC 154 Fight Card: Info and Predictions for St-Pierre vs. Condit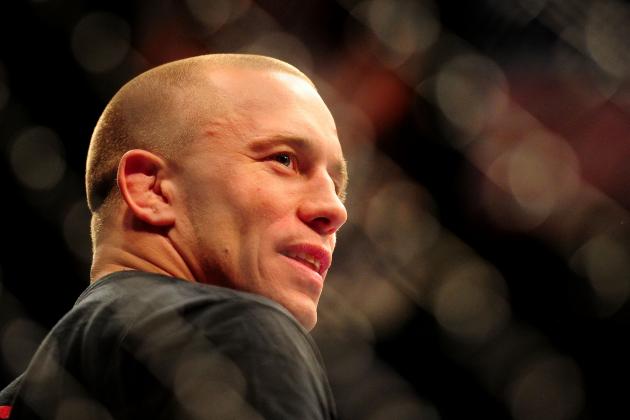 Mark J. Rebilas-US PRESSWIRE

Georges St-Pierre is back, but things have changed in his absence.
No longer is the Canadian the only titleholder in the welterweight division. Carlos Condit also has a belt around his waist, having earned the interim title with a decision win over Nick Diaz.
At UFC 154, St-Pierre will attempt to reclaim his position as undisputed 170-pound champion by beating Condit in his home country of Canada.
The event will feature more important matchups, including a fight between Martin Kampmann and Johny Hendricks to determine the top contender in the welterweight division.
As we await St-Pierre's much-anticipated return to the Octagon, let's take a look at each and every matchup on the UFC 154 fight card.
Begin Slideshow

»

UFC.com
Steven Siler and Darren Elkins have both won three straight fights, so they will likely be competing for a big step up in competition at UFC 154.
In his three fights since joining the UFC roster after an appearance on The Ultimate Fighter, Siler has proven to be a well-rounded fighter, out-striking Cole Miller and submitting Joey Gambino in his most recent appearance.
Meanwhile, former lightweight Elkins has benefited greatly from a move to the featherweight division. The 28-year-old has beaten Michihiro Omigawa, Tiequan Zhang and Diego Brandao in the 18 months since making the 10-pound drop in weight.
Elkins' size has made a difference in his new division, but that advantage could be erased against Siler, the first featherweight Elkins will meet who has been taller than him. Siler has the conditioning that Brandao lacked and the reach that Omigawa lacked to defeat Elkins.
Prediction
Siler defeats Elkins by decision.

UFC.com
Making his UFC debut against a fighter like Ivan Menjivar, Azamat Gashimov will have an outstanding opportunity to make a huge move up in the world. However, that could also be viewed as a nice way of saying this is a matchup designed to put Menjivar back on track toward becoming a bantamweight contender.
The 22-year-old has competed mostly in his home country of Russia and hasn't competed against any notable competition. Jumping immediately to a bout with an opponent of Menjivar's caliber could be too much too soon for the young bantamweight.
Gashimov has already suffered a knockout loss in his first eight fights, so expect Menjivar to rough the Russian up on his feet before finishing this fight with some ground-and-pound in the second frame.
Prediction
Menjivar defeats Gashimov by knockout in the second round.

UFC.com
After his best performance of the past two years, a Submission of the Night showing against Chris Clements, Matthew Riddle tested positive for marijuana and had his win overturned to a no-contest.
John Maguire, on the other hand, is coming off of his worst fight of his career as a UFC competitor. The 29-year-old was beaten rather easily by fellow Englishman John Hathaway in September. That defeat was Maguire's first since signing with the world's premier MMA organization in late 2011.
Though Maguire was beaten by Hathaway on the ground, the British welterweight should still have an edge over Riddle in the grappling department. Maguire has scored at least one takedown in each of his UFC appearances, while Riddle's most recent losses came against the only two opponents who have taken him down since February 2009.
Prediction
Maguire defeats Riddle by decision.

UFC.com
Antonio Carvalho and Rodrigo Damm are two seasoned fighters who picked up their first UFC wins in their most recent appearances, so this matchup was a logical progression for both featherweights.
Bouts between jiu-jitsu black belts like Carvalho and Damm sometimes will turn into stand-up fights, as the grappling ability of the fighters can cancel out. If that turns out to be the case in this matchup, it will favor Carvalho significantly.
Carvalho has shown knockout power throughout his career, while three of Damm's five losses have been come via strikes. The Canadian should try to keep this fight standing, where he has the best chance to finish Damm.
Prediction
Carvalho defeats Damm by knockout in the second round.

UFC.com
At only 28 years old, Sam Stout has already had a lengthy career as a UFC lightweight, but he's been unable to break through and become a contender in the 155-pound division. A bout with fellow Canadian John Makdessi won't make that happen for him, but it should give Stout a good chance at winning for a fourth time in five fights.
Makdessi's dynamic striking arsenal has proven to be the strongest part of his game, but he was still out-struck badly in his most recent fight against Anthony Njokuani. Against Stout, Makdessi won't have to deal with the same reach disadvantage, but he will still be facing a striker who can match him in technique when standing.
Stout has also shown improved wrestling as of late, and that will help him on the scorecards should this matchup prove competitive when both fighters are on their feet.
Prediction
Stout defeats Makdessi by decision.
UFC.com
Fringing on becoming contenders for quite some time, Mark Bocek and Rafael dos Anjos have both won two straight fights. With a win at UFC 154, one of these fighters is sure to get a shot at an upper-echelon lightweight.
The jiu-jitsu black belts are probably going to work quickly to take this fight to the ground, as neither will want to give the other the chance to score the first takedown. Though Dos Anjos showed some knockout power with a knockout of George Sotiropoulos, neither lightweight will prefer to strike in this matchup.
Having scored four takedowns against Benson Henderson in the champion's UFC debut, Bocek has to be given the edge over Dos Anjos in the wrestling department, and this fight will be won and lost with takedowns and takedown defense.
Prediction
Bocek defeats Dos Anjos by decision.

UFC.com
After losing to Travis Browne in his UFC debut, former Strikeforce heavyweight Chad Griggs has opted to make the move to light heavyweight, where he will meet French striker Cyrille Diabate.
Against most light heavyweights, Diabate's striking technique can cause some serious problems in a stand-up fight.
Griggs is willing to take opponents to the ground, but he isn't known for exceptional wrestling. It doesn't take great wrestling to drag Diabate to the ground, but Diabate should be able to keep this fight standing long enough to edge Griggs in the judges' eyes.
Prediction
Diabate defeats Griggs by decision.

UFC.com
Heading into this fight, there's little doubt Patrick Cote and Alessio Sakara are both planning to stand and bang. Cote has only scored takedowns in one of his past seven fights, while Sakara hasn't taken an opponent to the ground in any of his past seven appearances.
Whether it turns into a technical striking match or an all-out brawl, Cote should have an advantage over Sakara in this matchup.
The Canadian has never been knocked out, while four of Sakara's past five losses have been stoppages due to strikes. After losing in his UFC return against Cung Le, Cote should hand Sakara a third straight loss, which could end the Italian's seven-year run with the world's top MMA promotion.
Prediction
Cote defeats Sakaran by knockout in the first round.

UFC.com
Few fighters have fallen out of title contention as quickly as Mark Hominick has. The Canadian has lost three straight fights since earning a title shot with a knockout of George Roop, so a defeat at the hands of Pablo Garza at UFC 154 could result in his release from the UFC roster.
Despite his suddenly suspect chin, Hominick has solid boxing technique and will probably elect to stand with Garza. While Garza has picked up most of his wins via submission, many of those victories have come off of his back, meaning he will also be content to strike in this matchup.
Hominick should have the skill to out-strike Garza, but it only takes one shot to end a fight, and Garza is the owner of one of the more brutal flying knee knockouts in MMA history. Don't be surprised if Garza silences the Canadian crowd with another highlight reel finish on Saturday.
Prediction
Garza defeats Hominick by knockout in the first round.

UFC.com
In wins over Riki Fukuda and Court McGee, Nick Ring was awarded two of the most controversial decision wins of the past two years. Despite this, the UFC has given the Canadian a perceived step up in competition against rising middleweight Costa Philippou.
Ring's most legitimate UFC win came in a fight where he was able to score multiple takedowns. Philippou has not been taken down in three straight fights, though, and one of those bouts was against Fukuda, who out-grappled Ring.
If Ring has trouble taking Philippou to the ground, which he probably will, then he'll be in for a long night against a really solid boxer.
Prediction
Philippou defeats Ring by decision.

UFC.com
For a fighter who held a mediocre 11-7 record at one point in his career, Francis Carmont has come a long way in a short amount of time. The Georges St-Pierre training partner is quickly becoming one of the brighter prospects in the middleweight division and could take a big step forward with a win over Tom Lawlor at UFC 154.
However, Lawlor is a scrappy opponent who has had problems with wrestlers during his career. Carmont may train with one of the best wrestlers in the sport, but he has plenty of work to do on his wrestling before he can be considered a 185-pound contender.
Still, Carmont is an athletic specimen, and that alone may be enough for him to muscle Lawlor to the ground at some point.
Lawlor gets labelled a dangerous grappler at times, but his only UFC submission came against C.B. Dollaway, who has long had problems with submission defense. The 29-year-old has also been submitted by a UFC castoff in Joe Doerksen, so Carmont definitely has the skill level required to force a tap out of Lawlor in this matchup.
Prediction
Carmont defeats Lawlor by submission in the second round.

UFC.com
After knocking out Jake Ellenberger in a back-and-forth war, Martin Kampmann is set to face off against another heavy-handed wrestler. However, this time there is a potential title shot on the line for the Xtreme Couture welterweight.
Kampmann has been walking a dangerous path over recent fights.
All the damage he has taken will eventually take a toll on his ability to take a punch, and Johny Hendricks is not an opponent anyone should test their chin against.
Hendricks has the power to put Kampmann's streak of come-from-behind wins to an end. Of course, Kampmann can never be counted out, but he has been knocked out before, and he'll eventually be knocked out again.
Prediction
Hendricks defeats Kampmann by knockout in the first round.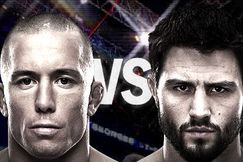 UFC.com
Georges St-Pierre has been out of action for quite some time, but so has interim champion Carlos Condit at this point. We don't know how St-Pierre's knee will hold up, but Condit is working under the assumption that it is fully healed, so we will as well.
Based on the takedown defense Condit has shown in the past and the excellent wrestling skills possessed by St-Pierre, the Canadian shouldn't face much resistance when shooting in on the interim champion.
Grappling with Condit won't be any sort of picnic, but St-Pierre avoided being submitted by a B.J. Penn who was at the top of his game, so we shouldn't expect him to be forced to tap in this one either.
Prediction
St-Pierre defeats Condit by decision.
Statistics via FightMetric.