WWE Raw Live Results, Coverage and Analysis for Survivor Series Go-Home Show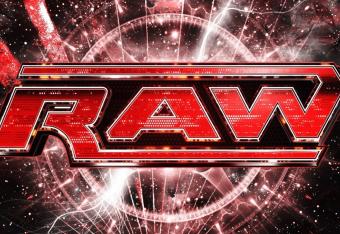 wwe-wallpapers.com

Happy Monday, everyone, and welcome to the Bleacher Report live WWE Raw coverage for Nov. 12, 2012.
We are six days out from Survivor Series and this is WWE's last chance to make any changes they want to make for the card.
Team Foley is still down one man against Team Ziggler, so tonight could and should see the revealing of the final man.
Will it be Mick Foley himself?
Will it be a mid-card superstar in need of a PPV spot to get some exposure?
Hopefully we get the answer tonight. The WWE title match and World title match will likely see a last effort to push the feud into the PPV to build as much interest as possible.
With Kofi and Team Hell No busy in the elimination match, we still have Cesaro and Eve with titles yet to see challengers named for the PPV.
We also have John Cena not only answering to supposed new evidence from Vickie Guerrero, but WWE.com is reporting that he will battle CM Punk in a match tonight as well.
These two always have great encounters and tonight should be no different, that is unless Ryback decides to get involved.
The go-home show for Survivor Series is likely to be interesting so make sure to bookmark this page and some back at the start of the show for coverage of all the action as it happens live on Monday Night Raw.
Readers like to engage in discussion and debate during the show so if you are not a member of B/R, make sure to sign up to join in on the fun.
Follow me on Twitter @BR_Doctor
That was an average show, but the main event was a highlight. The way they portrayed Punk as not being able to get his title from the two other challengers was clearly supposed to plant a message that anything is possible on Sunday.
The Survivor Series team adding Miz as the final member was somehow predictable despite the fact that WWE had a vote for the results.
Miz is either turning babyface or he will turn on his team and cement his status as a top heel.
The US title and Divas title have challengers in R-Truth and Kaitlyn respectively. This brings the Survivor Series card to a total of five, with four being for titles.
Hopefully WWE has time to add another match on the fly. Five matches seems like too little for a PPV to me personally.
John Cena vs. CM Punk Part 2
After the break we see CM Punk leap off the top rope with a double axe handle to the outside on Cena.
He rolls Cena in the ring and tries for a neckbreaker which Cena turns into a backslide for a near fall.
Punk keeps up the offense with a submission hold to Cena's head and neck. Cena fights up but Punk ends up locking in a sleeper hold.
Cena is in the middle of the ring and he falls to his knees. Cena backs Punk into the corner to break the hold and get some breathing room.
Cena and Punk exchange hard rights and kicks. Punk ends up getting taken out by some shoulder blocks and a slam.
Cena tries for the Five Knuckle Shuffle and Punk turns it into a roll up for a near fall.
Punk hits the high knee in the corner and then goes up top for the Macho Man elbow. Cena moves out of the way and Cena goes for the 5KS again and Punk moves.
Cena ends up hitting it on a third try but Punk breaks out of an AA attempt with elbows and kicks for a near fall.
Punk and Cena each miss their finisher and Punk locks in a modified triangle choke. Cena gets his foot on the rope to break the hold.
This is a pretty damn good match so far. Punk has used some unique holds and Cena has been pretty good.
Cena ends up catching Punk off the top rope and locks in the STF. Heyman gets in the ring and Foley pulls him back out.
Punk kicks Cena in the head for a near fall after Cena broke the hold. Punk lifts Cena up for the GTS and Cena counters into the STF again.
Punk tres to crawl to the ropes and he makes it to break the hold. Punk rolls out of the ring and tries to leave but Ryback walks down the ramp.
Punk tries to leave through the crowd but Cena gets him back in the ring for an AA and the win.
Winner: John Cena
That was match of the night for me. I would have preferred Ryback stay out of it but you knew it would happen as soon as the match was made.
Ryback and Cena have a staredown and the crowd chants Feed me More. Both guys pick up the WWE title as Punk gets up on the apron.
The show ends with Cena and Ryback playing tug o war with the belt as Punk watches in pain.
John Cena vs. CM Punk Part 1
Mick Foley is out first as the enforcer for the main event. Punk and Heyman are out next, followed by John Cena who gets a more positive reaction than we have hear in recent weeks.
The bell rings and they lock up with Punk getting the better of the exchange. Cena comes back with a hip toss as the duelling chants break out in the crowd.
Punk goes to the outside as we head to our first break.
Rhodes Scholars vs. Kane and Miz
Miz is revealed as the winner of the poll and he makes his way out to a modest reaction. Bryan makes his way out to the ring screaming No at everyone.
Bryan shakes MIz's hand and then raises Kane's hand in the air as we head to a poorly placed commercial.
After the break we see Kans suplexing Sandow for a near fall. Miz tags in and hits a knee lift to Sandow for a near fall.
Kane gets the tag and he continues the punishment to Sandow. Sandow breaks out of a powerslam and tags in Rhodes, who promptly gets placed on his butt by Kane.
The crowd chants Miz is awesome as Miz tags in and hits Rhodes with plenty of offense.
Miz back drops Rhodes over the top rope. Miz and Bryan have a staredown and Rhodes hits the Disaster Kick and then tags Sandow.
MIz gets hits with a Russian leg sweep and an Elbow of Disdain for a near fall. MIz fights out of a headlock and hits a neck/backbreaker combo to Sandow.
Both men make the tag and Kane takes out Rhodes with a clothesline. He keeps on Rhodes with a sidewalk slam for a two count.
Kane climbs to the top and hits the flying clothesline to Rhodes. Sandow runs in and Kane sends him out of the ring.
Bryan ends up being thrown into Rhodes and Kane ends up hitting Rhodes with a chokeslam for the pin and the win.
Winner: Kane and Miz.
The end of that match was a little strange. Miz and Bryan argue after the match and Kane seems to side with Miz.
We get a promo for Tribute to the Troops.
Josh Matthews is backstage talking about Regal seeing the doctor following the WMD from Big Show.
Kane is walking backstage and he is ignoring Daniel Bryan as he tries to get his attention. Bryan is jealous about Kane being in a match with a different partner.
Team Rhodes Scholars are out first for their match against Kane and what is sure to be Miz.
WWE.com shows Miz has a commanding lead in the poll.
Sheamus vs. David Otunga
They lock up and Sheamus backs Otunga into the corner. Otunga comes out with kicks and punches but Sheamus hits a back elbow to regain control.
Otunga poses a bit and Sheamus tees off on him. We see some people watching the match backstage.
Otunga gets beat around the ring by Sheamus. Sheamus picks Otunga up for a really delayed White Noise and then he sets up for the Brogue Kick.
He hits the kick for the quick win.
Winner: Sheamus
I guess I was right about the squash. Sheamus grabs a mic and says Big Show will suffer the same fate at Survivor Series.
We go backstage to see Big Show beating the hell out of Regal. Show hits the WMD on Regal and Sheamus runs to the back as we head to break.
We see Maddox being taken out of the arena in the ambulance after the break. Cole plugs the Survivor Series poll again before we go to David Otunga already in the ring.
Sheamus is out to face him. Another squash?
Maddox gets put on the stretcher but Ryback grabs it and dumps him off before throwing him into the barricade.
Ryback sets up and hits another meat hook clothesline on the outside. He picks Maddox up on his shoulder and carries him back to the ambulance.
He slams Maddox into the side of the ambulance before opening the doors and throwing him in and slamming the doors shut.
Before the match we get a recap of what happened earlier with Vickie, AJ, Cena and Ziggler as well as the whole Lawler/Punk exchange.
Brad Maddox vs. Ryback
Maddox is out first with no music. An ambulance pulls into the arena and Maddox looks freaked out thinking it will be him who ends up inside it.
Maddox makes his way to the ring as the siren keeps playing for some reason. Ryback comes out and heads to the ring looking ready for action.
Some EMTs come out with a gurney as the bell rings. Maddox bails to the outside right away and the ref starts the count.
The ref gets to six before he slides in and then back out again to avoid Ryback. Maddox finally gets in the ring and he circles Ryback.
Ryback grabs him as he tries to bail again and he puts Maddox down on the mat. He pulls Maddox up and slam him to the ground several times.
The ref checks on Maddox and Ryback grabs him and slams him face-first into the ring a few times.
Ryback throws him into the corner and then says "You're dead" before hitting a powerslam. Ryback clotheslines Maddox over the top rope.
He gets Maddox back in the ring and stands over him as he tires to stand. Ryback powerbombs Maddox three times and the ref checks on him again.
Maddox gets laid out with the Meat Hook before Ryback picks him up for the Shell Shocked for the pin and the win.
Winner: Ryback
That was a long squash match.
R-Truth vs. Tensai
We return to see Tensai already controlling Truth. Cesaro is on commentary.
Lawler makes fun of Cesaro's man purse and Cesaro calls it a satchel. Truth tries to fight back but Tensai puts him down for a near fall.
Tensai keeps the pressure on Truth with an arm-bar. Truth comes off the top rope with an elbow for a near fall out of nowhere.
Truth hits the scissor kick and then a back heel kick followed by his finisher for the pin and the win.
Winner: R-Truth
After the match Cesaro gets on the mic and insults Truth. Truth takes the mic from him and tells him he will beat him for the title on Sunday.
We go to a video from WWE '13 showing Ryback destroying a created Brad Maddox.
Maddox is shown backstage as he heads to the ring for his match up next.
A promo airs for the new NWO DVD.
A promo for Fandango airs after the break where we see him dancing with a woman. Miz is on the phone with someone as Ziggler walks up.
Ziggler says Miz should be begging to get on his team. Miz calls Ziggler out on losing to Orton. Ziggler says he is not Team Ziggler material.
Foley comes up and proposes a match. Ziggler says he will pick Rhodes Scholars for a match and Foley suggests whoever wins the poll and Kane.
Miz asks Foley to be on the ballot for Team Foley. It looks like the face turn has started. Foley says he will put him in the choices for the remaining member of his team.
Cole reveals the choices are Santino, Zack Ryder and Miz and people can tweet their votes.
R-Truth is out next for a match.
Antonio Cesaro comes out and gives a promo about how he will beat Truth and retain his title at Survivor Series in a match we just found out was going to happen.
Before the break we see Heyman take Brad Maddox aside to talk to him.
Gabriel, Kidd, Mysterio and Sin Cara vs. Prime Time Players, Epico and Primo Part 2
We return to see Titus in control of Mysterio. He presses Rey above his head and drops him with a pair of backbreakers.
Titus applies a bearhug to Rey. Rey gets taken out with a shoulder block before Primo tags in for a near fall.
Primo keeps Rey down in the middle of the ring for a bit but Rey fights up and kicks Primo in the face to get some room.
Young gets the tag and he cuts off Rey from his team but Rey takes him down with a hurricanrana. Kidd gets the tag and he comes in with a head of steam.
A series of kicks from Kidd gets him a near fall on Young. Kidd goes for a Sharpshooter and everyone comes in and knocks each othe out of the ring.
Young hits a tilt a while gutbuster for a near fall. He tries for his normal gutbuster but Kidd turns it into a headscissors.
Rey hits the 619 and Gabriel comes in with the 450 to Young for the pin and the win.
Winners: Rey, Cara, Gabriel and Kidd.
For a packed match they managed to get everyone a little time in the ring.
After the match we get a video in appreciation of the National Guard.
Heyman and Punk are backstage after the break and Punk is asking Heyman to fix the situation and walks away.
Gabriel, Kidd, Mysterio and Sin Cara vs. Prime Time Players, Epico and Primo
Epcio and Primo needlessly change from face to heel almost as much as Alicia Fox. Any chance to see Rosa is good, though.
The babyfaces are out first for the big tag match. They should have just had this be an elimination match at Survivor Series with one more guy added to each team.
It looks like JR is gone as Lawler rejoins Cole for commentary. Lawler makes some jokes at Cole's expense.
The bell rings and Gabriel gets put down by Titus eadly before he tags Young for a double team for a near fall. Epico gets the tag and takes it to Gabriel with a suplex for a near fall.
Ricardo Rodriguez comes out and hands Rosa a note from Alberto Del Rio. Gabriel gets in a kick to Epico and both men make tags.
Mysterio is in with Primo and he hits all his signature offense before missing a 619 but settling for taking Primo over the top rope.
All 8 men square off outside the ring as we head to break.
Punk says he is glad Jerry left the ring because he would have beaten him to death...again.
I really hope Lawler had all this runned past him beforehand. Punk says Lawler is disrespectful for thinking he could beat him.
I am shocked they are bringing Jerry Lawler's heart attack into a storyline. I thought it would be off limits for at least a little while.
Punk talks about holding the title for 358 days, tying him with Diesel for the 9th longest reigning champion in history.
Punk asks Lawler not to croak before the PPV and Lawler says Punk's days as champion are numbered.
Punk invites Lawler into the ring and Heyman starts coughing violently and falls to the ground. Punk calls for help and Punk pretends to do CPR.
Everyone just stands there and the crowd boos. Heyman gets up and laughs at Lawler and Punk says Heyman almost gave him a heart attack.
Mick Foley's music hits and he makes his way to the ring. Cole apologizes to Lawler and everyone watching for Heyman and Punk's disrespectful display.
Foley says Punk should show respect and Punk says that they are no longer in Survivor Series matches together and Foley should worry about his final member of his team.
Foley says the WWE Universe will decide who gets to be the final member of Team Foley. Punk says Foley shouldn't care who the WWE Universe likes because they are worthless.
Foley shuts Punk up and says Lawler was dead and it is a miracle that he is here today. Foley berates Punk for mocking Lawler's heart attack.
Punk says none of this involves him and he doesn't matter. Foley says it does involve him because he has a gift for Punk.
Foley will be the special guest enforcer for the main event tonight.
Cole reveals that the choices for Team Foley will be revealed later tonight. We see Brad Maddox in the back preparing for his match with Ryback before Cole plus and eight-man tag team match for after the break.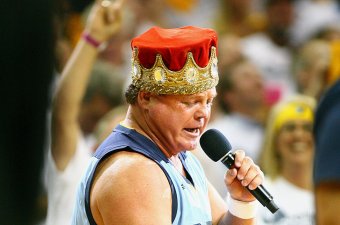 Spruce Derden-US PRESSWIRE
After the break Michael Cole and Jim Ross bring out Jerry Lawler to a standing ovation and a big pop.
Welcome back, Jerry!
He looks great as he walks his way to the ring.Jerry hugs Cole and JR in the ring and JR hands him a mic.
Jerry looks around as the crowd chants his name. He sounds a little broke up after the reaction as he thanks the crowd.
Jerry tears up as he compares his life to the movie It's a Wonderful Life. He thanks everyone and that is when CM Punk's music hits.
The crowd boos as Punk and Heyman make their way to the ring. Heyman holds the WWE title up high as he follows Punk to the ring.
Layla vs. Kaitlyn
After the break the Divas are already in the ring and Kaitlyn gets a quick roll up right off the bat for a near fall.
They trade offense until Layla plants Katie with a facebuster for a near fall. Kaitlyn catches Layla in a cross body and plants her with her finisher. Quick win for a number on contendership.
Winner: Kaitlyn
After the match Eve and Kaitlyn stare each other down. Eve was on commentary, by the way.
Cole throws to a video package for Jerry Lawler's return.
William Regal vs. Big Show
The ref has to hold Regal back as Show gets in the ring and the bell rings with Show going right after Regal with shots to the ribs.
Show puts Regal in the corner for a chest slap. Regal squares off with Show and gets put down easily. Regal tries and elbow but Show just slams him with ease.
Regal avoids a big elbow from Show and he tries to take advantage. Show grabs Regal and chokeslams him out of nowhere for the pin and the win.
Winner Big Show
After the match Big Show sets up for the WMD and this brings out Sheamus.
Sheamus takes Show off his feet and stomps him out of the ring. Show retreats with his title as Sheamus tends to Regal.
After the break we see Cena backstage consoling AJ. Cena says he would never hook up with AJ and she questions whether he means it.
He changes his wording and then stammers a bit before running off. AJ looks on adoringly as he runs away like a five year olf child.
We got to a replay of SmackDown from Sheamus and Big Show's feud. Nice! Another William Regal match.
Damn! He is facing Big Show. Regal is going to be a glorified jobber tonight. Still great to see him, though.
AJ slaps the taste out of ZIggler's mouth ad Cena hits him with a hard right hand. I guess that is the end of the segment.
We didn't hear from Cena say anything so chances are good that this storyline will continue.
Cole hypes Cena vs. Punk for later and then we see the video of Big Show beating up William Regal and Sheamus in a pub last week.
Cole thanks all the veterans who have served the United States and he throws to a video that highlights the veterans Iraq and Afghanistan.
After the break we see Dolph Ziggler and Vickie in the ring. Ziggler defines what a scandal is for everyone.
Ziggler says he is out here for the truth, not to hide behind Vickie. They show the same video we have seen a million times and Ziggler mocks Cena for wearing his wrestling gear on a date.
Vickie says she is going to show evidence that will prove everything and she calls AJ to the ring. AJ gets a big pop as she makes her way out.
AJ asks why Vickie is doing all of this. Vickie tells her to admit the affair and AJ says she won't.
After Vickie badgers AJ for awhile AJ admits that she and John Cena...are just friends. Vickie looks like she just ate a lemon.
AJ makes a fat joke about Vickie and Vickie says she has forced her hand. Vickie plays an incriminating voicemail where and AJ says she didn't leave the voicemail.
Vickie plays the second message where AJ says she loses control when she sees him. AJ asks how she has these messages.
Vickie plays a third voicemail where AJ says they should be together. AJ says Vickie hacked into Cena's phone and edited together fake messages.
Ziggler steps in and says everyone knows something happened. He asks AJ what is worse; John not talking to her or spending the night with him.
This brings out Cena to add to this noise.
Kofi and Orton vs. Del Rio and Ziggler
Kofi and Dolph start and Kofi gets the early advantage with a few offensive moves as we head to out first break.
After the break we see Del Rio punishing Kofi's back. Kofi fights up but Del Rio throws him in the corner and tags Ziggler, who gets rolled up after a failed neckbreaker for a near fall.
Orton comes in and breaks up a near fall from Ziggler after another beautiful dropkick from Ziggler to Kofi. Ziggler does his head stand/lock to show off and he rolls over into a bridge while still holding the submission.
Little variations like that are why Ziggler is a stand out talent in WWE.
Ziggler missed wildly in the corner and both men try to crawl to their corner. Both men make the tag and Orton comes in and takes out both of his opponents.
Del Rio grabs Orton and Orton whips around nd turns it into a powerslam. Del Rio avoids the rope-hung DDT.
Kofi tags himself in and hits a cross body for a near fall. Kofi hits Del Rio with the SOS for a near fall that is broken up by Ziggler.
Kofi calls for Trouble in Paradise and Ricky holds his foot so Del Rio can nail him with an enziguri for the pin and the win for his team.
Winner: Alberto Del Rio and Dolph Ziggler.
A pair of good matches to start the show is never a bad thing. All four men looked solid in that one.
After the match Orton helps Kofi up and they stare up the ramp at the winners.
Vickie is shown backstage walking to the ring as we head to commercial.
Randy Orton vs. Dolph Ziggler
The bell rings and they lock up. Ziggler knocks down Orton with s shulder block but Orton answers back with a big throw straight up in the air.
Orton brings Ziggler into the ring from the apron with a slingshot suplex. Ziggler gets an elbow up in the corner and the follows up with a picture perfect dropkick.
Ziggler hits a neckbreakers and then hits six elbows drops before ending with a jumping elbow drop for a near fall.
Orton fights up out of a headlock and back suplexes Ziggler to get some breathing room. Orton hits two clotheslines and a powerslam before setting Dolph up for the rope-hung DDT and planting Ziggler.
Del Rio gets up on the apron but Orton knocks him off and ends up beating Ziggler with a roll up.
Winner: Randy Orton
After the match Del Rio, Ziggler and Ricky Ricardo team up on Orton until Kofi Kingston comes out and cleans house.
Teddy Long is out to make a tag team match between these four men since Vickie is too budy to do anything.
He says the match is going to start right now. The bell rings and everyone goes to their corners.
A Veteran's Day video package opens the show. Thank You veterans!
We get a video package of what to expect. This narration thing looks like it is here to stay.
Randy Orton's music hits right at the top of the show. This is a little unexpected. It looks like Orton is in a match to start off the show.
Michael Cole and Jim Ross are on commentary. I guess they are going to do a special intro for Jerry Lawler later on.
Orton's opponent will be Dolph Ziggler. This is a great way to start the show.
This article is
What is the duplicate article?
Why is this article offensive?
Where is this article plagiarized from?
Why is this article poorly edited?