College Football: A Fan's Guide to 'The Game,' the Harvard and Yale Showdown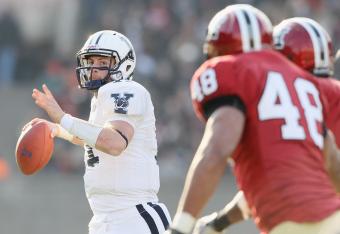 Elsa/Getty Images
There is a undoubtedly rich history between them. The hatred runs deep. Sitting at the top of the academic spectrum, these two universities have rivaled each other in nearly every field, every pitch and every outlet of higher education. Both are more well-known throughout the world for their academic pursuits, but once a year, the football programs of these two universities take the field in a heated rivalry that brings the student bodies of both schools together in one wild and crazy weekend.
It is time for Harvard versus Yale.
This season has been drastically unpredictable for the Ivy League. Harvard (7-2, 4-2) started the season as the clear favorite to repeat as the undefeated conference champion, but they ran into stiff competition along the way. The Crimson were upset by Princeton's dramatic fourth quarter, as the Tigers put up 29 unanswered points en route to a 39-34 victory. While Harvard returned to the top of the conference standings, Penn found a way to take down the Crimson 30-21 last weekend.
Yale (2-7, 1-5) has been another story altogether. The Bulldogs currently sit at the bottom of the Ivy League, their lone conference victory coming against Penn, the current leaders in the title race. The squad has been incredibly unpredictable throughout the season, including a crushing defeat against Columbia, who Harvard torched 69-0. Both sides of the ball have been a question mark for Yale all season, as the team has just struggled to put up points while opposing offenses have had no problem finding holes in their defense.
The location this season is up at Cambridge, where Harvard has been absolutely unstoppable this season. The Crimson are 5-0 at home, most of their victories coming in wide margins. A 69-0 victory over Columbia was the highlight of this impressive home stand, which includes a 52-3 thrashing of Holy Cross, a 45-13 slaughter of Cornell—who beat Yale 45-6—and a 35-7 win over Bucknell.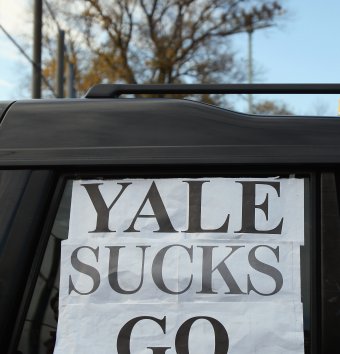 Elsa/Getty Images
Yale, currently ranked #8 in Bleacher Report's Conference Power Rankings, seems outmatched on paper against this talented Harvard squad, who is penned at #2 in the conference. The Bulldogs have relied on a relatively strong running game under sophomore Tyler Varga, but it has not been a crucial factor in many of their games this season.
Harvard fields an incredibly dynamic offense with Colton Chapple leading the way in both a strong passing game and his ability to break out for huge running gains.
Last season, the annual matchup proved to be a very one-sided affair. Harvard, en route to a conference title, stepped up to a 45-7 victory, in which the Bulldogs looked as if they did not belong on the pitch. This game was surrounded by allegations against Yale quarterback Patrick Witt, and the eventual death of a woman as a result of a U-Haul accident where the truck was filled with kegs for the tailgate.
This year, however, the Bulldogs are hoping will be a different story.
Harvard, on paper, should be incredibly confident going into the game, but considering the historical aspects of this rivalry, they will show up to play, hoping they can add another to a long list of Crimson victories in this dramatic showdown.
Harvard definitely matches up incredibly well with this Yale squad. Harvard is strong against the run and will force the Bulldogs to also resort to a passing game in order to find holes in the Harvard defense.
On the other side of the ball, the Bulldogs will have to look to stop the Harvard offense, who is capable of lighting up that scoreboard.
In reality, it seems highly unlikely that Yale will be able to take down the Crimson in front of their home crowd. Either way, it will definitely be a game to remember in a long rivalry that runs all the way from Cambridge to New Haven.
Prediction: Harvard 56, Yale 13
This article is
What is the duplicate article?
Why is this article offensive?
Where is this article plagiarized from?
Why is this article poorly edited?