Winning came at a premium for the Pittsburgh Steelers on Monday Night Football.
Said premium obviously surrounds Ben Roethlisberger. According to Gerry Dulac of the Pittsburgh Post-Gazette:
Coach Mike Tomlin said today that quarterback Ben Roethlisberger has a shoulder sprain in his throwing arm that "puts his participation into the questionable category" for Sunday night's game against the Baltimore Ravens.

Several other sources have told the Post-Gazette that Roethlisberger also sustained some form of rib injury when he was sacked by Chiefs linebacker Justin Houston.
In addition, the Steelers only defeated the now-1-8 Kansas City Chiefs 16-13 in overtime.
K.C. had opportunities to knock off the Steelers. If Ryan Succop doesn't miss a 33-yard field goal then the Chiefs may have won in regulation.
Factor in the defense allowing 27 yards on a 4th-and-15 and Pittsburgh's fans have every reason to be concerned. Not to mention that was given up to Matt Cassel, not Peyton Manning, Tom Brady, Aaron Rodgers, Drew Brees or Eli Manning.
The Chiefs concocted a near-perfect game plan, and that blueprint may serve the rest of Pittsburgh's opponents quite well this season.
Defensive Exploitations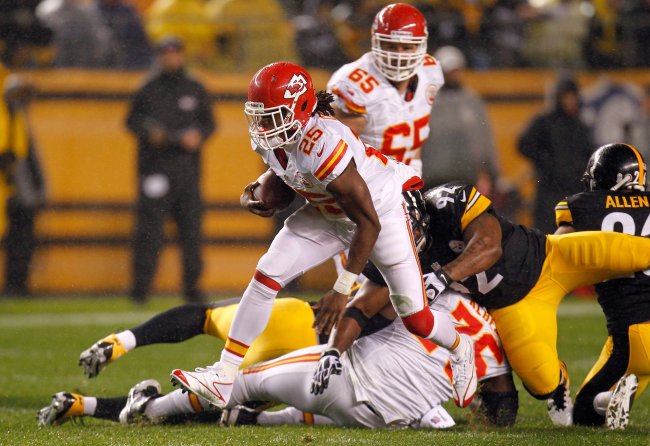 Gregory Shamus/Getty Images
Run the ball, period.
It's how the New York Giants went into Candlestick Park and bulldozed the San Francisco 49ers, and it's how the New Orleans Saints upset the Atlanta Falcons.
Any time an offense refuses to abandon the ground game that team increases its odds of winning. Kansas City executed this consistently versus Pittsburgh as Jamaal Charles tallied 100 yards with a touchdown while averaging 4.3 yards per carry.
That's quite impressive against the Steelers.
Because of that success on Monday, the Steel Curtain now gives up an average of four yards per carry. Just imagine if K.C. presented a legitimate passing game.
The Baltimore Ravens are only going to be that much more of a challenge for Dick LeBeau's defense. Baltimore fields an impressively balanced offense. Joe Flacco's aerial onslaught is capable of dicing up the Steelers downfield, especially if/when Ray Rice has a similar impact to that of Charles.
The Chiefs collected 142 rushing yards, finishing with 290 total yards of offense. And that occurred despite Pittsburgh winning the time of possession battle. If anything, expect no team to abandon the running game versus the Steelers from here on out.
At What Cost?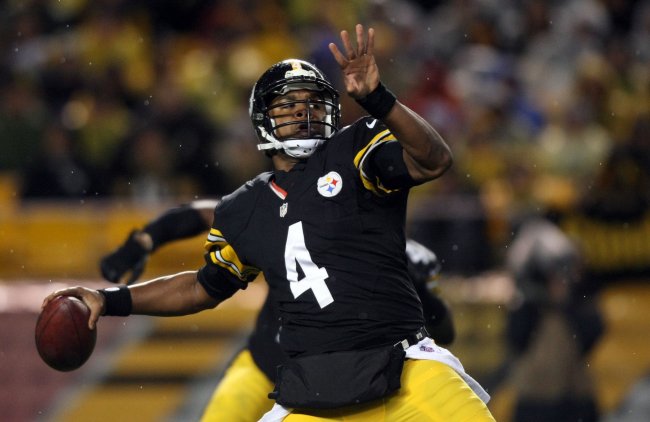 Jason Bridge-US PRESSWIRE
The good news is that Byron Leftwich performed reliably well in relief of Roethlisberger.
The veteran backup quarterback completed just 50 percent of his passes for 73 yards, but he averaged over 10 yards per completed pass and didn't make mistakes.
Leftwich was not sacked, did not turn the ball over and kept the field position battle enough in Pittsburgh's favor to fend off K.C. Fortunately the defense came up big in overtime and the Steelers escaped with a win.
But as the subsection reads: At what cost?
With the defense exploited against the run, and Big Ben's health concerns, the Steel City has every reason to be paranoid. Monday was Leftwich's first regular season action since he faced the Cleveland Browns at the end of the 2010 season.
The success of K.C.'s pass rush, although they only tallied one sack, means that better front sevens will attack earlier and more often. We can expect that from Baltimore, and the Browns and Cincinnati Bengals will presumably do just that as well.
Excluding a 14-yard scramble by Roethlisberger, Pittsburgh managed only 81 rushing yards on 28 attempts. Isaac Redman and Jonathan Dwyer combined to average just 2.7 yards per carry.
The offensive line must improve.
Yes, the weather conditions certainly assisted the Chiefs in the form of dropped passes and loose footing. Still, whether its on a faster surface against Baltimore or in the postseason versus the Denver Broncos, New England Patriots or Houston Texans, the Steelers can't afford to be one-dimensional.
AFC Playoff Race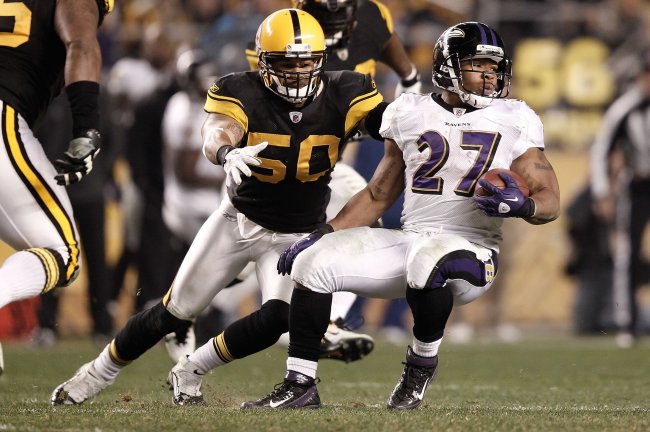 Jared Wickerham/Getty Images
The victory over Kansas City improved the Steelers' conference record to 3-3. Even better, Pittsburgh still has five AFC North games remaining, two of which are against the Browns.
Most definitely is the division title with grasp; however, the aforementioned concerns will make it tough to sweep Baltimore. Therefore, the AFC Wild Card must be sought.
We've learned this past century that making the postseason is all that matters.
The 2005 Steelers, 2007 and 2011 Giants and the 2010 Packers all won Super Bowls as Wild Cards.
Competing with Pittsburgh right now are the Indianapolis Colts, Miami Dolphins, San Diego Chargers and Tennessee Titans. The Colts are 6-3, but Andrew Luck and co. still face Houston twice and the Patriots this week.
Miami's toughest remaining opponents are the Pats (twice), Seattle Seahawks and 49ers. The Chargers get Denver and Baltimore these next two weeks and then Pittsburgh in December. In addition, the Titans cannot be ignored thanks to their head-to-head tiebreaker over the Steelers.
Tennessee's toughest opponents left are the Texans, Colts and Packers.
The Steelers are still set up nicely to get at least the No. 5 or No. 6 seed, as their reaming schedule isn't as brutal as some of the aforementioned teams. Expect to see Pittsburgh in January, barring catastrophes versus Cleveland, San Diego or Cincinnati.
The concerns then, though, are just as vital as now because of controlling the line of scrimmage. As that's where playoffs game are won.
Follow John Rozum on Twitter.