Big Ten Football: 10 B1G Stars Who Would Have No Trouble Starting in the SEC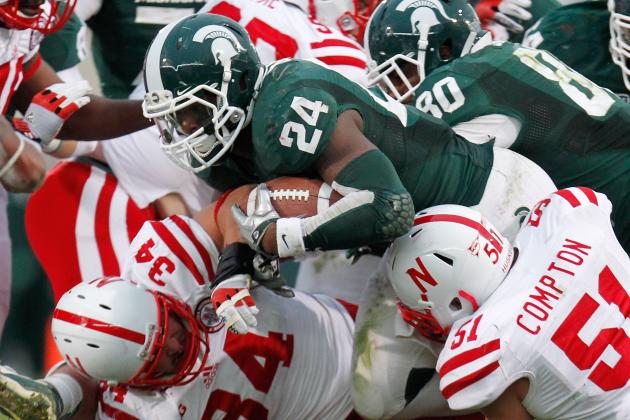 Gregory Shamus/Getty Images

In a year in which the Big Ten's lone undefeated team is ineligible for any postseason appearances, the conference is as strong as ever. While some will account the lack of BCS Championship contenders to weakness, there is a greater balance in the Big Ten than ever before.
So much so, that certain athletes have risen to the level of elite. A level that qualifies them as capable of starting in the SEC.
Regardless of which side of the ball they play, there is a great deal of talent in the Big Ten. Although the SEC will garner the headlines, the individuals coming out of the Midwest are amongst the best in the nation.
So who has separated themselves as the best of the best? Who could start in the SEC?
Begin Slideshow

»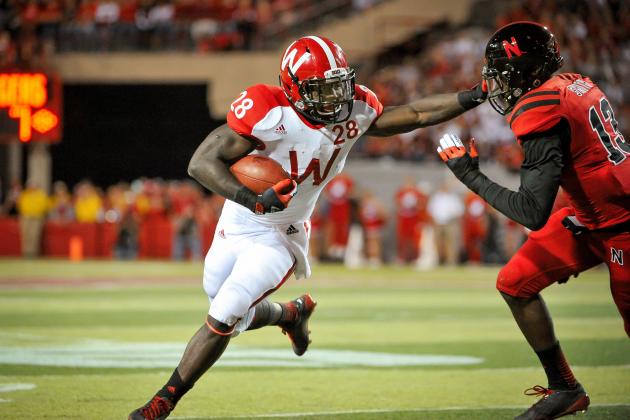 Eric Francis/Getty Images

Position: Running Back
Class: Senior
Height and Weight: 5'11", 212 lbs
2012-13 Season Statistics
245 carries, 1,226 yards, 16 touchdowns
Montee Ball may not be producing at the Heisman-caliber level that he was in 2011-12, but he remains an exceptional running back. He's also the type of player who could flourish in virtually every conference in the nation.
Just ask yourself, what can't he do?
Ball is more than capable of working outside of the tackles and busting off a run for 20-plus yards. What has proven to be Ball's greatest strength, however, is patience between the tackles.
Ball has an exceptional burst when hitting the gap. Not only is he more athletic than his size and build would suggest, but the power in his lower body enables him to bounce off of tackles and enter the open field.
What makes him a fit for the SEC, however, is his previously acknowledged patience.
From the time the ball is snapped, Ball is looking for his blockers. Once he's found them, he allows them to guide him upfield as he waits for the holes to be created.
When all else fails, Ball has the ability to cut back or go outside. Upon reaching the numbers, your average defensive back is helpless against his power.
Weighing all of these factors, Ball is your quintessential SEC star running back.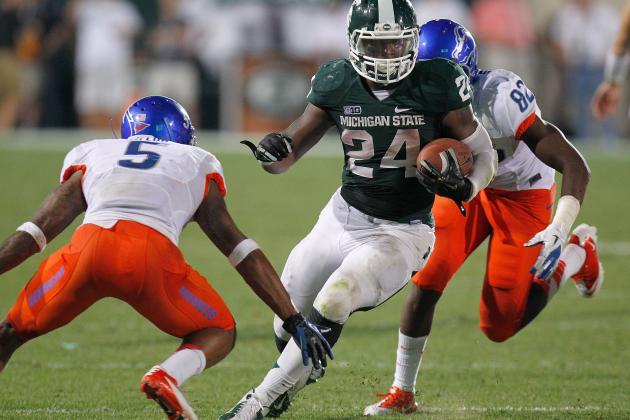 Gregory Shamus/Getty Images

Position: Running Back
Class: Junior
Height and Weight: 6'2", 244 lbs
2012-13 Season Statistics
283 carries, 1,249 yards, 10 touchdowns, 29 receptions, 145 yards, 1 touchdown
Le'Veon Bell is not only fit for the SEC, but he'd almost certainly be the best running back in the conference. All 6'2" and 244 lbs of him will either stand by said claim or hurdle right over it for a few extra yards.
When he's not leaping over tacklers, Bell is one of the most dominant between-the-tackles runners in the nation. With his combination of well above-average height and weight, Bell maintains an overpowering center of gravity that makes him virtually impossible for one player to bring down on his own.
If that doesn't make him a perfect fit for an SEC backfield, what would?
On top of being a human freight train, Bell is one of the most athletically gifted players in the Big Ten. His hurdle against Boise State garnered headlines, but it's Bell's deceiving change-of-direction that makes him a terror in the open field.
That and the fact that he has as good of hands as any running back in the Big Ten.
When you've predicted which direction he's headed, Bell will put his head down and knock you into oblivion. When you opt to go low, he'll jump right over you.
How can you not love this monster of a running back?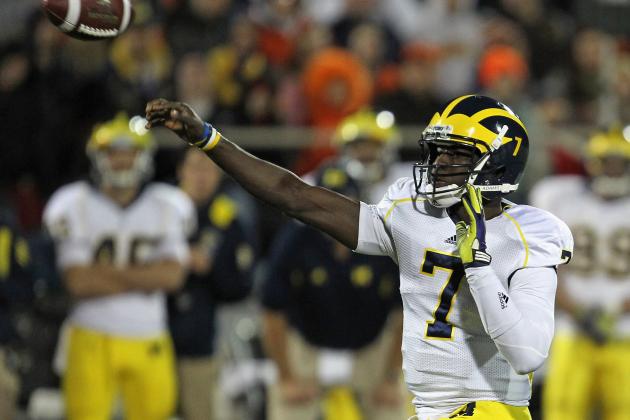 Jonathan Daniel/Getty Images

Position: Quarterback
Class: Junior
Height and Weight: 6'4" and 203 lbs
2012-13 Season Statistics
28-of-47, 520 yards, 4 touchdowns, 2 interceptions, 19 carries, 68 yards, 3 touchdowns
Devin Gardner has caught the eye of Michigan Wolverine fans for quite some time. After sitting behind Denard Robinson for more than two years, it appears as if head coach Brady Hoke is finally willing to let him loose.
And what we've seen in-game is exactly what we wrote on the scouting reports. This kid can do it all.
Although new to the top of the depth chart, Gardner has the pure ability to play in the SEC. Poised and standing at 6'4" and 203 lbs, Gardner has the pocket presence to stand in there and sling out passes against the best of defenses.
He has the arm strength to go over the top of the SEC's elite, but weakened defensive backfields. Gardner also has the short-range accuracy to work the screen games.
With the ability to run between the tackles and explode to the outside, Gardner is all the more dangerous. He has three rushing touchdowns in two games to provide evidence to such a claim.
With an elite combination of size, athleticism and arm strength, Gardner could be the next big thing in college football.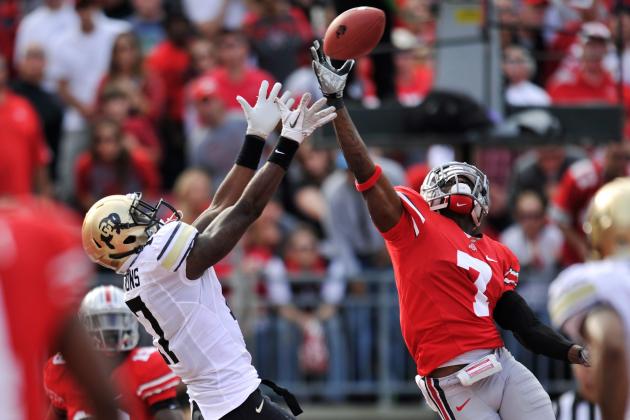 Jamie Sabau/Getty Images

Position: Cornerback
Class: Senior
Height and Weight: 6'1" and 196 lbs
2012-13 Season Statistics
34 tackles, 20 solo, 4 interceptions, 9 pass deflections
Travis Howard of the Ohio State Buckeyes is one of the most dangerous ball hawks in the nation. Allow the numbers to do the talking.
At 6'1", he has extraordinary size for a cornerback. This instantly makes Howard a top nominee to play SEC football, as size and physicality have become the standard for defensive backs in the Southeastern Conference.
Howard's uncanny ability to step in front of passes and take them the other direction simply seals the deal.
Howard is presently tied for 10th in the nation with four interceptions. He has an additional nine pass deflections to display how disruptive he can be.
What truly separates Howard from the other cornerbacks in the Big Ten is the fact that he's a quality tackler in the open field. Although he occasionally bites too hard on attempts at an interception, he is generally tamed in the defensive backfield.
With this being known, it's not too hard to picture the 6'1" corner starting in the SEC.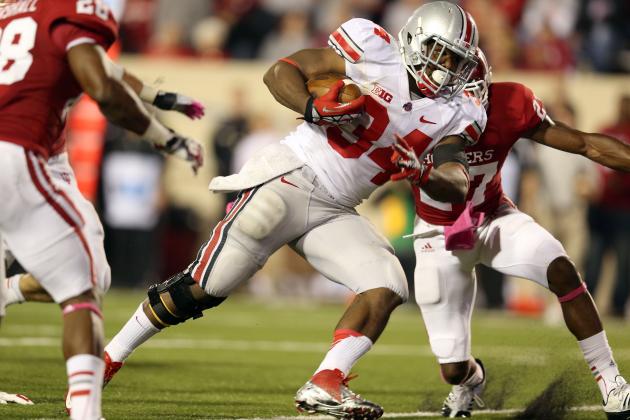 Andy Lyons/Getty Images

Position: Running Back
Class: Junior
Height and Weight: 6'1" and 235 lbs
2012-13 Season Statistics
144 carries, 737 yards, 13 touchdowns, 7 receptions, 43 yards, 1 touchdown
Masked by the high-profile play of quarterback Braxton Miller has been the dominant force known as Carlos Hyde.
At 6'1" and 235 lbs, Hyde is built to run between the tackles. His style has been on full display in 2012, as he's tallied 737 yards and 13 touchdowns on 144 carries—most of which have come straight up the gut.
As for how he'd fare in the SEC, think of it in the way a physical runner does in the AFC North. Although he has the capability to bust out a big run, Hyde would thrive in short-yardage situations and tally more touchdowns than the average from goal-line sets.
His yards per carry may not impress, but his touchdowns will. The fact that Hyde can come out of the backfield and haul in a pass certainly doesn't hurt either, as any SEC quarterback would love to run a screen play for him.
The question is, would you really want to bounce him outside when you can discover success just pounding the rock?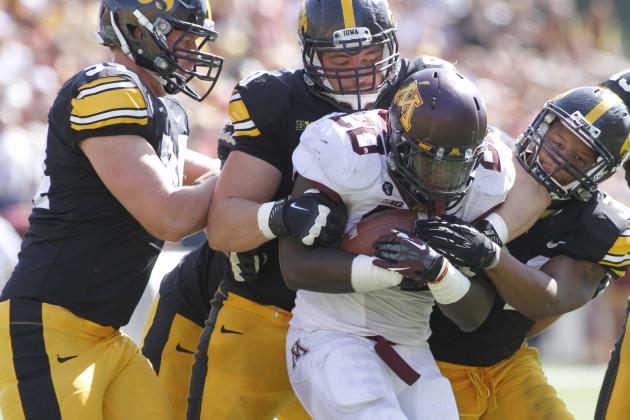 Matthew Holst/Getty Images

Position: Running Back
Class: Sophomore
Height and Weight: 5'10" and 216 lbs
2012-13 Season Statistics
182 carries, 819 yards, 5 touchdowns, 4.5 yards per carry
Donnell Kirkwood is one of the best players you've never heard of.
At 5'10" and 216 lbs, the Minnesota Golden Gopher has an exceptional center of gravity when running between the tackles. He's as difficult a player to bring down as you'll find, constantly dragging defenders for the extra yard.
If it weren't for Minnesota's horrendous pass game, he might have the touchdowns to show for it.
Had Kirkwood signed on to play in the SEC, he'd probably be a star with the likes of Todd Gurley, Mike Gillislee and T.J. Yeldon. With a quality quarterback, he might have actually come up and shocked the world by leading the conference in both yards and touchdowns.
If not, he'd be one of the stars of tomorrow by virtue of his hard-nose running style.
Although he's not performing to a high level with his hands, Kirkwood has taken on a heavy burden as a runner and thrived in said situations.
Look for Kirkwood to break out in the Big Ten before his career is said and done.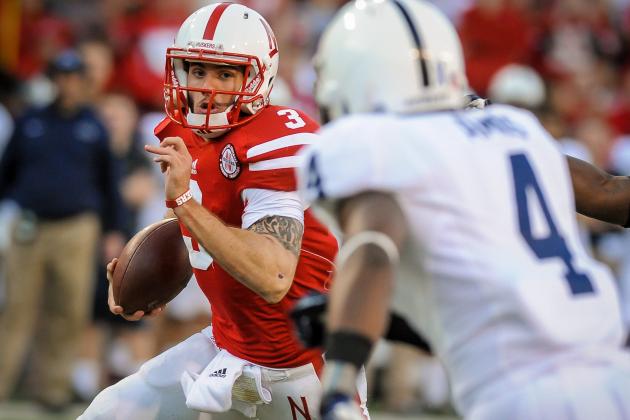 Eric Francis/Getty Images

Position: Quarterback
Class: Junior
Height and Weight: 6'1" and 200 lbs
2012-13 Season Statistics
166-265, 2,112 yards, 19 touchdowns, 8 interceptions, 132 carries, 770 yards, 8 touchdowns
Really? Really.
When Taylor Martinez was a freshman, he instantly became a nationwide phenomenon known for his ability to run as well as most running backs. Between him and Denard Robinson, college football had all of the running quarterbacks they could ask for.
Unfortunately, Martinez couldn't throw the football.
After completing less than 60 percent of his passes in his freshman and sophomore seasons, it appears as if Martinez has found his groove as a junior. Through 10 games, he has completed 62.6 percent of his passes and thrown a career-best 19 touchdowns to eight interceptions.
This comes one year after he threw for 13 touchdowns and eight INTs.
Furthermore, Martinez has completed four more passes and tallied 23 more yards on 23 less pass attempts. Although he's likely to reach 288 passes this week, it is clear that Martinez has come a long way as a passer.
Just don't think he can't bust off a 50-yard-run for a touchdown. Thus far this season, he's complemented his 2,112 passing yards with 770 yards and eight scores on the ground.
If you love Johnny Football, you'd love Martinez going up against the SEC. That is, if he has the supporting cast on defense to keep him in the game.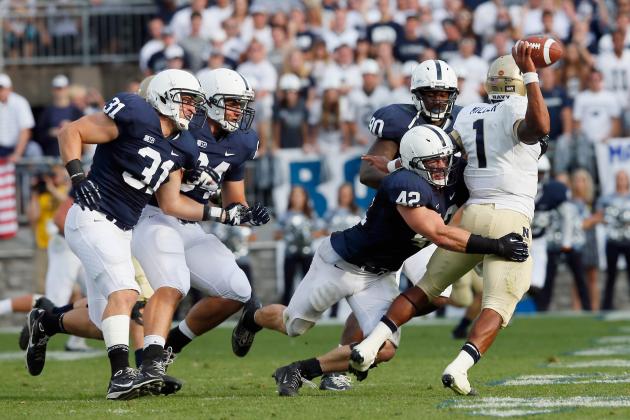 Rob Carr/Getty Images

Position: Linebacker
Class: Senior
Height and Weight: 6'2" and 232 lbs
2012-13 Season Statistics
93 tackles, 48 solo, 2.5 sacks, 3 interceptions, 3 forced fumbles, 2 pass deflections
Michael Mauti of the Penn State Nittany Lions is one of the most passionate players you'll ever see. He has been at the forefront of the Penn State recovery process, stepping up and taking the lead for the players who have opted to stay with the team.
His production on the field is equally as impressive.
For the season, Mauti has tallied 93 tackles, 2.5 sacks, three interceptions and three forced fumbles. It seems as if Mauti is in on every play for Penn State, which is exactly why he's a perfect fit for SEC football.
Active, passionate and productive.
Not only is Mauti a playmaker on defense, but he knows how to get into the backfield and disrupt a play. He'll rush the passer, lay a hit on the running back and even drop back into coverage to cover a tight end.
Most importantly, Mauti has the know-how to take a lead blocker to open up lanes for a fellow tackler. With this versatility and physicality, Mauti could be the perfect fit in an SEC defense.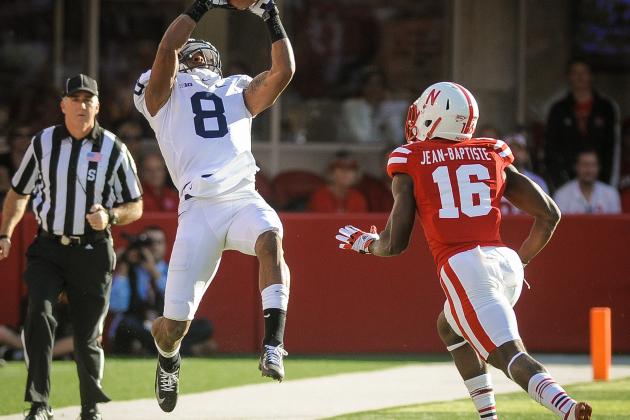 Eric Francis/Getty Images

Position: Wide Receiver
Class: Sophomore
Height and Weight: 6'3" and 201 lbs
2012-13 Season Statistics
63 receptions, 786 yards, 8 touchdowns, 12.5 yards per reception
If you've never seen Allen Robinson play the game of football, you're truly missing out. Robinson is one of the most promising wideouts in the nation, which is on full display by the sophomore receiver's numbers.
He ranks first in the Big Ten in receptions, yards and touchdowns. That's 63 catches for 786 yards and eight scores.
At 6'3" and 201 lbs, Robinson has all of the physical tools to play in the SEC. He's also physical coming off of the line of scrimmage, concentrated when pursuing jump balls and more athletic than given credit for.
That is exactly what gives him that extra edge—an edge that Robinson would exploit against SEC cornerbacks just as well as he has against those in the Big Ten.
And to think, this is one year removed from a season in which he caught just three balls for 29 yards.
It appears as if no one has benefited more from Silas Redd's departure than Robinson, who is now the focus of the Penn State offense, as well as a prime candidate to be able to step into the SEC and start immediately.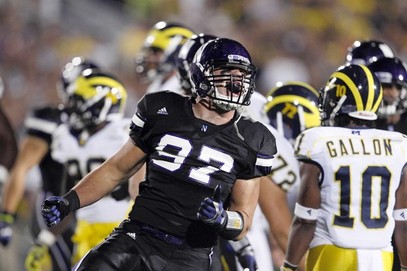 Philip Rossman-Reich
Position: Defensive Lineman
Class: Junior
Height and Weight: 6'4" and 265 lbs
2012-13 Season Statistics
35 tackles, 20 solo, 8.5 for loss, 7 sacks, 4 pass deflections, 3 forced fumbles
Tyler Scott is one of the hardest working players in all of college football. He was commended by ESPN as a "workout warrior"—a primary result of his bench press going from 265 to 400 pounds.
His squat, meanwhile, improved from 415 to 550 pounds. In turn, Scott's explosive speed off of the edge has been complimented by overwhelming power in the trenches.
Which is exactly why Scott has enabled himself to play as an end and interior lineman.
With his physical gifts established, it isn't too difficult to imagine Scott on an SEC defensive line. Scott has the numbers to back his physical attributes up, with 8.5 tackles for loss, seven sacks, four pass deflections and three forced fumbles.
In turn, it's clear how Scott can play in the SEC. He'll disrupt the run, get after the quarterback and create turnovers and incompletions with his athleticism off the line.