3 Most Important Things About Barca's Win over Mallorca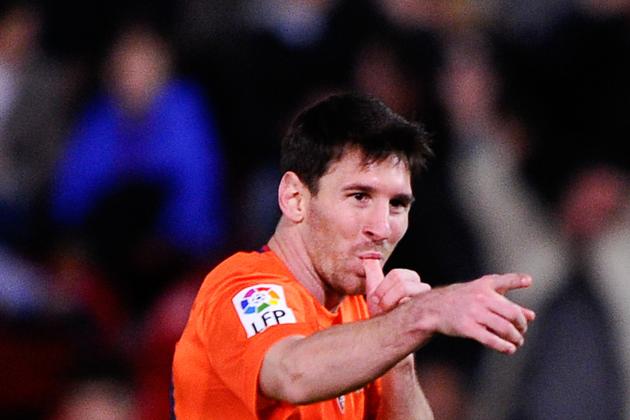 David Ramos/Getty Images

FC Barcelona continued their historic run in La Liga with a 4-2 win against Mallorca on Sunday. Barcelona have now equaled the best start in La Liga history after the first 11 games.
Mallorca had solid chances to take the lead at the beginning of the game. A good chance for Mallorca was in the 17th minute as Hemed missed putting a cross past Victor Valdes. Mallorca missed another shot at taking the lead in the 21st minute off a set piece.
Barcelona struck first thanks to a set piece in the 28th minute. A free kick was given to Barca just outside the box. It wasn't Lionel Messi who took it. Instead, it was Xavi who took the free kick and sent the ball over the Mallorca wall and into the back of the net for the 1-0 lead.
Cristian Tello just missed finding David Villa for a goal in the 34th minute.
Lionel Messi got his goal just two minutes before halftime as the new papa took a shot from the top of the box that slipped through the hands of Dudu Aouate for the 2-0 score. With the goal, Messi tied Pele with 75 goals in a calendar year.
Just when we thought the scoring was over for the first half, Cristian Tello came from the top left of the box and curled in a wonderful goal to make it 3-0 less than a minute after Messi's goal.
In the second half, Mallorca got a goal back thanks to a great pass by Victor Casadesus to Michael Pereira who was left all alone to blast it past Valdes in the 55th minute. Three minutes later, a handball by Sergio Busquets inside the box gave Mallorca a spot kick and Casadesus slipped it past Valdes to cut the Barcelona lead to one.
It looked like Mallorca was on their way to coming back, but in the 70th minute, Leo Messi gave Barca a two-goal cushion via a golazo from the little Argentine. A Dani Alves cross into the box bounced away from Alexis Sanchez and landed at Messi's feet who slammed the ball past Aouate for his brace on the night.
With that goal, Messi passed Pele for second in the record books for the most goals in a calendar year. As previously mentioned, Messi only trails Gerd Muller (85 goals in 1972) for the record.
FINAL: RCD Mallorca 2 – 4 FC Barcelona
Let's break down the top three most important things about Barcelona's win over Mallorca.
Begin Slideshow

»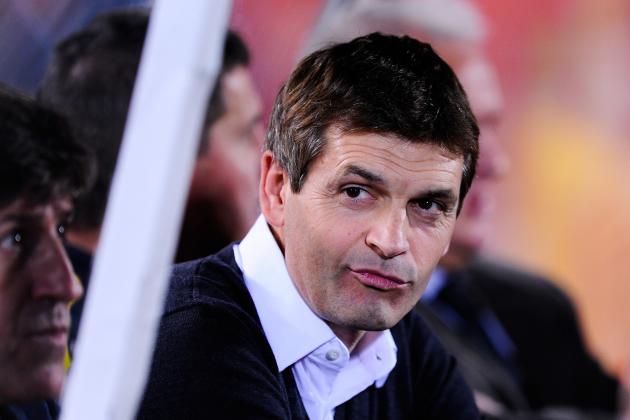 David Ramos/Getty Images

I don't even know what to say about the FC Barcelona defense anymore.
This is what we fans will have to deal with all season, unfortunately.
I can't believe I'm saying this, but Carles Puyol is desperately needed. I know I've been his biggest critic, but he needs to come back as soon as possible because Javier Mascherano is struggling badly.
It was good to see Gerard Pique play in a Liga game again.
I'm hopeful Marc Bartra gets another start before Puyol comes back. Tito Vilanova has shown much confidence in the youngster and Marc is only going to get better.
While the defense is not the greatest, it's good enough so far this season. The addition of Jordi Alba has improved the back line and of course Bartra brings a true CB to this defense. I still don't know how Alex Song fits in all of this, but Tito's defense is good enough to hold on and be enough for Barça to win La Liga.
The real challenge will come in the Champions League.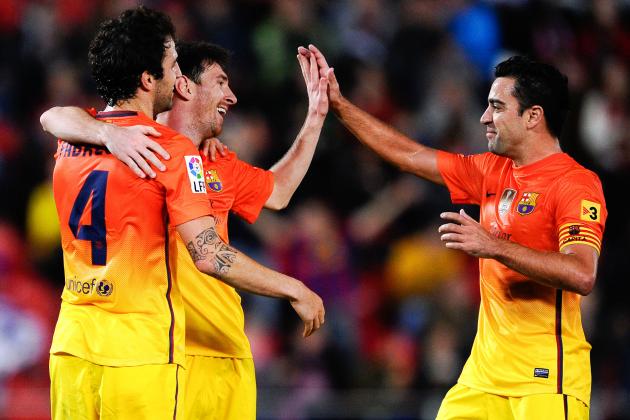 David Ramos/Getty Images

La Liga is not going to be a difficult challenge for FC Barcelona this season.
Yes, all Liga games have their challenges and all Liga games are no sure thing, but this Barcelona team is special. If this was last year's Barça team, they would've collapsed and would've let Mallorca tie the game.
But this team has more of a killer instinct in La Liga, in part due to Messi's brilliance. But let's not forget that Cesc Fabregas, David Villa, and others have stepped up and improved as well.
I'm looking forward to seeing Barcelona play Atletico Madrid in December to see the two best teams in La Liga battle it out. If Barcelona wins, I don't see any other team–including Real Madrid who has shown their struggles in both La Liga and in Champions League this season–overtaking FC Barcelona in La Liga.
It will be the UEFA Champions League that will be the real test for FC Barcelona this season. As we saw in the Celtic FC game, el blaugrana still struggles with the "park the bus" defense.
And let's not pretend that other teams in the CL will not park the bus as well.
Tito Vilanova recognized teams will defend like this all season. I doubt he'll change anything in the offense and create a "Plan B".
Should Barcelona have a "Plan B"?
It's never a bad thing to have a back-up plan.
But that's just my opinion.
Let us know your opinion in the comments below.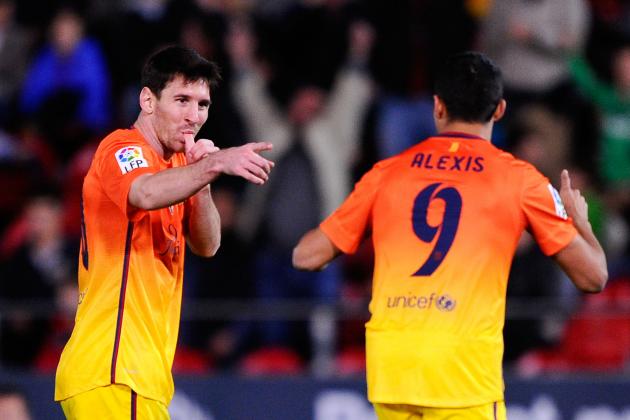 David Ramos/Getty Images

It seems like every week, we're talking about another Lionel Messi record being broken.
Hey, he can't help it.
And I'm not complaining.
For the 77th time in his career, Lionel Messi scored more than once in an official match for FC Barcelona.
Messi has now scored more goals against Mallorca in the last 10 years than any other Barcelona player.
According to stat guru Mr. Chip, Lionel Messi is the first player in La Liga in 62 years to score 15 goals in the first 11 games (Cesar in 1950-51).
With his brace, Lionel Messi moved past Pele in the record books for the most goals in a calendar year. Leo only trails Gerd Muller for the record (85 in 1972).
With Leo's help, Barcelona have now equalized the best-ever start in La Liga after the first 11 games (Real Madrid in 1968-69 and 1991-92).
For the seventh time in La Liga season, Lionel Messi has scored more than one goal in a game. He has seven braces already.
I've run out of words to describe Thiago Messi's father.
¡Grande Messi!
¡Histórico Messi!
FC Barcelona's next game is on Saturday as they take on Real Zaragoza at the Camp Nou.
¡Vamos!
Xoel, The Voice of FC Barcelona on the net, period.
Don't forget to check out my other columns:
Is This Barça Team The Best La Liga Team Ever?

Lionel Messi: 300+ Goals, Already the Greatest of All Time