Shane Victorino Rumors: Would He Have Greater Impact on the Red Sox or Rangers?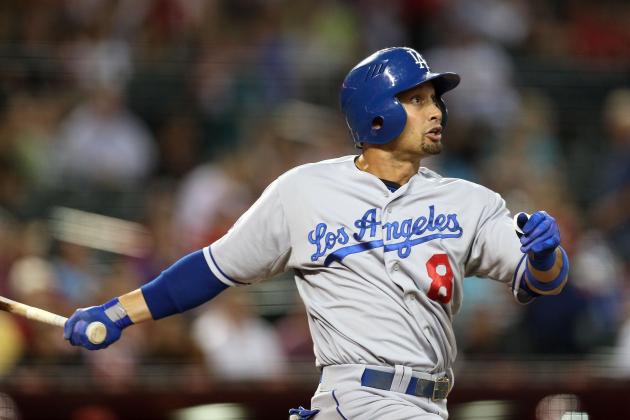 Christian Petersen/Getty Images

Free agent outfielder Shane Victorino will be 32 years old when the 2013 season starts, and the Flyin' Hawaiian already has a stack of achievements to his credit.
Victorino is an All-Star, a Gold Glove Award winner, a two-time leader in triples and has a World Series ring on his finger.
Now, Victorino will test the free-agent waters for the first time and find out just what all of that is worth for him.
According to Jerry Crasnick of ESPN.com, several teams feel Victorino's achievements are certainly worth a look-see.
Free agent Shane Victorino on the radar with #redsox, #rangers, #indians, #reds, among other clubs in the OF market.

— Jerry Crasnick (@jcrasnick) November 10, 2012
Of the teams mentioned, the Red Sox and Rangers stand out in particular—the Red Sox for their obvious need for outfield help and the Rangers for their possible need to replace Josh Hamilton.
Which of the two teams would benefit more from Victorino's services?
Let's take a look.
Begin Slideshow

»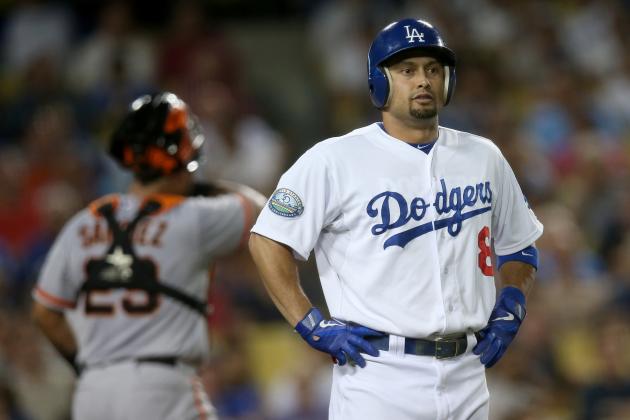 Stephen Dunn/Getty Images

For the past two seasons, Texas Rangers second baseman Ian Kinsler has batted leadoff exclusively. Kinsler's terrific on-base percentage (.350 OPB for career) and speed has played well at the top of the Rangers lineup.
However, with Josh Hamilton possibly departing via free agency, the Rangers will be looking to add more power to the middle of their batting order.
If the Rangers were to successfully sign outfielder Shane Victorino, they would have some options.
First, Victorino has spent a good portion of his career batting first or second. He also brings an element of speed along with a solid on-base percentage (.341) to the table.
Second, Kinsler certainly has power to offer. Dropping him down toward the middle of the batting order clearly gives him more run-producing opportunities in place of Hamilton.
The Rangers lineup could look something like this:
Victorino: LF
Andrus: SS
Kinsler: 2B
Beltre: 3B
Cruz: RF
Murphy: CF
Young: DH
Moreland: 1B
?: C
Manager Ron Washington will certainly have options. Craig Gentry will again be an integral part of the roster and it remains to be seen what the Rangers will do behind the plate.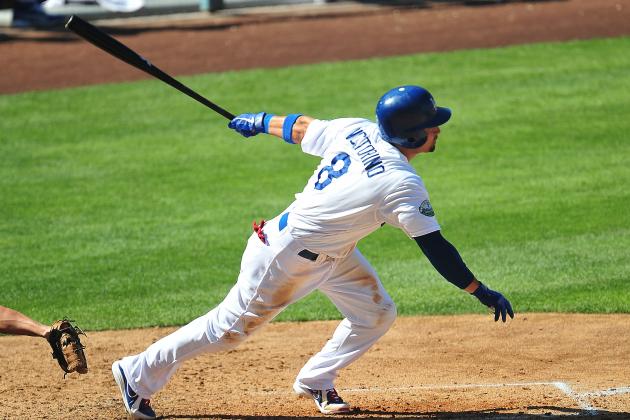 Gary A. Vasquez-US PRESSWIRE

The Boston Red Sox as a team put up a slash line of .265/.312/.397 from the No. 2 spot in the batting order last season.
Free agent outfielder Shane Victorino's career slash line of .275/.341/.430 far exceeds that.
Adding Victorino to the Red Sox lineup gives them a potent combination at the top of the lineup along with Jacoby Ellsbury and Dustin Pedroia.
Let's just say, for conversation's sake, that the Red Sox are successful in signing Victorino along with Cody Ross and Mike Napoli.
The Red Sox lineup could look something like this:
Ellsbury: CF
Victorino: LF
Pedroia: 2B
Ortiz: DH
Ross: RF
Napoli: 1B
Middlebrooks: 3B
Lavarnway/Ross: C
Iglesias: SS
Speed and power at the top along with solid power bats in the middle.
That might erase the memories of a 93-loss season pretty quickly.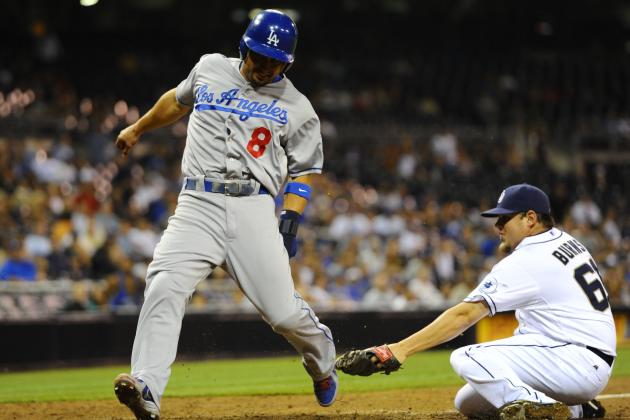 Christopher Hanewinckel-US PRESSWIRE

If the Texas Rangers are unable to re-sign free agent outfielder Josh Hamilton, the addition of Shane Victorino gives them plenty of options.
The Rangers will have five outfielders—David Murphy, Nelson Cruz, Craig Gentry, Leonys Martin and Victorino—in the fold. Murphy has always been coveted for his versatility. While Gentry is a center fielder by trade, he too can cover both corner outfield positions.
Manager Ron Washington can easily mix and match based on pitching matchups on any given night.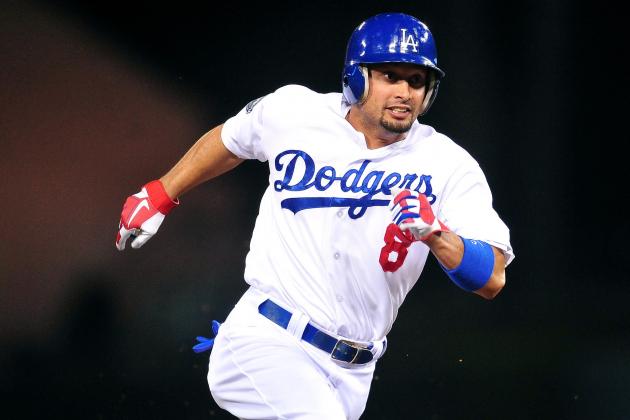 Gary A. Vasquez-US PRESSWIRE

Free agent outfielder Shane Victorino is coming off a three-year, $22 million contract. While he has not made his contract wishes public, he's not likely to be rewarded with a nine-figure contract.
It could be that another three-year contract would suffice, especially with Victorino turning 32 before the start of next season.
If the Red Sox could sign Victorino for three years and $30 million—the market will obviously determine Victorino's worth—as opposed to signing a B.J. Upton or Michael Bourn or Josh Hamilton, it gives the Red Sox flexibility to pick up other needed pieces.
Signing Upton, Bourn or Hamilton will be costly, and while all three could be enticing for the Red Sox, it would limit them in terms of filling other needs.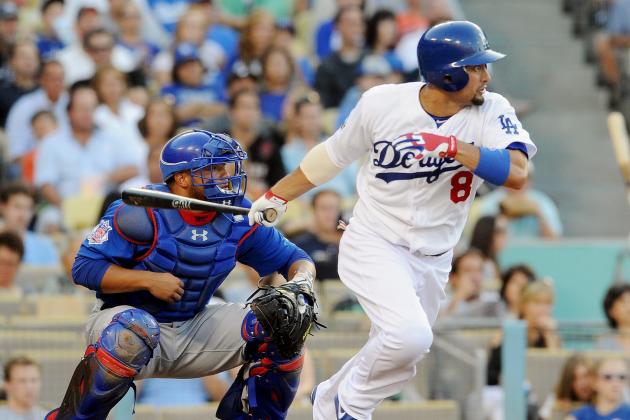 Jayne Kamin-Oncea-US PRESSWIRE

Throughout his career, outfielder Shane Victorino has been valued for his speed, terrific defense and ability to get on base consistently.
Last season, Victorino saw a slight dip in his numbers, hitting just .255 with a .321 on-base percentage. However, he also registered a career-high 39 stolen bases as well.
Teams like the Texas Rangers and Boston Red Sox will have to decide whether or not the 2012 season was just a blip on the radar for Victorino or if it was the start of a downward progression.
I'm guessing more of a blip, and if that's the case, Victorino has more value to the Red Sox at this point.
Victorino's on-base capability, speed and flexibility in the outfield will give the Red Sox a different look in their lineup. He would also offer protection and insurance should Jacoby Ellsbury experience any kind of injury—a distinct possibility given his history.
Provided that Victorino doesn't ask for outrageous money, it also gives the Red Sox more flexibility in terms of filling other important needs.
Overall, Victorino would be nice fit in either lineup. But for the Red Sox, Victorino could be much more of a difference-maker at the top of the lineup.
Doug Mead is a featured columnist with Bleacher Report. His work has been featured on the Seattle Post-Intelligencer, SF Gate, CBS Sports, the Los Angeles Times and the Houston Chronicle.