5 Youngsters Who Will Be Worldwide Stars in Time for World Cup 2014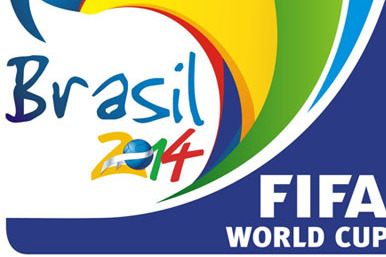 Image courtesy of fifaworldcupbrazil-2014.com
We're more or less 18 months away from the next World Cup in Brazil.
It's a time when we expect worldwide superstars like Steven Gerrard, Wayne Rooney, Andres Iniesta, Bastian Schweinsteiger, Cristiano Ronaldo and Lionel Messi to all perform on the biggest stage in world football.
We expect them to be at the forefront of the competition because they're the best players in the world.
World Cups also throw up a chance for young, developing talent to make their presence felt on the international stage.
They're players who might be known well enough in their own leagues, but outside of that, they're just starting to make their mark at international level.
I'm going to look at five youngsters who will be worldwide superstars by the time the next World Cup rolls around.
Begin Slideshow

»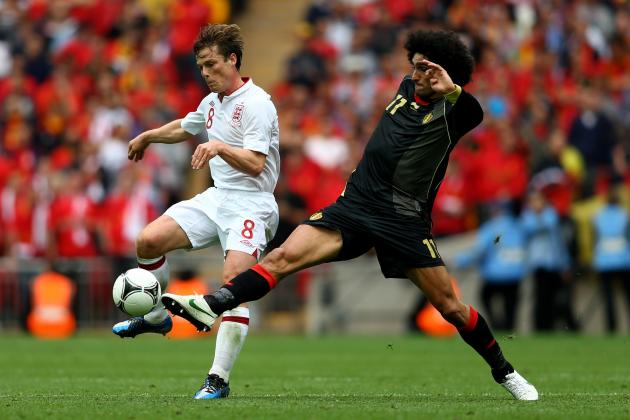 Clive Mason/Getty Images

I had to kick off this list with the player who I think is the best midfielder in England right now: Everton's Belgian maestro Marouane Fellaini.
In 10 days, Fellaini will turn 25 years old and right now, he's just coming in to the peak of his career.
Everton's sensational start to the current Premier League season has been credited to Fellaini and, while he's played a massive part in it, he's not solely responsible.
Having said that though, Fellaini has been simply unplayable at times.
More often than not, he looks a class above everyone else on the pitch and that's not just because he's well over 6'0'!
His movement, close-control, touch, ability and strength are all top-class and I can't think of any other midfielder in England who's playing better than Fellaini right now.
The test for him will be when he comes up against better midfielders on a consistent basis.
With the greatest of respect, the only world-class players he's likely to come up against in England are Yaya Toure, Steven Gerrard and possibly Frank Lampard.
The rest are nowhere near world-class and someone like Wayne Rooney isn't a midfielder.
This might annoy a lot of Everton fans, but there are only two ways for Fellaini to prove how good he is on a consistent basis: play in Europe for Everton or move on.
If he moves on and plays at the highest level, which every ambitious player should want to do, then Fellaini might well just dominate at World Cup 2014, because it's a cast-iron guarantee that Belgium will be in Rio.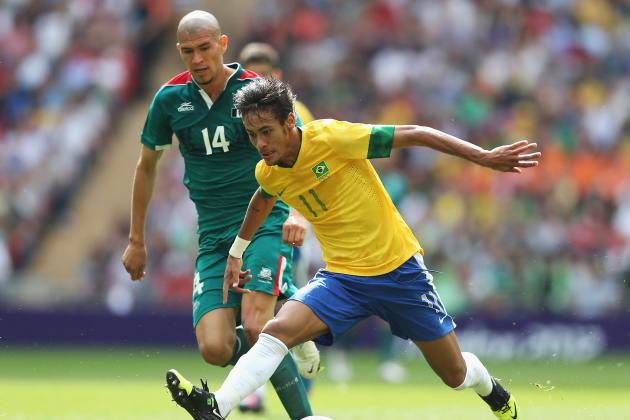 Julian Finney/Getty Images

A few of you might be confused by the inclusion of Neymar in this list.
Sure, the kid has already made his debut for Brazil (scoring 16 goals in his first 25 games), but with the greatest of respect to him and the Brazilian league, it's all fine and well being the big fish in a small pond.
Until this kid moves to Europe and tests himself against the best defenders in the world, he can't be considered a great player.
Whether he moves to England, Germany, Italy or Spain is anyone's guess right now, but it seems inevitable that he'll move to Europe at some point in the next 18 months.
When he does that and proves he can cut it at the highest level at club football, then he'll be a star on the level of Messi, Ronaldo and Rooney.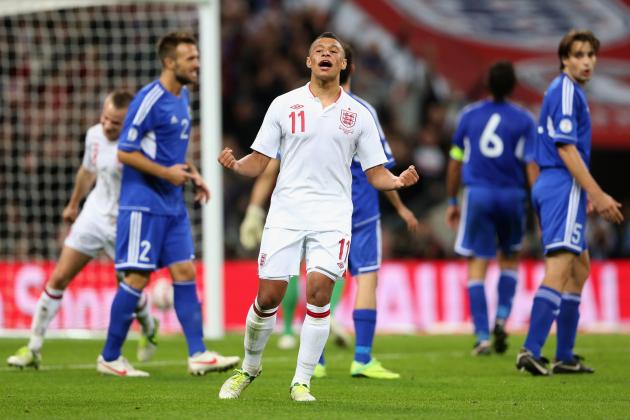 Scott Heavey/Getty Images

When the next World Cup kicks off, Arsenal midfielder Alex Oxlade-Chamberlain will still be just 20 years old.
For someone who's been in the public eye since joining Arsenal from Southampton (for what the Daily Telegraph reported to be a fee of £12million) just over a year ago, Chamberlain has made good progress.
He's made his full England debut and some of his performances for what was a struggling Arsenal side last season were terrific.
His stand-out performance had to be in the Champions League against AC Milan earlier this year.
He made genuine world-class players like Andrea Pirlo and Zlatan Ibrahimovic look like amateurs at times and his performance even earned glowing praise from Dutch legend Marco van Basten, who was quoted by the Daily Mirror as saying that the youngster was "a gem".
Arsenal fans have warmed to Oxlade-Chamberlain, just as England fans have.
I think he can become one of the best players in the world by showing exactly what he can do on the biggest stage in football.
In my opinion, he's a more well-rounded player than someone like Theo Walcott or Aaron Lennon, both of whom will have to play exceptionally well over the next year or so to get picked ahead of Oxlade-Chamberlain.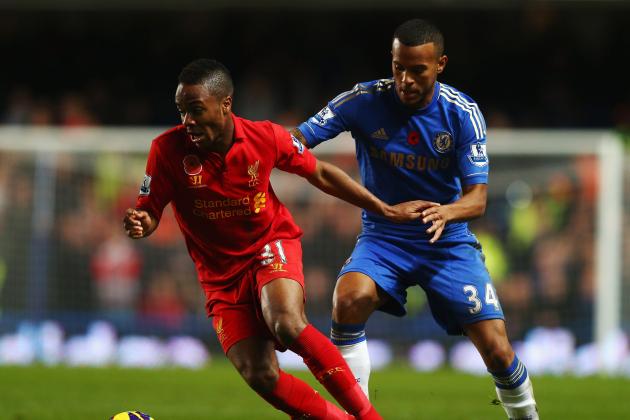 Clive Rose/Getty Images

Raheem who?
If you've watched any coverage of the Europa League or the English Premier League this season, you'll know that Raheem Sterling has become one of the first name on Brendan Rodgers' team-sheet at Liverpool.
I'd heard things about him over the summer and that this kid was loaded full of raw talent and potential, but I never thought he'd play as big a part in the team as he has done so far this season.
Has Brendan Rodgers' hand been forced because of the lack of experienced cover? I don't think so.
For what it's worth, my opinion is that Stewart Downing was never consistent enough to have been signed for Liverpool in the first place.
He never seemed to play well on a regular basis whenever I saw him for Aston Villa, Middlesbrough or England and the fact that Kenny Dalglish signed him baffled me.
Joe Cole has all the skill and ability in the world, but he's not played regularly enough over the last few seasons (except for his loan spell at Lille) to be considered the player he once was.
Sterling's ability, tenacity and hunger to play must have struck a chord with Rodgers, or else he wouldn't be playing him.
Already this season, Sterling has terrorised some of the best left-backs in England, including Aleksandr Kolarov and Patrice Evra, but there's still a lot more to come.
Over the next 18 months, Raheem Sterling will become one of Liverpool's most important players because of his talent, not because the other options available aren't good enough, and he'll shine at the World Cup in 2014.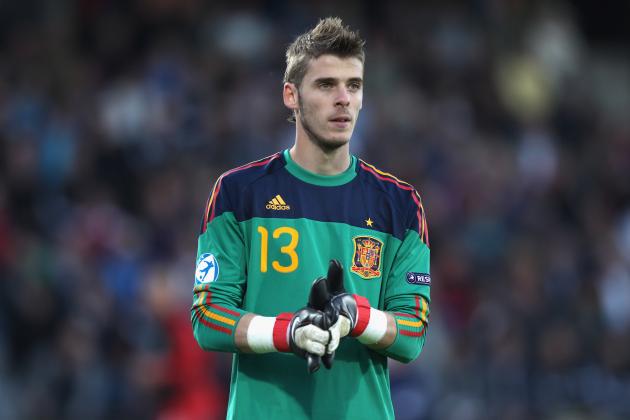 Michael Steele/Getty Images

The final player on my list is Manchester United goalkeeper David de Gea.
It'd be fair to say that it hasn't exactly gone to plan for the Spaniard since moving to Old Trafford to replace the legendary Edwin van der Sar.
De Gea would probably be the first person to admit that he could have done better, but let's look at it objectively.
In June 2011, when he was still just 20 years old, de Gea signed for Manchester United. The fee was a British record for a goalkeeper, reported to be in the region of £17 million.
No matter who you are, that's a hell of a lot of money for someone so young and I took it to be a statement of intent from Sir Alex Ferguson that he saw de Gea being United's number one goalkeeper for a long, long time.
To expect a young kid of that age to move to a completely different country, where there's an entirely different culture, both in terms of lifestyle and football, without there being teething problems is just naive.
He grew in stature towards the end of last season and he's continued to improve this season.
As long as de Gea continues to improve, he'll get there and firmly establish himself as one of the best keepers in world football.
He's at the right club and he's got the right manager to do that in Sir Alex Ferguson.
Ferguson has worked his magic before and I've no doubt he'll do it again with de Gea.
The only problem might be ousting Iker Casillas as Spanish number one, but if anyone can do it, it's David de Gea.