Hockey Hall of Fame Induction: 5 Best Moments of Adam Oates Career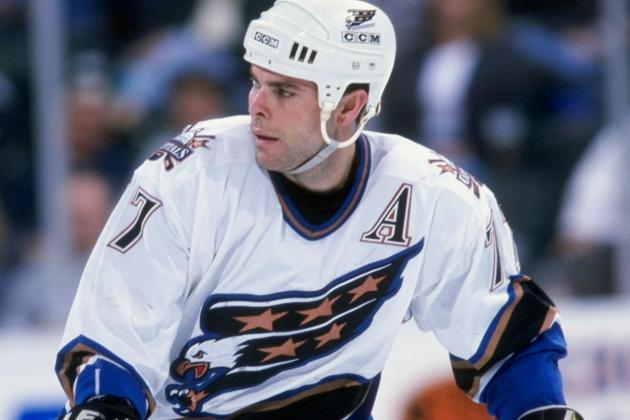 Stephen Dunn/Getty Images
Adam Oates was a threat to create a scoring play any time he stepped on the ice.
Adam Oates never had a chance to lift the Stanley Cup.
Nor did he ever win a major award.
Yet the word most often associated with his NHL career is "brilliant." Oates combined his talent with a chess master's understanding of the game. This allowed him to get in the right position on the ice, control the puck and draw the defense to him and then make the perfect—not good enough—pass to his teammates.
He was not Wayne Gretzky, but he may have been the second-best assist man in the last quarter century.
Amazingly, Oates was not drafted by an NHL team. He came into the league as a free agent and he was signed by the Detroit Red Wings. He asserted himself with the Red Wings before becoming a superstar with the St. Louis Blues. He was later traded to the Boston Bruins and then the Washington Capitals.
He also had stints with the Flyers, Ducks and Oilers. Here's a look at five of the best moments of his 19-year playing career.
Begin Slideshow

»
Adam Oates was a spectacular passer, but he was far from a one-dimensional player.
His career numbers are spectacular and he is truly deserving of the honor of going into the Hall of Fame.
Oates played 1,337 games in his NHL career and he scored 341 goals and added 1,079 assists. He averaged 1.06 points per game. His assist total ranks sixth on the NHL all-time list.
While Wayne Gretzky had his office behind the goal line, Oates's office was high near the boards in the offensive zone, the area known as the "half-wall". From that point he could see the ice and the game as well as nearly anyone who played the game.
The combination of Brett Hull and Adam Oates was one of the greatest scoring duos in NHL history.
Not in terms of longevity, but in terms of sheer efficiency and effectiveness.
Oates wore his St. Louis Blues uniform for 195 games, so his time with Hull was about two-and-a-half seasons. But in those games the two men played together, Hull scored 212 goals while Oates tallied 228 assists.
Hull treasures the time he played with Oates and considers it one of his career highlights.
"It was an immediate connection we had, not only as hockey players, but as friends," Hull told St. Louis Blues.com. "As much as I loved to score goals, he loved to set up goals just as much. I've been told, and I've actually thought it myself, I could have (scored) 1,000 goals if I had kept playing with Adam."
Adam Oates was a wizard with the puck and made those around him much better players.
His partnership with Brett Hull in St. Louis is well-known, but he also played with Cam Neely in Boston and Peter Bondra in Washington.
Oates is the only players in NHL history to play with three 50-goal scorers on three different teams. All three credited Oates as playing a key role in their productivity.
Adam Oates eclipsed the 100-point mark four times in his 19-year career.
In most of those seasons, his goal totals were dwarfed by his assists. No surprise there since he was such a brilliant passer.
However, in the 1992-93 season with the Boston Bruins, Oates asserted himself as a goal scorer. He scored 45 goals for the Bruins and also had a league-leading 97 assists. His 142 points allowed him to rank with Phil Esposito and Bobby Orr and placed him among the greatest single-season Bruins' scorers of all-time.
Adam Oates never won the Stanley Cup during his career, but he made it to the Stanley Cup Finals in the 1997-98 season with the Washington Capitals.
Oates and the Capitals lost to the Detroit Red Wings, but he was solid throughout the playoffs. He scored six goals and had 11 assists in that 21-game playoff run, and Oates was successful on 19.4 percent of the shots he had on net in that series.
Making the Stanley Cup Finals was one of the great highlights of his career.